Biogz
'E'
Here you will find some short biographies (biogz) of solo artists whose surname commences with this letter or bands with names commencing with this letter (omitting any commonly used prefix such as 'The').
Click on the name below or scroll down the page at your leisure.
Vince Eager (& His Quiet Three)
Bobby Eaglesham
The East Coast Jazz Men
East Of Eden
Ronnie Easton & His Band
The Easybeats
The Edge
Edison Lighthouse
Eire Apparent
The Elastic Oz Band
Ray Ellington & His Quartet
John Ellis & His Highland Country Band
Alan Elsdon & His Jazz Band
Emanon
The Emerald Showband
David Emmanuel
The Equals
Deon Estus
Everest The Hard Way
Exit Calm
Vince Eager (& His Quiet Three)

Left to right:
Tex Makins - bass
Jimmy Nicol - drums
Colin Green - guitar
Later:
Kenny Packwood - guitar
Vince Eager is a name synonymous with British pop. As a member of the legendary "Larry Parnes stable", along with Tommy Steele, Marty Wilde, Billy Fury and Joe Brown, Vince became a household name.
In the early days of pop, the press were reluctant to give credit to the live stage work of the members of the pop establishment. Vince was one of the few who did receive due recognition for being a true professional.
Throughout his 45 years in the entertainment industry, the consistent factor has been Vince's success as a live performer. From his cabaret and theatre appearances to his 5 year starring role in the award winning West End musical "ELVIS". Vince continues to receive the plaudits of the press, his peers and his audiences.
Vince's easy going manner, his rich powerful voice and his commanding stage presence have stood the test of time.
Anecdotes from the heady years of working with, and befriending, both Britain's and America's major stars have extended Vince's popularity to the chat show, after dinner speaking and lecture circuit. Presenters and their audiences being amongst Vince's new admirers.
Info courtesy of: www.vinceeager.co.uk
Bobby Eaglesham was one of Scotland's leading folk musicians who played with 'The Other Half' and a celebrated singer/guitarist with the influential band 'Five Hand Reel' (1974-1980) alongside Dick Gaughan for a time.
Sadly Bobby collapsed and died of a heart attack in the canteen of Polmont Prison where he worked as an arts teacher on Saturday 14th October 2004.
If you can add any further information to this piece please contact me here
Tony Orme - vocals
Keith Baldwin - trumpet
Dave Bagworth - trombone
Bob Penwarne - clarinet, saxophone
Arthur Jessop - banjo
Gordon Grant - drums
Paul West - double bass
Also:
Jimmy Wallace
Ron Elder
Dave Fimister
Andy Tully
Harry Morrison
Les Cameron
Dave Moodie.
During his 40 odd years whilst in the Arbroath / Dundee area Les Cameron led the East Coast Jazz Men (formed 1958) which had a large following around Tayside. In 1960 under Andy Lothian Jnr's leadership the band won the Scottish Jazz Championship. In Arbroath around 1989 the band helped in getting the highly successful Jazz at Hospitalfield club off the ground.

In the early '60s the East Coast Jazzmen were resident band in the old Parker St Jazz Club, backing up virtually all the major bands in Britain such as Kenny Ball, Acker Bilk, Chris Barber, Bruce Turner Jump Band, Alex Welsh, Terry Lightfoot and others.

Les has reassembled the band for a new album 'Les's Jazz - with a lot of help from my friends', along with four vocalists, one from Dundee, three from the Nairn area, plus a guitarist, a bassist and a drummer.


L-R Jeff Allen, Garth Watt-Roy, Dave Arbus, Martin Fisher
Dave Arbus - violin, flute
Ron Caines - saxophone
Dave Dufont - drums
Geoff Nicholson - lead guitar
Steve York - bass
Geoff Britton - drums
Andy Sneddon - bass
David Jacks - vocals
Jim Roche - guitar
Jeff Allen - drums
Dave Weller - saxophone
Martin Fisher
Joe O'Donnell - violin
Garth Watt Roy - guitar
Les Davidson - guitar
Peter Filleul - keyboards
Dean Ford - vocals
George Howden - trumpet
A progressive band formed in Brighton in 1968 by violinist and multi-instrumentalist Dave Arbus. Their novelty hit with the instrumental 'Jig A Jig' was completely untypical of their usual musical style, progressive rock with lots of hard rock guitar and Dave Arbus' wild violin work.
The band was very popular in London's underground clubs. Their debut album came in an outstanding sleeve and was the best example of their Eastern-influenced rock. Guitarist/vocalist Nicholson left after this along with drummer Dufont and bassist York (who joined Manfred Mann's Chapter 3). 'Snafu' veered more towards jazz-rock but was their most successful album commercially, getting into the Top 30.
In 1970, they signed to Harvest, but their first album for them was rather mundane, having sacrificed their earlier Eastern influence for a country sound. 'New Leaf' was slightly better but after this, Arbus quit though he later reappeared on Roger Daltrey's self-titled solo album. The band carried on, replacing him with former Mushroom violinist Joe O'Donnell. This line-up recorded a couple of further albums that only appeared on the Continent, before they split in 1978.
Geoff Britton later played with Wings, whilst Joe O'Donnell made several solo albums in the seventies and eighties, many of which feature guest appearances by Rory Gallagher. Les Davidson ended up doing session work in London in mid-80s.
(Vernon Joynson/Tom Wilkins) From The Tapestry of Delights - The Comprehensive Guide to British Music of the Beat, R&B, Psychedelic and Progressive Eras 1963-1976, Vernon Joynson

ISBN 1 899855 04 1
Gordon Simpson (from Dundee) one of the most respected contemporary Scottish fiddlers started his broadcasting career with the Ronnie Easton Band.
If you can add any further information to this piece please contact me here

Stevie Wright - lead vocals
Harry Vanda - vocals, lead guitar
George Young - rhythm guitar
Dick Diamonde - bass
Tony Cahill - drums
Gordon "Snowy" Henry Fleet - drums
Often referred to as an Australian band, The Easybeats were formed by immigrants from Holland, Glasgow, Leeds and Liverpool. They had a successful chart career in Oz in 1965 and moved to England in mid 66 to record with Shel Talmy and the result, "Friday On My Mind" was one of the best pop records of the 60s which charted not only in the UK but cracked the top 20 in the USA.
Lead singer was Stevie Wright and they had a dynamite writing team in Henry Vanda and George Young.
Their second UK hit shows a completely different aspect of their ability – a big powerful ballad which was very in tune with its year of release. The band split in 1970 and were involved with producing AC/DC which featured Angus and Malcolm Young – George's brothers.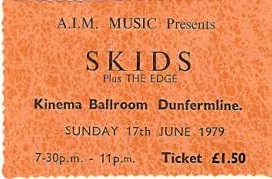 Button Badge Kinema Advert Ballroom Ticket
(Thanks Mel) supporting The Skids with Delinx
Lu Edmunds - guitar
Gavin Povey - keyboards
Glyn Havard - bass
Jon Moss - drums
English band formed by Edmunds & Moss after they left an early version of 'The Damned'. They released a couple of records & later backed a female singer (Jane Ashley) as 'The Belvederes'.
Recorded output includes:
'Square One' (1980)
'Complete Works of The Edge' (1987)
Jon Moss would later find success as the drummer of 'Culture Club' and partner of 'Boy George'. Edmunds has also worked with 'Shriekback' and 'Public Image Ltd'.
Gavin Povey played keyboards on some tracks on the 'Zero Four One' album for rockers, 'Glasgow'.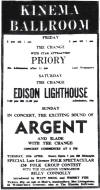 11th April 1971

Tony Burrows - lead vocal
Ray Dorey - guitar
Dave Taylor - bass
Stuart Edwards - lead guitar
George Weyman - drums
British pop group 'Edison Lighthouse' was one of the most successful groups of the seventies with worldwide record sales exceeding 15 million.
They were formed from members of a band called 'The Flying Machine' which had a top 5 hit in America in November 1969 with 'Smile A Little Smile For Me'. The new band was fronted by session vocalist Tony Burrows and included Tony Macaulay. The members of 'Edison Lighthouse' were exceptionally busy at this time as they was involved with four separate acts with top ten singles almost at the same time: 'Edison Lighthouse' with 'Love Grows Where My Rosemary Goes' (#1 - January 1970), 'White Plains' with 'My Baby Loves Lovin' (#9 - February 1970), 'Brotherhood Of Man' with 'United We Stand' (#10 - February 1970) and 'The Pipkins' with 'Gimme Dat Ding' (#6 - March 1970)! In fact the first three got them a mention in the Guinness Book of Records for the most singles charted simultaneously under different group names containing the same artists. 'Love Grows' also peaked at #5 in the US Billboard chart and sold over 8 million copies. It was the second best selling single in the UK in 1970.
Following the success of 'Love Grows', Tony Burrows split, while Tony Macaulay was able to form another band under the 'Edison Lighthouse' moniker, as he owned the name's copyright. However their single, 'It's Up To You Petula' passed by without the public taking much notice, scraping to #49 in the UK chart for one week in January 1971, one year and a week after 'Love Grows' peaked.

Ernie Graham - vocals, rhythm guitar

Henry McCullough - lead guitar

Chris Stewart - bass
Dave Lutton - drums
Mick Cox - lead guitar
Tiger Taylor - lead guitar
Peter Tolson - guitar, vocals
Eire Apparent was formed as psychedelic outfit 'The People' in Early 1967, in Blackpool, Lancashire, England by Ernie Graham on vocals & rhythm guitar (born Ernest Harold Graham, 1.4.1946, in Belfast, Antrim, Northern Ireland died 29.4.2001); Chris Stewart on bass (born Eric Christopher Stewart) and Davy Lutton on drums (born William David Lutton), who were joined by Henry McCullough on lead guitar (born Henry Campbell Liken McCullough, 21.7.1943, in Portstewart, Co Antrim, Northern Ireland) (ex The Sky Rockets Showband, Gene and the Gents, 1964 - 1966), who had first moved from Portstewart to Belfast and then moved to Blackpool where he crossed paths with Graham, Stewart and Lutton.
'The People' grew out of Belfast band 'Tony and the Telstars' (formed in 1960), whose line-up was Graham on rhythm guitar (an apprentice auto mechanic during the day); Lutton on drums; Eric Wrixon on organ (born 29.6.1947, in Belfast, Antrim, Northern Ireland) (ex Them, Apr - Jun 1964, later in Thin Lizzy, Late Dec 1969 - Aug 1970); Mike Niblett on bass and George O'Hara on lead vocals, guitar.
Lead guitarist Rod Demick (born Roderick Demick, in 1947, in Prestatyn, Flintshire, North Wales), who moved to Belfast at 5 was an original member of 'Tony and the Telstars'. Demick had formed a skiffle group 'The Vibros' in 1958, which changed it's name to 'Tony and the Telstars' in 1960. Demick left the band in Late 1965 and joined 'The Wheels' (Late 1965 - 1967).
As for Graham; Lutton; Niblett and O'Hara they became the first line-up of 'The People' in Late 1965, and who at some point went over to England. The band recorded two songs with O'Hara on lead vocals 'I'm With You' and 'Well...All Right' for the 1966 Ember Records compilation LP 'Irelands Greatest Sounds: Five Top Groups From Belfast's Maritime Club.'
The next line-up of 'The People' was Ernie Graham on vocals, rhythm Guitar; Chris Stewart on bass and Davy Lutton on drums, who were joined by Henry McCullough on lead guitar formed in Earl 1967 in Blackpool, Lancashire. The band then moved to London and by the early summer the group had gone back to Ireland - to Dublin this time, where the local scene had eventually taken off. Such was the difference in their music that within 3 months they were voted top local band. The scene was still small though and by spring of 1967 it was time to move again. This time they went straight to London (Sept? 1967) - and starved again, living in a van parked in Camden Town, North West London. The band's fortunes changed in the early summer when they ran into their ex manager Dave Robinson (born in 1942, in Dublin, Co Dublin), who promised to get them a couple of gigs. These were the Speakesy Club and more importantly the UFO Club, the same night as 'Procol Harum', coming on after them.
They soon had about six of the top British managers knocking at their dressing room door say not to sign to anyone until you have spoken to them. In the end they were signed up within 24 hours by Mike Jeffery, who along with Chas Chandler (born Bryan James Chandler, 18.12.1938, in Heaton, Newcastle-upon-Tyne, Northumbria (now Northumberland) died 17.7.1996) (ex Animals bass player) were the managers of Jimi Hendrix and 'The Soft Machine'. The band then changed their name again - Jeffrey wanted to exploit their Irish dimension and his wife came up with the new name - 'Eire Apparent'.
In short order the band were doing prestigious supports at the Saville Theatre in London and Olympia in Paris and on Tues 14.11.1967 they joined what amounted to be the last great UK package tour with 'The Move', 'The Pink Floyd', 'The Nice', 'Amen Corner', 'The Outer Limits' and of course Hendrix himself. This was The Jimi Hendrix Tour, their second proper UK tour.
Things started to look really good for Eire Apparent and at the end of the tour the band went into the studio and cut their debut single for Track Records, 'Follow Me' / 'Here I Go Again' (Truck 604 019, Jan 1968). This was a non-hit, but 1968 proved to be their most successful year. At the beginning of Feb they flew to the States, basically as support to either Hendrix or Eric Burdon and the Animals. Their first gig was on Fri 9.2.1968, at The Anaheim Convention Centre, Anaheim, California, with both acts and The Soft Machine. Subsequently they toured with The Animals up until the end of May. Although technically the support, they built up a solid following playing to huge audiences and making a substantial amount of money.
They returned to Europe - briefly - to play at the riot torn Beat Monster Festival, in Zurich (Thur 30.5.1968) before heading back to the States and eventually joining up with Hendrix at the Atlanta Municipal Auditorium on the 17th of Aug 1968, and playing with him and The Soft Machine. They went onto play on most of his subsequent gigs until late Sep 1968 (not middle of Oct as stated in the Eire Apparent CD). Other gigs were on Sun 18.8.1968, at Curtis Hixton Hall, Tampa, Florida; on Tues 20.8.1968, at The Mosque, Richmond, Virginia; on Wed 21.8.1968, at The Civic Dome, Virginia Beach, California (these all with The Soft Machine); Sat 24.8.1968, at The Bushnell Memorial, Hartford, Connecticut; on Mon 26.8.1968, at Kennedy Stadium, Bridgeport, Connecticut (with The Soft Machine); on Sun 1.9.1968, at The Red Rocks Park, Denver, Colorado (with The Soft Machine, plus Vanilla Fudge). The next day Hendrix and his band The Experience, plus Eire Apparent toured the mountains around Denver. More Hendrix / Eire Apparent / Vanilla Fudge / The Soft Machine gigs were on Tues 3.9.1968 at The Balboa Stadium, San Diego, California; on Wed 4.9.1968, at The Memorial Coliseum, Phoenix, Arizona; on Frid 6.9.1968, at The Coliseum, Seattle, Washington.
Then something bad happened to the band, unfortunately at their next gig at The Pacific Coliseum, Vancouver, Canada on Sat 7th Sept 1968, Henry McCullough was busted and basically had to leave the country to avoid doing time, but the others wanted to stay on, so effectively he had to quit the band. McCullough found his feet quick enough, joining up with Sweeney's Men, Joe Cocker and the Grease Band, Oct 1968 - Feb 1970, The Grease Band, Jun 1970 - Dec 1971, Paul McCartney's Wings, Jan 1972 - Jul 1973, The Joe Cocker Band, Jul - Aug 1974 and Frankie Miller.
His replacement in Eire Apparent was taken by Mick Cox on Lead Guitar (born Michael Charles Box) (ex The End, Alleykatz), who was flown out from England immediately. Other gigs Eire Apparent did on the Hendrix were on Sun 8.9.1968, at The Coliseum, Spokane, Washington; on Fri 13.8.1968, at Oakland Coliseum, Oakland, California (both gigs with Vanilla Fudge, The Soft Machine); Sun. 15.9.1968, at The Memorial Auditorium, Sacramento, California (with Vanilla Fudge). This it the last gig I can find that Eire Apparent played on the Hendrix US tour.
At the end of Oct 1968 Eire Apparent recorded the bulk of their debut album at TTG in Los Angeles, California. On Wed 30.10.1968, at Sunset-Highland Studios, Los Angeles, California, the band recorded 'Let Me Stay' (M Cox), 'Magic Carpet' (E Graham), 'Morning Glory' (M Cox), 'Mr Guy Fawkes' (M Cox) and 'Yes I Need Someone' (C Stewart / E Graham / M Cox / D Lutton), while 'Captive In The Sun' (M Cox), and 'The Clown' (C Stewart) (Hendrix added extra magic to this track) which were recorded on Wed 30.10.1968, also at Sunset-Highland Studios, plus 'Rock 'N' Roll Band' (Taylor / Graham) recorded on 5.1.1969, at Polydor Studios, London, all with Jimi Hendrix on guitar. This last session was produced by Carlos Olms. In fact he appeared on all the tracks ('Someone Is Sure To (Want You)' (E Graham), except for 'Got To Get Away' (E Graham) and '1026' (E Graham / C Stewart) (produced by Jack Hunt). Hendrix also produced the group's solo album, called Sun Rise (Sunrise) (Buddah 203 021, 1969), which was a crafted blend of pop and neo-psychedelia. Hendrix had produced and played on their album as a consequence of Eire Apparent touring with him in the States.
Eire Apparent's association with Hendrix, Jeffrey and Chandler was starting to draw to an end. Basically the band felt they could no longer rely on Jeffrey to find them gigs in the States. Their final involvement was as support on part of the Experience's European in Germany in Jan 1969. The gigs were on Sat 1.11.1969, at The Musikhalle, Hamburg, Germany; on Sun 12.1.1969, at The Rheinhalle, Dusseldorf; on Tue 14.1.1969, at The Halle Munsterland, Munster, Germany; on Wed 15.1.1969, at The Deutsches Museum, Munich, Germany; on Thur 16.1.1969, at The Meistersinghalle, Nuremburg, Germany; on Frid 17.1.1969, at The Jahrunderhalle, Frankfurt, Germany; on Sun 19.1.1969, at The Liederhalle, Stuttgart, Germany; on 20.1.1969; on Tue 21.1.1969, at The Wacken Halle, Strasbourg, France; on Wed 22.1.1969, at The Konzerthaus, Vienna, Austria; on Thur 23.1.1969, at The Sportpalast, Berlin, Germany.
Mick Cox was replaced by Tiger Taylor on lead guitar in Jan 1969. Most of '69 was spent slogging round the English clubs and universities, trying to re-establish themselves in a country that had largely forgotten them. It was to prove an uphill task. On 20.4.1969 the band recorded three tracks for a Top Gear session, 'Yes I Need Someone,' 'Highway 61' and 'Gloria.' Peter Tolson guitar / vocals (born 10.9.1951, in Bishops Stortford, Hertfordshire) was a short time member just before they called it a day in May 1970, finally having given up.
Eire Apparent also released another single Rock 'N' Roll Band' / 'Yes I Need Someone' (Buddah 201 039, 1969). Some of their 1969 gigs were on 30.11.1969, at Cloud Nine in Peterborough, Cambridgeshire, England. Singer Graham later joined, Clancy, Help Yourself, Aug - Nov 1971, and then recorded a solo album backed by Brinsley Schwatz. Drummer Lutton was later in T-Rex, Jan - Dec 1974, Jan 1975 - Aug 1976, Nov 1976 - Sep 1977 and Stewart was later in Poco, while Tilson went to The Pretty Things, Nov 1971 - Jun 1976, and Metropolis, Jun 1976 - Dec 1977.
My thanks to John Warburg


Bill Elliot in orange T shirt
Members included Bill Elliott, Bob Purvis & Pete Dodds
John Lennon & Yoko Ono wrote two songs to oppose the establishment's suppression of 'Oz' magazine (the leading satirical underground magazine of 1960's London) and to support three editorial staff there who were facing trial in the UK for 'obscenity' offences. They originally recorded the songs early in 1971 (entitled 'God Save Oz') to raise money and support and later Mal Evans (Beatles Tour Manager) brought in Bill Elliot (from South Shields band 'Half Breed') to re-record the vocal of 'God Save Us' in June 1971 while John sang the 'b' side, 'Do The Oz'.
John then hired 'Half Breed' to perform as 'The Elastic Oz Band' for a short (week long) promotional tour in support of the single. After the tour completed, Bill left the band to form a new outfit with Bob Purvis called 'Splinter', best remembered for their George Harrison produced November 1974 #17 UK hit single, 'Costafine Town' & first album 'The Place I Love' on George's 'Dark Horse' label.
John's original demo was issued on the 'John Lennon Anthology' album in 1998.
Ray Ellington (and His Quartet
)

Ray Ellington - drums, vocals
Lauderic Caton - guitar
Dick Katz - piano, vocals
Coleridge Goode - bass

Later:
Laurie Deniz - guitar
Ray Brown was born to a Russian Jewish mother and an African-American father in England on 17th March 1916. He formed the Ray Ellington Quartet in the late 1940s when he joined 'The Carribean Trio'.
Like Max Geldray, Ray not only performed as a musician in The Goon Show but occasionally had a speaking part, usually as a African chief or native.
Ellington specialised in jazz but experimented with many other genres throughout the show's history. Ellington's band was one of the first in the UK to feature the stripped-back guitar / bass / drums / piano format that became the basis of rock'n'roll, as well as being one of the first groups in Britain to prominently feature the electric guitar. They were also reputedly the very first jazz band in the UK to use an amplified bass.
As well as the Goon Show, the Quartet was featured in another BBC radio show, Mr Ray and Mr Ros (Mr Ros was bandleader Edmundo Ros.) He later formed the Ray Ellington Big Band.
Ray died on 28th February 1985.
Info courtesy of: www.thegoonshow.net
John Ellis & His Highland Country Band

Arlene McLeay - piano
Johnny Philip - fiddle
John - fiddle
Aileen Simpson (McIntosh) - accordion
Sandy Ford - drums
Later:
Irene Dear - accordion
Jimmy Boal - accordion
Jean Dowell - piano
Douglas Muir - accordion
John Ellis, fiddler and bandleader of the famous Highland Country Band was born in Tealing outside Dundee and brought up at Burnside of Duntrune, attending Murroes School near Kellas. His mother was Angus Fitchet's father's cousin and they often had family get togethers which included singing and playing Scottish music. John enjoyed the music and especially admired Jimmy Shand's band and, as a result, wanted to play the button-box, but that never happened. His uncle, Dave Ellis, played the fiddle and so did his father. John remembers the house being full of family ceilidhs and "bothy ballad" musical nights. The Fitchets were also trying to encourage John to take up the fiddle and on his 14th birthday, John was given a fiddle after becoming increasingly influenced by the sound of Jim Barrie (fiddler with Shand's band). His uncle taught him initially using a Honeymoon Self-Tutor book.

John then went to a John Gall at Middleton Farm, Dundee. He would cycle miles to get to lessons and had to be told by his mother to put the fiddle down as he was always practising – every spare few minutes he could find. John Gall had a Scottish band and he was asked to join it. It included John Gall's sister, his brother Hugh Gall and Stan Manson. This was the first band John played in. They played at local gigs and after 1yr he joined the "Blue Bonnets", consisting of Jimmy Scott (acc), John Philip (fiddle), Arlene McLeay (piano), Ron Howie (drums). They auditioned for BBC Radio in 1950, passed and subsequently broadcast. John had only been playing the fiddle for 4 years! He remembers that the fee for the entire band was £25!

John only ventured into the competition scene once, after serious coercion by Hector MacAndrew. He remembers the adjudicators were Yehudi Menuin, Hector MacAndrew and Jim Hunter. John states "a lad fae Shetland won" and John decided he preferred playing in bands to playing solo!!!

When John left school aged fourteen he served an apprenticeship as a gardener then as a landscape gardener. Aged twenty-one, he started his own nursery business and although now retired, he still provides bedding plants to customers to this day.

In 1953 John did his National Service in the War Office in London. Word got around that John played the fiddle and he went to hear the best Scottish band in London at that time, who were playing one night in Fleet Street - The Donnie McBain Band. Before the dance started, Donnie McBain approached John (having heard he played fiddle in a band in Scotland) and asked him where his fiddle was as they needed a fiddler that night He took John back to his digs, got his fiddle, played that night and John became a member of the band for the next two years whilst based in London. They played all over the London area, at Balls and other prestigious events and travelled to Birmingham and Worcester. In 1954 they made a TV recording for Children's hour for the BBC. At this time only two people in Wellbank had TVs, so the entire village were crowded around those two sets desperate to see the local hero on television!

When in London, John also took saxophone lessons from Harry Hayes (the teacher of Ronnie Scott), although finding somewhere to practice was difficult, despite having employed tactics such as stuffing socks down the sax to reduce noise and waiting until lunch hour in his 15th floor office. He was actually ordered to stop practicing in his lunch hour at the office, as everyone walking past the war office stopped to hear the music flooding out of the 15th floor of the building. This was seen as drawing attention to the war office building and so may have been a compromise to national security!!!!

When his National Service came to an end, in 1955, John came back to Scotland and was immediately asked to join two different bands. Finding it difficult to make a decision, he asked advice from Jimmy Shand. His response was "Start your own one". So John did, and the "Highland Country Band" was born.

The original line up consisted of Arlene McLeay (piano), Johnny Philip (fiddle), John (fiddle), Aileen Simpson (McIntosh) accordion and Sandy Ford (drums). An accordion was required so John advertised in the Dundee Courier. Irene Dear applied, was duly welcomed to the band, and has remained for over fifty years.

The personnel changed over the years, but included Jimmy Boal (accordion) and Jean Dowell (piano). In 1960 another accordionist was required and John again advertised in the Courier. This is when Douglas Muir joined the band. The first album was recorded in 1968 with CBS simply entitled "John Ellis and the Highland Country Band".

Other memorable recordings include Volumes 1,2,3 by Emerald Gem in the 1980s, Polydor in 1980s, and Lismore during the later years.

The band was in great demand, but due to the work commitments of teachers within the band, they were sometimes limited as to where they could travel to. John's most memorable tours were of Southern Ireland arranged by Ronnie Coburn in the late 60s/early 70s and more recently celebrating the Millennium in Vancouver courtesy of RSCDS Vancouver branch. The musical highlight for all of the members of the band was the Annual Ball for the Argyll and Sutherland Highlanders held in Stirling Castle. The Highland Country Band played at this for twenty-five years. When the regiment was being disbanded, each member was touchingly presented with a miniature decanter and whisky glasses engraved with the Argyll and Sutherland Highlander crest.

John states that over the years there are two sets that are most frequently requested – the marches Captain Cameron's March by William Marshall and Scotlandwell by Douglas Muir (which is widely known as the signature set of the band) and also Mackays' Medley. In fact John's band was responsible for bringing the music of Crofter John Mackay to the airwaves through the instigation of Bobby Coghill who thought the tunes would marry up well with John's band.

John feels that Douglas, Irene and himself all jointly managed the band with Douglas being responsible for all the musical arrangements and Irene organising the music for playing at dances. He attributes the tightness of the front line sound down to playing together regularly for many years. When asked about the unique sound, he responded by saying he thought the two Ranco accordions and the fiddle sat well together and created that sweet sound.

John first recorded for BBC Radio in 1950. His was the last band to play from the old Aberdeen Beechgrove studio – a live broadcast in 2007. Sadly, due to health problems, the band last recorded a full length Take the Floor in 2007 from Perth City Hall alongside Jim Johnstone SDB and Gordon Shand SDB and then a shorter Take The Floor programme as guest artistes in 2008. This makes The John Ellis Highland Country Band the longest standing broadcasting Scottish Dance Band to date.

John lists his main musical influences as Jimmy Shand SDB, and the fiddle playing of Jim Barrie, Ian Powrie Band, Jim Cameron SDB, Ian Downie SDB and Bobby MacLeod SDB. He likes music to be simple and arranged simply.

The Highland Country Band is not John's only musical pastime however. John has also been involved with the Dundee Strathspey and Reel Society for many years and became Honorary Vice-President in 2001.

John says that although he can no longer play the fiddle due to shoulder problems, he "really enjoyed all the years. Commercialism was never in our minds, making good music was all that really mattered to us. Everyone had a part to play in the band. It was a happy band".

John's other passion and current hobby is racing pigeons. John has been racing pigeons since 1958 and is the only person ever to have achieved five Gold awards from the Scottish National Racing Pigeon Club and the Scottish National Flying Club. Each gold award represents five first places involving pigeons coming first in races from France back to Scotland). He is a very enthusiastic member of the Leuchars club.

John lives with wife Pat in Wellbank near Dundee. Their daughter Joan is also a talented fiddler and played with the Auld Reekie Ceilidh Band for ten years.
Info from: http://boxandfiddle.com/j_ellis.htm

Alan is a respected and popular member of the British traditional jazz scene. After turning professional at the age of 19, he worked with the bands of Cy Laurie, Graham Stewart and Terry Lightfoot before becoming a bandleader in 1960. In the seventies and eighties, Alan's career received a new boost when he joined the Midnite Follies Orchestra, led by Keith Nichols and Alan Cohen. Today, Alan works around the UK and Europe as a solo artiste as well continuing to lead his band. He has worked regularly with Keith Nichols since 1977.
Info from: http://www.mikegold.info/nichols/band.html
Mike Hugg (vocals, keyboards)
Manfred Mann (keyboards)
Steve York (bass)
Bernie Living (sax, flute)
Craig Collinge (drums)
Also live:
Sonny Corbett (trumpet)
Carl Griffith (flute)
Dave Coxhill (sax)
Clive Stevens (sax)
Gerald Drewett (trombone)
'Emanon' served as a bridge between 'Manfred Mann' of the sixties and 'Manfred Mann Chapter III'. In fact, on 1st June 1969 'Emanon' appeared at the ballroom, billed as support for the Manfreds! As the sixties 'Manfred Mann' line-up drew to a close in May of 1969 Manfred and Mike Hugg had already been experimenting with writing music for film soundtracks and commercials and they adopted the pseudonym 'Emanon' ('no name' spelled in reverse). 'Emanon' produced one, now much sought-after recording; a rare one sided single entitled 'The Michelin Theme' (go radial, go Michelin) attributed to 'Manfred Mann & Mike Hugg'.
The 'Emanon' project and the demise of the sixties band finally allowed Mike and Manfred to play the music that they wanted to play. The line-up was not dissimilar from that of Emanon, in fact they just added Brian Hugg on acoustic guitar, however the music was a big change from the sixties Manfreds.
Kevin Geoghegan - Band Leader - ?
Noel McNeil - vocals
The Emerald Showband (1967 - early seventies?) were, perhaps unsurprisingly, from Ireland (Belfast) and recorded 'The Hucklebuck' which appears on several CDs including 'The Best Of Irish Showbands'. They were prize-winners on the highly popular TV talent contest 'Opportunity Knocks' (hosted by Hughie Green) in late 1971 but they were knocked-out of by Neil Reid singing 'Mother of Mine'. but appeared on the 'All Winners Show' nonetheless.
Their management was based in Perth and their agents included Andy Lothian and The Impact Agency based in Glasgow (Neil Crawford & John Doran).
They made a recording with Polydor - "My Mother's Eyes" / "The Tennessee Waltz" but it seems Polydor's interest was firmly with their vocalist Noel alone and the record was never released.
Many thanks to Cath & Kevin Geoghegan
More info to come.

Short-lived funk/dance solo act with three single releases: 'Giving It Up For Love'/'Love's Secret', (1983), 'When I Fall In Love' / 'Stir It Around' (1983) & 'War Cry' / 'Jealousy' (1987)
If you can add any further information to this piece please contact me here

Derv Gordon - lead vocals
Lincoln Gordon - guitar
Eddy Grant - guitar
Pat Lloyd - bass guitar
John Hall - drums
The Equals racial mix was reflected in their music which although not an obvious Carribean style owed a lot to West Indian rhythms. Like many of the Merseybeat groups that preceded them the Equals were initially more popular on the continent than they were at home. Their biggest hit 'Baby Come Back' which had been written by the talented Eddy Grant, became a big seller in Germany before it was a hit in the UK.
The north London group had first come together during 1965 and had 'Baby Come Back' (PT135), their second release, issued during 1967. However the first pressing of this disc was largely ignored and they had to wait until their fourth single, 'I Get So Excited' (PT180), scraped into the bottom of the chart before they could say they had a hit. However, 'I Get So Excited' was sufficient to get them noticed and 'Baby Come Back' at last received the airplay it deserved.
The group enjoyed a string of chart entries until 1971 when Eddy Grant decided to make changes to his musical career. It took Eddy until 1979 to get his first hit on his own, but his chart successes did not then cease until the mid-1980s. Sadly, the Equals never recovered from the loss of Grant and folded a few months later.
Info courtesy of: www.45-rpm.org.uk

Deon played bass & rhythm guitar for Wham! during their Club Tour (1983), World Tour (1984) and the China Tour (1985), Whamamerica! Tour (1985) and the Finale Show (1986).
When Wham! split, Deon signed a contract and in 1989 released a solo album, 'Spell' and a US#5 single, 'Heaven Help Me'. Aimee Stewart sung a duet with Deon called 'My Guy, My Girl' and he provided bass guitar for George Michael's 1987 'Faith' album and Andrew Ridgeley's solo effort 'Son of Albert' (1990). The professional relationship with the Wham! Boys continued when he played guitar on Michael's 'Listen Without Prejudice' (1990) & 'Older' (1996). Additionally, Deon performed on 'Killer'/'Papa was a Rolling Stone' & 'Calling You', at the Freddie Mercury Tribute Show, culminating in the 'Five Live' album.
He continues to play & record.



'Tightrope' 12"EP 'Tightrope' 12"EP
Front Rear
Jim Telford - keyboards
Dave Service - guitar
Ian Stoddart - bass
Mike Peden - bass
John Robinson - drums
Scottish band oft compared to an "early Simple Minds" who released a 7" Single 'Tightrope' / 'When You're Young' (DUN 17) & 12" four-track EP 'Tightrope' (Extended) (DUNIT 17) 'Tightrope' / 'Quarter To Six' / 'When You're Young' / 'Take The Strain' (April 1982) on 'Do it Records' run by Robin Scott of 'M' ('Pop Muzik') and also the home of 'Adam & The Ants' at the time. The label released some 9 LPs and about 23 7"/12" ers.
Ian Stoddart later joined 'Win' with Russell Burn (ex 'Fire Engines').
Mike Peden later turned up in 'Baby Knives' & later still in 'The Chimes' with Pauline Henry & James Locke. (They had a UK #6 hit with a cover U2's 'I Still Haven't Found What I'm Looking For'). He has also produced Daryl Hall.
If you can add any further information to this piece please contact me here

Nicky Smith - vocals
Rob Marshall - guitars
Simon Lindley - bass
Scott Pemberton - drums

Exit Calm were formed in May 2006 and are based in Sheffield and individually come from Hull, Stockton and Barnsley. Rob, Simon & Scott had been in 'Lyca Sleep' previously. A single 'Hearts and Minds' was released on May 3rd 2009 and their eponymous debut album was released two weeks later on May 17th 2009. They have supported bands the likes of The Music, Echo and The Bunnymen, The Charlatans, Modest Mouse and Soulsavers and have been as far a field as Tokyo. They can count The Verve's Nick McCabe as a fan.