Biogz
'G'
Here you will find some short biographies (biogz) of solo artists whose surname commences with this letter or bands with names commencing with this letter (omitting any commonly used prefix such as 'The').
Click on the name below or scroll down the page at your leisure.
Gaberlunzie
Gallagher & Lyle
Rory Gallagher
The Galloways
Garry & The Hi-Landers
Dick Gaughan
The GB Big Band
Genesis
Gentle Giant
Gerry & The Pacemakers
Wayne Gibson & The Dynamic Sounds
Gideon's Wake
The Gift
Gillie Mor
Ginger
Girlschool
Glasgow
Glasvegas
The Go-Go's
Stanley & Brian Golby
The Golden Crusaders
Goldie & The Gingerbreads
Glen Goldsmith
Ron Gonella
Lonnie Gordon
Dave Goulder
Cherry Grant
David Grant
Graphite
Hebbie Gray
Greased Lightning
The Great Fife Roadshow
The Great Northern Jook Band
Greenmantle
Grey By The Gun
Grounghogs
The Gun
Guru Josh
Gypsy

Robin Watson
Gordon Menzies
Robin Watson and Gordon Menzies have been together as Gaberlunzie since the early 1970s and are well known for producing an exciting blend of modern and traditional songs. Essentially Scottish, with an emphasis on rhythm and harmony, Gaberlunzie has a wide appeal to audiences both at home and abroad. They have travelled extensively in Europe, Canada, United States, and the Middle East, taking with them not only Scottish music but also that other extra special ingredient - Scottish humour.

The Gabs, as they are popularly called among their loyal following of supporters, have a wealth of experience in performing for a wide variety of audiences - from folk clubs to football stadiums, from holiday resorts to concert halls. They have appeared many times on television and radio not only in the UK but also in Canada, and the United States.

To date, Gaberlunzie have recorded 18albums and two videos. Their latest release Independent Scots is sponsored by the Scots Independent newspaper. In addition, they have been engaged in solo projects creating albums in different musical styles. Robin's are entitled Summer Storms and Colours. Gordon's solo album is Full Circle.

The performance of the duo spans the breadth of Scottish culture. As singers, instrumentalists, and songwriters, their talents are impressive and Gaberlunzie's gift for entertainment is unsurpassed in Scottish folk music.
Info from: www.gaberlunzie.com
Robin Watson was also an actor whose credits include: 'Just A Boys Game' and 'A Sense of Freedom'. His wife Wilma Duncan also appeared in 'Take the high road' and Big Country's 'East Of Eden' promo.

The songs of Gallagher & Lyle have stood the test of time because they combine strong melodies with lyrics based on relationships and events with which so many people identify.
Their story starts when they left Largs, near Glasgow in 1967 for London. They emerged after a year, their dreams slightly the worse for wear - but not for long. The break came when they encountered Terry Doran and the embryonic Apple Music, the Beatles publishing Co. "On joining the ranks of Apple, we wrote from nine to five like any other job . . . . . . It was hard work but a great time to be around. Paul McCartney asked us to submit songs for Mary Hopkin and thus "Sparrow" became our first cover. Looking back, the decline of Apple was a tragedy but, the experience gained there gave us an invaluable "grounding" in the art of songwriting."

In 1960 Tom McGuinness and Hughie Flint were forming a new band (McGuinness Flint) and, on meeting Benny and Graham, it was obvious there was a chemistry between them. The success of the two singles "When I'm Dead And Gone" and "Malt And Barley Blues", brought pressure to capitalise on that success at the expense of the music, something they all felt they were not prepared to do. So, the band split-up in 1971. "We stepped back, took stock of our lives, recorded our first album, as a duo, for Capitol and took to the "road" working the college and club circuit . . . . And by 1973 we had enough material to record another album."

The rights to that album, "Gallagher & Lyle" were bought by A&M Records, who had signed them in 1972. This was followed by "Willie And The Lapdog" and "Seeds" in 1973. The band on tour continued to grow, both in size and popularity. In 1974, having just recorded "How Come" and the . ensuing album with Ronnie Lane and The Slim Chance Band, Gallagher & Lyle released "The Last Cowboy". The resulting tour saw the line-up increase yet again to include a fourteen piece string section .... But echoes of the McGuinness-Flint situation re-emerged so it was back to writing through most of 1975.

"We virtually gave up "the road" at that time, with no regrets, we believed in melody regardless of fashion and it paid off. The luck was that we were prolific in our writing during the seventies; a very "open" decade in musical taste."
The result was the classic "Breakaway" album with the hits "I Wanna Stay With You", "Heart On My Sleeve" and "Breakaway". "We consider that "Breakaway" contained some of our best songs and it was gratifying to have this confirmed by the success of the album. It established us not only as performers, but as songwriters - our original dream back in Largs in 1967".

The follow-up album in 1977 was "Love On The Airwaves" containing the evocative track "The Runaway". Extensive touring followed in the U.K. and America. Their last album for A&M, entitled "Show-down", was released in 1978 ending a fruitful six year partnership. One last album "Lonesome No More" on Phonogram was recorded in 1979 followed by the last tour . . . . . . So ended the duo's recording career, but the writing continues and it is only fitting that "Heart On My Sleeve" has been re-released to mark Gold Heart Day on Valentine's Day 1991.
Info from: www.rito.com
Rory Gallacher was a pioneer of the Irish rock business and opened up routes into the wider rock community in London for many Irish musicians. He was and remains a highly respected musician & guitar virtuoso known for his no-nonsense approach, long curly hair, soft speaking voice, a wonderful connection to his live audience and the Irish-flavoured folk-influenced blues he wrote & sung.
Born 2nd March 1948 in Rock Hospital Ballyshannon, Donegal, Ireland and Christened in Rock Church in the same town, William Rory Gallagher's first 'guitars' were made from school rulers and elastic bands. He began playing a plastic ukulele at around the age of 7/8 and his legendary Stratocaster was bought second-hand from a local shop for 100 Irish pounds, having been previously owned by Jim Conlan of 'The Royal Showband'. He joined his first 'proper' band aged fifteen in Cork and toured Spain, following membership of several school groups. They were known as 'The Fontana Showband' and later as 'The Impact'.
With 1965 came residencies in Hamburg, playing Chuck Berry covers and the like. 1966 saw the formation of 'Taste' in Belfast with Norman Damery & Eric Kitteringham though they were replaced before long with Richard 'Charlie' McCracken & John Wilson (from 'Them'). It has been said that within two weeks he was a star!
Their eponymous debut album 'Taste' (1969) garnered little chart interest though their second offering, 'On The Boards' faired much better with a UK high of #18 and this helped to establish Gallagher's reputation as a formidable blues guitarist and 'Taste' were often seen as pretenders to 'Cream's crown, post their demise in 1968. A tour of the USA supporting 'Blind Faith' saw them playing to appreciative crowds in excess of 20,000.
They played the Isle of Wight Festival in 1970 despite having their equipment stolen in London two weeks earlier.
'Taste's future came to an abrupt halt though when McCracken & Wilson decided they could no longer work with Gallagher once they discovered that Gallagher thought he was 'employing' them. They split in October 1970. The final album was 'Live Taste'. McCracken & Wilson went on to form 'Stud' for a short while until McCracken joined the reformed Spencer Davis Group.
Rory wasted no time in releasing his eponymous debut solo effort in May 1971 'Rory Gallagher' with assistance from Gerry MacAvoy (bass) and Wilgar Campbell (drums) and hit #32 in the process and he was voted the Melody Maker musician of the year for 1971.
Over the subsequent years other collaborators included:
Rod De'ath (drums), Lou Martin (keyboards), Ted McKenna (drums) from SAHB, Brendan O'Neill (drums), Mark Feltham (harmonica), John Earl (sax), Geraint Watkins (accordion), John Cooke (keyboards), Ray Beavis (sax), Dick Hanson (trumpet).
Fourteen albums and countless live appeaerances later he died of infection complications on 14th June 1995 after a liver transplant in London caused or at least exacerbated by a long, serious drink and prescription steroids / tranquilisers habit. Despite the love of his fans he remained a deeply private and some would say lonely person.
He was loved & respected in equal measure by fans & the blues fraternity for his no-nonsense 'feet on the ground' personality and professional integrity. He was known as 'the working man's guitarist' for his attitude and appearance as he would usually sport a chequered shirt, jeans & tousled hair.
The following is from my valued contributor Alex Stean:
"Well Ghoulz, my pal and I were talking at the football and about the Rory Gallagher programs that were on TV the other week and this gem came to light."

"When Rory played the Kinema Ballroom with 'Taste' on 2 nights in October 1969, his amplification failed and as they knew local musician Kevin Morris, they contacted him to borrow some equipment and the resulting photograph (above) was taken outside Kevin's house in Primrose Avenue in Rosyth."
(See black & white pic above) "Kevin is on the left, Rory next, John Wilson (drummer) at the back, Kev's mum, Ritchie McCracken, road manager and Rory's transit."

"You can contact Kevin and he will recount the full episode."

"Kevin teaches guitar and is well known in this area, he is very friendly with Ronnie Lessels (Falcons) and worked in Rosyth Dockyard before he joined the Fire Service from which he is now retired."

Four-piece folk group from Edinburgh including George Grant who later joined 'Both Sides' in Dundee.
They came 5th in the Scottish Folk Group Annual Championship competition which resulted in a recording of 'Dainty Davie' being included on the associated album 'Folk Philosophy' in 1970.
If you can add any further information to this piece please contact me here
Info from: NigelGatherer.com

Erle Jacobson - keyboards
Garry Summers - vocals
Andy Patterson - lead guitar
Ronnie Milligan- rhythm guitar
Norrie Whittle - bass
Roy Gannon - drums
Also:
Eggie Martin - guitar
Lindsay Thomson - lead guitar
Eric Murray - drums
? - accordion
'Garry & The Hi-Landers' were originally called 'The Erle Blue Stars' and they were formed around 1959 in Perth.
If you can add any further information to this piece please contact me here

Born Richard Peter in 1948, Dick Gaughan's mother was a Gaelic speaking Highlander while his Irish-speaking father was a fiddle player from County Mayo. Little wonder then that he grew up shaped by the musical traditions and culture of the Scots and Irish Gaels that surrounded him.
His career in professional music began in 1970 and his first of many solo albums was released in 1971. His career has included song writing, record production, music composition, acting, music director and music critic/columnist. He has been a member of bands such as: Boys of the Lough, Five Hand Reel & Clan Alba.
Dick's tastes in playing range from free jazz and rock to country music while his greatest musical passion is for the ancient traditional Scots ballads.
From Northern California, The GB Big Band swing outfit number 14 or 16 with vocalists. They have backed headliners including Buddy Greco & Frankie Laine.
If you can add any further information to this piece please contact me here
Personnel at the time of their ballroom appearance on Sunday 22nd November 1970 (Phil Collins had only joined weeks before).
Peter Gabriel - vocals, flute, accordion, percussion
Tony Banks - vocals, organ, piano, mellotron, acoustic guitar
Mick Barnard - vocals, acoustic and electric guitars, dulcimer
Mike Rutherford - vocals, bass, acoustic guitar, cello
Phil Collins - vocals, drums, percussion
I understand the line-up above (formed Sept/Oct 1970 when Phil Collins, then Mick Barnard replaced Mayhew and Phillips resp.) proved to be somewhat 'transitional' (playing only thirty shows) and altered again in early January 1971 when Barnard was replaced again by Steve Hackett and many would say they entered a classic period. Genesis placed a classified ad in 'Melody Maker' for "a drummer sensitive to acoustic music and a 12-string acoustic guitarist." - Ghoulz

Their first album From Genesis To Revelation (since reissued under many different titles) was a very majestic blending of late sixties British styles, most notable comparisons would be to the early Bee Gees or The Moody Blues, very acoustically driven (piano, acoustic guitar prominent), with Peter Gabriel's unique vocals and thoughtful, often personal lyrics. There are few hints here of the complex progressive form the band would later turn to, but nonetheless this is an excellent album. The second album Trespass marked the beginning of the band's most influential period, with longer, multi-part tightly arranged numbers that make full use of acoustic-electric rock dynamics, emotive classical and folk influenced melodies, and story type lyrics avoiding the first-person clichés of most bands of the day. Much of their style in this period was driven by the acoustic based guitar ideas of Anthony Phillips (even though Phillips quit after Trespass was recorded, his guitar style would be used by the band for the next five albums).
Each of the albums from this second period (Trespass, Nursery Cryme, Foxtrot, Live, Selling England By The Pound) has its own unique character and brilliance, and over the period of these albums also saw the emergence of keyboardist Tony Banks as the new dominant musical force within the band. The double epic The Lamb Lies Down On Broadway was more a transitional album musically, even though it does feature Gabriel at his lyrical and theatrical peak. Musically the album features a higher percentage of pure filler than any album they had done to date, which was necessary during the live performances to allow Gabriel ample time to change costumes. It was also their first album that achieved notoriety from the mainstream rock press. After an exhausting tour fostering much tension within the band, Gabriel decided to call it a day, leaving the band without a lead singer....and thus began the band's third period.
Up to this point, nearly all of the vocals were handled by Gabriel, although other members frequently sang prominent backup (Banks on "Hogweed" for example), but Drummer Phil Collins had already sang lead on a couple of filler tracks ("For Absent Friends" and "More Fool Me") used during live shows to give Gabriel a breather and time to change costumes. It stood to reason, then, that Collins could take over the role of lead vocalist while a "hired hand" could take over the drum duties for the live performance. But public perception at that point was that Gabriel WAS Genesis, and the band, without him, would be akin to The Doors without Morrison - and this was a major hurdle the band would have to overcome. On the first "Collins led" album A Trick Of The Tail, it's evident that the band went to some great lengths to produce an excellent album, as well as on its follow-up Wind And Wuthering, which shows the band moving into some new and non- commercial territory. These two albums, while very unlike the Gabriel led Genesis of a few years prior, were still very vital and cohesive. While mixing a live album of the WaW tour (Second's Out), guitarist Steve Hackett decided to call it a day.
Hackett's role within the band to that point had been primarily a counterbalance to Banks' poppy tendencies in Gabriel's absence. Now as a three-piece with Banks firmly in control, (and a higher public profile), that the band's music would inevitably become more mainstream oriented. And so began the fourth period. The first album as a three piece (And Then There Were Three) fares OK when compared with the two albums that preceded it, but it definitely marks a move in a new direction with shorter "song" oriented tracks and their first hit single "Follow You Follow Me." The follow-up album Duke was a major step in the commercial direction, at least half the songs seemed to be intended for singles. One long instrumental track on side 2 offered some brilliance, but not enough to save the rest of the album.
Subsequent albums Abacab, Genesis, Invisible Touch and We Can't Dance are firmly in the mainstream mould, with commercially oriented songs and plenty of hit singles. Of course, these later albums are not necessarily bad, but musically they're not that challenging either. Three live albums have appeared in this period: Three Sides Live is mostly recorded on the Abacab tour, and The Way We Walk (2 separately packaged CDs) was recorded mostly on the We Can't Dance tour. My Recommendations: Start with Foxtrot, Nursery Cryme or Selling England, IMHO these three represent Genesis at their creative peak.
Info courtesy of: www.gepr.net

Gary Green - guitar, mandolin, vocals, recorder, bass, drums, xylophone
Kerry Minnear - vocals, keyboards, cello, vibes, xylophone, recorder, guitar, bass, drums
Malcolm Mortimore - drums, percussion
Phil Shulman - vocals, saxophone, trumpet, clarinet, recorder, percussion
Ray Shulman - bass, trumpet, violin, vocals, viola, drums, percussion, recorder, guitar
Derek Shulman - vocals, saxophone, recorder, keyboards, bass, drums, percussion, shulberry (a unique percussive instrument)
Martin Smith - drums, percussion
John Weathers - drums, percussion, vibes, xylophone, vocals, guitar
British progressive rock band, they released 12 albums in the ten years between 1970 and 1980 none of which charted in the UK. They have been compared with 'Genesis', 'Yes' and 'Emerson Lake & Palmer'.

Gerry Marsden - guitar, lead vocals
Freddie Marsden - drums
Les Maguire - keyboards
Les Chadwick - bass
The Marsdens and Les Chadwick first played skiffle together during the late 1950s. Like many of the Liverpool groups of their time they travelled to Hamburg and soon acquired the second 'Les', Maguire, on keyboards to complete the Pacemaker's classic line-up. They soon caught the attention of Brian Epstein and became the next group after the Beatles to join his 'stable'.
Gerry & co. had the best start of all the contemporary groups, reaching the #1 spot with all three of their first releases. The group gradually moved its style from the upbeat and cheeky to slow and sentimental- and were loved for all of it. Their rendition of 'You'll Never Walk Alone' became a football anthem, firstly by supporters of their own native Liverpool and then by those of England.
The group lasted until 1967 after which Gerry started out as a solo performer. Although his presence disappeared from the chart he had by then become a loved performer and found work on the stage and TV. He returned to the public eye during 1987 when he was to lead a host of fellow musicians as the 'Crowd' in a re-make of 'You'll Never Walk Alone' in aid of those suffering after the fire at Bradford Football Club in 1985. Then, following the tragedy at the Hillsborough football ground in 1989 he remade 'Ferry Across the Mersey' with the same ideals in mind.
Gerry and the Pacemakers reformed with increasing frequency over the years and can be found as regular performers on 1960s nostalgia concerts.
Info courtesy of: www.45-rpm.org.uk
Wayne Gibson And The Dynamic Sounds


(left to right):
Larry Cole
Terry King (Manager)
Ray Rogers
Mike Todd
Billy Allen (aka Wayne Gibson)
Peter Gillies is behind the camera!
Edward William 'Billy' Allen (aka Wayne Gibson) - vocals
Michael Todman - lead guitar
Peter Gillies - rhythm guitar
Ray Rogers - bass
Larry Cole - drums
Terry King - manager
The band was originally formed in 1961 by Ray Rogers and Ken Hooker (aka 'Danny Raider') as 'Danny Raider and The Tornados'. Drummer Larry Cole and rhythm guitarist Peter Gilles joined having answered an advertisement in the UK music periodical newspaper 'Melody Maker'.
After some rehearsal, they secured a residency in 'The Hercules Tavern' public house opposite Lambeth North underground station on Friday, Saturday, and Sunday nights. Billy Allen (from a south London-based band called 'The Tornados' ... not the instrumental band of the same name) used to sing a couple of numbers with the band each evening and when Ken went on holiday, Bill covered for him and subsequently replaced him, taking the stage name of Wayne Gibson with the change to 'The Dynamic Sounds' because of the release of 'Telstar' by 'The Tornados'.
The band was then signed to 'The 'Kings Agency' after they were heard by Terry King who became their manager and sent them to Germany in November1962 where they played in the 'Top Ten Club' in Hamburg. They then moved to the 'Top Ten Club' in Hanover during January 1963.
In February 1963, they were playing in the 'Tabu Club' in Cologne where they were spotted by Shel Talmy and Mike Stone who offered them a recording contract upon their return to the UK in April 1963 and subsequently produced their first two singles with Decca.
They recorded a total of six singles, commencing with 'Beachcomber' / 'Linda Lu' in the Decca studios in West Hampstead, London on the 9th April 1963 with Reg Guest on piano. Their third single, 'Kelly' featured the talents of a young session guitarist, Jimmy Page and was their only chart hit at #48 in 1964.
In 1964-65, they appeared regularly as the house band on the BBC TV programme 'The Beat Room'.
The band split in 1965 and Billy Allen (aka Wayne Gibson) went solo with a couple of unsuccessful Stones/Beatles cover versions in 1966. In 1974 his cover of the Stones' 'Under My Thumb' was re-released and it peaked at #17 in the UK chart.
Sadly drummer Larry Cole died in October 2011.
Peter Gillies has been trying to find other band members and via a mutual friend (Tony) I've just managed to place Pete & Ray back in touch with one another after all these years (2014)! here's hoping for other connections!
Please contact me here if you'd like to get back in touch too and I'll try to help.
Singles:
Beachcomber / Linda Lu (Aug 1963) [Decca]
Come On Let's Go / Pop The Whip (Jan 1964) [Decca]
Kelly / See You Later Alligator (Aug 1964) - UK chart #48 [Pye]
Portland Town / Please Baby Please (Mar 1965) [Pye]
One Little Smile / Baby Baby Baby Pity Me (Sept 1965) [Columbia]
Ding Dong The Witch Is Dead / In The Night (Oct 1965) [Parlophone]
My thanks go to Peter Gillies who provided much of the first-hand information above!
Joe Gallacher - vocals
Ian Bassey - lead guitar
Robert Barrons - bass guitar
Roy Drysdale - Keyboards
Ronnie Bassey - drums
Roy became a successful BAFTA-winning sound engineer.
Rumour has it that 'Gideon's Wake' (a late sixties rock covers band from Kilsyth near Cumbernauld in central Scotland) once supported 'The Bay City Rollers' who did not go down well with the audience but this may be apocryphal!
My thanks to Tom Drysdale
If you can add any further information to this piece please contact me here
The Gift

Davy Cambell - vocals
James (Rusty) Russell - guitar & vocals
Alan Cunningham - keyboards
? - bass
Scott Watson - drums (Bruce Watson's brother)

The Gift were a local five-piece, writing & performing their own songs although they did once cover Wizzard's 'I wish it could be Christmas Every Day'.

Formed by Davy, James and Scott in 1987, keyboards & bass were added shortly before their Big Country support at 'Night Magic' on 18th December that year. They recorded three tunes in Edinburgh in late 1987 but split in 1988.

Davy had performed with a number of local outfits including 'Low Profile' who became 'The Big Easy' while James & Scott had formed & recorded with 'Grey Dawn' 1982-1986.

James & Scott went on to form & record with 'Planet Ride' 1990-1995 and later a covers band 'The International Playboys' 1995-2001 when stardom was swopped for more conventional careers.

Davy joined 'The Gravy Train' and recorded with Manny Charlton before playing briefly with 'Percy & The Peanuts' then moved to Australia in the mid 1990s. He is now a resident of Ireland.

The Gift's keyboard player, Alan Cunningham (ex 'Highlander') was a session musician and he played the keyboards on 'Mary's Prayer' by Danny Wilson.
If you can add any further information to this piece please contact me here
...or possibly Gillie Mhor?
Artiste(s) probably named after the Hamish Henderson song, sung and recorded by Dick Gaughan.
If you can add any further information to this piece please contact me here





Netherlands UK (Front) UK (Rear)
Curtis e Johnson - vocals
Pete Mitchell - ?
Douglas Macdonald - ?
Catchy bubblegum pop delivered in a high pitch produced for Bill Martin & Phil Coulter of Bay City Rollers /Slik camp and sound very much like it!
One 7" vinyl release 'Just Like You'/'Salvation' (12/11/1976) Mercury/Phonogram UK, also released in the Netherlands in 1977.
['Julie Anne' / Baby, I Love You, OK!' (1976) USA, just may be the same artist?]
Curtis was also a resident DJ at Tiffany's night club in Edinburgh and an early front-man for the punk/power pop band 'T.P.I.' (Thick Pink Ink) from the Broxburn area who released 1000 copies of their 7" single 'She's Too Clever For Me' / 'You Rool Me' (1979).
Curtis was also in a band called 'Shadowfax' with Dougie Moncrieff, Dougie Mcdonald and Mitch Mitchell from the Clermiston area of Edinburgh. After a time with a travelling carnival, he formed 'T.P.I.' with Billy Barker, Willie Taylor, Barry McVicar and Gordon Gooch in Edinburgh around 1979/80 before a period of DJing and studing acting in London. Later he moved to Northampton to join 'Barbed Choir' with Mark Halsey and David Turvey. He returned for a gig at the 'Nightclub' with Willie Thomas and a drum machine to support 'The Duritti Column'. Many other bands followed, however he now works solo.
If you can add any further information to this piece please contact me here
Thanks to: Stephen Small

Enid Williams - bass
Kim McAuliffe - guitar
Kathy Valentine - guitar
Denise Dufort - drums
Formed in 1978, along with 'The Runaways' some years earlier, 'Girlschool' was one of the first all-girl rock outfits. They successfully fused hard rock/metal with a punk edge & good looks. They emerged one year earlier in 1977 when South London neighbours & school friends Enid Williams (bass) and Kim McAuliffe (guitar) formed a short-lived all-girl covers rock band called 'Painted Lady' with Deirdre Cartwright (lead guitar) and Tina (drums). Kim and Enid later recruited Kathy Valentine (guitar) and Denise Dufort (drums) and changed their name to 'Girlschool' just in time for the NWOBHM (New Wave Of British Heavy Metal).
They toured with Budgie and notably Motörhead with whom they shared management and released the UK chart #5 collaborative E.P. 'The St. Valentines Day Massacre'. This same chart position would also be applied to their second LP 'Hit 'N' Run' that same year. Several singles and albums charted but personnel changes would dog their latter years and they split in 1988. Several partial reunions have resulted in occasional recordings and performances since.


Neil Russell / Archie Dickson / Paul McManus / Mick boyle
Michael Boyle - vocals
Archie Dickson - guitar
Neil Russell - bass
Paul McManus - drums
Joe Kilna - drums
Don Airey - keyboards (on 'Zero Four One')
Gavin Povey - keyboards (on 'Zero Four One')
Road Crew:
Bob McBean
Brian Geary (The Bear)
Felix Lenz
Glasgow were formed in 1983 as part of the NWOBHM (New Wave Of British Heavy Metal) in the Blairdardie district of Glasgow (around the Great Western Road area) and were still around five years later in 1988.
They released five singles & one album, the last four discs on their own '041' label.
They played at the ballroom on Tuesday 14th August 1984 supporting Nazareth. The ticket value was £3.
Singles:
'Glasgow's Miles Better' (1984) 12" EP
'Stranded' / 'Heat of the Night' (1984)
'Secrets in the Dark' / 'Meet Me Halfway' (1988)
'Under the Lights' (1988) 12" 3-track EP ('Under the lights' / 'Searching for glory' / 'After Midnight')
'Will You Be Mine' (1988)
Album:
'Zero Four One' (1987)
In 2007 Neil Russell is working in construction in Holland, Archie Dickson is a lecturer in music at Stow College Glasgow, Mick Boyle is still in rock and roll driving for TransAm trucking, Paul McManus is a quarry manager in Lanarkshire, Joe Kilna fronted Scots tribal-rock band Clan an druhmma and wrote a song called 'Sgt McKenzie' which was used in a recent Mel Gibson movie. Sadly Joe is no longer with us.
In the early 1970s drummer Paul McManus showcased on Hughie Green's 'Opportunity Knocks' television talent show, appearing solo as 'The Little Drummer Boy' aged about ten he played a custom-made half sized kit.
In the early 1980s when it was hip for bands to have geographical names such as 'Boston', 'Asia', 'Saigon' and 'Berlin' etc, when Mick Boyle was asked about their choice of name, Mick replied; "We wanted to be known as 'Stenhousemuir', but it wouldn't fit the back of the tour jackets" (recalls Brian Geary).
Paul McManus went on to play for 'Gun' recently.
Info from: 'The Great Scots Musicography' by Martin C. Strong. ISBN 1-84183-041-0 and from Brian Geary (The Bear).

James Allan – vocals
Rab Allan - lead guitar, vocals
Paul Donoghue - bass guitar, vocals
Ryan Ross - drums
Later:
Caroline McKay - drums
Jonna Löfgren - drums
Glasvegas are an 'alternative' rock band with a tangibly Glaswegian flavour formed in 2003 in Dalmarnock in Glasgow's east-end by Rab Allen and his cousin James Allen (with Paul Donoghue and Ryan Ross completing the rhythm section). After a considerable number of local gigs they financed, recorded and released their first CD single 'I'm Gonna Get Stabbed' / 'Ina Lvs Rab' (2004) to much critical acclaim
Their drummer, Ryan Ross left in 2004 to be replaced by Caroline McKay a short number of months later in 2005 on the basis of her 'cool' looks hoping that she would learn to drum as she went along. This she did and soon they needed the accompanying drum samples less frequently.
The following year they were 'discovered' by Alan McGee (the man who famously signed Oasis) at King Tut's Wah Wah Hut in Glasgow and he continues to champion Glasvegas today.
2006 saw them frequently supporting Dirty Pretty Things and they released 500 copies of another single this time on 7" vinyl , 'Go Square Go!' / 'Legs 'n' Show' on WaKS Records before the digital version was released.
In 2007 they filmed a promotional video in London and at home in Glasgow's east-end in support of 'Daddy's Gone' (a song they would subsequently release as a single) then increased their popularity further by releasing all their demos on their MySpace site for free download.
Their reputation for unusual promotional activity continued with an acoustic gig in Barlinnie Prison Glasgow which was extensively reported in a local newspaper 'The Glasgow Evening Times'.
2007 also saw them in London for a few dates and a photo shoot organised by McGee and another Scottish prison gig, this time at Saughton in Edinburgh followed by their first TV appearance, constant gigging and the release of their third single 'Daddy's Gone' / 'Flowers & Football Tops' on 7" vinyl.
Glasvegas sold out two consecutive dates at The Barfly Glasgow on 13th and 14th October 2007, a feat that had never before been achieved by an unsigned band. The record industry was beginning to listen too when the single 'Daddy's Gone' (for which there was only 1000 pressings) achieved the astounding feat of the #2 slot in the NME single of the year category.
A fourth single, 'It's My Own Cheating Heart That Makes Me Cry' followed on St Valentine's day 2008, and they signed to Columbia Records to record their debut album 'Glasvegas' in the states where they also filmed a video for their fifth single 'Geraldine' (2008), their first chart success at #16 (UK) #1 (Scotland)
They continued an extensive tour including several festival appearances such as Glastonbury and T in the Park.
Their sixth single was a re-recording of 'Daddy's Gone' which peaked at #12 in the UK, while their debut album reached #2 in the UK and went platinum. A short US tour was completed before commencing the recording of the traditionally 'difficult' second album and 'A Snowflake Fell (And It Felt Like a Kiss)' proved to be no exception at the end of 2008. Only six tracks were completed and it emerged as more of an EP than an album with consequently disappointing sales (#76 UK).
2009 brought a USA tour and the NME Awards tour and several very high-profile support slots for Oasis & U2 in Europe & the UK
Exceptional critical acclaim has been received from the music press in the form of numerous awards & nominations for categories such as 'Best Band', 'Best Album', 'Best Breakthrough Act' and 'Best Music Video', from NME, Mercury, Q, MOJO, XFM, Vodaphone, Tartan Clef, UK Music Video and even the Rockbjornen Awards in Sweden.
They closed 2010 with a new (Swedish) drummer on-board called Jonna Löfgren and their new album is scheduled for release in the first third of 2011.

Belinda Carlisle - lead vocals
Charlotte Caffey - lead guitar, keyboards, backing vocals
Gina Schock - drums, percussion, backing vocals
Kathy Valentine - bass guitar, rhythm guitar, lead guitar, backing vocals
Jane Wiedlin - rhythm guitar, vocals & backing vocals
There are two sides to every story. This is the flip side of The Go-Go's, a tale of five beautiful girls addicted to rhythm and noise with a taste for danger and fun. Little women it ain't. It all began on the streets in may 1978. Belinda Carlisle and Jane Wiedlin (then known as Jane Drano) were sitting on the kerb at a party in Venice, California & with them was a friend named Margot Olivarria. They were three little punkettes with green and purple hair who slashed and painted their clothes and wore trash bags for dresses. Since everyone they knew was in a terrible band, they decided to be in one too. Margot played the bass. Jane played rhythm guitar, painting numbers on her fret-board to learn chords. Elissa Bello became the drummer & Belinda sang.
They lived at The Canterbury, a punk rock dorm at Cherokee and Yukka in Hollywood one block away in the basement of a porno theatre, was the legendary punk hangout, The Masque. "We shared a rehearsal room with x and the motels there and other bands would come by and give us lessons", belinda recalls. "They felt sorry for us". The Go-Go's made their live debut at The Masque in July of 1978. Two months later, Charlotte Caffey, who was playing bass in The Eyes, was recruited. They didn't have to twist her arm. "They said, Do you play lead guitar? and I lied and said Yes. I figured it only had a couple more strings, it couldn't be that hard". Along with her enthusiasm, Charlotte brought something special to The Go-Go's. "She knew all these cool things", Jane says, "Like the names of chords and how to plug guitars into amps".
In 1979, drummer Gina Schock loaded up her pick-up truck and left Baltimore for L.A, seeking fame and fortune. "My parents prayed and everyone else laughed". Gina met Jane one Summer night at a party and invited the band to her house the next day. The following day she became a Go-Go. Gina's arrival marked a turning point. Once sloppy, fast and fun, The Go-Go's began to write and play music with a strong pop sensibility. Punk pundits called them sell-outs but they didn't care. They recorded a five song demo at Gold Star Studios and opened up L.A. shows for the British ska group Madness, who invited them to London.
They pawned most of their stuff and spent six months touring the UK in 1980. One of the songs on their demo, 'We Got The Beat', was released as a single and it became an underground dance hit in the U.S. when they returned from London. However, The Go-Go's found they could sell out any club in town but couldn't get a record deal. In November bassist, Margot, fell ill. Charlotte approached Kathy Valentine, a guitarist from Austin. History was about to repeat itself. "She asked if I could play bass", Kathy recalls, "And I said yes. I had never even touched one before".
In 1981, The Go-Go's signed to IRS Records. "I remember telling them we'd be platinum and they laughed in my face", Jane says. In fact, buoyed by two top 20 hits, 'Our Lips Are Sealed' and 'We Got The Beat', their debut 'Beauty And The Beat' would go double-platinum. They hit the road in a van, then a tour bus, then a bus with a tour manager. The following year they released 'Vacation'. Then with Charlotte sidelined by a wrist injury, they took one. In 1984, The Go-Go's re-emerged with 'Talk Show', their toughest, most tuneful rock and roll LP. They were on top of the world, but looking down on their creation. The reality gap between their public image and their private lives was widening like a fault line. "When you're that young and having that kind of success, there's no sane way to handle it". Belinda explains.
Beneath the joking and the camaraderie, tension and turmoil were brewing - "the same chemistry that makes a band click, can make it explode", Kathy philosophises. It was a trying time, Jane recalls, "We had this whole unwritten code that you had to be a Go-Go every minute of the day. We all had to think the same thing and want the same guys, party together, shop together. The togetherness was ridiculous. It was probably the equivalent of ten lifetimes of marriage". By the end of 1984, Jane left and The Go-Go's officially disbanded in May 1985. In 1990, the group got together again to re-record a cover version of 'Cool Jerk' for a greatest hits LP. They also hit the road for a brief U.S. tour.
This brings us to the present and 'Return To The Valley Of The Go-Go's', a 36-track collection of hit singles, b-sides, live tracks and previously unreleased songs that begins with rehearsal tapes from February 1979 and ends with three new Go-Gos classics: 'Good Girl', written by Jane and Charlotte, 'Beautiful', the first collaboration between Gina and Charlotte and the Kathy-Jane thrash-pop of 'The Whole World Lost Its Head', which includes this immortal couplet: "Mary ate her little lamb/and punk rock isn't dead". Neither, it appears, are The Go-Go's. When we got together to do this, Gina says, it was so much fun and the songs came so easily, we thought we'd do something new even if we never do anything else- Belinda can't help but agree, "We always say never again and we always end up together again".
Info from: David keeps' liner notes from 'Return To The Valley Of The Go-Go's' - 1994 IRS Records.
Brian Golby - fiddle, harmonica, melodeon
Pete Stanley - banjo
Brian Golby began to play professionally in 1953 then joined the British army. Re-emerging to play local folk venues in the early sixties, he teamed up with Pete Stanley in 1966 and they secured occasional TV & Radio work until they split in 1970. Following TV & Radio work in the states, Golby, Patsy Montana and Mac Wiseman formed a touring band for a year or two before he & Alan Taylor formed 'Cajun Moon' in 1975. One album later in 1976 it was all over. In 1977, he once again joined Pete Stanley and they toured Europe for around eight years.
If you can add any further information to this piece please contact me here






Hey Good Lookin' Back Row l to r l to r
Jack Taylor Jack Taylor
Brian Sheridan snr Brian Sheridan snr
John Lee Dennis Murphy
Front Row l to r John Lee
Brian Johnston Brian Johnston
Bobby Johnston Bobby Johnston
Billy Colquhoun Billy Colquhoun
Dennis Murphy
Brian Sheridan - vocals

Dennis Murphy - vocals

William 'Billy' Colquhoun - lead guitar & arranger (sometimes keyboards)

Frank Connor - 2nd/lead guitar (ex the Edinburgh 'Falcons'
)
Brian Johnston - rhythm guitar
Bobby Johnston - bass
Jack Taylor - tenor sax
John (Ching) Lee - drums
Billy Ritchie - keyboards
Also occasionally:
Andy Doolan - trombone (who wrote their first single 'I'm In Love With You').
Singles:
'I'm In Love With You' / 'Always On My Mind' - 1964
'Hey Good Looking' / 'Come On Come On' - 1964
'I Don't Care' / 'That Broken Heart Is Mine' - 1965
Formed in 1960 as 'The Blackjacks', this showband from Bathgate in West Lothian, renamed themselves as simply 'The Crusaders' but then decided to add 'Golden' to avoid confusion with another Edinburgh based 'Crusaders' (actually from Prestonpans to be accurate) before they signed to Norrie Paramor for 'Colombia'. They played at the ballroom 67 times between 1965 and 66 before spitting up later in 1966.
Frankie Connor went on to play with the Prestonpans 'Crusaders' too before returning to the 'Golden' version, albeit briefly and it was around this time that when Billy Colquhoun played keyboards, Frankie would step-up to play lead.
Brian Sheridan joined Marshmallow 400 in 1967.
Brian Johnston went on to play with 'The Senate'.
John Lee (aka 'Ching') went on to play with The Stag Party in 1967.
Keyboard player Billy Ritchie & drummer Harry Hughes occasionally deputised for members such as when Hughes deputised for John Lee when they played at Colin Meiklem's 'Music Box' in Bathgate to publicise the newly extended shop (probably 1963). They later turned up in 'The Premiers' from which '1-2-3' evolved and later renamed 'Clouds' in 1967.
Many thanks to Ian Hossack and Billy Colquhoun for a variety of enhancements and corrections.

Golda Zelkowicz (aka Goldie) - lead vocals, harmonica
Ginger Bianco - percussion
Margo Lewis - Hammond organ
Carol MacDonald - guitar, backing vocals
Goldie was born in Lodz in Poland in 1942 and grew up in New York. In 1962 she formed her own all-female American rock band, with Ginger Bianco & Margo Lewisand. They were remarkable for the fact that despite being all-white they sounded black and played their own music. They signed to Altantic in 1964, the first all-girl band to sign with a major label. They later met 'The Animals' and Alan Price persuaded them to move to England for a time where he produced their one and only hit (Can't you Hear My Heartbeat?' - #25 - 1965) from nine singles released.
The band split in 1968 and Goldie renamed herself Genya Ravan and formed 'Ten Wheel Drive' then 'Baby'.


This autographed publicity photograph is reproduced courtesy of Martin Robb (Hollywood Boulevard Manager)
Glen Goldsmith began singing for Elite Records and gained three years experience there. He then joined a band called 'Push', who secured support duties with Shalimar and Millie Jackson.
He released his first single – 'I Won't Cry' in 1987 and signed for RCA Records. The single peaked at #34 in the UK and he undertook a substantial UK promotional tour with TV & radio appearances. Subsequent singles 'Dreaming' (#12), 'What You See Is What You Get' (#33) and 'Save A Little Bit' (#73) were all UK chart hits in 1988. He also scored a #14 UK chart position for his million-seller debut album 'What You See Is What You Get' in that same year.
The follow-up album 'Don't Turn This Groove Around' (1990) was finished in the states, where he collaborated with MC Hammer. Other releases included 'One Life' (1991), 'You Got Me Dancing (1991), 'Learn To Live' (1993) and 'Put Love In' (1993).
After the release of 'Go With The Flow' (1993) Glen rebranded himself as simply 'Goldsmith' and wrote for Mica Paris, Ultimate Kaos, Rozalla, Dannii Minogue, Kinane, Ladies First, First Class, MN8, Paul Johnson and Peter Andre for whom he wrote 'Mysterious Girl' (1995 #53, 1996 #2 and 2004 #1). Thus is the only song released three times by the same artist in the history of popular music.
Glen has written other hits for Peter Andre including 'I Feel You', a #1 in 1996 and again in 2004! Glen now has his own studio and production company, Blues & Rhythm Productions and he continues to write both for himself and others.
Ron Gonella was a prolific Scottish fiddler often lauded for his precise elegant style and beautiful tone. He recorded more than a dozen albums playing solo or sometimes accompanied by piano or piano & bass and sometimes with his quartet.
He taught at Morrison's Academy in Crieff.
If you can add any further information to this piece please contact me here
For nearly two decades Lonnie has graced the dance charts with such worldwide number hits as 'Happening All Over Again', 'Gonna Catch You', 'Bad Mood', 'No Regrets', and 'Love Eviction, to name but a few. This truly talented artist has personally set high standards for herself and has more than reached them every time.

From humble beginnings in the New York Bronx district to gracing stages all over the world, Lonnie has never forgotten her roots and it clearly eminent that she has been graced with the unique ability to apply herself to almost anything that is put to her.
She began singing at the age of 6 and got her break at just 13 years old at the famous Apollo Theatre in New York doing amateur hours, but this was just the first stepping stone to her now very highly successful career. Lonnie then stepped across the pond to the UK in late eighties, and the audiences were wowed by here sheer vocal talents and energy, after releasing some huge dance anthems she came to the attention of the legendary producers Stock Aitken And Waterman.

Lonnie went on to record 'Happenin All Over Again' which quickly went top ten, and was followed by a string of other smash hits. Europe quickly followed, and this is when the United States beckoned Lonnie back to her mother land. Lonnie signed to SBK records and had many No1 dance hits, as well as the much talked about smash hit album 'Bad Mood'.

Over the last four years Lonnie has starred as the lead vocalist and narrator for 'Zumanity' another side of Cirque du Soleil, in Las Vegas. Working with Cirque du Soleil and moving to Las Vegas, was a bold career move that provided an opportunity for Lonnie to showcase her strong vocals and incredible stage presence.

This engagement allowed her to both learn, and understand the inner workings of what is considered the most successful theatrical company in the world. It also prepared her, for the next stage of her long distinguished career, becoming a Performing Artist encasing her all-round talent.
Lonnie is also an acclaimed painter and fibre artist ...

Lonnie has recently been signed to Positiva/EMI records UK after touring the UK in late 2008 with allaboutdivas.com. Whilst in London Lonnie recorded some new material which quickly got the attention of EMI, who quickly signed her. Positiva /EMI enlisted the talents of top producers/remixers The Wideboys and Pete Hammond to give 'Catch You Baby' a makeover and the track is set for release in the in May 2009, as well as a new album on the horizon. Lonnie is hitting the shores of the UK and Europe again in 2009 for a promotional tour to co-inside with the new single release,

Lonnie says "Coming to Britain is like coming home, the energy and love is so amazing".
She will be heading back into the studios in 2009 to record her next string of mega hit songs.

She will be releasing her newly re recorded mega hit 'Catch You Baby' with all new tracks and Lonnie's new vocal recording. Lonnie will also be touring the USA and the UK in 2009.

She is also scheduled to be filming in the studios of Christopher Nejman for his new internet TV network which will debut January 2010.
Info from: http://lonniegordonofficial.com/

Dave Goulder was a British Railways worker until 1961 when he took up running hostels for mountaineers, supplementing his income by occasionally touring the folk song clubs in the south. He was married to Liz Dyer 1969 to 1981 and together they recorded two albums for Argo, 'January Man' (1969) & 'The Raven & The Crow' (1971).
He has recorded collections of original railway songs and become a talented dry stane dyker or dry stone wall builder if you prefer.
Dave is actively involved in the Rosehall Ceilidh Band in Britain, Europe and North America. He has provided music for radio, TV and film, plus commissioned songs for a variety of singers. Planned projects include a book of "steam" songs, stories and pictures, an anthology of stone walling poetry and verse. He now plans to become a master craftsman on the Jew's Harp.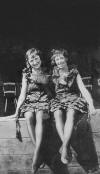 Image of Cherry & sister Lena above courtesy of Jim & Margo Kirkpatrick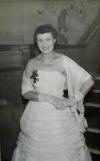 Images of Cherry Grant above courtesy of Freda Drysdale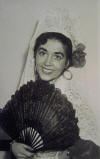 Freda Drysdale as Carmen (Dec 1952) and in Dec 2006
Christian (Cherry) Grant was a local cabaret singer and dancer whose sister Evelyn (Lena) was married to the first Kinema manager, George Hylands. Both sisters were professional entertainers and regulars at the Kinema between 1938 and 1945. Cherry had a 'Greeter' / 'Hostess' role, maintaining order on the dance floor and was hugely popular amongst the patrons of the Kinema for her effervescent personality & friendly demeanour. She also ran popular ballroom dancing lessons during the first year after the opening but these ceased when the hall was closed to dancers and used to billet soldiers from some Scottish regiments. (The then Manager, Mr George Hylands, was quite concerned about the soldiers stomping around on the new sprung floor that had been installed and had it protected by a linoleum floor covering during the period it was used by the soldiers). Cherry passed away peacefully at Newlands Nursing Home Dunfermline on Sunday 11th November 1990, aged 86.
Many of the photographs of the ballroom and the 1940's performers used on KinemaGigz, including those of Cherry above, were kindly supplied by Cherry's dear friend and 'No.1 fan', Mrs Freda Drysdale (nee Marshall) who was a successful & versatile full-time professional singer and cabaret performer of Scottish, Old Tyme, Classic & Comedy songs herself, appearing with The Alexander Brothers, The Corries, Larry Marshall, Charlie Sim, Andy Stewart, Sir Jimmy Shand and many others over the length & breadth of the UK. Freda's husband, accompanist & manager, Mr. Ken Drysdale was said to have been the finest jazz pianist in Fife. Freda appeared on BBC TV's 'Your Turn Now' and regularly at Blackpool's Tower Lounge
Freda described Cherry as having "a charisma that never failed to light up our every night" and her Kinema dancing friends as "like our own big happy family". She closes a letter written a couple of years ago on the subject thus: "I don't live in the past, but reserve the right to wallow in it whenever I hear the magic words... Kinema Ballroom!"
Freda & her life-long friend Margaret Axford (nee Young) spent very many "halcyon hours" at the Kinema (in the early 40s) which Freda still remembers with warm affection. In fact Margaret met her future husband Eric Axford in the Kinema.
I'm hugely grateful to Freda for her valued contributions to this web site and having been fortunate to spend some time in Freda's company, I can attest to her sharing the same warm, friendly personality she speaks of so highly in her dear friends, and let me tell you, she still sang beautifully in 2006!
Sadly Freda passed away in January 2011 at the age of 86.
David Grant (along with his partner Carrie) is a well known pop vocal coach with clients such as Will Young, Melanie C and Lemar.They became household names with their involvement in the popular BBC reality TV talent shows 'Fame Academy' and 'Pop Idol'.
In the early 1980's David Grant provided vocals for the Brit-Funk duo 'Linx' with bassist Sketch and had 6 UK chart singles: 'You're Lying' (1980) #15, 'Intuition' (1981) #7, 'Throw away the key' (1981) #21, 'So this is Romance' (1981) #15, 'Can't Help Myself' (1981) #55 and 'Plaything' (1982) #48 and albums: 'Intuition' #8 and 'Go Ahead' #35 both in 1981.
The band split in 1983 and David went solo with 3 top 20 UK chart hit singles: 'Stop and go' (1983) #19, 'Watching you watching me' (1983) #10 and 'Mated' (1985) #20 and a top 5 duet with Jaki Graham in March 1985: 'Could it be I'm falling in love'.
David also presented various TV shows, including 'Riverside' & 'CDQ' and often appeared on Mike Read's 'Pop Quiz' and Jools Holland's 'Later'. He is now also a session singer, vocal arranger and producer. David is interested in politics and appears on 'Daily Politics' and 'BBC Breakfast News'. He & Carrie also teach management courses have released DVDs and books and continue with TV presentations.
Allen
Hook
Gore
One single release 'Gimme Your Number' / 'Chestnut Loke' (October 1972) on Beacon. They played the Kinema on Saturday 7th October 1972.
Hebbie Gray (former Scottish Fiddle Champion) was a member of 'Jim MacLeod & His Band'.
If you can add any further information to this piece please contact me here
Tribute to the songs of the musical 'Grease' and Rock 'N' Roll Show.
If you can add any further information to this piece please contact me here

Originally called 'Charabang' or parhaps 'Charabanc', The Great Fife Roadshow was "almost vaudevillian" in presentation and included: Barbara Dickson, Jimmy Hutchison, Rab Noakes, Pete Sheppard, Artie Trezise, Cilla Fisher, John Watt, Davey Stewart, Davie Craig, Noel Farrow, Des Haldane, Brian Millar, Johnny Moise, Tam Harvey and Jim Herd playing folk clubs & village halls. At one of their performances John Watt persuaded Barbara Dickson to dress up in a clippie's uniform for a performance of 'The Kelty Clippie'. Also in the photograph above is Jan Miller who made the model of The Kelty Clippie in an homage to the famous song by John Watt .
Barbara Dickson & Rab Noakes had left by the time the picture was taken.
They performed around 55 gigs from 1969 with the last one as recently as 1992! In 1970 they performed approximately 29 nights out of 31 all over Scotland, making a considerable loss in the process!

Mike Ballantyne - vocals, guitar, kazoo
Neil Munro - guitar, mandolin, fiddle, vocals
"Piney" Woods - vocals, guitar
Ovind Helseth - double bass
Jock Westwater - banjo
Edinburgh-based four-piece folk group. Occasionally Jo Farrer sang with them as well (she sang blues like Bessie Smith). Essentially the GNJB were a jug band, playing a lot of material based of Jim Kweskin and his Jug Band. They recorded a single, "The Jug Band's Back" which was only released in Norway. After Mike left the Great Northern Jook Band changed their name to The Shelby County Band. They split at the end of 1972. Mike Ballantyne also sang solo in Edinburgh pubs and ran a folk club in Edinburgh, before emigrating to Canada in 1973, singing professionally until 1989.
Info courtesy of: www.nigelgatherer.com

Jack Law - guitar, harmonica, vocals
Billy 'boom' Campbell - bass, vocals
Ian Campbell - lead guitar, vocals
A Glasgow-based acoustic harmony group who often performed with singer-songwriter Brian Friel. They opened a benefit gig for striking Upper Clyde Shipbuilders at Greens Playhouse (later the Glasgow Apollo) on Sunday 30th April 1972 headlined by Donovan and supported by The JSD Band, Darryl Adams and Gallagher & Lyle and compared by Billy Connolly.
Many will concur a great story that a stranger arrived at the Clyde ship-yard gates the day before the above gig and handed in an envelope and twelve red roses to the strikers. The envelope contained a cheque for £5,000 which the man asked to be kept quiet and he was given two tickets for the concert at which point he left. He attended the gig in disguise and was later revealed to be John Lennon!
At the end of 1972 Ian had to leave on medical grounds so Jack & Billy continued as a duo until by 1975 they had added two more members and released a single called 'Terminal'. They split early 1977.

Greg Yule - vocals, guitar
Gordon MacKay - drums
Allan Wiseman - bass, vocals
Gordon Eady - lead guitar, guitar
Aberdeen band 'Grey by the Gun' was formed in the mid 1980s and joined by Greg Yule in 1986 when he soon discovered the vocalist was leaving so he took up that role too. Their first record was 'The Black Heart' EP, the second, also an EP was 'Cutting The Rug', both of which also sold in excess of 10,000 copies.
They soon landed supports for 'Runrig', 'Deacon Blue' and 'Wet Wet Wet' though they seemed to suffer from sharing management who were preoccupied with one of their stable mates, 'Runrig' so they parted company and moved to Brighton where new management hooked them up with RCA.
They recorded some material for an album and showcased their talents in New York, however the album never saw the light of day as it became victim of a 'new broom' Managing Director. Their manager changed their name to 'The Promise' but they never used it to record or perform. Gordon Eady left in February 1990 and declined to return that Summer.
Gordon Eady tells me: "Greg now lives with his new wife and two children in northern France, Gordon MacKay returned to Aberdeen with his wife and child, Allan lives with his wife Fiona in Newhaven in Sussex and I live in Brighton with my partner Sue. To my knowledge non of the ex-members of GBTG still work in the music industry although Allan turned his hand to classical composing."
In another update Greg Yule has been in touch to say: "Hi, I'm still recording, finished 2 albums and am currently working on the 3rd. Now tour and play in Europe, just opened new recording studio in France. As far as I know, I'm the only one still playing ... check out the web page http://www.gregyule.net/
I'm grateful to Gordon Eady for the line-up info.

Dave Boorman - drums
John Cruickshank - vocals, harp
Peter Cruickshank - bass
Bob Hall - piano
Tony McPhee - guitar, bass, synthesizer, vocals
Ken Pustelnik - drums
Steve Rye - harmonica
Clive Brooks - drums
Mick Cook - drums
Martin Kent - bass
Dave Wellbeloved - guitar
Albums:
Scratching The Surface (1968)
Blues Obituary (1969)
Thank Christ For The Bomb (1970)
Split (1971)
Who Will Save The World (1972)
Hogwash (1972)
Solid (1974)
Best Of 1969-1972 (1974)
Crosscut Saw (1976)
Black Diamond (1976)
Hoggin' The Stage (1984)
Razor's Edge (1985)
Back Against The Wall (1987)
Hogs On The Road (1988)
No Surrender Live Album (1989)
Groundhog Night (1993) (Live double CD)
Please Leave My Mind, 'Herbal Mixture' Singles from Groundhogs and Herbal Mixture (1995)
Live At Leeds '1971' (mid 1990s)
Please Leave My Mind (1996)
Bleachin' The Blues (1997)
Hogs in Wolf's Clothing (1998)
Live At The Astoria (1998)
US Tour '72' (1999)
The Lost Tapes 1 (Live in London, 1989)
The Lost Tapes 2 (Live outdoor concert in Milan 1994)
The HTD Years (2000)
Groundhogs Live UK Tour '76 (2003)
During the early 1970s, The Groundhogs were among the most popular and successful groups in the UK, with three Top 10 LPs to their credit in fewer than two years. Originally formed circa 1964 (and first known as 'The Dollar Bills' before becoming 'John Lee's Groundhogs', to reflect their admiration for John Lee Hooker), the group was led by singer/songwriter/lead guitarist Tony (T.S.) McPhee. The first version of the group lasted about a year, after which McPhee joined 'Truth', who had released a UK Top 30 hit in early 1966 with a cover version of 'Girl', the Lennon & McCartney song from the 'Rubber Soul' album by The Beatles, before McPhee joined. They followed it up later in 1966 with another near-hit, a cover version of 'I Go To Sleep', a song written by Ray Davies of The Kinks, on which McPhee did play, but soon dispersed. From there, he briefly joined 'Boz & The Boz People' (led by Boz Burrell, later of King Crimson and Bad Company), and then 'Herbal Mixture' (with John Dummer - McPhee also worked with 'John Dummer's Blues Band', and appeared on their debut LP, 'Cabal', in 1968). And even before all that, he had turned down the chance to replace Eric Clapton in 'John Mayall's Bluesbreakers', when Clapton went off on his legendary trip to Greece in the Summer of 1965...
In 1968, Roy Fisher, the manager of the early incarnation of The Groundhogs, was working as a photographer, and in that guise, went to Liberty Records, where he met Andrew Lauder, then a young A&R man for the label. Lauder told Fisher that if The Groundhogs could be reassembled, he would sign the group and they could make an LP. McPhee instantly agreed, and contacted bass player Pete Cruickshank, who had been in the original Groundhogs, and had also worked with McPhee in Herbal Mixture, and with the addition of drummer Ken Pustelnik and harmonica player Steve Rye, the group re-formed in 1968, when they released their debut LP, 'Scratching The Surface'.
The producer of that album was Mike Batt, later the man behind the remarkable success of The Wombles. For the second Groundhogs LP in 1969, 'Blues Obituary' (with which the band tried to distance themselves from their image as a blues band, hence the album title), McPhee was the producer, and the considerably increased sales of that album brought the band (now a three-piece, after Steve Rye's departure) to the brink of fame.
The LP that actually achieved that milestone was 'Thank Christ For The Bomb', released in 1970, which peaked in the Top 10 of the UK album chart. In 1997, McPhee recalled the circumstances behind the album with the attention-grabbing title, which ran against fashionable philosophy at the time (although some say that fearsome weapons like the Atom Bomb and the Hydrogen Bomb are the major reason for it being over 50 years since the last World War). McPhee refuses to take the entire credit for this revolutionary theory, admitting: "Well, it was forced on me a bit". Roy Fisher suggested that McPhee should think of something controversial for the new LP. "John Lennon had just made his famous quote about The Beatles being more popular than Christ, and everyone was up in arms. So Roy said 'Let's marry it up with the bomb. How about 'Thank Christ For The Bomb?' So I went home and I had to write these lyrics, and my initial thoughts were that in the First World War, if you were injured you were sent home. And that was my first idea - a soldier is blown up and his toes are blown off so he goes home again. No, that's not enough. So I thought well, let's make it the atomic bomb and really piss people off. My thought was, and it's been said by other people, that once something is invented you can't forget it, it's there so there's no point in trying to pretend it doesn't exist. I always felt that through the ages, the broadsword must have been the ultimate weapon at one point, because they could chop people's heads off all over the place, and the crossbow and the longbow - there's always been the ultimate weapon, it's just a question of degree, really".
The album made The Groundhogs a fashionable chart act, helped, interestingly enough by a certain disc jockey: "It did very well. I've got to say that John Peel broke that album because he had that Sunday afternoon radio show, and he did the same for us as he did for 'Sabre Dance', he played that to death and he broke it, and he picked on 'Soldier' as a particular track and he really broke that album". As an aside, one of Peel's reputed favourite all-time acts, The Fall, in fact covered a Groundhogs song from the album after 'Thank Christ For The Bomb', 'Split'.
The group's next LP came out in 1972 and was entitled, 'Who Will Save The World'. After its release, Ken Pustelnik left the band, and was replaced by Clive Brooks. The band recorded the following LP, 'Hogwash', later that same year. After that, the Groundhogs moved to another label connected with the group's new management, who had taken over from Roy Fisher after 'Who Will Save The World'. The new arrangements ultimately proved to be a mistake, and led to the band splitting up in April 1975, only for McPhee to launch a brand new Groundhogs line-up later that year, responding to popular demand.
The new line-up rejoined Liberty/UA, where they had enjoyed considerable success, and recorded a new album, 'Crosscut Saw', in 1975, and a year later, made 'Black Diamond'. After that, The Groundhogs again split up, as punk rock became the order of the day. McPhee reflects: "We were never fashionable, and I'm sure that was because music writers couldn't pigeonhole us. They couldn't say we were a blues band, they couldn't say we were heavy metal, because we were neither, we were a heavy metal blues band, so whatever they didn't like, they called us. If they hated blues, we were a blues band, if they hated heavy metal; we were a heavy metal band. In the early 1980s, I went back to London and did some blues gigs and got the Tony McPhee Blues Band together. Then the 'Hogging The Stage' live double album was released, credited to The Groundhogs, which reached the independent chart, and I thought oh, I give in, it's Groundhogs again. And the daft thing was that when we were doing the 'Half Moon' at Putney as the Tony McPhee Band, we did pretty well, we got 200 people in there, but when we called it The Groundhogs, doing the same set we got 500 people. It's stupid..."
John Tobler (1997) from the CD reissue of "Thank Christ For The Bomb" (1970).

Adrian Gurvitz - guitar
Paul Gurvitz - guitar, bass
Louis Farrell - drums
Jon Anderson
Adrian Gurvitz was born in London, England, where he started playing guitar at the age of eight. In the 60's his father was a tour manager for bands like Cliff Richard and the Shadows and the Kinks, this was Adrian's first introduction to the music business.
Originally called 'The Londoners' then The Knack' (when they signed a record deal and recorded several singles), 'The Gun' had instant success supporting bands such as 'T.Rex' and 'Pink Floyd' on the London underground scene. Adrian, in a fit of inspiration, had written a song called 'Race with the Devil' that took the band high in the charts and became an international hit reaching number 8 in the UK in 1968. They used to play 'A Day In The Life' by the Beatles and one night at the end of the song some guy approached the band, saying, 'That was excellent'. It was John Lennon.
They did two albums for CBS called "Gun" and "Gunsight" .. The band toured for two years and put out four more singles "Race with the Devil" was subsequently reissued in 1979 and 1982. The follow-up, "Drives You Mad", was similar in style. Their first album cover was designed by Roger Dean which was also his first music cover. It was very much part of the first wave of British hard rock. Both albums were psychedelic/progressive crossover items and could potentially also appeal to fans of either of these genres. By the end of 1969 they were regarded as one of the loudest bands of all time.
After spells with Three Man Army and The Buddy Miles Band, Adrian embarked on yet another venture - the brand new Baker Gurvitz Army, featuring legendary Cream drummer Ginger Baker. Adrian had bumped into Ginger at the Speakeasy (an after hours club for rock stars in the 70's) and after a very short hello they had decided to form the band and record their first record which they made at Ramport, The Who's studio. for the blues.. He was a much better guitarist than many of his more publicized contemporaries.
Later he had a Top 10 solo hit single in 1982 with 'Classic'.
Info courtesy of: www.adriangurvitz.com & www.paulgurvitz.com

Guru Josh (Paul Walden) was originally a keyboard player at 'The Sands' nightclub on the island of Jersey and appeared under the name 'Syndrone'. He became one of the first British acid-house musicians and was also the first to play live stadium shows.
His first single, 'Infinity' (1990) charted in the UK at #5 though his debut album of the same name peaked at #41. Other singles, 'Freaky Dreamer', 'Holographic Dreams' and 'Hallelujah' failed to chart with the exception of 'Whose Law (Is it Anyway?)' at #26 UK charts.
He has produced audio-visuals for 'Dr Devious and the Wisemen', exhibited 3-D glass art as 'Louie Fabrix' and still records as 'The Guru Josh Project'.
John Knapp - vocals, guitar, keyboards
Robin Pizer - guitar, vocals
Rod Read - guitar, vocals
David McCarthy - bass, vocals
Moth Smith - drums
Ray Martinez - guitar, vocals
Leicester based psychedelic hippies, Gypsy were formed in 1968 though their first single ('No One' / 'The Fantastic Story Of The Steam Driven Banana' (1969) was released under their original name 'Legacy'. The name change was complete just before their 1969 Isle Of Wight Festival appearance.
In 1971 they released an eponymous album 'Gypsy' which reviewers favourably compared with Buffalo Springfield and Moby Grape. Rod Read then left to be replaced by Ray Martinez. Their second Gypsy single 'Changes Coming' (1971) was banned by the BBC for its political content. A second album 'Brenda & the Rattlesnake' (1972) was largely ignored while a third in 1973 remained unreleased and they split soon thereafter. A collection of the first album, a single, and six unreleased tracks called 'The Romany Collection' appeared in 2004.
Like so many other out of work musicians, Knapp had a spell of grave digging. Knapp & Smith & John Butler formed 'The Flicks' & recorded an album at John Lennon's house. Smith later joined Diesel Park West.
45s included:
'What Makes A Man A Man' / 'I Want To Be Beside You' (1971)
'Changes Coming' / 'Don't Cry On Me' (1971)
'Brand New Car' / 'You Know Better Than Me' (1972)
'Let's Roll' / 'Without You' (1973)