Biogz
'K'
Here you will find some short biographies (biogz) of solo artists whose surname commences with this letter or bands with names commencing with this letter (omitting any commonly used prefix such as 'The').
Click on the name below or scroll down the page at your leisure.
Eden Kane (& The Jaywalkers)
Katamas
Kaywana Stock
The KB Dixielanders / Orchestra / Showband / Six
George Keiller
Pat Kelly
Sally Kelly & Her Group
Pete Kerr's Scottish All-Stars
Sandra Kerr
Mary Kiani
Johnny Kidd & The Pirates
Louis Killen
The Kinema Ballroom (Dance) Bands
Peter King
The Kinks
Kathy Kirby
The Kittycat Dolls
The Koobas
Alexis Korner
Billy J. Kramer & The Dakotas
Danny Kyle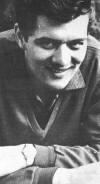 The Jaywalkers included Pete 'Buzz' Millar (guitar), Mike Wheeler (bass) and at one time Ritchie Blackmore (later of Deep Purple) amongst their ranks.
Eden Kane was born 'Richard Graham Sarstedt' on 29th March 1942 in Delhi, India but returned with his parents to England while he was still a child. Although he formed a skiffle group with his younger brothers Peter and Robin (aka Clive Sarstedt, aka Wes Sands) his first recording was sponsored by Cadbury; 'Hot Chocolate Crazy'- an advertising jingle used on Radio Luxembourg. By this time he had created the name 'Eden Kane' for himself. This was thought more fashionable at the time than Sarstedt. The new name, allegedly inspired by the film 'Citizen Kane', had similar biblical connotations to that of the highly successful Adam Faith.
His natural good looks enabled him to get a part in the 1960 film 'Drinks All Round', but then came the opportunity to record 'Well I Ask You' which was penned by UK songwriter, Les Vandyke. This proved to be a smash hit and was followed up with two more Vandyke songs, both of which reached the UK top ten. This was followed by a revamp of the old standard 'I Don't Know Why', some of which was spoken rather than sung. This also managed the chart's upper reaches, but then the string of hits halted despite a return to Vandyke with 'House To Let'. Even changing his recording company to Fontana did nothing to restore fortunes. However, after a gap of more than eighteen months, record buyers finally sent 'Boys Cry' to #8, a song more suited to his growling vocal style than some of his previous material. The song also met with great popularity in Australia which encouraged the singer to go and live there, though he also spent long periods in the UK and the USA.
His two younger brothers also enjoyed individual chart success though unlike Eden they decided to retain the family name. Robin however also performed as Clive Sarstedt and Wes Sands.
Eden and his wife Charlene have now made their permanent home in Los Angeles. However, he still makes regular trips back to the UK for concert appearances. Eden's sister-in-law is 'Hart To Hart' TV star Stephanie Powers.
Info courtesy of: www.45-rpm.org.uk
Scottish Dance Band named after Ketama in Morocco whose number included Dave & Robert Steele (lead vocal). They lasted approximately two years around 1973/74 touring Scotland then Northern England.
If you can add any further information to this piece please contact me here


Pic From Scotbands
Norrie Whitelaw - vocals (aka Jamie Dodger)
Dave McMurdo - lead guitar
Dave Finlayson - Hammond organ
Bill Adcock - bass guitar
Rab Kaye - drums
Formed around 1967/8 in the southern half of Fife and evolving out of another local band called the Kingpins then the Delteks ... Kaywana Stock began covering pop / soul / Tamla songs but quickly evolved to more progressive rock covers to the extent that at one of their last gigs at the ballroom, Cecil Hunter threatened to close the curtains on them if they didn't play "something they can dance to".
Their name came from the novel of the same name by Edgar Mittelholzer after a fruitless attempt to find a name they could all agree on and someone mentioned having read the book, simple as that.
In fact the change in style heralded the end of their popularity at local dance venues in favour of a move to the bigger city venues and the University circuit.
Bill would join Monolug when Kaywana Stock split around 1971/2.
Thanks to Bill Adcock, Alan Hill & Alex Stean for the info.
George Keiller (& His All-Star Band / Rock 'n' Roll Band)
The late tenor saxophonist George Keiller was well known in the Scottish big band circuit in the early sixties.
A long time friend, Gilmour Allan, remembers George with affection and says, "I still carry on with my music, but now, of course, with different players. George Keiller is sadly missed by all who knew and worked with him."
George & Gilmour recorded an album called Live! At The Priory', recorded at the venue of the same name in Kirkcaldy.
Info from http://www.quinnmountain.com/scot/gilmour.htm
If you can add any further information to this piece please contact me here
A talented local solo folk-singer and guitarist from Kelty in Fife who played the Scottish Folk-Club circuit with 'New Broom' before forming 'Joe's Diner' and later Dunfermline rock band, 'Biocar' who were active around the late 70s/80 & released a single in 1980, 'Hero' / 'Walking On The Water' on Sandy Muir's 'No Bad' label. Pat later worked with Kip McBay, forming an early road crew for 'The Skids'.
They later founded 'Sound Control' (which was the UK's biggest supplier of musical instruments and equipment). Pat was its Managing Director, while Kip is with rival firm 'Guitar Guitar'.
If you can add any further information to this piece please contact me here
Sally Kelly (& Her Group)
Sally Kelly was managed by Larry Parnes who boasted a 'stable' of stars. Her band may well have included Albert Lee at this time.
She released at least two singles: Little Cutie/ Come Back To Me (1959) & He'll Have To Stay/ Honey, That's Alright (1960) & recorded 'Believe in the Rain´& ´So much in love'.
If you can add any further information to this piece please contact me here
Pete Kerr's Scottish All-Stars
Pete Kerr's Scottish All-Stars were originally known as The Clyde Valley Stompers and were part of the early 60s trad jazz boom. This Scottish band led by Ian Menzies and featuring singer Fionna Duncan recorded for Decca then Parlophone and Pye Jazz and made a couple of albums. They only made the NME chart once though.
Info courtesy of: www.45-rpm.org.uk
If you can add any further information to this piece please contact me here

Sandra Kerr's long and distinguished career in English folk music began with her training in the acclaimed Critic's Group (1963-1972), under the tutelage of Ewan MacColl and Peggy Seeger. Here she received a strong grounding in the folk arts, including song, instrumental music (she plays English concertina, guitar, Appalachian dulcimer and autoharp), folk and agit-prop theatre. She developed her song-writing skills here, which resulted in some ground-breaking recordings including 'Sweet Thames', 'Flow Softly', 'A Merry Progress to London' and 'The Female Frolic', possibly the first album to explore the folk repertoire in its relation to women's experience, a theme which was, and is, constantly recurring in her work.
In the late 70s and 80s she worked mostly in the media, where her writing and presenting skills were much in demand. She co-wrote (with John Faulkner) and researched all the music for the much-loved TV series 'Bagpuss' (in which she also voiced the character of the rag-doll 'Madeleine Remnant') currently enjoying a revival of cult proportions. The rest of the decade was spent researching material for, writing and presenting a whole range of programmes for BBC Children's Radio, including 'The Music Box' and 'The Listening Corner'. The last decade or so has seen a slightly different emphasis in her work for, though she has continued to perform and record, she has become one of the most sought-after workshop leaders in the country. She offers a whole range of training programmes from voice production to traditional singing style, concertina workshops, training for teachers in the use of song and dance in early years education, and more .She also directs two immensely popular folk choirs, 'Wercasfolk' (a 30 strong women's group) and 'VoiceMale' (a newly-formed men's choir) for whom she has researched and arranged an exciting repertoire of folk and world music. The diverse nature of her work has meant that she has incredibly broad experience and understanding of the use of folk song and music in a variety of settings.
Sandra has recorded with her daughter Nancy and in 1996 released a CD entitled 'Neat & Complete'.
She is currently a lecturer in Arts and Cultures at the University of Newcastle Upon Tyne.

Mary Kiani has been a professional and successful musician/singer for more than 2 decades. Her music and voice have taken her all over the world to record and perform and also to work with other great successful musicians.
As a successful session singer she toured and performed with Welch band 'Waterfront' on Donny Osmond's 3 month tour of U.S.A in 1990 and then performed with other bands such as 'Hue & Cry, 'China Crisis' & 'The Nightcrawlers'. Over the years she has notched up 8 national Top 40s. Her highest position was No 8 in 1993 with Scottish rave band 'The Time Frequency' with the classic dance anthem 'Real Love'. This success lead to her own major record deal with 'Mercury Records' and she was also signed to the very powerful 1st Avenue Records and management.
Her debut solo single 'When I Call Your Name' went to No 18 in the national charts and straight in at No 1 in the national dance charts with a remix from 'Hardfloor'. The readers of M8 Magazine crowned her 'Mary Queen of Scots' in 1995 while another single 'Let The Music Play' peaked at No 19 in 1996. In 1997 she performed all over Australia and met up with producer Steve Peach and later signed to his label 'Peachy Records'. They are currently putting together her new album and hope for it to be ready for release later in 2006. She is still actively writing and recording and performing her own music released throughout Europe and Australia.
Over the last couple of years she found herself truly inspired after she was introduced to the wonderful world of music and computer technology software. She went back to college full time to study music and sound Production. She has also been learning all percussion techniques and plays live with Bongos, Congas and Timbales. She has a small but professional new digital studio that can develop, create, produce and remix great music of all genres. She is based mostly in Glasgow.
Info from: www.marykiani.com

Johnny Kidd (Frederick Heath) - vocals
Alan Caddy - lead guitar
Tony Docherty - rhythm guitar
Johnny Gordon - bass
Ken McKay - drums
Later:
Brian Gregg - bass
Clem Cattini - drums
Johnny Patto - guitar
Johnny Spence - bass
Frank Farley - drums
Mick Green - guitar
John Weider - guitar
Vic Cooper - organ & piano
Mick Stewart - guitar
Nick Simper - bass
Ray Soaper - organ
Roger Truth - drums
Johnny Kidd's musical career began as leader of the 'Nutters' skiffle group. As the 1950s drew to a close most of the Lonnie Donegan inspired groups began to migrate to rock and roll. So it was with Johnny Kidd who with former 'Nutter' Alan Caddy, Tony Docherty, Johnny Gordon and Ken McKay formed his new group 'The Pirates'. Their first release 'Please Don't Touch' managed to reach the chart, but didn't get inside the top twenty. As that rare commodity, 'British Rock and Roll' it ought to have done better. After failure of its follow-up the band reverted to a cover 'You Got What It Takes' which managed #25 despite direct competition from Marv Johnson who took the song to #5.
The Pirates line up gradually changed and Brian Gregg (bass) and Clem Cattini (drums) replaced Gordon and McKay. It was the first single with the new line-up that pushed Johnny Kidd to the top. 'Shaking All Over' is arguably the most atmospheric and original rock and roll record ever to have been produced in a British studio, though much is owed to the guitar riff played by session man Joe Moretti.
Further personnel changes were made to the Pirates over the years and some change of style took place with the coming of the British 'Beat Boom', but the underlying theme remained. The band would dress in pirate regalia and Kidd would always wear his eye-patch which is often unnecessarily explained through an apocryphal story concerning a broken guitar string.
Sadly, Johnny Kidd - possibly Britain's most original rock and roll performer - was killed in a road accident on October 7th 1966 near Bolton in Lancashire when he and his latest batch of Pirates were driving away after a performance.
Info courtesy of: www.45-rpm.org.uk
Alan Caddy, Brian Gregg & Clem Cattini later joined The Tornadoes.
Mick Green, Johnny Spence and Frank Farley reformed as 'The Pirates' in 1976 and split again around 1985.

Louis Killen is one of the most widely influential musicians of the folk revival and a key voice of English traditional song. He is a hard-core, unadulterated folksinger whose passionate delivery is matched by a deep and wide-ranging knowledge of the songs and the working people who made them.
Born and raised in the heart of the industrial North East of England, he came early to a love of folk music. Nurtured by a singing family whose tastes ran from liturgical music to cowboy songs, Irish ballads, grand opera, blues, jazz, classical and local Music Hall, the dominant music in his life has been the folk music of the British Isles. Louis's family background is predominantly Irish: his paternal great-grandfather brought his family from County Mayo to the banks of the River Tyne in 1852. His grandfather married a Scotswoman and his father an Irishwoman.
Though his ancestry is largely Celtic, being a native Tynesider has stongly affected his approach to music. Tyneside is an area that absorbs other cultures and converts them into its own - to this day, even after thirty-five years living in the USA, Louis's speaking accent still denotes his roots. The mixture of Irish, Scots and English living in the coal-mining and industrial region known to the ancients as Northumbria sets it apart from the rest of England, pulling into it the musical traditions of all three countries while maintaining its own distinct musical style. Louis Killen draws on all four traditions to bring a wide range of folk music to his audiences.
To these four is added the Anglo-American tradition of deep-water shantying and sailor ballads common to both nations. Louis's first-hand experience working aboard brigs, brigantines, schooners and sloops in the late '60s and early '70s put him in the forefront of the current revival of maritime music on both sides of the Atlantic.
In a career spanning over forty years, with more than thirty-five albums/CDs to his credit, Louis Killen's influence as a performer, teacher and inspiration to others is unparalleled. Both as a singer and as a concertina player - an instrument whose use for self-accompaniment he pioneered - his impact on the folk song movement is hard to overstate. He is the folksinger's folksinger.

Info From: www.louiskillen.pwp.blueyonder.co.uk
Various names were used for resident bands formed specifically for the Kinema as follows:
The KB Dixielanders
The KB Orchestra
The KB Showband
The KB Six
The Kinema Ballroom Band






Image courtesy of Image courtesy of Horace Demarco
Freda Drysdale Freda Drysdale. John Graham
Jack Sinclair
This KB Band were: Billy Hunter
(left to right): Tommy Wallace
Jack Hutchinson - trumpet Cecil Hunter
Ernie Dobbie (Leader) - alto saxophone ('Bygone Dunfermline' - 27/11/92 page XIV).
Alex Sheills - piano
? - tenor saxophone
Jock Rutherford - drums
A.N. Other?
The third photograph above was taken on the occasion of Billy Hunter (centre) receiving 'The Melody Maker' award for best trumpet player in Scotland.
Also:
Dougie Campbell (leader in 1964)
Pat Malloy - double bass
? Gilmour - trumpet
If you can add any further information to this piece please contact me here

Peter John King was born 11th August 1940 in Kingston-upon-Thames, Surrey.
The alto saxophonist's arrival in the London jazz world of the late 1950s was confirmation of the ever-improving standard of British performers. Previously men like Dankworth and Derek Humble had never come within a country mile of assimilating any of Charlie Parker's fire-breathing urgency. The only alto player in Britain who had, Joe Harriott, owed much of his aggressive playing attitude to the kind of personal harangues to which Parker would have related directly, and which would never have manifested itself to performers whose disciplines and lives were so quintessentially middle-English.
Peter King changed the equation. Firstly he had technical skills on the saxophone - even at nineteen when he turned professional - that were close to those of Tubby Hayes; secondly he had a complete command of the bebop language and reflected little of the awkward transition between swing and bop experienced by many of Ronnie Scott's generation. This gained King widespread praise at the time, and he was hailed as a 'new star' after his appearance at the opening night of Ronnie Scott's club in October 1959. Nowadays it would not be at all cynical to wonder how it had taken Britain over a decade to come up with a musician who could genuinely match the technical and motivational level of his American counterparts from a decade earlier.
Britain did not know what to do with King, and after a spell with the Dankworth band he spent most of the 1960s working in cabaret settings with vocalists like Annie Ross, often on tenor rather than alto in an attempt to escape the nagging Parker tag which Sonny Stitt had also thought would never elude him. Only in the 1970s did he receive more opportunity to be heard, and, almost incredibly, he would have to wait until the 1980s to head his own record date. King has never stood still musically, to his credit, but the bebop label still hangs on him, despite the fact that his work these days (as on the stunning Lush Life CD) reflects more of the later obsessions of John Coltrane rather than those of Parker. He remains a world-class virtuoso, but he also remains in Britain, which despite whatever may have been written to the contrary still presents an impasse for musicians of his generation.
Info from: www.jazzscript.co.uk



The Dunfermline Press
20th March 1965
Ray Davies - vocals, guitar, piano
Dave Davies - guitar, vocals
Pete Quaife - bass, vocals
Mick Avory - drums
Later:
John Dalton - bass, vocals
John Gosling - keyboards
Andy Pyle - bass, vocals
Gordon Edwards - keyboards
Mark Haley - keyboards
Jim Rodford - bass, vocals
Ian Gibbons - keyboards
Bob Henrit - drums
The Kinks were one of the few groups that grew to fame during the 1960s 'beat boom' and were still creating successful singles in the 1970s. They were excellent musicians and had in their midst a remarkable song writing talent, Ray Davies. Although the regularity of their hits continued unabated for many years, and they never looked like losing their public appeal, their longevity was threatened from within. For the members, and Ray Davies in particular, showed an emotional temperament and extreme behaviour sometimes even descending into violence.
Despite these tendencies the band stayed together- more or less continuously- until 1969 when Peter Quaife departed and was replaced by John Dalton from the Creation. The 1970s were a time of change in other ways too for the band began to spend the majority of its time in the USA where the 'Britishness' of Ray Davies' wonderfully original lyrics had great appeal.
Although both the Davies brothers tried solo careers as side-lines during the 1960s, and Dave even managed two top 20 hits, the group has always seemed to come first. Whatever it is that has kept them together we should be grateful to it. The Kinks have been one of the truly great institutions to have been brought to us through the advent of the group sound of the 1960s.
Info courtesy of: www.45-rpm.org.uk
Jim Rodford was ex 'Argent'.
Born Kathleen O'Rourke on 20th October 1940 in Ilford, Essex.
Kathy Kirby's musical career presents an example of just how capricious the musical tastes of record buyers can be.
Kathy's professional singing career began shortly after leaving school when largely through her own efforts she secured a place as a singer with the Ambrose orchestra. She went on to work with other British big bands of the 1950s but the link with Bert Ambrose was never lost. When Ambrose decided to quit orchestral work in favour of management, Kathy was one of the most important artists the former bandleader had on his books.
At a time when teenage record buyers were turning to the Beatles and the Rolling Stones, Kathy Kirby had a winning formula. She was undoubtedly a very good singer and was able to give a bright new sound to older songs. Her blonde, youthful but mature, good looks appealed little to teenagers, but their fathers all thought she was wonderful. This popularity was boosted by her television appearances in which her glossy lipstick produced such a shine that she was often referred to as 'Wet Lips'. The peak of her success came through an all music TV show called 'The Stars and Garter', an ITV production which tried to depict a night club atmosphere and in which Kathy was undoubtedly portrayed as the 'star'. The show was compered by comedian Ray Martine and included several other UK singing artists of the day like Vince Hill, and Tommy Bruce.
Sadly for Kathy her singles sales slumped towards the middle of the 1960s. She sang Britain's Eurovision song entry for 1965 and carried on with TV work, but her record sales never did recover. By the start of the 1970s the TV appearances of this under-rated singer had become few and far between and by the middle of the new decade her disappearance was totally complete. All manner of complicated reasons have been given for Kathy's fall from favour and her own story has been told in the Sunday newspapers. I think the main cause was simply that the infatuation of the nation's Dads for the glossy lipped singer was just all too short lived. Despite this, Kathy has returned to sing her wonderful hits at 1960s nostalgia concerts occasionally. Sadly, these now seem to be very rare events indeed.
Info courtesy of: www.45-rpm.org.uk




Emma Gwynne - lead vocals
Liza Stitt - vocals
Fern Lessani - vocals
Allana Henry - vocals
Chloe Ferns - vocals

Ex member
Deone Robertson - vocals

Originally a six-piece, the remaining five Kittycat Dolls are a Glasgow-based Pussycat Dolls tribute act formed in October 2008 following auditions of over 80 hopefuls held in central Scotland. They have supported Stavros Flatley & Tommy Sampson and performed for TV show 'Britain's Got talent'. They now come to Velocity with Olly Murs.

Though largely a support act at present, the girls hope to become a headline act very soon and sing some original material in addition to the tribute songs together with carefully choreographed routines.

Ghoulz (2010)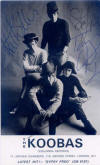 My thanks to Stuart Prentice for this image
Stu Leatherwood - guitar, vocals
Roy Morris - guitar, vocals
Keith Ellis - bass
Tony O'Riley - drums
Formed in 1962, The Koobas were another of the Liverpool groups.
Initially known as The Kubas, the group was formed by former members of two other Liverpool groups, Ellis and O'Riley had been in the Thunderbeats while Morris and Leatherwood joined from the Midnighters.
They appeared to have made all the right moves - a stint at the Star Club in Hamburg late in 1963 which helped to tighten up their sound. They were signed by Brian Epstein as part of his NEMS stable. In 1965 they filmed a sequence for inclusion in the film "Ferry Cross The Mersey" which starred Gerry & The Pacemakers. In December 1965 they received their biggest break when Epstein booked them as a support act on The Beatles' final British tour.
In 1966 they changed record companies from Pye to Columbia and continued to play prestigious gigs, including appearances alongside The Who and The Jimi Hendrix Experience. In terms of record sales however, success continued to allude them. After flirting with the "psychedelic" sound and even releasing an LP, the Koobas called it quits late in 1968.

Alexis Korner was born of Turkish/Greek/Austrian descent on 19th April 1928 in Paris and moved to London in 1939 aged 11 and experienced the blitz first hand. He recalls listening to a recording of Jimmy Yancey during a German air raid and "From then on all I wanted to do was play the blues."
Korner began playing piano and guitar around 1946 and joined Chris Barber's Jazz Band in 1949 which merged with the Ken Colyer Jazz Group in 1952. In 1954 he formed an electric blues duo with guitarist & harmonica player Cyril Davies and started the London Blues and Barrelhouse Club.
Korner and Davies' first recordings were made under the names 'Alexis Korner's Breakdown Group' and 'Alexis Korner's Skiffle Group' in 1957. Early in 1962, they formed 'Blues Incorporated' which many consider a 'supergroup' as its members were some of the cream of British blues musicians at the time. They were based on a consistent core of: Alexis Korner (guitar, vocals), Cyril Davies (harmonica, vocals), Ken Scott (piano), and Dick Heckstall-Smith (saxophone) with additional friends such as: Charlie Watts / Graham Burbridge playing drums, Spike Heatley / Jack Bruce on bass, Long John Baldry / Ronnie Jones / Art Wood (vocals).
In 1962 their own club began attracting enthusiasts and sometime collaborators: Mick Jagger, Keith Richards, and Brian Jones, Steve Marriott, Paul Jones, and Manfred Mann. Also in the same year, Blues Incorporated commenced a residency at the Marquee Club, Soho, London and began gathering a formidable following.
November of 1962 saw the release of the first full-length album made by a British blues band 'R&B from the Marquee' and unsurprisingly the artists were 'Blues Incorporated'. Almost simultaneously, Davies split because Korner decided to add horns, but changing tastes in the light of the wave of British beat / pop were to scupper their future in the mainstream, leaving Korner the consolation title of 'Elder Statesman of British Blues'.
Various journalistic and radio work maintained his niche and he worked with vocalist Peter Thorup in the band 'New Church' and was co-leader of the 25 strong 'CCS' who had hits with a cover of Led Zeppelin's 'Whole Lotta Love' (1970) and with 'Tap Turns On The Water' (1971). Korner played at the ballroom on Sunday 16th May 1971, supported by Barclay James Harvest.
Korner's 50th birthday was celebrated in 1978 with an all-star concert featuring Eric Clapton, Paul Jones, Chris Farlowe, and Zoot Money. In 1981, Korner formed the blues / boogie-woogie jazz outfit 'Rocket 88', with Korner (guitar), Jack Bruce (upright bass), Ian Stewart (piano) and Charlie Watts (drums), recording live gigs & touring Europe incl the Cambridge Folk Festival.

Tragically, in 1984, a life of chain-smoking resulted in lung cancer, cutting his important life short at age 56. John Mayall has credited 'Blues Incorporated' with giving him the inspiration to form his own 'Bluesbreakers' group.
Adapted from a biography by Bruce Eder

The Dakotas:
Robin McDonald - rhythm guitar
Bryan Jones - lead Guitar
Ray Jones - bass
Pete Maclaine - vocals
Mike Maxfield - lead guitar
Tony Mansfield - drums
Billy J Kramer & The Dakotas:
Billy J Kramer - lead vocals
Mike Maxfield - lead guitar
Robin McDonald - rhythm guitar / bass
Tony Mansfield - drums
Ray Jones - bass
Mick Green Lead guitar
Frank Farley - drums

The Dakotas were formed in Manchester in September 1960 and backed a singer called Pete McLaine. They were recommended to Brian Epstein as a possible backing group to a new singer he had found called Billy J. Kramer. The unfortunate McLaine, who it is argued by some was a better singer than Kramer, formed a new group called The Clan and went on to record- unsuccessfully.
Billy J. Kramer had been singing with a group called 'The Coasters' when he was approached by Epstein. Although Billy was keen to turn professional, the Coasters weren't so Epstein had to find new musicians to back his new good looking vocalist. The Coasters ultimately found a new singer called Chick Graham and they too managed to cut a couple of unsuccessful singles.
The new Kramer/ Dakotas team clocked up a string of chart hits based on 'spare' songs gleaned from Lennon & McCartney- a resource that Epstein had easy access to. Like many vocalists Kramer decided to turn solo when the hits began to fade and The Dakotas split in late 1967. However this didn't help him return to favour and he was soon on the nostalgia circuit.
www.45-rpm.org.uk & John Warburg

Paisley born Danny Kyle was renowned as being one of the funniest and best loved of Scotsmen on the folk music circuit. He performed at practically all the best Scottish folk festivals. His appearance was distinctive for his ugly ties and tartan bonnet.
He released two albums: 'Ah'll Get Ye' (1975) & 'Heroes & Soft Targets' (1998)
From the liner notes of the first of these, Billy Connolly writes: "One night ten years ago I was an Italian suited welder going out for a pint. Purely by chance I stumbled or staggered into a folk song club in Clydebank. The guest was Danny Kyle and I must state here and now that I have never been the same since. Do yourself a favour, sit down and listen to his album, listen to the sincerity of his 'Straight' songs, or laugh yourself silly at his pawky Paisley patterned humour. Finish the exercise by going to see him perform live. You have my promise, you'll never be the same."
Sadly he died on Sunday 5th July 1998.