Biogz
'O'
Here you will find some short biographies (biogz) of solo artists whose surname commences with this letter or bands with names commencing with this letter (omitting any commonly used prefix such as 'The').
Click on the name below or scroll down the page at your leisure.
Odyssey
The Office Boy
The Ohio Express
Omnibus
1-2-3
Alexander O'Neal
Oryx
Orange Bicycle
The Original Checkmates
Fred Orr & His Band
Osibisa
The Other Half
The Other Side
The Overlanders
Ozo

Lillian Lopez
Louise Lopez
Tony Reynolds
Odyssey was a New York City based dance music band with a laid-back Caribbean styling, which evolved from 'The Lopez Sisters' (Lillian and Louise Lopez) from the Virgin Islands. When Tony Reynolds (from The Philippines) joined they changed their name to 'Odyssey'. Though their best-known single is probably their December 1977 hit 'Native New Yorker' (#5 UK chart) their highest UK chart position was achieved by 'Use It Up And Wear It Out' (1980), which achieved the #1 spot. They released five UK chart albums between 1980 & 1987.

The Office Boy (Gordon Campbell) was from the Edinburgh area who released three unsuccessful singles: 'Gimme A Break' (1981) & 'With A Woman Like You'/'Beside You' & 'How Can I' / 'I Get Excited' (both in 1982). He had previously sung with The UK Upstarts.
Thanks to Alan Hill for much of the info above.
If you can add any further information to this piece please contact me here

Joey Levine - vocals
Buddy Bengert - vocals
Graham Gouldman - vocals (later of 10cc)
Dale Powers - lead guitar
Douglas Grassel - rhythm guitar
Jim Pfayler - organ
Dean Kastran - bass
Tim Corwin - drums
The Ohio Express were formed during their High School days in Mansfield Ohio as Rare Breed and they recorded their first single 'Beg, Borrow and Steal' in 1966. Later as The Ohio Express they acquired the tag 'Ultimate Bubblegum Band' perhaps after their vocalist Joey Levine's nasal tone and reissued the single once more.

Their biggest hit, 'Yummy Yummy Yummy' with its much plagiarised opening riff would be their only success in the UK (#5) a feat which the follow-up 'Chewy, Chewy' never realised. Four albums and fourteen singles have been released over the years including 'Sweeter Than Sugar', 'Mercy' and 'Down at Lu-Lu's'. Despite several personnel changes they still perform occasionally.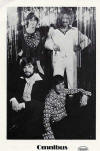 Ian Anderson - Hammond Organ
Dikken Hubbard - bass
4-piece band from Salford, Manchester
If you can add any further information to this piece please contact me here

Ian Ellis - guitar, bass, vocals
Billy Ritchie - keyboards, guitar, bass, vocals
Harry Hughes - drums
Peter Banks - guitar, vocals
Ian, Billy & Harry were originally in a band called 'The Premiers' before breaking away to form '1-2-3' in Glasgow. Their debut performance took place in 'La Bamba' in Falkirk in November 1966. They moved to London in February 1967 and secured a residency at The Marquee.
They later became 'The Clouds' after being renamed by their manager Terry Ellis in 1968. Their material leant towards the progressive & they toured with Jethro Tull & Free. They released two singles & two albums in 1969 and another album in 1971. They split shortly thereafter, Ellis joining Steamhammer then Savoy Brown and Hughes joining Mahatma Kane Jeeves.
Info from: The Tapestry Of Delights Revisited by Vernon Joynson.
If you can add any further information to this piece please contact me here
Alexander O'Neal was born, 14th November 1953, in Mississippi and was briefly a member of 'The Time' before signing with Tabu Records. He has often duetted with 'Cherrelle' such as 'Never Knew Love Like This'.
He has released seven UK chart albums including one #2 hit and two #4 hits and twenty-four UK chart singles.
If you can add any further information to this piece please contact me here


1969 - Alloa Town Hall
Ewan McGuffie - vocals
John Marshall - guitar
John(Zeke)Watt - keyboard
Dougie Craig - bass
Alan Key - drums
Based in Alloa, though members were from all round the area, Oryx were a busy band in the late 60s and early 70s playing most weekends in the north and east coast dance hall circuit, with their main agent living in Aberdeenshire and his area covered from Dundee/Perth in the south to McDuff/Inverness in the north. Any local work would have been midweek and Stirling area gigs a rarity for them although they did play the Sword Hotel, Dunblane Hydro and Stirling High School around 1970.
Many thanks to Dougie Craig at https://www.facebook.com/groups/STIRLINGSHIREMUSICSCENE50s70s/photos/
John Bachini - bass
Kevin Curry - drums
Bernie Lee - guitar
Wilson Malone - keyboards, vocals
R.J. Scales - vocals
British psychedelic -pop band 'Orange Bicycle' evolved from a beat group called 'Robb Storme & the Whispers' AKA 'The Robb Storme Group' who had recorded pop singles for a variety of labels in the early '60s without success.
In 1967 the group decided to change its direction and name and re-emerged as 'Orange Bicycle'. They released a few singles including their first and best known: 'Hyacinth Threads' (#1 in France). They performed at the Isle of Wight music festival on Saturday August 31st 1968 wearing matching black and orange suits covering songs by 'Love' and 'The Rolling Stones'.
In 1970 they recorded an eponymous album, 'The Orange Bicycle' consisting mostly of covers including Elton John's 'Take Me to the Pilot', Bob Dylan's 'Tonight I'll Be Staying Here With You' and Denny Laine's 'Say You Don't Mind'. John Peel produced some tracks. The genre had however had its day by this time and the group decided to split in 1971.
Their multi-talented keyboardist/producer Wilson Malone released a self-titled solo album ('Wil Malone') that same year becoming a top producer/arranger, working with many successful groups and solo artists such as The Verve's 'Bittersweet Symphony' (which resulted in a lawsuit). Drummer Kevin Currie joined Supertramp.
Bernie Lee joined Onyx (see above).
George Sweetman - bass
Dave Sweetman - saxophone
After Emile Ford went solo (from 'The Checkmates), Dave & George Sweetman formed 'The Original Checkmates' while the others formed 'The Excheckers'.
'The Checkmates' were Emile Ford's backing group from 1959 - 1963 and consisted of his two step-brothers George Sweetman (bass) and Dave Sweetman (saxophone), Ken Street (guitar), Pete Carter (guitar), Les Hart (saxophone), Alan Hawkshaw (piano), and John Cuffley (drums). They made a version of 'What Do You Want To Make Those Eyes At Me For' which was originally destined to be a 'B' side. Fortunately, Pye were shrewd enough to issue this as the 'A' side and the disc took Emile all the way to a UK #1.
Info courtesy of: www.45-rpm.org.uk
If you can add any further information to this piece please contact me here


Image courtesy of Freda Drysdale
If you can add any further information to this piece please contact me here
Osibisa


Teddy Osei - saxophone
Sol Amarfio - drums
Mac Tontoh - trumpet
Spartacus R - bass
Robert Bailey - keyboards
Wendel Richardson - lead guitar
Darko Adams 'Potato' - percussion
Formed in London, England in 1969 by three Ghanaian and three Caribbean musicians, Osibisa played a central role in developing an awareness of African music - in their case, specifically, West African highlife tinged with rock - among European and North American audiences in the 70s. Since then, Osibisa have suffered the fate of many once-celebrated 70s African-oriented performers. Their pioneering blend of rock and African rhythms has either been overlooked or downgraded for its lack of roots appeal.
There is, in truth, some justification for this: Osibisa's style was too closely hitched to western rock, and too much of a fusion to survive the scrutiny of western audiences who, from the early 80s onwards, were looking for 'authentic' African music. But the group's towering achievements in the 70s should not be denigrated. The Ghanaian founder members of Osibisa - Teddy Osei (saxophone), Sol Amarfio (drums) and Mac Tontoh (trumpet, Osei's brother) - were seasoned members of the Accra highlife scene before they moved to London to launch their attack on the world stage. Osei and Amaflio had played in the Star Gazers, a top Ghanaian highlife band, before setting up the Comets, who scored a large West African hit with their 1958 single 'Pete Pete'. Tontoh was also a member of the Comets, before joining the Uhuru Dance Band, one of the first outfits to bring elements of jazz into Ghanaian highlife.
The other founder members of Osibisa were Spartacus R, a Grenadian bass player, Robert Bailey (b. Trinidad; keyboards) and Wendel Richardson (b. Antigua; lead guitar). They were joined soon after their formation by the Ghanaian percussionist Darko Adams 'Potato' (b. 1932, d. 1 January 1995, Accra, Ghana). In 1962, Osei moved to London, where he was eventually given a scholarship by the Ghanaia government to study music. In 1964, he formed Cat's Paw, an early blueprint for Osibisa which blended highlife, rock and soul.
In 1969, feeling the need for more accomplished African musicians within the line-up, he persuaded Tontoh and Amarfio to join him in London, where towards the end of the year Osibisa was born. The venture proved to be an immediate success, with the single 'Music For Gong Gong' a substantial hit in 1970 (three other singles later made the British Top 10: 'Sunshine Day', 'Dance The Body Music' and 'Coffee Song'). Osibisa's debut album displayed music whose rock references, especially in the guitar solos, combined with vibrant African cross rhythms.
The band's true power only fully came across on stage, when African village scenarios and a mastery of rhythm and melody summoned up energy and spirit. Woyaya reached number 11 in the UK and its title track was later covered by Art Garfunkel. During the late 70s they spent much of their time on world tours, playing to particularly large audiences in Japan, India, Australia and Africa. In 1980 they performed a special concert at the Zimbabwean independence celebrations.
By this time, however, Osibisa's star was in decline in Europe and America. The band continued touring and releasing records, but to steadily diminishing audiences. Business problems followed. After initially signing to MCA Records, Osibisa had changed labels several times, ending with Bronze Records. The moves reflected their growing frustration with British business, as each label in turn tried to persuade them to adapt their music to the disco style. Osibisa were prepared to make some concessions but only up to a point.
In the mid-80s, the group directed their attention to the state of the music business in Ghana, planning a studio and theatre complex which came to nothing following the withdrawal of state funding, and helping in the promotion of younger highlife artists. In 1984, Tontoh formed a London band to back three visiting Ghanaian musicians - A.B. Crentsil, Eric Agyeman and Thomas Frempong. An album, Highlife Stars, followed on Osibisa's own Flying Elephant label.
Info from: www.70disco.com
Bobby Eaglesham - guitar
Iain Mackintosh - banjo, vocals
Later:
Tam Harvey - guitar (of the Humblebums)
1960s folk duo, then trio.
Bobby Eaglesham was one of Scotland's leading folk musicians and a celebrated singer/guitarist with the influential band 'Five Hand Reel' (1974-1980) alongside Dick Gaughan for a time.
Sadly Bobby collapsed and died of a heart attack in the canteen of Polmont Prison where he worked as an arts teacher on Saturday 14th October 2004.
Known as 'The Quiet Man of Scottish Folk Music' Iain Mackintosh performed as a solo artist and with singers Brian McNeill and Hamish Imlach. Sadly, he died on Monday 28th August 2006.
Tam Harvey was ex-Humblebums
Kim Burns - piano, vocals
Frank Avant - guitar
Vinnie Kalochie - guitar
Robert Lee - keyboards
Jim Sibmanis - bass
Chuck Kerschner - drums
Jim Kimmel - vocals
Eddie Frank - lead guitar
Freddie Dengler - vocals, guitar
Kenny Staller - vocals
Bobby Owsinski - keyboards
It all started when Vince Kalochie was eleven years old and discovered Elvis Presley. With a stringed instrument made by his father, Vince would dress up like Elvis, beat on his guitar (he couldn't play it yet), and sing Elvis songs in his living room to entertain his relatives. Seeing his obvious enthusiasm, one of his uncles bought him a real guitar, and Vince began what was to be a long musical journey to the edge of stardom and back.

While in high school, Vince and some friends (including Eddie Frank, who was already a terrific guitarist) would hold teenage dances in a garage on Saturday afternoons where they charged twenty-five cents admission and actually drew some pretty good crowds. Although it was all well and good to be playing in front of people, Vince wanted to get into the bar band that Eddie was playing in, but the band already had all of the guitar slots filled. Undeterred, Vince approached his best friend, Jimmy Siemanis (who didn't play an instrument at the time), and told him to go buy a bass guitar because "We're starting a band!" The next day Jimmy bought a bass, and thanks to some tutoring from Vince and a record album called "Learn to Play the Bass with The Ventures", was on his way to becoming an accomplished bassist. Although there were only two members, the band was starting to take shape.

Another friend, Tony Vicic (who played piano since he was a child), bought an organ and also joined the band, but they still needed a drummer. Tony's cousin, Steve Pizzico, had asked Vince to teach him to play guitar, but he couldn't hold it correctly because of an injury to his left thumb, so Vince convinced him to buy a set of drums instead. The band, now complete, chose the name "The Vipers".

"The Vipers" played their first job at a graduation party for Tony and Steve's cousin at a restaurant in Llewellyn, Pa and were paid the grand sum of a spaghetti dinner for their performance. It was during that show that the members learned that Steve's thumb injury was more severe that they thought, hampering his drumming enough to force the band to begin the search for a drummer all over again. But as luck would have it, Vince met drummer Charlie Kerschner at a Minersville-Schuylkill Haven football game a short time later. After an audition, Charlie became a permanent fixture in the band. (Throughout its twelve-year history, band members were changed 42 times, so only the vital members are mentioned here.)

Unlike today, there were hundreds of places for a band to play in Schuylkill County during the high-flying 60's and 70's, and sometimes when the band was already booked, an opportunity to play a better gig would arise. In order to be able to take the better job, Vince would call the club and tell the owner that the band broke up, then change the name of the band in order to play the better gig undetected. One Friday night the band got a chance to play the premier Minersville hotspot, " Rokosz'", which meant that a job at the Top Hat in Deer Lake had to be cancelled and the band renamed yet again. Trying to come up with a new band name (which is never easy), Vince suggested that since the band was playing the "B" sides of all the Top 40 records as well as the hits, perhaps a good name would be "The Other Side". So in late 1967 the band adopted the name that their many fans would later identify with.

During the performance at Rokosz', a local Minersville luminary, Jim Kimmel, asked if he could get up and sing a song with the band. After the group saw the crowd go wild, they immediately asked if he would like to be the band's "Front Man". At almost the same time, the bar band that Eddie Frank was playing in broke up, and the group immediately carved out a place for him on lead guitar. Now the band finally had a combination of musicians that wowed crowds at every performance.

With all the needed elements finally in place, the band entered a battle of the bands competition in the summer of 1968 that was being held at the Pottsville High School Stadium. Blowing away the other bands, they received a standing ovation from the crowd as Jim Kimmel danced to the music of the next band on top of the roof of the equipment truck as it rounded the track to leave the stadium. This seemingly small event had the county abuzz and soon after, the band became so in-demand that it started playing every night at every affair that it could fit in its schedule. There were weeks where the group sometimes played as many as twelve jobs, playing in bars during the week and on weekends, a wedding on Saturday afternoon, and a teenage dance from 8 to 11 at the "Go-Go" club in Minersville, followed by carrying their equipment piecemeal down Sunbury Street to play at the Minersville Legion from 1AM to 3AM in the morning. Then doing it all over again on Sunday.

Things were going well for the band. Perhaps too well - because to everyone's utter dismay, Vince was drafted into the U.S. Army in May of 1968, forcing the search for a replacement. After weeks of auditions, Frackville's Freddie Dengler was chosen to replace Vince until he returned. Good fortune continued to smile upon "The Side" since not only did Freddie play guitar but he was also an excellent vocalist, so the band continued to prosper and started playing higher profile gigs out of the area. But the strain of so much traveling was taking its toll on Tony and Jim's daytime jobs as teachers, so they decided to leave the band for the security of a career, a scenario that was to play out many times in the future. Without a suitable keyboard player available, the band looked for another guitarist with the idea that Freddie just front the band. From Shenendoah came Freddie's guitarist friend Frank Avant, who soon joined the latest version of the group.

Fresh out of the Army in 1970, Vince rejoined the band, forming a line-up that now had 3 guitar players with Vince playing along side the powerhouse duo of Eddie and Frank. Influenced by the edgier music coming out of England at the time, the band now adopted a much harder sound as compared to their Pop-oriented beginnings.

Even though they continued playing out of the area in South Jersey and Maryland, the band still managed to play a few more or less local gigs in all parts of Eastern PA. While playing in Harrisburg one night they met their first manager who promptly got them their farthest and longest road job (3 weeks) at the Nightbeat Lounge in Key West, Florida. It was during this stint that the band learned the first of many fateful business lessons when they looked for their pay at the end of the first week only to find that their "manager" had used it to pay for a luxury suite at a major hotel while the entire band and two roadies were stuffed into a two room shack on the beach.

Returning to PA, the group met an agent from Harrisburg who began to book them as an opening act for a number of major touring acts. One of these jobs was opening for the Everly Brothers at a club called "Gilligan's" in a suburb of Buffalo NY. It was here that they met Jackson Armstrong, the hottest DJ from one of the biggest AM radio stations in the country, WKBW. Armstrong absolutely loved the group, and his strong industry connections led the band to the doorstep of Columbia Records, but after recording only five songs in Columbia's studio in Woodstock, NY (with Janis Joplin in the next studio), Armstrong accepted an offer to host a music television show in California, and the connection with Columbia was somehow lost. Dealt a body blow, Freddie became disenchanted and relocated to Florida and Frank left the band to stay closer to home to help his ailing father.

Even though great lead singers are hard to find, Charlie knew one from Lebanon, and soon after Kim Burns became the band's new front man. But instead of getting another guitarist to fill Frank's role, the remaining band members decided that another singer with a completely different style than Kim's would be an interesting twist, and Kenny Staller from Pottsville also joined "The Other Side".

The new version of the band was as resilient as ever and soon attracted a top booking agent (Jack Fisher from Hillside, NJ) who kept them constantly on the road, traveling from Vermont to Florida and as far west as the Mississippi, playing ski areas during the winter and South Jersey Shore clubs in the summer. But bands rarely maintain a stable lineup for long and while playing at BayShores in Somers Point, NJ in 1973, Eddie decided to leave the band to attend Berklee School of Music (with an appearance on The Gong Show along the way), and Kenny left to record with a band in Florida. At this point, the band asked Frank Arant to return and play guitar, and soon afterwards recruited Bobby Owsinski, also from Minersville, to play keyboards. This combination of band members soon proved to be the magic one!

Jack Fisher now suggested the band start playing more in North Jersey, since he felt there was a better opportunity to get discovered by playing in places closer to New York City. Shortly thereafter, The Other Side became the hottest club band in North Jersey and Staten Island and began to rub elbows with the musical elite. Bruce Springsteen, members of the E-Street Band, Southside Johnny, Bon Jovi and KISS became frequent visitors to the now famous Stone Pony club in Asbury Park to see the band play. Bruce even had breakfast at a local diner with some of the band members after a performance one night. Vince says he ate eggs, but didn't pay for theirs (he was pretty humorous about it though).

Soon after, a friend of the band brought Billy Terrell, Frankie Avalon's producer, to see the band one Saturday afternoon while the band was playing a matinee at The Osprey Hotel in Manasquan, NJ (a house gig that they maintained over several summers). Billy loved the band and immediately signed them to a record deal with De-Lite Records of New York City, a label that was very hot at the time thanks to one of their artists (Kool and The Gang) being on the Saturday Night Fever soundtrack. The magic combination of Vince, Jimmy, Charlie, Frankie, Bobby, and Kim recorded their first De-Lite album in Kool and The Gang's studio in Philadelphia. The album was titled "Rock X-ing" because De-Lite was crossing over from releasing records from black Funk and R & B groups to a white Rock and Roll group. The album was released nationally and eventually sold about 50,000 copies.

Early in 1978 the band was recording their second album and getting booked to open for the likes of Peter Frampton at The Spectrum, the Eagles at Giants Stadium, and were scheduled to appear on the top music television show at the time, "Don Kershner's Rock Concert". But once again the line-up changed as Kim and Jimmy left for the security of day jobs and Bobby left for Berklee College of Music. With some crucial elements now missing, every time the band went back to the record company with a new sound, they were told that, although good, it wasn't the same sound as the band they originally signed.

After three more years of trying many different players in attempts to recreate the excitement that once existed, the remaining two original members, Vince and Charlie, realized that the magic was gone, and "The Other Side" played its last gig in May of 1980 - The History of 'The Other Side' according to Vince Kalochie.

Paul Friswell (Arnold) - guitar, vocals
Peter Bartholomew - guitar, vocals
Laurie Mason - piano, vocals
David Walsh - drums
Terry Widlake - bass
Ian Griffiths - guitar, vocals
The Overlanders had originally been a trio bereft of the bass and percussion provided by Widlake and Walsh respectively. Their simple folk singing got them nowhere in a music scene becoming dominated by the burgeoning 'beat boom'. Pandering to musical fashion paid off shortly after they adopted the fuller sound of their new five-piece line up. The end to their sequence of uncharted singles releases came from a song that the Beatles had put out on album during 1965 but had not seen fit to include among their crowded list of 45rpm issues ('Michelle'). With arrangements by Tony Hatch and a 'folky' remake of the old Johnny Preston hit, 'Cradle Of Love' on its flipside, the record went all the way to the UK #1 slot.
Despite this massive hit, the Overlanders success was short lived. They had been deprived of chart success in the USA by the two 'Rogers'- Cook and Greenaway, who had recorded the same song in the guise of 'David And Jonathan'. Unlike Cook and Greenaway, the Overlanders were unable to produce another single of the same high standard and did not consolidate their success. They weren't helped when their vocalist, Paul Arnold, split from the group for a solo career before 1966 was out, and the Overlanders were ever to remain 'one hit wonders'.
Info courtesy of: www.45-rpm.org.uk

Beth Kustra - vocals
Hugh Ashton - guitar
John Mizzerollo - guitar

Martin Abrahams - lead guitar
Eddie Davis, Keyboards

Trevor Stephens - bass

Kenni St George - vocals, percussion

Val MacDonald - drums, percussion
Vernon Cummings - percussion, vocals
Vernon Cummings became involved with music at an early age in Guyana where he was born and started playing Steel Drums in a Band in his teens. After arriving in the U.K. in the late fifties, he settled in London but didn't take long to get involved in the music scene there. In the early sixties he formed a Trio and played in the pubs in London as a singer and compere. After a few months, he left the Trio to link up with two brothers from Jamaica, one a guitarist and the other who played banjo. They formed a group and became the resident band in their Local Pub in South London. They became very popular and got bookings for private parties including Debutantes Ball in Country Estates. It was then that they went to Germany to play for a private party and made contact to play in the clubs.
On his return Vernon, nickname Chubby by his friends, contacted his old friend and drummer Val McDonald and with some other musicians went back to Germany playing in Civilian and Military Clubs, doing soul music, singing songs by his Idol Otis Redding and other Soul Artists. They returned to London in 1969 and the the band split. The following year Vernon (Chubby) answered an advert by Kenny George a Nigerian looking to form a band doing Afro Rock.
Once again Vernon contacted his old friend and drummer Val and with some other musicians formed a band called DANTA. Danta got a Record Contract with CBS Records. They released a few singles one of them was even produced by Eddy Grant. With Vernon on congos and percussion, Danta became very popular on the College and University circuits, because of their music and colourful stage show. They were supporting chart topping groups such as Status Quo, Slade, Thin Lizzy, to name a few.
Frustrated by the lack of chart success, Kenny left. After recruiting singer composer Popsy Williams, the band's direction changed. After returning from a tour of France new members were brought in. With a new Agent, Danta went on a tour of South Africa in 1973. One of the first bands to tour that country playing in the African Townships. The band returned after six weeks to promote their single 'Cross Fire' on CBS Epic Label. Again with the lack of Chart success Danta split. Vernon went back to work on the buildings to support his family. In 1976, Kenny returned to London and contacted Vernon and Val and with some other musicians formed the band called Ozo.
Kenny became a dedicated Buddist which became the main motivation for the Band. Ozo were a unique band of Musicians totally dedicated to their music and the message they portray. Ozo's musical direction was influenced by West Indian Reggae combined with the concept of Buddism ...... .... Band Members Were : Beth Kustra, Female lead Vocals (Hungary) Trever Stephens, Bass (Jamaica) Martin Abrahams, Lead Guitar, (British) Val McDonald, Drums (Jamaica) ex Danta member. Vernon (chubby) Cummings, Congo's, Bongo's Percussion, ex Danta member. (Guyana) Eddie Davis, Keyboards, (sierra Leone) Kenni St George, Vocal's percussion, ex Danta member (Nigeria).
OZO enjoyed much Success in the American singles chart with their first single, 'Listen to the Buddha' they also completed their debut album for DJM also called 'Listen to the Buddha' released in the states in August 1977. With the release of the album came the all important first chart entry at No 61 in cashbox's pop chart which brought them tremendous reaction from the discos throughout the States. One track in particular "ANAMBRA" (which was written by Vernon) showing up as the No 1 pick in three major New York Discos, where publc demand lead to this track being released as their follow up single. 'Listen to the Buddha' which featured strongly on Commercial radio and Led to the group's first television appearance on LWT's SUPERSONIC back in the mid 70s.
Ozo released their second Album called 'Museum Of Mankind' which included Anambra. 30 years on, ANAMBRA is still being played by FLEXX Records.
Info from http://www.myspace.com/vernhoratio