Biogz
'U'
Here you will find some short biographies (biogz) of solo artists whose surname commences with this letter or bands with names commencing with this letter (omitting any commonly used prefix such as 'The').
Click on the name below or scroll down the page at your leisure.
The UK Subs
The UK Upstarts
Ultra-Sonic
Ultravox
Unit 4 + 2
Urban Cookie Collective
Uriah Heep



From: UK Subs web site
Ticket stub for Kinema gig, Sunday 7th October 1979 7:30pm £2.30 in advance or £2.80 at the door.
Do you know who the 'guests' were that night? Maybe 'Cyanide'? Maybe 'The Secret'?
Vocalists:
Charlie Harper
Paul Slack

Guitarists:
Richard Anderson
Darrell Barth
Greg Brown
Alan Campbell
Lars Frederiksen
Nicky Garratt
Robbie Harper
Jet Storm
Knox
Alan Lee
Simon Rankin
Andy McCoy
Jim Moncur
Karl Morris
Phil Pain (1996)
Tezz Roberts
Captain Scarlet
Scott Snowden
Tim Britta
Johan
Roger Brown

Bassists:
Paul Slack
Alvin Gibbs
Flea
John Armitage
Brian Barnes
Mark Barratt
Bones
Allistair Chesters
Andy Frantic
Ricky McGuire
Simon Rankin
Tezz Roberts
Steve Slack
Chema Zurita
Carly Guarino
Peter Revesz
Tony Barber
Drummers:
Robbie Harper (Rob Milne)
Dave Ayer
Robby Baldock
Rab Fae Beith
Gary Mitchell
Benjie Bollox
Tommy Couch
Criss Damage
Ambrose Nzams
Pete Davies
Steve J Jones
Belvy K
Jared Melville
Rory Lyons
Matt McCoy
Jamie Oliver
Gary Ostell
Pumpy
Steve Roberts
Geoff Sewell
Dave Wilkinson
Jason Willer
Kim Wylie
Tezz Roberts
Gary Baldy
Matthew " Turkey" Best
Duncan Smith
Leo Mortimer
Gizz Laszlo
Darrah
Jay
Jeff Moe
Michael Richter
At the Kinema:
Charlie Harper - vocals
Nicky Garratt - guitar
Paul Slack - bass
Pete Davies - drums
'The UK Subs', the punk legend on a hundred thousand leather jackets continue their constant touring regime playing to new generations of the nation's disaffected punk youth (who were perhaps SUBverted aged 5, watching Charlie and co on Top of the Pops!)
Inspired by The Damned and The Sex Pistols, they formed late in 1976 as the 'United Kingdom Subversives', soon after shortening their name and playing all the London punk holes through '77. Two songs, including their minimalist classic, 'I Live in A Car', appeared on the 'Farewell To The Roxy' album and after a huge selling indie single in 1978 'C.I.D.', they signed to Gem Records via RCA world-wide.
Surprising everyone, they then became one of the most consistently and visibly successful punk bands with seven consecutive UK Top 30 hits between 1979-81, establishing themselves throughout the world with a heavy touring schedule that continues today.
The hits were: 'Stranglehold', 'Tomorrow's Girl', The Zombie's 'She's Not There', 'Warhead', 'Teenage', 'Party In Paris' and 'Keep On Running'. The albums, 'Brand New Age' and 'Crash Course' both went into the UK top ten.
Led by the indefatigable Charlie Harper, the band has continued and thrived through various line-ups. Touring world-wide for 22 years they were the first punk band to play behind the Iron Curtain, they've played stadiums in Argentina, played Croatia during the war in '93 and had songs covered by Die Toten Hosen and Guns 'n' Roses. All the while, the Subs maintain and pioneer the true spirit of punk rock.
1997 saw a re-union of the classic Harper/ Garrett/ Gibbs line- up, producing a 20th anniversary album 'Quintessential'. 1999 saw the release of a 'best of' compilation of the last 15 years entitled 'Sub Mission', following hot on the heels of the blood- red vinyl 7"single release, 'Riot '98'.
Into the new millennium, the UK Subs completed a World tour and released the album Time Warp and 7" and CD single 'The Revolution's Here' on the French label 'Combat Rock Records'. In 2002, and the anniversary of punk, the UK Subs proved that they still are a force to be reckoned with. Their album, Universal, released on Captain Oi records, 2004/5 promises more intense touring to uncharted UK Subs territories, including possible tours to Japan, New Zealand and Australia.
This band has sold over a million records without any substantial radio airplay. The original song writing team 1977-1983 played over a thousand shows across the world opening on tour for the Ramones and the Police and headlining to over 20,000 people on their last show. With seven appearances on England's prestigious "Top Of The Pops", four top 30 singles (UK national charts) and four top 30 albums including an album, which entered the charts in its first week at number eight, this band has the most dedicated following of any punk band.
Info from: www.steveharnett.com
Gordon Campbell - bass, vocals
Derek Yeaman - guitar, vocals
John Rennie - guitar, keyboards, vocals
Craig Leslie - drums, percussion, vocals
The Glasgow-based (Paisley?) 'UK Upstarts' released a single on Mercury Records 'Beggin' / 'Queenie Queenie' in 1978 (TANGO-3) as 'The Upstarts', though French copies credit the band as 'UK Upstarts'. Gordon Campbell was studying at Heriot Watt University in Edinburgh at the time. Campbell later recorded under the pseudonyms Office Boy and Local Hero as well as his own name.
Thanks to JamesTrash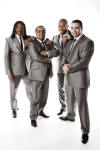 The Ultimate Drifters are a one-of-a-kind Drifters and Motown show with a smooth sound and an even smoother attitude. A highly experienced and hugely motivated group, each of The Drifters brings their own unique talents to the group - culminating in a Drifters and Motown experience that has thrilled private and corporate clients across the UK and Europe.

Every Ultimate Drifters performance is a one-of-a-kind experience: a foot-stomping, hand-clapping celebration of The Drifters and of Motown itself; keeping its spirit alive and spreading the love of music to new generations. The Ultimate Drifters are led by Gillie Leroy Jones, a charismatic and highly gifted male lead vocalist, who has had the honour of performing and touring with members of the original Drifters

Ben E King, Billy Lewis, Peter LaMarr and Tony Jackson.

Each Drifters show takes the very best of the Drifters, Soul, Motown, Funk and Disco, and mixes them together with a dash of classical style. All of our performances are 100% live - that means no samples, no auto-tuning and no cheating... just the excitement of genuine live music.

Every show is supported by four vocalists and our amazing show band "Detroit Groove"who really know how to funk! For smaller budgets or venues, backing tracks are also available. Singing specially-selected classic Drifters hits, Soul, Motown, Funk and Disco material, every Drifters performance is delivered with sincere authority, passion and verve.

The group have played high-level functions of all types across the UK and the world. The Ultimate Drifters have been honoured to perform on television, at awards ceremonies, military dinners, black tie balls, product launches, celebrity weddings, birthdays, Christmas parties, open-air festivals, nightclubs and holiday camps.
Info from: http://www.thedriftars.co.uk/index.html

Mallorce Lee
Rodger Hughes
Pete Coughlan
Very few 'dance bands' in Scotland can claim the lengthy success that ULTRA-SONIC have had over the past eleven years. They have sold well over 300,000 singles and albums and have supported the like of THE PRODIGY, MOBY and CARL COX to mention but a few. A band whose video sold 6,500 copies in four days, outselling Disney's 'The Jungle Book' as well as picking up ten awards ranging from 'Best New Band' to 'Best New Single'. Pre-sale orders for their new album were at a staggering 30,000 copies before the album was even released! All of this from a small but rapidly growing independent record label - CLUBSCENE Records.
ULTRA-SONIC were during the late 90's without doubt the No.1 band in Scotland and the only Scottish dance band to have been invited to headline two massive tours of Australia. They are also the only Scottish dance band to gig in Germany two weekends out of every month. (80 gigs at the last count) and who have been described by the head of Low Spirit as "the best dance band in the world".
In February 1992, the band signed a management deal with Bill Grainger Management (a division of CLUBSCENE - Scotland's highly respected monthly dance music magazine - and you're reading this on our new online service) This resulted in them being signed to CLUBSCENE RECORDS and led to their first record, "Obsession" being released. The track was written and produced by the boys themselves and recorded in WET WET WET's "PetSounds" studio in Glasgow . Rodger and Mallorca have both continued to write and produce all of their own material.
"Obsession" was released during November 1992 and sold over 6,000 copies in Scotland alone before being deleted, so that it could be included in the exceptionally successful ESSENTIAL CLUBSCENE Vol.1 compilation album.
The group released their second single. "The Pulse" on 7th April 1993 that went on to sell over 10,000 units. The third single "Arpeggio / Annihilating Rhythm Pt.1 & Pt.2" was released in October 1993 and entered the UK National Independent record sales chart staying there for some six weeks. Sales to date, which have been mainly in Scotland, are quickly approaching the 21,000 mark, and are testament to the bands growing and ever-increasing popularity. This track was licensed to LOW SPIRIT/POLYDOR in Germany and to date has sold a massive 56,000 units in that territory alone! Several of ULTRA-SONIC's tracks are also featured on numerous European, Australian, Japanese and UK compilation albums.
On the 20th December 1993 , ULTRA-SONIC released a full-length video containing footage of their recent gigs, by the 24th December -four days later - all 6,500 copies of the video had been sold. In some of the main stores in Glasgow , the video was outselling the Disney "Jungle Book" video.
Noted for their incredible 'high-energy' charged performances, ULTRA-SONIC have topped the bill at almost all of the biggest dance events in Scotland including: FANTAZIA, REZERECTION, EURODANCE, STREETRAVE & REVOLUTION, not to mention selling out the prestigious GLASGOW BARROWLANDS venue on a number of occasions.
ULTRA-SONIC were voted 'BEST NEW BAND' in the 1992 Scottish Dance Music Awards and "Obsession" was voted '2nd BEST NEW SINGLE'. In 1993, they were voted 'BEST SCOTTISH DANCE BAND' in the M8 Magazine Awards; and 'BEST SCOTTISH BAND' in Radio Forth's "Steppin' Out" Dance Awards. The single "Annihilating Rhythm" was voted 'BEST SINGLE' of 1993. Last year the band was also voted 'BEST PA' by the national magazine DISCO CLUB INTERNATIONAL.
In polls held in Scotland and Northern Ireland, the band was acclaimed both the 'BEST BRITISH DANCE BAND' and the 'BEST DANCE BAND IN THE WORLD!' The band also topped the bill at the prestigious MAYDAY event in Dortmund, Germany where they appeared in front of some 3000 people and as a result, they now spend two weekends every month appearing at various clubs and events all over Europe including some of the former 'Iron Curtain' countries such as Hungary and Poland.
ULTRA-SONIC made a return visit to Australia in June of 1995 during which they appeared to 'full-houses' in Sydney, Brisbane, Perth, Melbourne & Adelaide.
In August, the group appeared at the prestigious DANCE MATRIX '95 in Tokyo, Japan where they supported THE PRODIGY, the concert was recorded and subsequently aired for Japanese network television. Their first album "TEKNO JUNKIES" has just been released in Japan by AVEX RECORDS. Also in August, they were voted the best band to appear in Northern Ireland, at the ETERNITY Northern Ireland Dance Awards show, with the event being broadcast on the dance music programme BPM throughout the ITV networks.
In line with their continued plan of 'global domination' the band made their live debut in the United States in October 1995, where they stormed both the PALLADIUM and LIMELIGHT clubs in New York with stunning and highly charged performances, an incredible achievement for a relatively unknown British band.
Info from: www.fantazia.org.uk
Ultravox





Kinema Poster Kinema Ticket L to R
(Ray & Kay Smillie) (misprint corrected John Foxx
by Kinema Staff) Warren Cann
(Ray & Kay Smillie) Billy Currie
Chris Cross
Robin Simon
John Foxx – vocals, keyboards
Chris Cross – bass
Billy Currie – keyboards, violin
Stevie Shears – guitar
Warren Cann – drums, percussion
Robin Simon - guitar
Midge Ure – vocals, guitar, keyboards
Mark Brzezicki - drums
Tony Fenelle
Sam Blue
Vinny Burns - guitar
Gary Williams - bass
Tony Holmes - drums
Kinema Line-Up:
John Foxx – vocals, keyboards
Chris Cross – bass
Billy Currie – keyboards, violin
Robin Simon - guitar
Warren Cann – drums, percussion
Discography includes 25 Singles, 1 EP, and 11 Albums to date.
Ultravox was the brainchild of gadget & music technology enthusiast Dennis Leigh (John Foxx) and was formed in London in April 1973 at the height of glam/art rock and originally named 'Tiger Lily'. They released one single in March 1975, a cover of the jazz standard 'Ain't Misbehavin' as the soundtrack to a soft porn film before considering a few new names such as 'The Zips', 'Fire of London', 'London Soundtracks' and 'The Damned' before becoming 'Ultravox!' in July 1976. The Roxy Music / David Bowie / New York Dolls influences were clear to see in the early incarnation, both in their clothing and sound though there was a distinct abrasive undercurrent in the almost thrashy staccato aggression of their early product which they ironically toned down as the punk/new wave revolution got under way. 'Ultravox' literally means extreme voice or perhaps voice beyond the norm and was originally suffixed with an exclamation mark (Ultravox!), which was in reference to Conny Plank produced kraut-rock band Neu! It was discarded after the second album 'ha!-ha!-ha!' October 1977 and just before their Reading festival appearance in August and Kinema appearance in October 1978!
They were signed to Island in 1976, with Brian Eno and Steve Lillywhite co-producing their eponymous debut album 'Ultravox!' in February 1977 from which was extracted the debut single 'Dangerous Rhythm'. The public took little notice of either.
Their second, and aurally harder album, 'Ha! Ha! Ha!' was released later that same year and again copies stayed firmly on the shelves. The last track, 'Hiroshima Mon Amour', would become a live favourite and was something of a nod in the direction the band would later assume with it's predominance of synthesiser. A single from the album, 'Rockwrok' surprisingly enjoyed some BBC Radio 1 airplay. Obviously no one spotted the chorus lyric: "Come on, let's tangle in the dark dark / f**k like a dog, bite like a shark shark"!
Shears left in Feb 1978 to form 'Faith Global' and was replaced by Robin Simon in the March and a third album 'Systems of Romance' (1978) was recorded in Germany and produced by Conrad (Conny) Plank. This album was perceived pretty much as a make-or-break effort and unfortunately the public saw to it that the latter was to be the case, in the short term at least.
By this time Island had become disillusioned and gave up on them but they continued to perform and it was at this point, during the album's promotional tour that they appeared at the Kinema. Eventually they decided to quit and Foxx embarked on a solo career & Simon joined 'Magazine'.
At that point, Cross, Currie and Cann were approached by Scot, Midge Ure (from Cambuslang) who offered to take up the reigns and they reformed in April 1979. He knew Currie through their work together with Steve Strange's 'Visage'. Ure had tasted success twice previously; once with the pop group 'Slik' when 'Forever & Ever' was a #1 UK chart hit in 1976 (riding the tail-end of the mania left by their contemporaries, 'The Bay City Rollers') and with a power-pop outfit called 'The Rich Kids' who had a #24 hit with 'Rich Kids' in 1978. The Rich Kids included Glen Matlock (later of The Sex Pistols) in their number. Being nothing if not versatile, he was working with rockers Thin Lizzy when the opportunity arose.
The restructured Ultravox embarked upon a 4 date warm-up tour of the UK with one of the first dates at The Caird Hall Dundee in November 1979. They signed to Chrysalis and committed a new album, 'Vienna' to vinyl and scored minor hit singles with 'Sleepwalk' and 'Passing Strangers' from the new work. This was followed by the huge hit single and title track of the album, 'Vienna' which was accompanied by a signature promotional video and famously kept from the top spot it so richly deserved by a preposterous novelty tune, 'Shaddap You Face' by Joe Dolce Music Theatre in February of 1981.
The album did well too with a #5 position and their new clean, slik (sorry) minimalist image was established complete with Ure's trademark stiletto sideburns. 'Rage in Eden' followed that same year and legendary Beatles producer George Martin was recruited to helm 'Quartet' in 1983, their best US seller.
Cann left Ultravox in 1984 after completing 'Lament' to go it alone with a solo career, though rumour has it he was pushed. He was replaced by Big Country's Mark Brzezicki for the next album 'U-Vox' in 1986 before they split. Ure pursued a solo career having already been heavily involved with Live Aid including his famous co-writing/producing credit with (the then pre knight-hooded) Bob Geldof for the massive 'Band Aid' single 'Do they Know It's Christmas' in December 1984 and 'Live Aid' in 1985 which included a spot for Ultravox.
Currie and Robin Simon re-formed in 1989 as Humania, performing live shows but recorded product would not see the light of day until 2006 with 'Sinews of the Soul'. Currie then re-emerged with Tony Fenelle in a duo as 'Ultravox' once more, having won the legal battle to use the name and released the album 'Revelation' (1992). Sam Blue would replace Fenelle for 'Ingenuity' (1996) with Vinny Burns (guitar), Gary Williams (bass), and Tony Holmes (drums). Still the record buying public showed little interest.
Ultravox have now reformed once more with Midge at the helm again to tour and new product is strongly rumoured.
Brian Parker - vocals, guitar
Tommy Moeller - vocals, guitar, piano
'Buster' Meikle - vocals, guitar
Peter Moules - lead vocals
Howard 'Lem' Lubin - vocals, guitar
Rod 'Humble' Garwood - bass
Hugh 'Pigmy' Halliday - drums
Nigel (Rusty Hinge) Snook - multi instramentalist
Russ Ballard - guitar, drums
Bob Henrit
The east Hertfordshire based 'Unit 4+2' had originally been formed as a four piece called unsurprisingly 'Unit Four' in 1962 by the former lead guitarist of the Hunters, and member of Adam Faith's Roulettes, Brian Parker. Parker dropped out of the original line up (Parker, Moeller, Meikle, and Moules) because of failing health, but stayed in the background. The band's style was closer to folk music than 'progressive beat', but they gained a recording contract with Decca. Their singles were largely ignored and failed to make the chart until Parker produced the song 'Concrete and Clay'. This was untypical of the material the band had been working with and two of Parker's former colleagues from the Roulettes (Russ Ballard and Bob Henrit) were drafted in to boost the rhythm section. The resulting record was a smash hit in the UK and managed #28 on the other side of the Atlantic.
Sadly, the group were unable to consolidate this success, despite recording some quite good songs including some written by the talented Russ Ballard who would achieve further fame with Argent and as a solo artist in later decades. However the band struggled on until they disbanded during 1969.
Info courtesy of: www.45-rpm.org.uk

Diane Charlemagne - vocals
Rohan Heath - keyboards
MC Marty
DJ Pete
Urban Cookie Collective are a Mancunian dance act that shot to fame in 1993 with "The Key, The Secret", one of the greatest dance hits of the decade.
The project was formed by and is masterminded by Rohan, who had formerly toured with, ex-808 State star, A Guy Called Gerald, supporting The Happy Mondays on a tour of Japan.
Rohan decided to concentrate on his solo work before forming Urban Cookie Collective. He wrote "The Key, The Secret" at home in Manchester and released it on the tiny Unheard Records label. After a remix scored massive club success, the track was picked up by Pulse 8 Records who re-released it in August 1993. It climbed to Number 2 in the UK singles charts and was quickly followed by the UK Top 5 single, "Feels Like Heaven".
The singles were included on the album, "High On A Happy Vibe", which also spawned the Top 20 hit single, "Sail Away".
In 1995, UCC returned with the "Tales From The Magic Fountain" album, which continued their happy club techno sound and featured the hit single, "Spend The Day".
Urban Cookie Collective and in particular "The Key, The Secret", are deeply etched into Manchester dance music history
Info from: www.prideofmanchester.com

Mick Box - guitar, vocals
Ken Hensley - guitar, keyboards, vocals
David Byron - vocals (1970-76)
John Lawton - vocals (1977)
Paul Newton - bass, vocals (1970-72)
Gary Thain - bass (1972-75)
John Wetton - bass, keyboards, vocals (1975-76)
Trevor Bolder - bass (1977)
Alex Napier - drums (1970-71)
lain Clark - drums (1971)
Lee Kerslake - drums, percussion (1972-76)
Kinema Line-Up:
Mick Box - guitar, vocals
Ken Hensley - guitar, keyboards, vocals
David Byron - vocals
Paul Newton - bass, vocals
lain Clark - drums
Historically, British rockers Uriah Heep have always been a group that crossed over into a few musically genres, namely hard rock/heavy metal and progressive rock. While never a darling of the music critics, Heep have still continued to forge on with a loyal following thirty- two years after their inception. The one constant throughout the bands history, guitarist Mick Box, formed Uriah Heep from the ashes of the band Spice with lead singer David Byron, and keyboard player/guitarist Ken Hensley from The Gods. The bands first album, titled Very 'Eavy ... Very 'Umble (self titled for the US release) in 1970 was a hard-hitting collection of bruising organ drenched rockers complete with simplistic yet meaty guitar riffs and multiple vocal harmonies. While contemporaries Deep Purple chose a more blues based direction with their brand of hard rock, Uriah Heep mixed their metallic sound with doses of progressive rock and boogie. A few of the tracks from that album, especially the song "Gypsy", remain concert staples to this day.
The band's second album, Salisbury, showed the band hitting their stride, as the song writing skills of Hensley, Byron, and Box starting meshing quite well together, especially on the epic title track, which combined many elements abundant in progressive rock at the time. Featuring long solos (especially a screaming wah-wah solo from Box), complex arrangements, brass, layers of keyboards, and sophisticated harmonies, this song mixed well with the more straightforward and heavy songs that preceded it on the album. Continuing along the same path with the bands next album Look At Yourself, Heep managed to write another classic, the lengthy and dramatic "July Morning." Once again the group managed to include heavy rockers, atmospheric prog, and upbeat boogie influenced numbers. It was a formula that worked well, and record sales and successful tours followed, but internal conflict arose and the band was in search of a new drummer and bassist.
By the time the legendary album Demons and Wizards was released, drummer Lee Kerslake and bassist Gary Thain had joined the fold. Complete with a Roger Dean album cover, Demons and Wizards proved to be the bands first major success. Featuring the trademark raging organ and chunky guitar work, the album boasted the bands first single "Easy Livin'", as well as the classics "The Wizard", "Traveller in Time", and "Rainbow Demon." The two new members had found a home, and the classic Uriah Heep line-up was secure. The band followed up with another classic album, The Magicians Birthday (featuring another Roger Dean cover), which contained another long list of classics highlighted by "Sunrise" and "Sweet Lorraine", proving that there was some great songwriting behind this group of loud rock and rollers. At this point the band decided to do their version of Purple's Made in Japan, releasing Uriah Heep Live in 1973, a stunning live document of a truly powerful unit. Two more studio releases followed, Sweet Freedom and Wonderworld, when the cracks once again started to show. Bassist Gary Thain had developed a drug problem that hindered his ability to perform, but it wasn't until a gig in Dallas, TX in 1974 where the bassist got electrocuted onstage that really signaled the end. He never full recovered from the incident, and combined with his personal problems he was asked to leave the band. Thain passed away less than a year later of a drug overdose at age 27. Former King Crimson, Family, and Roxy Music bass player John Wetton was brought in to fill the bass spot in 1975 for the subsequent Return to Fantasy and High and Mighty albums and tours. However, the material the band was creating was not measuring up to the success of the earlier albums, and internal conflict once again arose. Singer Byron was having problems with alcohol, which caused friction with bandleader Hensley, and the vocalist was fired in 1976. Around the same time bassist Wetton announced he was leaving the band to pursue other musical ventures, which later included UK and Asia.
By this point the band were in need of a new lead singer and bassist, and found them in former Lucifer's Friend vocalist John Lawton and David Bowie bass player Trevor Bolder. This new line-up recorded the successful Firefly, Innocent Victim, and Fallen Angel albums. These albums contained many of the same Heep elements, but a much more pronounced role on melody was exhibited. At this time Ken Hensley had taken over much of the writing, which displeased some of the other members of the band, namely singer Lawton, which led to his exit in 1979. For the next three years the band would see numerous personnel changes, with their lone release Conquest not making much of a dent on the charts. Many of the bands fans felt the album, while having some great songs, lacked some of the firepower that the band was noted for. New singer John Sloman and new drummer Chris Slade made quick exits after the release of the album, as well as cornerstone Ken Hensley, who felt the need to move on to other projects, which first included a stint in southern rock band Blackfoot.
A whole new line-up appeared for the Abominog album in 1982, which proved to be a rebirth for the band. Mick Box was joined by the returning Lee Kerslake, Bob Daisley on bass, keyboard player John Sinclair, and singer Peter Goalby. The album was a decent seller in the US, and spawned the radio hits "The Way That It Is" and "On the Rebound." The bands sound had changed quite a bit by this time, as they added better production values, symphonic synthesizers, catchy hooks, yet still retained the metal edge. A similar formula followed on Head First and Equator, but by this time Daisley had left the band to rejoin Ozzy Osbourne, and Bolder returned fresh from Wishbone Ash. Countless tours followed, which resulted in Goalby and Sinclair leaving the band in 1986.
In the last ten years the revamped Uriah Heep has kept a steady line-up that includes singer Bernie Shaw from Grand Prix and Praying Mantis, keyboard player Phil Lanzon, Kerslake, Bolder and leader Mick Box. The group has released a solid string of studio albums, Raging Silence, Different World, Sea of Light, and perhaps their strongest album to date Sonic Origami, all to international acclaim. In fact, the bands blend of sophisticated metal mixed with symphonic prog rock and catchy hooks has actually won over many of the critics who bashed them thirty years ago. With twenty studio albums and a wealth of live releases, Uriah Heep has stood the test of time and many line-up changes to be held in the same breath as bands like Black Sabbath, Deep Purple, Jethro Tull, and Yes. All these bands are still going strong, and continuing to put out enjoyable music that crosses over many genres. -- Peter Pardo
Info courtesy of: www.gepr.net