Biogz
'V'
Here you will find some short biographies (biogz) of solo artists whose surname commences with this letter or bands with names commencing with this letter (omitting any commonly used prefix such as 'The').
Click on the name below or scroll down the page at your leisure.
Val Verde
Ricky Valance
The Valves
Vanity Fare
Vehicle
Veneice
Vengaboys
The Verge
The View
Gene Vincent
Vingibus
The Vortex
Ryan Sharp - vocals, guitar
Robbie Laird - guitar
Kenny Patterson - bass
Kyle MacInnes - drums
Maggie Collie - keyboards
Val Verde are an as-yet unsigned indie-rock four-piece from Dunfermline in Fife with a Glaswegian drummer. They supported Tom Hingley (Inspiral Carpets), Chris Helme (The Seahorses), 'Attic Lights', 'Sergeant', 'Figure 5' and 'Broken Records' in 2008 then released their debut 5-track EP 'The Lazy Soldier' in May 2009 supported by a mini tour.
They frequently play locally and increasingly further a field in Central Scotland and beyond, often with the likes of 'Beatnic Prestige', 'The Rutlands' & 'Nine Circles'.
They recently added a fifth member Maggie Collie.
If you can add any further information to this piece please contact me here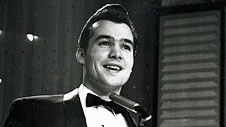 'Dunfermline Press'
2nd June 1962.
Born David Spencer in 1940 in South Wales
An artist whose name is often misspelled as 'Valence' or even confused with the late Mexican-American Ritchie Valens.
"Tell Laura I Love Her" was a direct cover of Ray Peterson's American hit. It became a classic, if controversial, 'one-hit-wonder' for Welshman Ricky Valance. The record was a classic of the 'death' genre which even gave rise to an answer record "Tell Tommy I Miss Him". Tommy, of course, was the character who dies in a stock car race in the first song. The original version of this second song was by Skeeter Davis, but that too was covered by a British artist- Laura Lee. Neither version of the 'answer' succeeded in the UK. Laura Lee's version had been produced by Joe Meek who had also made a cover version of 'Tell Laura I Love Her' with John Leyton. This was John's first recording which did nothing but, unlike Ricky Valance, John Leyton was destined to have a string of hits.
Nothing else that Ricky Valance ever did even reached the chart let alone came near the #1 spot achieved by his first release. He even tried covering songs by other other American artists; for example "Jimmy's Girl" from Johnny Tillotson, but without success. Nevertheless, his solitary number one was so memorable that it would sustain Ricky's singing career on the club and nostalgia circuit for very many years.
Info courtesy of: www.45-rpm.org.uk




Robot Love Tarzan of the Button Badge
King's Road



Publicity pic Support for The Skids
at the Kinema
(Ray & Kay Smillie)
Dee Robot (Dave Robertson) - vocals, harmonica
Ronnie Valve (Ronnie Mackinnon) - guitar
Gordon Valve (Gordon 'Pada' Scott) - bass
Gordon 'Teddy' Dair - drums
Singles:
'Robot Love' / 'For Adolfs Only' (Zoom Records - Zum 1) 30 August 1977
'Tarzan of the King's Road' / 'Ain't No Surf In Portobello' (Zoom Records - Zum 3) December 1977
'It Don't Mean Nothing At All' / 'Linda Vindaloo' (Albion) 1979
The Valves were originally a progressive/pub rock band called 'Angel Easy' from Edinburgh in Scotland formed in 1975 including the two Gordons. They briefly renamed as 'Sale' for the whole of July 1977 before another name change to 'The Valves'. A gig supporting Tom Robinson led to Zoom Records signing them to a 12 month contract and they changed their name to 'The Valves'.
Their debut release 'Robot Love' / 'For Adolfs Only' (Sept 1977) was a 100% early punk classic (selling a reputed 15,000 copies) while 'Tarzan Of The Kings Road' / 'Ain't No Surf In Portobello' (Dec 1977) was more R&B though together they sold in excess of 22,000.
Travelling to London, they were 4th on the bill to Generation X at The Roundhouse and continued gigging throughout the UK. One manager was fined when the local London Police took exception his graffiti publicity tactics. Support was strong from Scots fanzines 'Hanging Around' and 'Kingdom Come'. EMI asked them to record a version of Manfred Mann's 5-4-3-2-1 but amazingly the band refused! They recorded a Kid Jensen BBC radio session but no recording exists.
Without publicity or promotion their third single recorded at Napier Union Sighthill 'It Don't Mean Nothing At All' / 'Linda Vindaloo' (June 1979) sank without a trace and it was all over.
The Valves split shortly afterwards, though they played one more gig after they were officially split, at the first stadium concert in Scotland with The Cheetahs, Squeeze, The Undertones and Van Morrison though Dave Robertson didn't see Van because he had to catch the last bus home!
Ronnie Mackinnon joined 'Fun City' with Matt Vinyl (of 'Matt Vinyl & The Decorators') - vocals, Gary (later of The Exploited) - bass and Callum MacKay (ex Scars) - drums.
Trivia: Gordon 'Teddy' Dair used to play euphonium in Lochgelly Brass Band!

Trevor Brice - vocals
Tony Goulden - guitar
Tony Jarrett - bass
Dick Allix - drums
Barry Landeman - keyboards
Erica Wheeler - guitar
Mark Ellen - drums
Bernard Hagley - bass
Phil Kitto - vocals
Kevin Thompson - vocals
Steve Oakman - vocals
From Kent and previously known as The Avengers* (they recorded one single on Parlophone – "Everyone's Gonna Wonder" under that name), Vanity Fare took their name from Thackeray's literary classic. Their first recording sessions produced their first two singles, "I Live For The Sun" – a remake of the USA hit by The Sunrays (who were managed by Beach Boys father Murry Wilson), and "I Remember Summer Morning" which they elected to issue as the follow up in the distinctly un-summer like November of 1968.
A third single "Highway Of Dreams" flopped and it looked as if the band were destined to be one hit wonders when they recorded "Early In The Morning" and scored a UK hit with it. In France they were beaten by Cliff Richard who had the hit there with it. A further 3 singles on Page One produced "Hitchin' A Ride" as the only hit and then further singles on DJM and Philips failed to revive their chart fortunes. A version of the band still tours.
*These 'Avengers' are therefore not the same ones that played the ballroom in 1970/71.
Vanity Fare's drummer, Mark Ellen (from Kelty) previously played with Dunfermline band 'The Sole Generation' and The Falcons.
Andrew Clark - guitar, vocals
David Johnstone - keyboard, vocals
Tom Hyslop - bass, vocals
Alistair Headley - drums
Later:
Alistair Kerr - bass, vocals
Alan 'Doc' Bingham - drums
Ayrshire based band 'Vehicle' was formed by cousins Tom and Alistair, and the band's theme song was 'Vehicle' by 'The Ides of March'. They went on with a change of personnel to become the 'Dead End Kids'.
If you can add any further information to this piece please contact me here
Three soulful funky female vocalists who released a single 'This Good Feeling' (Club Mix) / 'This Good Feeling' (Radio Mix) / 'This Good Feeling' (Intrumental) (1986).
If you can add any further information to this piece please contact me here

DJ Danski
DJ Delmondo
Kim Sasabone
Robin
Roy
Denise van Rijswijk
Yorick
Highly successful Latino Dance / House / Hip-Hop artists 'Vengaboys' were formed in 1992 by two Dutch DJs, (DJ Danski & DJ Delmondo) who toured Ibiza & Spanish beach parties in a bus, later adding four dancers in 1995 before touring Europe. Their first single 'Up & Down' (1997) was successful in Europe and America. They can truly be said to be an international act, with members from Hungary, Trinidad, Brazil & Holland. Robin was replaced by Yorick in 1999.

With worldwide single sales of over 10 Million together with 5 Million copies of 'Up & Down (The Party Album)' the Vengaboys are now the most commercially successful Dutch group in history.
45s - UK Chart Positions:
'Up & Down' (1998 - #4)
'We Like To Party! (The Vengabus)' (1999 - #3)
'Boom Boom Boom' (1999 - #1)
'We're Going To Ibiza' (1999 - #1)
'Kiss (When The Sun Don't Shine)' (1999 - #3)
'Shalala Lala' (2000 #5)
'Uncle John From Jamaica' (2000 - #6)
Cheeka Bow Bow (That Computer Song)' (2000 - #19)
'Forever As One' (2001 - #28)
Albums - UK Chart Positions:
'Up & Down (The Party Album)' (1999 - #6)
'The Platinum Album' (2000 - #9)
John Ryan - vocals (68-69)
Willie McKellar - lead guitar, backing vocals (68-73)
Charlie Miller - keyboards (68-73)
Gordon McIntosh - bass (68-73)
Roger Glover - saxophone (68-69)
Jim Berney - drums, backing vocals (68-73)
Later:
Bill Hendry - lead vocals (69-73)
Pollockshields band active from 67/68 who played throughout Scotland at many venues like the Beach Ballroom Aberdeen, the Kinema Dunfermline, the Raith Kirkcaldy, the Cavendish Edinburgh, the Trocadero Hamilton, the Albert, the Flamingo, and Locarno in Glasgow and all the universities. They were the first band to play at 'Clouds' directly above the Greens Playhouse (later the famous Apollo Glasgow).
Supports included, Cliff Bennett and the Rebel Rousers, Slade, Status Quo etc.
They also backed Barry Ryan who needed a backing band with a heavier sound for a three-week tour of Italy in August 1970 which they nailed after an audition in the famous London jazz club 'Ronnie Scott's'. They later continued to play with Barry in other European tours and in England and recorded several songs. They also appeared on an edition of 'Top of the Pops' with Barry with 'Cant Let You Go' on 21st January 1972.
After hearing them rehearse, David Bowie is quoted as saying "Man that was ******* fantasmagorical" or something similar!
Bill Hendry had previously sung with Sunset Culture and went on to sing with 'Paris'
Info from http://www.rockingscots.co.uk/the verge.html where you'll find lots more info and some great stories.
Kyle Falconer – lead vocals, rhythm guitar, bass
Pete Reilly - lead guitar
Kieren Webster – bass, guitar, backing vocals
Steven Morrison - drums & percussion
Like so many young bands, The View was originally a school covers band, playing new wave and punk at talent contests. However they rapidly decided to write their own tunes at their rehearsal space at the local Bayview Pub.
Their reputation & fan base grew with each performance until they came to the attention of John More & Grant Dickson who were working on the Lemuria Sessions music based film project with Robin Wynn Evans based at T-Pot Studios.
The band played extensively in local pubs & clubs including in The Doghouse (where they were writing & rehearsing by this time) & where More had become entertainments manager. Here they recorded 'The Halloween Footage' (a live performance and interview) on 29th October 2005) from which recordings of 'Posh Boys' & 'Comin' Down' were made available on download.
They were rapidly signed to Dundee label 'Two Thumbs' and released the eponymous 'The View EP' in 2006 and a demo album for download with a couple of accompanying videos.
Supports for the Undertones & a Babyshambles support (which they were offered after busking for Pete Docherty) followed and they soon came to the attention of BBC Radio presenters Zane Lowe, Edith Bowman, Jo Whiley & Dermot O'Leary who championed their work with advanced airplay along with Jim Gellatly at XFM Scotland.
They signed to '1965 Records' in 2006 and recorded their first singles, 'Wasted Little DJs' & 'Superstar Tradesman', both reaching #15 in the UK charts and a live version of 'Screamin' n Shoutin' at the University of Abertay Dundee which featured on the NME cover CD on November 2006 before commencing work on their debut album 'Hats Off to the Buskers' (2007) which went straight in at #1 in the UK album chart and was nominated for a Mercury Music Prize. They made several radio & TV appearances during this year too.
2006 also saw them at 'T in the Park', headline their first UK tour and record a 30-minute documentary 'On Tour with the View' which MTV broadcast in November 2006 just before they went off to play Tokyo, New York, San Francisco and Los Angeles, though a prosecution for cocaine possession scuppered a return visit.
The band went on the road with the NME Awards Tour in 2007 and 'Wasted Little DJs' was voted Best Track of the Year at the NME Awards 2007 while their third single, 'Same Jeans' peaked at #3.
The following singles though, 'The Don'/'Skag Trendy' and 'Face for the Radio' failed to trouble the charts too much at #33 & #69 though tickets for their whole UK tour in support of the album sold-out in 1 hour and was followed by some festival appearances and a six-date winter tour.
A new single '5 Rebeccas' (about one evening when they met five different girls all called Rebecca) was given away on 7" vinyl with the first 400 tickets for their sold-out 'Kinema Live' performance on 16th October 2008 supported by local outfit 'Beatnic Prestige' & fellow Dundonians 'The Brogues'( the opening night of a 40-date tour spanning the whole of the UK). A second album is eagerly awaited.




Dunfermline Press
27th February 1965
Gene Vincent pioneered the style of rock and roll and rockabilly. Even if he had never scored any 60s hits, Gene Vincent's place in the story of rock and roll would already have been reserved. Vincent Eugene Craddock was born in Norfolk, Virginia in 1935 and joined the navy aged 17. A motor cycle accident aged 21 left him with a permanent limp, and it was while he was recovering from this that he wrote the classic 'Be Bop A Lula' (No.102 on Rolling Stone magazine's "500 Greatest Rock and Roll Songs of All Time" list) which was a major USA hit for him and was covered by loads of people over the years including John Lennon in 1975. In 1960 he was in the car crash that killed his friend Eddie Cochrane, but he continued to tour until his untimely death from an ulcer in 1971.
The story goes that during a UK TV appearance, a producer was keen to exploit the accident connection and as Gene sang he was to walk slowly across the studio floor past fans and scenery. Gene was walking reasonably well despite being in pain and the producer was not happy. He hid behind a piece of scenery and hissed "Limp you bugger!"
Pop group from the borders region of Scotland including Mick Sweeney on tenor saxophone. He later became a regular section player with the Borders Big Band.
More info gratefully received.
If you can add any further information to this piece please contact me here
John Mackie - vocals
Maz Behdjet - guitar
Bonehead - guitar
Nick Repton - bass
Sean O' Donnell - drums
Jaxx - backing vocals
Manchester band whose number includes Bonehead (ex-Oasis). Influenced by The Stone Roses, John Lennon, Oasis, Bob Dylan, Ian Brown, Primal Scream, The Happy Mondays. They released a single 'Dirty Soul'/'Revolution Sometime' on 06/10/2008.
If you can add any further information to this piece please contact me here