Biogz
'J'
Here you will find some short biographies (biogz) of solo artists whose surname commences with this letter or bands with names commencing with this letter (omitting any commonly used prefix such as 'The').
Click on the name below or scroll down the page at your leisure.
Jack Easy
Jackie and Bridie
Jackson Heights
Jack Jackson & His Band
Jill Jackson
Tony Jackson & The Vibrations
The Jacobeats
JALN Band
Jimmy James & The Vagabonds
The James Boys
Jaspa
Jayne (Collins)
The JB Memorial
Jefferson
The Jets
Jimmy Jewell & Ears
Carol Jiani
Jigsaw
Jody
Elton John
Johnny, Mike & The Shades
Jim Johnstone & His Broadcasting Band
The Jokers
Alan Jordan
The Alan Jordan Five
Josef K
JSD Band
Judas
Judas Priest
Juicy Lucy
Junior's Eyes
Jimmy Justice (& The Exchequers)
The Jynx
Andy Harrison - vocals
Harry Sullivan - guitar, vocals
Lawrence McLachlan - keyboards
Douglas Mathieson - bass, vocals
Davy Haswell - percussion, vocals
Pauline Carlin - vocals
Pete Griffiths - drums, vocals
Jack Easy were a seven-piece folk/rock outfit formed in April 1977 in Edinburgh from former members of 'Biffo', 'Ignatz', 'Clean Slate' & 'The Other Band'. Only one month later in May 1977 they won the Scottish heat of the Melody Maker folk/rock competition only to be unsuccessful at the finals at the Fairfield Halls, Croydon in June of that year. It seems their newly acquired soul/funk feel didn't go down too well with the judges!
The next few months saw them touring the length and breadth of Scotland, gigging everywhere from hotels to US Air Force bases and a recording deal seemed a possibility following the recording of some demo tracks in Ca Va Studios, Glasgow such as 'Right Place, Wrong Time', 'Use Your Imagination' & 'You Know You're Wrong' but it never came about. The tracks were typical of the tight, funky sound they had developed at that time.
They split sometime shortly post 1978 with three of them forming the (again short-lived) jazz/funk flavoured 'Free Sample'.
My thanks to Douglas Mathieson for the data.

Jacqueline McDonald
Bridie O'Donnell
Jacqueline McDonald and Bridie O'Donnell were a folk duo formed in 1964. They were originally known as 'Jacqueline McDonald and Bridie O'Donnell', however this was soon shortened to the snappier 'Jackie and Bridie', then finally to 'Jacqui and Bridie' though for some bizarre reason their appearance at the ballroom on Tuesday 11th April 1967 was billed as Bridie and Jacqueline. They have the accolade of being the first full-time British female folk-song duo.
While sadly, Bridie is no longer with us, Jacqui is still providing a monthly folk club in Liverpool on the 3rd Tuesday each month at Sefton Park Cricket Club.
If you can add any further information to this piece please contact me here
Lee Jackson - vocals, guitar, bass, percussion, harp
Charlie Harcourt - guitar, keyboards, vocals
Mario Tapia - bass, guitar, vocals
Tommy Slone - drums, percussion
Later:
Brian Chatton - keyboards, vocals
John McBurnie - guitar, keyboards, mellotron, percussion, vocals
Mike Giles - drums, percussion
Ian Wallace - drums
Formed by Lee Jackson after The Nice split in 1969, they built a good live reputation by touring relentlessly, and produced a more pop flavoured sound than The Nice. Mike Giles had drummed for King Crimson. They released two singles and four albums: 'King Progress' (1970), 'The Fifth Avenue Bus' (1972), Ragamuffins Fool' (1972) and 'Bump 'n' Grind' (1973).
Jackson joined a reformed 'Nice' in 2002.
Lee Jackson also played with T-Bones.

Jack Jackson developed the pioneering approach to the radio disc jockey's art that influenced such disciples as Kenny Everett and Noel Edmonds.
(Born: Horsley, Derbyshire, 20 February 1906, Died: 15 January 1978)
Long before he developed the pioneering approach to the radio disc jockey's art that influenced such disciples as Kenny Everett and Noel Edmonds, Jack Jackson was a trumpeter for Ambrose, Jack Hylton and Jack Payne. He formed his own band in 1933 - with 'Dancing In The Dark' as his signature tune, a residency at London's Dorchester Hotel, and Al Bowlly among the featured vocalists – and began a Radio Luxembourg series with his band in 1939.
The outbreak of war dispersed the musicians, and although they reformed after the war, Jackson retired as a bandleader in 1947 and turned to radio compering, both on Radio Luxembourg, whose Decca Records show he hosted, and the BBC Light Programme, where he launched 'Record Round-Up' in 1948. The seminal Jackson style punctuated pop records with comedy clips from The Goons, Bob Newhart, Shelley Berman and others, and subverted the conventional record-spinning format with pre-recorded assemblages on tape, which featured quick cutting to humorous effect and his own linking comments. He presented other radio programmes such as 'Housewives' Choice', and 'Rooftop Rendezvous' and 'Cabaret Cruise', among others, on television.
In 1960 he emigrated to Tenerife, recording his shows in a home studio, and survived, albeit briefly, the Light Programme's replacement by Radio 1 in 1967. He joined Radio 2 in 1971, but in 1973, his health deteriorating, returned to live in the UK. He continued to broadcast until the year before his death.
Info courtesy of: www.radioacademy.org

Born in 1978 in Paisley Scotland, Jill is a is a guitar-playing Scottish folk-rock / contemporary alternative country singer-songwriter. She started to play guitar and wrote her first song before her twelfth birthday and was a professional member of country band 'Jacksonville' by age 15. In 1998 she formed & fronted the Scottish rock band band 'Sweedway' with whom she had UK chart hits ('Genie In A Bottle' / 'Save Yourself', 'Can't Turn Back' & 'In & Out') before they folded that same year in 2004.
Her debut solo (acoustic) album 'Jill Jackson' was released in 2006 and attracted the attention of Melanie C who recorded versions of two of Jill's songs. The following year she toured as guitarist and backing vocalist for Natalie Imbruglia's band. She has supported musicians such as Albert Lee, Roger McGuinn, Bryan Adams, Runrig and played fifty dates in all 50 states in America in 2008.
She played a solo spot at 'T in the Park' in 2009 and Celtic Connections in 2010 and released the 'Painted Faces' EP that same year. A new album is expected in 2011.

Tony Jackson - vocals, 1962 Hofner violin bass
Ian Buisel - lead guitar
Martin Raymond - organ
Paul Francis - drums
Dennis Thompson - bass

Anthony Paul Jackson was born in Liverpool in 1938 and was the original lead singer on The Searchers' first 3 hits. He formed Tony Jackson and The Vibrations in London in August 1964 and their first 2 singles (the other being 'You Beat Me to The Punch') were covers of old Mary Wells songs. After a couple more singles on Pye, he moved to CBS (as The Tony Jackson Group) and then as a solo act.
Tony was out of the music business for a while and suffered personal problems which included a jail term – but in the 90s he got back together with The Vibrations and even played a couple of gigs with Mike Pender's Searchers.
Tony died in 2003.


The Jacobeats in the grounds of Elgin Cathedral
My thanks to Stuart Prentice for this image
Kenny Lawson - vocals
Margaret Riddoch - vocals
Dougie MacLennan - lead guitar
John Rennie - rhythm guitar
Bill McKenzie - bass
Ian Young - drums
Later:
Lorna Cameron - vocals
Dierdre Cameron- vocals
Rae Rogers - bass
Graham Nairn - guitar

The Diamonds were a skiffle group (circa 1953) from Portsoy in Aberdeenshire whose members were around thirteen years of age, lead by Dougie MacLennan (lead guitar) and John Rennie (rhythm guitar). John was so keen to acquire his own guitar that he made one, seriously injuring himself in the process!
They were joined by George Milne, Leslie Anderson, James Green, Martin Green, Eric Green & Sheila McIntyre. They sang and played a variety of home-made instrumentation such as the ubiquitous tea box bass and Mrs. Green's washboard and embarked on a series of local gigs often with attendant travel problems.
Various other commitments forced the early departure of Sheila, Leslie, George and the brothers Green and so Bill McKenzie (bass), Joe Mowatt (vocals) & Bill Murray (drums) were recruited to their ranks along with a change of name to 'The Apaches' after the Shadows' hit.
They became the North Of Scotland Rock Champions in 1961 and soon came under the direction of Albert Bonici (a highly successful promoter in the north-east of Scotland) who secured many local support duties for the band. Later Joe Mowatt left and was temporarily replaced by John Stewart (vocals) for the duration of the school holidays.
A more permanent replacement came in the shape of Kenny Lawson & Margaret Riddoch (vocals) and Ian Young replaced Bill Murray (drums). It was at this point they elected to turn professional so Albert decided to re-image the band and promote their Scottishness as a gimmick. They adopted traditional highland garb in Hunting Stewart tartan at a cost of £80 each and changed their name to 'The Jacobeats' to suit.
Six months of intense rehearsals followed with some local warm-up gigs before they went off to Germany in 1964, as had so many others. After a series of performances there Margaret Riddoch left to get married and the band returned home. She was subsequently replaced by sisters Lorna (18) & Dierdre Cameron (16) on vocals.
Rumours of tours abroad and even an appearance on the Ed Sullivan Show evaporated though they did venture to Newcastle & Birmingham. Rennie was forced to leave following medical advice and MacLennan left to take up professional photography.
They took advantage of the demise of Eddie Leppard & The Leopards and acquired Rae Rogers (bass) and Bonici brought in Graham Nairn (guitar). The reincarnated Jacobeats resumed extensive touring but eventually the spark went out and they split.
Researched from 'Fit Like, New York?' – Peter Innes.
J.A.L.N. Band (Just Another Lonely Night)
Charlie Sylvester
Steve Sylvester - lead guitar
Zephrine Sylvester
Sam
Ronny
Henry George Phillip
Jamaican Black disco / funk / reggae band from Birmingham UK in the latter half of the 1970's. They were discovered on a British TV talent show called 'New Faces' which they won.
Charted three times with: 'Disco music (I like it)' 1976 #21, 'I Got To Sing' 1977 #40 and "Get Up (& Let Yourself Go)' 1978 #53. A further four singles failed to chart.
Four albums were released in total.
The James Boys / Brothers
Songwriter and record producer brothers, Bradley & Stewart James, began their music business careers at the very young ages of 10 and 9. After singing with an amateur concert party and performing in civic halls and theatres around London in the early seventies they were discovered by legendary record producer Larry Page, producer of The Kinks and The Troggs.
Page realised the potential of an act that could be hailed as 'Britain's answer to The Osmonds' and signed Bradley and Stewart on the spot. In 1973 at the age of 12 and 11 respectively, Bradley and Stewart under the name of The James Boys recorded their first single entitled Over & Over on Page's Penny Farthing Records label. The single was a minor hit in the UK reaching No.39 in the charts, however at that time Page's roster of artists were having much success internationally due to Page's first class overseas affiliates and consequently The James Boys were an overnight success with the single being a top ten hit in Germany, Spain, Scandinavia and the Far East, earning the two brothers gold discs with sales in excess of 1,000,000 copies worldwide.
Capitalising on their initial success, Bradley and Stewart spent the next three years touring overseas and recording two albums. They also appeared on many European TV shows with stars of the day including Suzi Quatro, Gary Glitter and Julio Iglesias, whilst in contrast back in their native UK they were the youngest act to ever appear on the BBC's old time musical TV show The Good Old Days. During this period Bradley and Stewart continued developing their talents on drums, guitars and keyboards whilst taking advice from some of the top artists they were performing with that they should be writing songs. Although they loved performing they were even more enamoured with writing and being in the recording studio.
By the time they had both left school in 1978 they had signed an exclusive five year publishing deal with Lew Grade's ATV Music. This benefited the then teenage brothers because they were able to learn their craft as songwriters whilst being given free rein in the recording studio to demo their own songs. During the 1980's Bradley and Stewart as writers, musicians, arrangers and producers collaborated with many artists including Barbara Dickson, Paul Young, Imagination, Amii Stewart, Limahl, Marti Webb, The Nolans and even penned the official song for the 1986 England World Cup Football Squad.
Most notably they wrote and produced the UK's best selling single of 1986 and No.1 record 'Every Loser Wins' recorded by Nick Berry. The single sold 1.1m records and earned Bradley and Stewart Ivor Novello awards which led to them being signed by the current Chairman and CEO of Universal Music Lucian Grainge to a five year publishing contract. During the 1990's the two brothers began to turn their attention to the lucrative TV marketing arena. Working with the special marketing divisions of the major record companies they began producing albums with TV celebrities, most notably actor Ian McShane's 1992 gold selling album 'From Both Sides Now'.
During this period Bradley and Stewart had their best success by combining their talents as writers, producers, musicians and vocalists with their unique concept brands of TV advertised instrumental moods and relaxation music. In 1995 their platinum selling album 'Sax Moods' reached No. 6 in the UK artist album chart. Following this the brothers had a further four top 20 albums between 1996 and 2000 in the UK including 'Raindance', a fusion of ambient sounds and Native American chants (No.15 UK chart) and their most successful concept to date 'Voices of Tranquility' (No.16 UK chart) which has sold in excess of 1.5m copies worldwide.
More recently Bradley and Stewart have looked to develop new talent and have produced albums in the classical genre. This has given them the opportunity to personally score and conduct for The Royal Philharmonic Orchestra. Due to the popularity of the Voices of Tranquility series of albums they have also composed music for the US primetime CBS TV shows CSI Miami & CSI New York. Bradley and Stewart are currently writing and producing for the hit West End musical 'Dreamboats & Petticoats'.
Singles:
The James Boys:
'Over And Over' / 'Same Old Way' (1973)
'Shoog Shoog (Sugar Baby)' (1973)
'The James Boys Shuffle' (1973)
'Hello Hello' / 'Viva Maria' (1974)
'Keep Moving' / 'Sally Don't You Run' (1974)
'I Love You' / 'Pick A Bale Of Cotton' (1974)
'Up Until Now' / 'Pick A Bale Of Cotton' (1974)
'Don't Ever Leave Me' / 'Give Your Love A Chance' (1976)
The James Brothers:
'Flowers On Your Birthday' / 'She's The One' (1980)
'So Easy' / 'Watcha Gonna Do' (1980)
Kenny Sloane - lead vocals
Kenny Turner - lead guitar, vocals
Ian Jarvis - guitar, vocals
Colin Stewart - bass, vocals
Gordon Robb - drums, vocals
Jaspa were a Glasgow-based covers band who were managed briefly by Music & Cabaret Entertainments Agency.
Many thanks to Kenny Turner
Jayne (Collins)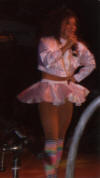 Jayne Collins Promo Jayne at Hollywood Boulevard
courtesy of Martin Robb
(Hollywood Boulevard Manager)
Jayne began her recording career as Jayne Collins in 1985 with singles like 'Madonna's Eyes' & 'No Turning Back' and later became just 'Jayne' for later releases such as 'In My House' which she promoted during her support slot for 'Big Fun' during the 'Hit Man & Her' recording in Hollywood Boulevard on Saturday 04/11/1989. This song was produced by Frank Fabian (Boney M).
She reclaimed her surname once more for her 1995 release, 'No Turning Back' written by Mike Stock and Matt Aitken for the 100th episode of the popular television series 'Baywatch' which included a guest appearance by Jayne portraying an aspiring pop singer who, after rescuing pop tycoon Richard Branson while he is attempting a world record-breaking stunt, gets the chance to make a record.

Jimmy James - vocals
Count Prince Miller - vocals
Wallace Wilson - guitar
Coleson Chen - bass
Carl Noel - keyboards
Milton James - saxophone
Fred Fredericks - saxophone
Rupert Balgobin - drums

60s British soul legends, Jimmy James and The Vagabonds were great rivals of their contemporaries, Geno Washington's Ram Jam Band with a popular live act that always eclipsed their record sales. In fact they would have been denied 1960s UK chart action altogether had it not been for a #36 position for a cover of 'Red Red Wine' in 1968.
When they supported The Who, all their equipment was stolen and Pete Townsend replaced the lot to ensure the show would still go on.
A solo career followed though he still maintained the 'Jimmy James & The Vagabonds' name.
The first 'solo' hit was 'I'll Go Where Your Music Takes Me' which hit #23 and the last was 'Now Is The Time' at #5, both in 1976. The albums 'I'll Go' & 'You Don't Stand A Chance (If You Can't Dance)' however did not chart.
Jimmy still does cabaret shows.
Trevor Forster - vocals
Ronnie Lessels - bass, vocals
Bobby Ross - keyboards, vocals
Pete Hunter - drums & vocals
The JB Memorial was the new name for The Falcons after they split in 1968 and subsequently reformed with out Jim Brown and Jimmy Bryce, hence the name .
They played at the ballroom twice in September 1969 and turned professional. The band continued to play until at least 1971.
They have recently reformed once more as The Falcons for occasional gigs and played some local venues in 2005 and The Carnegie hall in 2006 with 'Lights Out By Nine' & 'The Steve Agnew Band'. They still play regularly.
If you can add any further information to this piece please contact me here

Jefferson (Geoff Turton) ex 'Rockin' Berries' & 'Sight & Sound' began a solo career in 1968, singing mostly ballads. He released one album, 'The Colour Of My Love' (1969) and some nine 45's between 1968 & 1975. He released one single under his own name called 'Don't You Believe It' (1968).
If you can add any further information to this piece please contact me here
Info from: 'The Tapestry Of Delights Revisited' by Vernon Joynson.

John A Faulkes - guitar, vocals
Michael Rigg - bass, vocals
Ian Craig - drums, vocals
The Jets released their lone record in November of 1979, further proving that Decca records could pick great punk/powerpop singles for their label while at the same time through terrible distribution and promotion, allow those records to disappear into thin air. This 45 is pretty scarce and demo/promo copies seem to turn up more frequently than stock copies leading to the conclusion that very few of these singles actually hit the stores.
Both Faulkes and Craig were also in the band 'Stagefright' in the mid 1970s.

Collin McCourt and Don Gould share the production credits.
Info from http://singsingrecords.blogspot.co.uk/2009/12/jets-tearaway-bw-impossible.html
If you can add any further information to this piece please contact me here

Jimmy Jewell - saxophone
Richard Brunton - guitar
Billy Livsey - keyboards
John Mumford - trombone
Steve Bingham - bass
Ray Duffy - drums
Jimmy Jewell started out in 1962 playing tenor sax with various R&B and jazz bands in the north of England. In 1963 he decided to turn professional and joined the group Kris Ryan and the Questions, originally a rock band, which due to his influence, switched to playing R&B and Soul/Jazz, a la Ray Charles & James Brown. The band got a record deal with Mercury and 2 singles and an EP were released. The manager of the band wanted it to move in a more commercial direction and a solo single by Ryan was released. Jimmy left the band in 1965.

He moved down to London in 1966 and played briefly with a soul band, Mack's Sound. Whilst on tour in Germany with the Paramounts, backing Chris Andrews, he accepted an offer to join a Berlin band, the Magics. He toured with them in Germany until Spring 1967, then returned to London. He did a few gigs with Screaming Lord Sutch, then joined another soul band, the Stewart James Inspiration. He toured with them in England and Germany until they disbanded in 1968.

In 1969 he joined the Keef Hartley Band, a progressive blues/rock group, along with trumpeter Henry Lowther. A few weeks later, they were one of the few British bands to play the Woodstock festival, critics at the time comparing them favourably with Blood Sweat And Tears. He appeared on the album The Battle of North West Six (1969) then left together with Lowther while the band were recording The Time is Near (1970).

In 1971 he recorded with McGuiness-Flint on the album Happy Birthday Ruthie Baby. In 1972 he appeared on the Coulson, Dean, McGuiness, Flint album Lo and Behold. In 1973 he appeared on Dennis Coulson's solo album and on the Seeds album by Gallagher and Lyle, a Scottish song writing duo who were former members of McGuiness-Flint. He also toured Britain with them and Ronnie Lane's Slim Chance. In 1974 he appeared on their next album, The Last Cowboy and did

In 1976 he recorded his first solo album, I'm Amazed, released in 1977 by UK label Affinity records. A second solo album From the First Time I Met You was recorded in 1977, and released by Affinity in 1978. It is sometimes credited to Jimmy Jewell & Ears.

In November 1978 he moved to Chicago, where he played in various blues bands and also his own jazz quartet, as well as doing session work with various blues artists at Alligator records.

He came back to London in 1984 and in 1985 released an album of his own jazz compositions, Dawn of the Dragon on cassette with a quintet featuring US trumpeter Chris Albert and drummer Hughie Flint. Subsequent work was sporadic.

In 1995 he started a jazz trio with bass and drums only, but later expanded to a quintet with trumpet and trombone. The band had a weekly residence at an east London pub until 1996. During 1996, this quintet recorded an album as Jazz Alembic which is now released on Spherious Music.

In 1997 he moved to Kent due to family health problems. An outbuilding at the back of his house has been converted to a recording studio. A record label, Spherious Music has been set up to release his work, the first release being a compilation from the two solo albums.

Carol Jiani (born Uchenna Ikejiani in Nigeria) is best known for the huge success of 'Hit N Run Lover' which became an enduring High NRG scene anthem throughout the 80s especially in the gay community. Jiani recorded several other songs though 'Hit N Run Lover' remained her springboard and millstone at the same time.
If you can add any further information to this piece please contact me here

Clive Scott - organ, vocal
Kevin Mahon - tenor sax
Tony Britnel - tenor, vocal
Tony Campbell - guitar
Barry Bernard - bass
Des Dyer - drums
Jigsaw were formed in April 1966 in the Covertry/Rugby area by ex members of 'The Mighty Avengers' (Campbell / Mahon), 'Pinkertons Assorted Colours' (Bernard), 'The Fortunes' (Britnel) and 'The Transatlantics' (Scott).

Their main strengths were Scott/Dyer's song-writing talents (they'd previously placed songs with Engelbert Humperdink, as well as 'The Mighty Avengers').

Although formed in 1966, their debut disc wasn't until 1968. Their second single release was written by Alan Bown, who's own band Alan Bown Set, were label mates on MGM's Music Factory subsidiary. They recorded a number of good Pop/Psych/Progressive singles and albums before a 1975 UK Top Ten, with the unashamedly pop 'Sky High'.
They split around 1978.
['Casablanca' were formed as a one off project for the UK entry for the Eurovision Song Contest. The group was formed by Des Dyer and Clive Scott who also composed their Eurovision attempt 'With Love' and it's b-side track 'If I Lose Your Love'. Two female vocalists, Samantha Spencer-Lane and Carla Donnelly, two former Hills Angels on the Benny Hill TV show, provided backing vocals for Des Dyer].
Singles:
'One Way Street' / 'Then I Found You' (1968)
'Mr. Job' / 'Great Idea' (1968)
'Let Me Go Home' / 'Tumblin' (1968)
'One Way Street' / 'Coffucious Confusion' (1970)
'Lolipop & Goody Man' / 'Seven Fishes' (1970)
'Keeping My Head Above Water' / ? (1971)
'Jesu Joy Of Man's Desiring' / ? (1971)

Albums:
'Leatherslade Farm' (1970)
'Aurora Borealis' (1971)
'Broken Hearted' (1973)
'I've Seen The Film' (1974)


From Bathgate Bands
Bobby Speedie - lead guitar, vocals
Alistair Speedie - rythmn guitar & vocals
Richard 'Dick' Hewat - keyboards, vocals
Alister Stewart - drums, vocals (1977-1978)
Tom Annan - drums (1978-1979)

As a result of appearing on ATV's 'New Faces' in 1977, 'Spinning Wheel' turned professional in the summer of 1977. The band had a record deal with REL records in Edinburgh and spent a couple months recording a single 'Take a Little Time for Love', penned by David Valentine and Bobby Heatlie (who subsequently wrote number 1 hits for Aneka and Shakin' Stevens).
The name of Jody was the end product of a competition run in the local newspaper, The West Lothian Courier , where the winner had a day out in the studio watching the band record.
Needless to say, the single was never released, although about 6 demo 7" singles were pressed.
The band gigged quite successfully over the 12 months, playing on the same music circuit as Sloopy. Both bands were managed by Music and Caberet in Glasgow.

Some notable venues gigged by Jody included a week down in Basildon, Essex and numerous gigs on Skye, Lewis and Ullapool.

Jody became 'Hampden's Heroes' for a short time in 1978 and appeared on Granada TV's 'Get it Together' with none other than Slade. The resulting single: 'Scotland Bonnie Scotland' / 'Into the dead of Night' never really charted, although it was voted the 'best' world cup song by Radio Forth listeners - but had no chance after Scotland were eliminated after the first round.

The drummer, Alister left band in 1978 and was replaced by Tom Annan from Kirkcaldy. The band were resident in the Bird Cage in Edinburgh nearly 6 months before Jody bit the dust.

There was a brief coalition between Bobby Speedie, Alastair Speedie, Dick Hewat, Jamie O'Neill, Stewart Wilson and Tom Howison. They came second in a battle of the bands competition in Glasgow and were successful in passing a BBC audition. However, the core of this band would form 'Sound & Vision' a few years later.

Both Bobby and Alstair Speedie dropped out of the music scene between 1979 and 1982. Dick Hewat featured with Sideshow along with Stewart Wilson and then in 1981 joined the Alan Stewart Sound, playing summer season on the south coast of England.

Visit Jody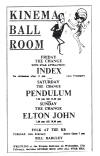 Dunfermline Ballroom Ticket Elton c1971
Press Ad (John Burns)
Reginald Kenneth Dwight was born on 25th March 1947 in Pinner, England. He had piano lessons from an early age and studied at the Royal Academy of Music. He was a member of 'Bluesology in the early sixties and by 1965 had released his first single 'Come Back Baby' and was touring the as a support act UK. He left Bluesology in 1967, disappointed at the takeover staged by Long John Baldry and soon found Bernie Taupin.
His new stage name was an amalgam of elements of two Bluesology members names: Elton Dean & Long John Baldry. Elton and Bernie were an ideal paring as Elton was no lyricist and Bernie didn't write music. They joined DJM in 1968, earning the princely sum of around £10 / week each! His debut solo single was 'I've Been Loving You Too Long' on the Phillips label. Four other different songs would be released on 45s before he scored a chart hit in January 1971 with 'Your Song'. during this time he almost joined 'King Crimson, had a Eurovision song rejected by Lulu, released his first three LPs 'Empty Sky', 'Elton John', & Tumbleweed Connection' and played session keyboards on The Hollies' hit 'He Ain't Heavy, He's My Brother'. Oh, ... & I nearly forgot, ... he appeared at the Kinema Ballroom on St.Valentine's Day 14th February 1971, though he was never paid! (Click the flashing red lamp above to find out why!)
'Your Song' peaked at #7 in the UK and has proved to be probably his best loved composition. By this time he had established a backing group manned by musicians such as Dee Murray and Caleb Quaye, made the first of many visits stateside and begun to develop the flamboyant appearance he would be known for the world over. Edinburgh-born Scots guitarist Davey Johnstone joined the ranks to replace Quaye in 1972 and another enduring smash hit single followed in 'Rocket Man'. This was something of a golden era as he completely embraced and led much of the glam movement while enjoying a concentrated run of hits with 'Crocodile Rock', 'Daniel', Saturday Night's Alright For Fighting' & Goodbye Yellow Brick Road' all hitting the top ten in 1972/3. Album sales had been very healthy, however 1973/4 saw consecutive #1 hits for 'Don't Shoot Me, I'm Only The Piano Player', 'Goodbye Yellow Brick Road', ' Caribou' and his first 'Greatest Hits'.
As if four #1 albums wasn't enough, he followed them with another six consecutive top ten efforts including volume two of the Greatest Hits. He made a cameo appearance as The Pinball Wizard in the Ken Russell film of The Who's 'Tommy' in 1976, the same year that brought him his first #1 single in a duet with Kiki Dee, 'Don't Go Breaking My Heart'. The tail end of the seventies saw him take a career break while he took up chairmanship of Watford Football Club.
Elton's output during this period without Taupin (who co-wrote the 1978 Alice Cooper album 'From The Inside' during their time apart) seemed a trifle confused and experimental until the partnership was restored in 1983. Meanwhile his personal life took a bizarre twist when he married Renate Blauer as his homosexuality was all but common knowledge. It was however short-lived though the press had a field day as his drug and alcohol problems also became public property. Luckily he has since settled into a strong, long partnership. His relationship with the press has stabilised too as they pay homage to his unending financial support for many charities, notably for Aids for which he set up The Elton John Aids Foundation, donating all royalties from single sales from 'The One' onwards.
The mid nineties found Elton writing the soundtrack to Disney's fantastically popular 'The Lion King' with Tim Rice.
The huge selling albums and singles just keep coming with another run of thirteen top ten albums from eighteen released in the twenty years between 1983 and 2002. Single hits have been less consistent, though eighteen top ten scores from around fifty releases in a similar period can't be bad given the decline in single sales generally. His recent personal stability has seen him cope well with the loss of two very public personal friends in Gianni Versace and Princess Diana for whom he released a rewritten version of 'Candle In The Wind'.


From the left: Mike Wayne, Johnny Ranse, Dave Sumner, Pete Rowney (with the drum), Noel Burns, Johnny Cannon.
Image courtesy of: Noel Lawrence.


From the left: Noel Burns, Pete Rowney, Dave Sumner & Phil Symmonds.
Image courtesy of: Noel Lawrence.
Johnny Cannon (John Symonds) - vocals
Mike Wayne (Mike Long) - vocals
Johnny Ranse (John Ransom) - rhythm guitar & vocals
Dave Sumner - lead guitar & vocals
Noel Burns (Noel Lawrence) - bass & vocals
Pete Rowney (later aka Pete Gavin) - drums
Later:
Phil Symmonds - rhythm guitar & vocals
Click here

to hear Johnny Mike & The Shades perform the Lennon/McCartney song 'This Boy' on BBC Radio's 'Saturday Club' introduced by Brian Mathews (1963 or 64). This was recorded at Shepherds Bush studios at 8 O'clock in the morning!

Highly regarded, hard-working 'BBC Saturday Club' regulars (originally from Bath in Somerset before moving to London as professionals) who supported 'Roy Orbison', 'The Everly Brothers', 'Dusty Springfield', 'The Rolling Stones' and 'The Who' amongst others. They appeared on 'Thank Your Lucky Stars' on May 22nd 1965, alongside 'The Spencer Davis Group' and 'Billy J Kramer and the Dakotas'.

Mike Wayne was a singer with 'The Pacific Five' from Bath. Mike left in early 1958 to quit singing but was persuaded to join a rock and roll band some months later with singer Johnny Cannon who had been a drummer with local rivals, 'The Dominoes'.

Their backing band regrouped as 'The Shades' in 1959 with Dave Sumner and John Ransom. In 1961 Noel Burns joined on bass and in October 1962 Pete Rowney replaced Johnny Birmingham on drums when the band (now known as 'Johnny Cannon, Mike Wayne with The Shades') turned full-time professionals and relocated to London under the guidance of Jack Fallon of the CANA Variety Agency on Wardour Street, in Soho, London.

Like many other struggling embryonic outfits they had a devoted financial backer in the shape of constant friend Jack Steed from Frome in Somerset who managed the amateur band and became their Road Manager when they turned pro. Other enthusiasts that helped them along the road to stardom included Harry Stockwell and his wife who formed The Shades Fan Club in 1963 from Colney Heath, St. Albans.

Various permutations of their name were used such as 'The Cannon Brothers with The Shades' until settling on 'Johnny, Mike And The Shades' as Brian Matthews introduced them on the BBC's 'Saturday Club', where they made several appearances.

They had several offers of recording contracts but Jack Fallon declined, waiting for a more proficient outfit to emerge but they probably waited too long and opportunities were lost.

Eventually they signed to Decca after their first appearance on 'Saturday Club' though the terms were poor. Decca invested in a recording of 'Poison Ivy'/'Green Back Dollar', using session musicians and The Shades on backing vocals though it never saw the light of day.

They played the ballroom on Wednesday 4th November 1964 with 'The Red Hawks' in support of 'Dean Ford & The Gaylords' who would later become 'Marmalade'.

Gerry and the Pacemakers' hit version of 'You'll Never Walk Alone' was indeed inspired by Johnny's dramatic vocal performance at a gig in Widnes! Gerry Marsden discussed his admiration personally with Dave Sumner & Noel Lawrence after the gig. Both John Lennon and Paul McCartney were early fans and when their manager, Brian Epstein tried to buy them from Jack Fallon, Jack would only agree to it if Brian traded The Beatles for them!

In 1965, Phil Symmonds replaced John Ransom and Noel left the band, which changed its name to 'The Cannon Brothers with The Shades'. That same year they released a single 'Turn Your Eyes To Me" on the BRIT label. Jim Murphy (who died in 2000), a radio DJ who later joined Radio Caroline, squatted outside Alexandra Palace on a 50-foot-pole, claiming that he would remain there until 'Turn Your Eyes To Me' was a national hit. Certainly it became Radio London Club Disc of the Week and it peaked at #36 in their 'Fab 40' on 25th April 1965.

'The Cannon Brothers with The Shades' split in 1967 after which Dave Sumner joined 'Mal Ryder and the Primitives' and moved to Italy where he played for 'Cameleonti' for several years. Noel Lawrence lives in London, Ontario in Canada and has done since 1969.

Drummer Pete Rowney changed his name to Pete Gavin after the Shades broke up and helped form and played in 'Head, Hands and Feet', 'Jodys Grind' and 'Vinegar Joe'. He also played for Long John Baldry before moving to the US where he worked as a session musician with Don Everly, Eric Clapton and Roy Orbison amongst many others. It was during this time that he also played in Joe Cocker's band.

Their manager, Jack Fallon of the CANA Variety Agency was a Canadian & a world class bass player who played for Duke Ellington when he visited Europe. Sadly Jack died just before Christmas 2006.

I'm much obliged to Noel Lawrence for the photograph, recording and much of the detail above and for the following anecdotes:

"John also sang another dramatic ballad called "The Wedding" which was one of our show stoppers. When we suggested to Bernie Andrews, the producer who handled us under Jimmy Grant on BBC Saturday Club performances, that we put it on the show he was forced to take the request to the BBC legal department because it contained the words "Ave Maria". Fortunately the decision was "Yes" and the BBC received sacks full of mail in response, 99.9% of which were positive".

"The next time we performed on the show and after staff taking almost a week to sort the mail, Brian Mathew read some of the many cards and letters they had received about this rendition. The very first card he read, totally unknown to anybody at the BBC, was from my mother! If you can imagine me driving the bands mini bus up the M1 on our way to a gig in Doncaster, listening to Saturday Club (which was all recorded previously) and out of the blue hearing a card from my mother you might appreciate the shock it caused". (

Noel Lawrence).

"My father didn't speak to me for the three years I was in the band because he thought I should have pursued academics first. However, when he died my sister found a scrapbook of all the pictures and newspaper articles that he had collected with comments written in his handwriting". (

Noel Lawrence).

Ghoulz (2006) & Noel Lawrence

Jim Johnstone & His Broadcasting Band

The Jim Johnstone story starts in the East Lothian town of Tranent. Dad, George, and uncles John, Alex and Bob all played 5 row Continental accordions with George and John broadcasting regularly together before the war. After demob it was John, Alex and Bob who got together and formed a band. After an audition, regular broadcasts were to follow with a three accordion front line.

It was at the age of 9 that Jim started lessons with Tranent 5 row accordionist Bobby Anderson, a former pupil of Peter Leatham. After a year of steady Jim became a pupil of Peter's daughter Chrissie Leatham. Later Jim, now 13, was persuaded by his dad to reply to a radio advert looking for young musicians to broadcast. Having passed the audition his broadcast got under way on 'Children's Hour' in May 1950 with 'Dundee City Police Pipe Band', McDonald's Awa' Tae the War' and 'The Black Mask Waltz' with variations by Tolafson.

Two years later and Bobby Colgan bought a drum kit from a relative and together they started taking on wee dances and weddings. Soon another local accordionist and neighbour, Willie Donaldson, joined to play second box. Dad offered great encouragement and passed on jobs he was unable to do himself, always enquiring later how the lads had got on. "We got on that weel you're no' getting' back again" would be Jim's tongue-in-cheek response. Gradually, as the band were offered bigger and better jobs, additional players were added. On piano was Archie Horn from Port Seton formerly of the Tim Wright band and an expert at arranging modern ballroom dancing. On fiddle, and a first timer on the band scene, was Peter Innes, also from Tranent, a great fiddler and music reader.

Jim did his National Service in the R.E.M.E. & back in civvy street Jim was initially invited to join the 'family band' led by uncle John, which for a short time therefore had a four accordion front line. John retired from the band shortly afterwards, however, and the revised line-up lasted until 1962 when Jim was asked to do a broadcast with two days warning, but the broadcast went well and he was asked to join the band shortly afterwards. The line-up at that time was Andrew Rankine , Ron Gonella and Jim with Billy Thon, Tom McTague and Bill Hendry (Falkirk) in the back line.

In 1963 Andrew announced that he was emigrating to Australia so Jim left to form his own band with Alan Johnstone on fiddle, Robin Brock on bass, Davy Flockhart on piano and Bobby Colgan on drums. After a successful audition they did their first broadcast in August 1963. Around 1965 this band split up and Jim joined Jimmy Shand full time after giving up his job at the garage and was shortly afterwards joined by Bobby Colgan on drums. In 1967 he started an 18 month spell with Jimmy Blue's band after the departure of Mickie Ainsworth.

In 1968 Iain McFadyen approached Jim and asked him to form a band to carry on the White Heather Club in theatres and on TV. Initially he could only offer 10 weeks work but by the time they started that had risen to a year. This was the band of the 'Measure of Scotch' era with Pam Brough, Billy Craib, Billy Thom and Tommy Lees, originally from Kirkcaldy, on second box. Work rolled in during this time with the band frequently playing six nights a week.

After the demise of the White Heather Club other TV work followed. First the now almost forgotten 'Take the High Road' then the long running and highly successful 'Songs of Scotland'.

Inevitably the band line up has changed over these last few years with the emphasis being perhaps more on bringing in young players. Neil Barron, Neil Caul, Ian Hutson and of course "the baby of the band" as the show's host Bill Torrance calls her, Marie Fielding.

Abridged from: Box and Fiddle Sept 1992 By Charlie Todd www.footstompin.com

Ronny Sigo - guitar
Jos Clauwers - guitar
Jos Raes - bass
Dany Pepermans - drums

Ronny Sigo & Jos Clauwers formed young Belgian band 'The Jokers' (from Antwerp) in the late fifties and played mostly instrumentals in The Shadows' vein to the point where their guitarist Ronny Sigo is often described as the Belgian Hank Marvin. Their singles were formulaic in that the 'A' side was usually instrumental pop/rock coupled with a slower, perhaps smother flip.

Their success spread across much of mainland Europe and Japan, releasing records in Belgium, Holland, Japan, USA (where they were known as 'The Fabulous Jokers') Germany, France, Italy, New Zealand & Spain. They recorded an album in Spain, with stereo sound in 1962 which was still very novel at the time. Their worldwide album sales exceed 850,000 despite lack of recognition in the UK.

They softened the sound in 1967 and by 1969 they had called it a day though Sigo continues to use the name to release new recordings made with session musicians.

If you can add any further information to this piece please contact me here

Alan Jordan / The Alan Jordan Five

Alan Jordan - rhythm guitar, vocals
Walter 'Watty' Robertson - lead guitar, vocals

Manny Charlton - lead guitar

Rhythm guitarist, vocalist and founder member of The Red Hawks (1958-1965), Alan Jordan went solo before forming the short-lived 'Alan Jordan Five' in 1966 with Manny Charlton then joined 'The Change', then Alec Sinclair's band at the Aberdour Palais & later 'The KB Showband' before going on to solo work in 1969 and duetting with David Jack who also sang with Billy Hunter & His All-Star Band and Horace Demarco & The Kool Beats.

If you can add any further information to this piece please contact me here

Paul Haig - guitar, vocals
Malcolm Ross - guitar, violin
David Weddell - bass
Ronnie Torrance – drums

Tragically short-lived post-punk Edinburgh band, Josef K was formed in 1979 by Paul Haig, Malcolm Ross and Ronnie Torrance with bassist Gary McCormack as 'TV Art' after original bassist Matthew Cocks and guitarist Neil Shah-Shah left.

However Gary soon left too and joined The Exploited. His replacement was former roadie David Weddell once he was taught to play bass by the rest of the band and the name change to Josef K followed shortly thereafter, being a reference to the main character in 'The Trial' (the darkly paranoid novel by Franz Kafka) and some demo recordings led to their first single release 'Chance Meeting' / 'Romance' (1979) on 'Absolute'.

Shortly thereafter they became part of "The Sound of Young Scotland" when they signed to stable-mates Aztec Camera & Orange Juice's Glasgow label 'Postcard Records' in 1980 and a marriage in heaven was made as they supported each other's gigs in their respective home cities.

Several 'Postcard' singles followed:
'Radio Drill Time' / 'Crazy To Exist (Live)' (1980)
'It's Kinda Funny' / 'Final Request' (1980)
'Sorry for Laughing' / 'Revelation' (1981)
'Chance Meeting' / 'Pictures (of Cindy)' (1981)

Awkward, jangly, paranoid, austere, atonal, indie noir funk are all words used to describe the less than commercial niche they tried to capture on their debut album 'Sorry for Laughing' in November 1980 at Castlesound Studios in Edinburgh, however it was abandoned at the last gasp in early 1981 as they cited too-polished and unrepresentative production qualities and mix. Some treasured test pressings did escape however and were soon distributed on cassette to the faithful. Mint copies of the vinyl have since been known to change hands for more than £100.

They then re-recorded many of the same tracks in Belgium (in two days!) in an attempt to capture better the live sound and raw essence of the band and produced their only officially released album during their all too short tenure, 'The Only Fun in Town' (Jun 1981). Paul Haig: "we decided to make an almost unlistenable record with the vocals mixed down really low".

They became known for avoiding the traditional trappings of rock n roll such as drink & drugs, never performed encores and rarely spoke between songs ... instead they played pre-recorded announcements. The band split very soon thereafter at the dawn of 1982 at their artistic, creative peak and released a post-split single featuring a Peel Session track 'The Missionary' with 'One Angle' & 'Second Angle' (Feb 1982).

In 1987 a compilation 12" single: 'Heaven Sent' / 'Radio Drill Time (Demo)' / 'Heads Watch' / 'Fun 'N' Frenzy' and a compilation album of singles & sessions: 'Young and Stupid' was released, followed in 1989 by a best-of 'Endless Soul'.

The original album, 'Sorry for Laughing', has subsequently been released on CD as a bonus with the re-released 'official' album, 'The Only Fun in Town' in 1990.

Other compilations of live work have emerged: 'Crazy to Exist' (2002), 'Live at Valentino's' (2003) and 'Entomology' (2006).

Described in The Guardian in 2006 as "one of the most influential bands in Britain", their influence is still to be heard and discussed today.

'Sorry for Laughing' has been covered by 'Propaganda & 'Nouvelle Vague'.

Paul Haig has had a long solo recording career. Malcolm Ross & David Weddell joined 'The Happy Family' with Nicholas Currie (Momus) and Paul Mason (later joined by Neill Martin (Trax) & Ronnie Torrance who spent a short time with 'Boots for Dancing'. Malcolm Ross then joined 'Orange Juice' and has played with Aztec Camera and Blancmange and flown solo before reuniting with David Weddell in 'Magic Clan'.

Once asked if Josef K would ever reform, Paul Haig denied the possibility. "Josef K was the ultimate band for me. It was so intense, a way of life, a very special thing."

Jim Divers – vocals, bass, cello
Sean O'Rourke – vocals, guitar, fiddle, flute, saxophone
Des Coffield – vocals, guitar, keyboards, mandolin
Chuck Fleming – fiddle, mandolin
Colin Finn – drums

Later:
Lindsay Scott – vocals, fiddle
Iain Lyon – fiddle
Rab Mairs – dobro, banjo

The JSD Band (named after the Christian initials of the founder members Jim, Sean & Des) were formed in Glasgow, Scotland in 1969 and were often ranked alongside their electric/folk contemporaries such as: Fairport Convention, Pentangle, Trees and Steeleye Span. They toured extensively the folk clubs, pubs and concert venues of the UK, Europe & the USA in the early seventies, acquiring a fine live reputation and appearing alongside such luminaries as: The Average White Band, Status Quo, Johnny Winter, Lou Reed, Joan Armatrading & David Bowie!

Their repertoire extended to Irish, Scottish, English & American traditional re-workings alongside some fine original compositions and their debut album 'Country Of The Blind' (1971) is very hard to find now and quite collectable though their best work was yet to come.

They were soon championed by BBC radio's John Peel who played them frequently and wrote sleeve notes for albums two & three.

They won the 'Scottish Folk Group Championships' at the famous Usher Hall in Edinburgh and appeared on The Old Grey Whistle Test. They also supported David Bowie on his Ziggy Stardust tour in the UK.

They moved to London and released a second, eponymous album 'JSD Band' (1972) which sold in excess of twenty thousand copies. Despite support from two 'Cube' singles: 'Sarah Jane' / 'Paddy Sticks' (1973), & 'Sunshine Life For Me' / 'Reel Cool' (1973), the third album 'Travelling Days' (1973) was not so successful and sadly the group split in July 1974 after Fleming left (to be replaced by Iain Lyon from 'My Dear Watson') a final single ' Hayes And Arlington Blues' / 'Cuckoo' and an unimaginative renaming as 'The New JSD Band'.

Happily though, 23 years later in 1997, Coffield, Divers, Finn & Fleming reformed, adding Rob Mairs to the line-up. They have released two new albums: May 1997's largely acoustic versions of old favourites 'For The Record' and May 1998's electric 'Pastures Of Plenty'.

They played the ballroom six times between 1971 & 1972.

Robin 'Dobin' long - vocals
Brian Hodgson - guitar
Paul Sherwin - bass
Barry 'Baz' Ellwood - drums

Formed around 1970, rock covers band 'Judas' were from Cumbria and they played material from bands such as Free and Cream.

Brian Hodgson went on to play with 'Bitter Harvest'.

If you can add any further information to this piece please contact me here

Alan Atkins - lead vocals
John Perry - lead guitar
Bruno Stapenhill - bass
John 'Fezza' Partridge - drums
Ernie Chataway - lead guitar
Kenny 'KK' Downing - lead guitar
Ian Hill - bass
John Ellis - drums
Chris 'Congo' Campbell - drums
Alan 'Skip' Moore - drums
Rob Halford - vocals
John Hinch - drums
Glen Tipton - guitar, vocals
Simon Phillips - drums
Les Binks - drums
Dave Holland - drums
Scott Travis - drums
Don Airey - keyboards
Tim 'Ripper' Owens - vocals

Jeff Martin - backing vocals

The Judas Priest we all know was formed in Birmingham, England in September 1969 by Kenneth 'KK' Downing and Ian Hill from the ashes of a previous short-lived band of the same name. They produced a fairly standard product of leather-clad, angry, posturing, stereotypical metal fare and became one of the characteristic bands of what became known as NWOBHM (New Wave Of British Heavy Metal) in the mid to late seventies. Glen Tipton joined from 'The Flying Hat Band'.

Famously in July 1990, they would face one of the most preposterous court cases to be heard anywhere, when accused of lacing tracks from the 'Stained Class' album with subliminal satanic messages resulting in the encouragement of two fans to commit suicide. Thankfully sense prevailed and they were found not-guilty having acquitted themselves admirably.

They have remained fairly true to type, never straying far from what they know best with only a couple of experimental diversions. In October 1992 their charismatic front man Halford left to form 'Fight' and eventually 'came out' to declare his homosexuality. The public were not shocked.

They have since reformed in 2003 and toured the world in 2004, releasing a new album in 2005. They continue to tour & record.

Glenn Campbell - guitar, mandolin, percussion, vocals
Chris Mercer - saxophone, keyboards
Ray Owen - vocals (1969)
Neil Hubbard - guitar (1969)
Keith Ellis - bass, vocals (1969-70)
Pete Dobson - drums, percussion (1969)

Paul Williams - vocals (1970-1971)
Tommy Eyre - guitar (1970?)
Rod Coombes - drums, percussion (1970-1971)
Mick Moody - guitar (1969-71)
Jim Leverton - bass (1971)
Loughty Amao - drums
Ron Berg - drums
Andy Pyle - bass
Jean Roussel - keyboards

Juicy Lucy were a blues/rock band formed in 1969.

They released a cover-version of 'Who Do You Love' (#14 UK chart - 1970) originally by Bo Diddley. Their eponymous debut album hit #41. Their line-up went through several incarnations and they split sometime in 1972, though reformed again in the mid nineties for a couple of years.

Mick Moody left to join 'Whitesnake' in 1978.

Following the settlement of a legal row over the name 'Juicy Lucy' in 2004 they were back recording and touring with Nazareth in 2006.

Albums:
Juicy Lucy (1969)
Lie Back and Enjoy It (1970)
Get a Whiff of This (1971)
Pieces (1972)
Who Do You Love - The Best of Juicy Lucy (1994)
Here She Comes Again (1995)
Blue Thunder (1998)
Do That And You'll Lose It (2006)

Mick Wayne - guitar, vocals
John (Honk) Lodge - bass
Steve Chapman - drums
Grom (Graham Kelly) - vocals
Rick Wakeman - keyboards
John Cambridge - drums
Tim Renwick - guitar
A rather short-lived heavy rock band whose members backed David Bowie on his album Space Oddity. Founded by Mick Wayne in London in 1968, they quickly signed a record deal with Denny Cordell/Tony Visconti Productions. They were managed by Blackhills (T.Rex / Pink Floyd, etc.), who organized the Hyde Park concerts, and Junior's first gig with Traffic. Many other gigs and benefits followed closely, such as the Marquee, Roundhouse and Middle Earth in London and then various venues and festivals up and down Great Britain and Europe including Star Club Hamburg and Beat Club TV in Bremen.

In 1969, they recorded their only album 'Battersea Power Station', followed by some singles. Grom (Graham Kelly) joined on vocals and Rick Wakeman was added on keyboards. John Cambridge who had earlier been in the Hullaballoos with Mick Wayne, and later with Mick Ronson, replaced Steve Chapman on drums, whilst Tim Renwick was added on guitar.

Mick had been playing sessions for various people, including James Taylor, Joe Cocker, David Bowie etc. On advice of his managers, he moved to Los Angeles to continue his career. At Leon Russell's studio he recorded a new album. This master tape contained performances by various L.A. musicians, but was subsequently stolen from Island Studios, London.

In 1972, Mick came back to London and recorded with Joe and Sandy Denny, Steve Winwood and Ringo. Subsequently, he joined Pink Fairies (1975), and Tim Hardin (1976) and has worked on an album with Phil Collins on drums, and some other notables.

Info courtesy of: SPM/Claus Kriebitzsch 1991 (Taken from the CD reissue of 'Battersea Power Station')
Jimmy Justice (& The Exchequers)

Jimmy Justice probably did not realise his full potential because of a lack of original material and poor decision making. However, he had one of the richest sounding voices in the UK during the early 1960s- even if it failed to make him one of the richest singers. In fact, if you hadn't ever seen or heard of Jimmy Justice before, then his early recordings sounded more like those of an established black American than a young white Londoner. This illusion was reinforced by the choice of material used for his record releases which were mostly remakes and covers of songs taken from US groups.
Jim Little had struck up a chance friendship with two of the Checkmates, Dave and George Sweetman- Emile Ford's step-brothers, no less. The fact that he could sing soon came to the attention of Emile who encouraged Jimmy to form his own group and join the coffee bar circuit. Emile also suggested entering the same talent competition that he had himself previously won. This led, as it had done for Emile, to an opportunity to record with the Pye record company and with Emile's help on production his first single "I Understand Just How You Feel" was released. This was credited to 'Jimmy Justice and Jury' although the backing musicians were really the Checkmates.
Pye tried again with more singles and the pop wizard, Tony Hatch, was brought in to do the production. Jimmy's third release didn't quite reach the charts but did sell well and it's surprisingly easy to find a copy. This song was a cover of the Jarmels' "Little Bit Of Soap" and could be viewed now as a template for what was to come. Hatch chose the Drifters' "When My Little Girl Is Smiling" next- which on the face of it was a hopeless cause- being up against not only the original, but also another well made cover from the established British star, Craig Douglas. Nevertheless, the Justice version managed to share the honours of a #9 chart entry with the more experienced Craig.
The next release produced Jimmy's biggest UK success, "Ain't That Funny". It was a song that had been written by Les Vandyke and Justice was presumably lucky that the song had come to him rather than Eden Kane with whom the songwriter was closely associated at the time. After this splendid original, it was back to the US group catalogue with "Spanish Harlem", which turned out to be Jimmy's final UK chart entry. Sadly, the choice of Jimmy's following material was really not good enough for the competitive UK market. He had a little more luck on continental Europe and in Scandinavia, where the B-sides of some of his releases proved popular- and probably should have previously been released at home as the A-sides. As a result of his disappointment in the UK, Jimmy spent the following years in Sweden and his promising beginnings in the UK were allowed to fade away.
Info courtesy of: www.45-rpm.org.uk
The Exchequers were from Liverpool
Jimmy Justice & The Exchequers released a 7" single on Pye Records in 1964 called "Don't Say That Again" and recorded Neil Sedaka's 'Since You've Been Gone'.
Fred/Greig Houston - vocals
Eddie Quinn - bass
Dave Paterson - keyboards
Bob Carson - drums
& at a variety of times on guitar:
Graeme 'Gus' Angus - guitar
Derek Matchett - guitar
Graham Sheridan - guitar
Roadies
Bill, Twink, Kenny and Terry
The Jynx were a rock band from Dundee formed in 1967 who toured extensively throughout the UK and have been described as being reminiscent of the styles of Deep Purple, Atomic Rooster or Rare Bird.
They won the Fraserburgh Pop Festival in August 1970 with a prize of £100!
They split in 1971.