Memories
The ballroom must have touched most folks living in this area at some point in their lives not to mention visitors to the area (including our seafaring visitors from The Royal Navy at Rosyth Dockyard / Fleet Base).
If you have particular memories of the ballroom and / or artists / bands who played there and would like to share them, contact me using my Feedback form. Be sure to indicate if you wish them to be published here and whether you wish to be credited or remain anonymous!

Activan
Atomic Kitten
Jeff Beck
David Bowie & Junior's Eyes
Jack Bruce & Friends
The Clash
Big Country
The Corries
Cream
Curved Air
The Damned
Fat Mattress
Emile Ford
Rory Gallacher
Heenan Froude Set
The Humblebums
The Ivy League
Elton John
Judas Priest
Madness
John Mayall's Bluesbreakers
Osibisa
The Red Hawks
The Ruts/The Flys
The Sensational Alex Harvey Band
The Skids
The Skids/Trax
Crispian St.Peters
Thunderclap Newman
Ultravox
The Who
Wild Horses


Fell across your Kinema Ballroom gigs site almost by accident but what memories!

I lived in Dunfermline from 1973 - 1984 though the last 4 years of that were really at Stirling Uni. I went to Woodmill High from 1974 - 1980 where one of my fellow pupils was Steven Armitt whose father (I believe) ran the Ballroom at the time. I'll reference some gigs shortly but other than gigs I have fond memories of the mid - late 70s "under 18s disco / dance nights" (Mondays , I think) ...... no alcohol available (obviously) but we wanted the kudos of attracting a girlfriend ... through our dancing prowess (cough).

In that era (late 70s, early 80s), I saw Abnormal Load (friend of a friend was in the band) - Speccy Potter, what a guy, where is he now? , Iron Maiden (great but Praying Mantis blew them away that night), Girlschool, Elvis Costello (and the Attractions) ... and of course, The Skids.

I may have the venue wrong here, but I'm also convinced I saw Abnormal Load once play at the Ballroom on the same night as band called 'Blue Bitch'. 'Blue Bitch' featured a guitarist who had also been at Woodmill High around the same time as me - Tony Charlton.....whose father was of course Manny Charlton of Nazareth fame..... unfortunately I never saw Naz themelves at the Ballroom :(
Andy Menzies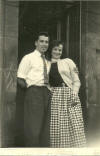 John & Rose Grieve - Met at the Kinema!
In the1950's, dancing played a big part in our recreational lives and as maturing teenagers it was the 'in thing' to do. There were many dancehalls in and around Dunfermline to choose from but I have to say the Kinema Ballroom was the best … open from
Monday to Saturday, 7:3O to 10:3Opm. Entrance fee was 1/6, aka 1s 6d (7 ½p) weekdays 2/6 aka 2s 6s (l2½p) on Saturdays. Dancing to the Cecil Hunter Band … all dancing was to live bands - no DJs in those days. Our nights were Tuesday, Thursday and Saturday and it was packed with young people just wanting to dance and have a good time.
The main entrance was on Pilmuir Street (it's still there at No.19) opposite what was then the Bellville Hotel and if you wanted a good night, you had to be there sharpish - or you would find the doors were shut - Full!! The staff consisted mainly of Cherry the hostess, two doormen (Bill was in charge) Ladìes/Gents cloakroom attendants, Cafe lady plus band. Oh. I must add, the cafe was a balcony affair, up the stair overlooking the dance hall from the bottom (South) end and your refreshment would consist of - a cup of tea or a glass of orange juice, no alcohol was served in any dance hail - changed days!!
To the side of the stage (where the band played) was an illuminated sign, which indicated what the next dance would be. Which would be one of the following: Quickstep, Foxtrot, Slow Foxtrot, Modern Waltz, Tango … and of course Ladies' Choice (always a slow Waltz) Ladies Choice was exactly what it says - the lady had the choice of whom she would like to dance with. That's when the lads became nervous - would I be chosen??
The girl would choose you because, (1) you were a good dancer, (2) She fancied you - wasn't that great?!
When we look back at these times, you never witnessed any trouble in the Kinema Ballroom - no fights. Everyone was there to dance and enjoy themselves - no drink – no trouble. If you arrived at the entrance even slightly under the influence (drink) old Bill would be right there and politely tell you – "no way son, on your way" - and there would be no argument from anyone, you would probably apologise before you left - changed days!!
The lads and lassies who regularly attended the Kinema Ballroom were mainly 17/18 to early 20s. The majority were single, some courting couples, some engaged couples, not many married couples went to the Ballroom on our nights. The bands were really great, playing ail the popular music of the day. Just listening to them made you want to dance!
John Grieve

Rumour has it that the Duke of Edinburgh visited the Kinema Ballroom on a couple of occasions while based at Rosyth as a young Navy Tiffy.
Alan Grieve

Good info on the bands that have played there. I remember seeing Hello and Dead End Kids to name a few......but as this was nigh on 40 years ago it was good to dig into your archives to verify this.
In those days there would be a fleet of buses at the old bus stand diagonally opposite ready to ferry us all back to far flung corners of fife at closing time (1am) for a measly £0.50.........happy days! :o)
Dougie Smith

"The Christmas parties for the then nearby St. Margaret's School, Reform Street were held in the Ballroom. I recall one of my teachers, Miss Agnes Pringle playing the grand piano while we were dancing. Later it was an advanced discotheque as Night Magic in the 1980s."

Thanks for the wonderful website and purely by chance I stumbled on it while doing some family history. Let me explain my memories of the Kinema Ballroom.

My mother Roberta Melrose and her mother Euphemia either worked in the ballroom or used to sing there roughly between 1950-1958. We used to live at number 45 Carnegie Drive which was just round the corner and was eventually demolished to make a side entrance to the ballroom. I started Primary School at Canmore Primary on the other side of the road from the ballroom.

I wonder if this evokes any memories from your contributors.

Thanks and well done

Archibald Berwick Melrose [63yrs]


Hi man,
Taken me couple of years to get round commenting, fantastic site and makes me proud to come from the town.
I was a 1961 bairn and spent my first 5 years living in a flat with my Mum 5 doors down from the Ballroom, my Mum was un an usherette at the Regal (cinema Dunfermline) until 1973 and I remember going in after school and watching the films till they finished with a 'Mivi' and going home with my Mum we move to Rosyth in 1966. I have wee memories of the auld mans shelter and also meeting and getting tanners off loads of the acts as I hung about as a bairn at the Ballroom though the bus station was across the road I had no fear and their was less cars about.
My Mum has said that I shook hands with most of the bands that were on top of the pops in those 2 years, I just remember vans and sometimes loads of swearing. I got the empty juice bottles from the Scottish acts. The last band I saw there was Slurpy Gloop with Pano and co.
Good luck.
Fusie

"Hi - I was a regular at the Ballroom for most of the 70s and spent pretty much every Friday, Saturday and Sunday there - we girls were on the Bacardi and cokes on the Friday night but by the time Sunday came round and our money was running low we would generally be reduced to orange and lemonade!
That didn't spoil our enjoyment though. The DJs I remember were Ronnie Cowan and Bill Bowers and bands I recall seeing were the Bay City Rollers, Bilbo Baggins (Edinburgh band), Hello (circa 1976 when they had their single New York Groove in the charts) and of course Nazareth.
I also remember a story going round that Roy Wood and Wizzard had been booked to play at the Ballroom but had left without going on as the stage wasn't big enough for them!!
I remember Wee George who used to operate the spotlight - a lovely wee guy - and I remember George Armitt being the manager - George ended up being my driving instructor about 10 years later ........ a really nice man he was too ...... and he got me through my driving test!
I think the Ballroom used to close at 1am on a Friday night and there were special buses laid on to take everyone home. The buses used to leave from the old top bus stance which was just across the road from the ballroom itself."
Happy memories!
Ann Cuthbert

"Never mind Robert the Bruce or the Pars ... the Kinema with just about the best the world has produced in bands, must surely have put Dunfermline truly on the map.... after reading a few of the comments posted felt I must tell you a few of my most precious memories.
Not only David Bowie but John Mayall too after performing on the Sunday turned up after their gigs at the Tues Folk Club and wow how can I ignore Geno Washington's years particularly at the New Year Ball and so so many more. Often I find it truly hard to believe that I was lucky enough to see and hear all the famous bands at the Kinema on a Sunday night.
Say hi to Wullie for me I used to know him as Bill when he worked at James Scott long time ago now. Hope he's well ..."
Helen Scott

"Our gang from M. Tod & son were regular Saturday night attendees (1941-42) & until June 1943 when I had to leave town. Met so many young service girls from all over the country. It was a great time and a great place to be a teenager and the ballroom had a lot to do with helping to make things better during the early war years. No booze though; just coffee!
Can't be m any of us still around now-a-days.
Cheers
Alex Eddie

"I LOVE your site, it brings back soo many memories for me. My Grandad, Jim Barbour, was a cloakroom attendant at the Kinema Ballroom, when wee George and Bobby Cherry worked there and George was the manager. Shame its up for sale again".
Ann Brown

"Love this website...the memories just rushed back as I read through the Gigz page..... from my first gig there when I was 14 - The Herd in 1967, right through Family, Elton John, Jack Bruce's Lifetime, Yes, Mott the Hoople....the list's endless! I even had my going-away booze-up there, in Night Magic, just before I moved to Australia.
I worked in the Castleton when it opened, and often helped out behind the bar in the Ballroom when they were busy or short-staffed. Thanks for giving us back a wee bit of our youth."
Rita Cotton

"Ah, The Kinema. Friday night balls from 10 pm till 4 am. This was the mid sixties -- 61 years old now and living in NYC. Spent a fortune on girls and got a quick grope if i was lucky. Pints of cider and players No 6 cigarettes. I was a miner at Castlehill mine. I washed and washed before I went. But in the heat of the dance floor the dust would come out of my eyelids making me look like like I was wearing mascara. I often missed the last bus home and had to walk all the way to Cowdenbeath drunk as a rat. I loved the place. great site and thanks for the memories."
John Dillon

"Support bands then had to play both before and after the headline act so we played before and after The Who, Spooky Tooth, Deep Purple etc."
Pete Agnew (Nazareth)
Are Ye Dancin'?

"A boy used to sit on the roof of the resident stage in the Kinema where we played when the guest band came in. I can't mind his name but he was a wee baldy guy and he just sat up there. He just watched the crowd and if someone started up [a fight] he just pointed the spotlight at him and the bouncers moved in - it worked. Everything was nipped in the bud."
Pete Agnew (Nazareth)
Are Ye Dancin'?

Fantastic site!

I have been looking for information on the Red Hawks as my uncle Alex (Smith) was in the band and played the sax & flute mainly.

I can remember when I was a teeny bopper going to the Twist Club on Saturday afternoons. The ballroom was always packed and the music from the Red Hawks wiz fantastic!!!!

Alex was living in Fleetwood and up until 2years ago was regularly sending my mum (his sister) his arrangements up on CD which we all enjoy listening to.
Sadly Alex passed away on 14th January 2011.

Thanks for an enjoyable blast from the past and comforting to know the memory goes on
Aileen Russell

Terrific site. Brought back so many memories of the Sixties for me. Unforgettable nights at the 'Kinema' with most of the top groups of that era.
Thanks very much for all the hard work you have done here.

Geo Stewart

Hi, love the site.

The Kinema was where I grew up and a place of memories too too numerous to mention.
I have used your site on many occasions to show friends etc the class of the music I cut my teeth on in the mid 60s and onward. It is also a wonderful way to get the details of those gigz you remember with wonder and awe but with a bit of haze these days.
I found a little something you may be interested in.

I have a ticket for the John Mayall gig of 15th Dec 1968 signed by all the band.
I worked for Cecil and more George doing the electrics. Being an Apprentice electrician with the NCB at Blairhall Pit I would do some relamping etc on the stage. In return I would get free access on the Sunday and Wednesday nights. Happy days.
I also had a certain freedom of movement behind the scenes and when my idol John Mayall came to town I pounced at the chance to meet the band.

Keep up the good work.

Respect,
Robert Burleigh (Bob) Smith



I have seen your web site Colin and it brought back a lot of happy memories. I used to go to the Kinema every week and saw Elton John, The Who and Deep Purple amongst others so it was really nice to read about the gigs. I also met my Husband there and our first date was at the Elton John concert. It was also nice seeing photos of the old Kinema. Well done to you for all the hard work you must have put in and I'm sure others will appreciate your efforts as much as I do.

Mary Howe

Great site. I am glad someone has found the time and energy to do something like this. I was a regular Ballroom attendee during the early to mid 60's and saw many of the headline bands listed including Cream, so put any doubts you had aside, they REALLY DID play there!
I also remember Zoot Money and the Big Roll Band mainly because of the fact they featured the guitarist Andy Summers who later went on to play for Police! He spent the latter part of their gig chasing my friend around the dressing room/back stage area with a wire coat hanger ....... ah those innocent days of youth!
I will be 60 years old in January 2010 and remember my early years in Dunfermline with great affection.
Thank you for the memories!!
Maureen Burney (was Maureen Donaldson) now a resident of the USA.

Dear Ghoulz,
My name is Rab Guthrie, born Dunfermline 1955. I frequented the ballroom around 1971 to 1976. I have memories of seeing bands like Rod Stewart, Elton John, Yes, The Groundhogs, Uriah Heep, The Strawbs, Marmalade, Nazareth and a few more that I don't remember.
I used to go on a Sunday night with my friend at the time, Ian Smith. It used to cost ten bob to get in (50p). I was also friendly with Stuart Adamson and Ricky Jobson in the early days before they signed with Virgin.
Around 1978 I moved to London where I've been ever since and do remember seeing the Skids at the original Marquee club in Wardour St and also another time at The Round House where they were headlining over Stiff Little Fingers and The Undertones, I seem to remember.
I would like to get in touch by email or phone with my old school friend Ian Smith who lived in Broomhead Drive. At that time he had a brother called Brian, a hairdresser, and who also was a DJ in the Bellville Hotel.
I also would like to try and find Willie McQuillan former tour manager with Nazareth who used to get me backstage passes to Nazareth gigs in London many years ago.
Looking at your site has brought back some lovely memories of my youth.
Yours Sincerely,
Robert Guthrie.
(PS Willie McQuillan has been in touch and contacts exchanged! - Ghoulz)

I visited the Kinema from Edinburgh several times in the late 1970s:
The Clash in '78 being the most memorable for all sorts of reasons - Suicide - a significant band historically - wearing dark glasses, purple cat-suits and being gobbed-off - The Specials being a bit dull and worthy and the Clash playing a blinder - I saw them perhaps twenty times between '77 and '82 and they were never better than at the Kinema - still angry and funny, and before they started to believe the hype.
It was a particularly intimate and intense venue - one was very close to the performers in a way that was exceptional even then. I remember Elvis Costello performing with a fury and power that I never saw in any of his performances anywhere else. Even pub rock bands like the Stranglers were good in the Kinema. I do remember there being glittery curtains or strips behind the bands as they played sometimes, as if they (and you) had somehow gate crashed a bingo night. I'm afraid that if the Skids were playing you sometimes wished you had... I did like the 'Charles' EP, however.
Thanks for this website - it's brought back some good times in a good way.
Vince Warne

Ghoulz,
By a strange coincidence, just after reading your piece in the Dunfermline Press (The Kinema Evolution) I was on the phone to my mother who happened to mention going to tap-dancing lessons in the Ballroom as a child.
The class started off down in the Nethertown but these stopped when the teacher (Rita Halden) married and emigrated to Canada. Cherry Grant then started classes in the Ballroom but only my mother and one other girl from the original lot went to them.
She was extremely disappointed when these also stopped when the Ballroom was closed just after the start of the war - she's positive that it became a billet for Polish troops.
You may already know this, but she also said that George Hylands was married to Cherry Grant's sister (Evelyn aka Lena).
Hope this is of some use. I've also sent a scan of the ticket for the Iron Maiden gig in 1980 - I'm sure I've a few others knocking about but can't seem to lay my hands on them at the moment.
Cheers

"From 1985 onwards, I spend Thursday, Friday and Saturday of every week in The Ballroom (aka Night Magic). We usually had a few in 'The Castleton' then bombed round and stayed there for the night. Had some great, great nights there and it was always heaving, I mean packed to the gunnels with punters. I remember on the Thursdays, they used to pull a big curtain separating the dance floor from the eating and seating areas".
"It was never quite the same for me when Night Magic closed then reopened as Hollywood Boulevard ... it seemed to loose such a lot of character. Looking at KinemaGigz has brought all the good nights back when all I did was go to work then come weekends, dig out the glad rags and hit the town in the days before mortgages, cars and kids. Back then, you didn't really get in anywhere in jeans and trainers, so you had to make an effort".
"Thanks for a great site".
Mike Taylor.



"60 years ago, in 1948, I, amongst 700 other Artificer Apprentices training at HMS Caledonia, Rosyth, looked upon the 'Kin' as one of the highlights of a 'Run Ashore'. "I remember those evenings more clearly than I remember what I did yesterday !" -- "The smell of the ballroom with its combined fragrance of perfume, hair cream (and possibly, sweat) ; the rotating mirrored ball in the ceiling; the hostess who kept us all in order (Cherry ?) ; the many girl friends met there (and maybe taken through the back door into the fresh air to cool off [?]) ; and the strict tempo band playing quicksteps, foxtrots and waltzes (anyone remember 'Kiss me once, kiss me more ? Locally written, I believe.)"
"With leave expiring at 22:30, an early exit from the Kin had to be made (much to the relief of the local lads) followed by a mad dash to the bus station!"
"Other happy memories are of the strolls through The Glen and cups of milky coffee in the 'Glen Cafe'.
Brian Hale. (from 'Are Ye Dancin')

"Regarding Sunday nights in the 60's, I seem to remember that you required a membership card (yellow I think) to get in, if you were lucky your member number was called and you were presented with a ten bob note! We soon found out that the only way to win was to bend Cecil Hunter's ear, which I did and got my ten bob!

My wife still reckons the burgers served from the hatch in the backstairs bar were the best she's ever tasted."
Regards
Robert

Cecil Hunter's favourite band was Osibisa, while he reckoned Curved Air were the loudest!
John Hunter
(Son of Cecil Hunter - Kinema Manager)

My Mum, Sarah Morrison, (Sal) was a cleaner from about the late 1940s and finally she became the Manageress of the Kinema Ballroom cafeteria. She worked there until about 1969/70. She was a formidable woman. My memory was that she worked morning and night to try to earn enough money to bring us (three boys) up. I used to help her on a Saturday morning by cleaning the floor and the central crystal ceiling ball.
Your photographs bring back lovely memories of my Mum and meeting my wife Jane on the night the Swinging Blue Jeans played at the Kinema. We have now been married for nearly forty years. I can recall Horace Demarco and his band and me playing the drums when they were unattended on a Saturday. The Red Hawks were very popular. Some of my fondest memories were of Cecil Hunter. He was a real gentleman and treated my Mum with great kindness. I wish you well with your web site. It has brought my wife and I some lovely memories of good times. Thanks.
Tom Morrison

"Played the ballroom myself once, supporting '

Big Country' (Bruce's brother Scott was our drummer so it made it easier to get the gig)". "I had just left a band called 'Low Profile', who later became 'The Big Easy', and formed a band called 'Time' with Scott Watson (drums) and James (Rusty) Russell, both ex 'Grey Dawn' and Alan Cunningham (keyboards) ex 'Highlander". "It was Xmas time and the memory of the most responsive crowd ever will stay with me till the end".

"I later left and continued vocals with 'The Gravy Train' who had a little recording studio in a farmhouse in Cowdenbeath and who gigged heavily around Scotland". "Took some time out to record some vocals with Manny Charlton and then left to see a bit of the world". "Great to see the names from the past and laugh when I think of Pano and how he cajoled all the little bands' singers into his little studio above Shafi's to sing his rendition of 'Band Aid's Feed The World". "Also recorded at Cammy's Sunset Studios with a band from Edinburgh".

"Willie Adamson from '

Trax' became a great friend when he joined 'Blue jazz' who were to become '7 West' and then 'Shine' who released an album through SBK records called 'A Far and Distant Shore". "Remember Bruce and The Delinx like it was yesterday and 'The Skids', 'The Clash' and every second band that ever played the place". "Ended up selling my soul and playing with 'Percy And The Peanuts' before I left Scotland".

Davey Campbell -

The Gift

"I'm 58 now and still remember attending my first gig at The Kinema Ballroom on Wednesday, 14th of October, 1964". "The band was 'Herman's Hermits' and I was 15 years old". "This was my first of many gigs over the years and as I grew older and discovered the twin delights of women and alcohol". "I seemed to spend an awful lot of time in the Ballroom (who could forget the Candy Bar) and later the Belleville Hotel". "Happy Days!"
"Well done for organising this site which I just happened to stumble across". "It's been hugely enjoyable taking a trip down memory lane".
Alexander (Sandy) Shepherd

"I had many nights at The Kinema but two aspects still stick in my memory: The guy that used to sit on a ledge above the side exit with a follow spot to pick out troublemakers and the horrible dressing rooms!"
"I should remember more but I spent too much time across the road in the boozers on the corner of Pilmuir St."
"I did do The Kinema with some other Glasgow bands, 1973 with Poly, 1977 with Frenzy and in 1983 with H2O."
"Once again a very worthwhile site. We need more like this to keep the grey cells active."
"If I remember anything else of relevance I'll mail you." Cheers
Brian (The Bear) Geary (roadie with Fagin, Downtown Flyers and Frenzy).

"During my late teens (around 1954 - 56) the popular place to go on a Saturday evening was 'the dancing' (ballroom type-foxtrot, waltz, quickstep, plus an occasional tango). Although Burntisland had a dance hall (the Palais), it was not popular with many of the people in my age group. It attracted an older clientele."
"There are two things that remain in my memory about going to the dancing in Dunfermline. One was that we had to get there very early to have any chance of getting in. The other was that their band, at that time, was considered to be the best in the district."
"There was an amusing incident which happened at the dancing in Dunfermline and for some reason I have never forgotten. It was announced that "the next dance will be a Mambo". (At the time a recording of a Mambo by Perez Prado & his Orchestra was a big hit). There was a lad standing close to me who turned to the person next to him and asked "how the h**l do you do the Mambo?"
"I now live in New Zealand."
"All the best to all involved in your website."
Stuart Alexander

"Gosh! Do I remember the Ballroom – so many memories, aged 16 convincing the bouncers that I was actually 18, sneaking back out to purchase cheap drink at the off licence and getting back in again. The bands, the discos, the name changes and re-launches. Girl friends, bar maids … I had forgotten how much this was a part of my life. Having spent many, many years cruising the bars and clubs of Dunfermline and now living many miles away, it was fascinating to come across the site."
"Do you also remember The Well, The Road House, not to mention the other central town favourites, Maggie's and few others who's name escape me at present. I do recall one Sunday evening when the Skids had just completed a UK tour and this was celebrated with an all night party at Maggie's – I don't think my employer, at the time, was impressed with me on the Monday morning!"
"I have moved on now and don't feel that I have any true roots in Dunfermline, but this has been a remarkable trip down memory lane – if we could have one night of turning back the clock, I'd definitely attend, as there are so many people I'd love to meet up with again."
Stephen Russell

"My memories date from the early 70s. . Black Night was played constantly, by the in-house band, I guess. I met a Welsh sailor there from the Dockyard - on our 2nd or 3rd date, he turned up drunk and was not thrilling company. We sat at a table in silence (he was asleep I think), until he threw up over the table and partly on me! This was my first experience of seeing someone thrown out by a bouncer.
I also remember going to the Ballroom and hearing 2 girls talking about the Ibrox disaster, which had happened earlier that day.
Saw Nazareth round about that time too.
And took my Austrian exchange student there - she looked very exotic and different to the others there (especially me) and had a crowd of guys round her very soon."
Kathy Enfield

"Interesting site. My father, Norman Gilchrist, is George Gilchrist's (second Manager at the Kinema) brother. He worked for his brother as a projectionist. Lena was my grandmother and Cherry Grant my aunt. My mother and father met at the Kinema ballroom so the site was very interesting to me personally. My mother and father are still alive and I will have to talk to them for some of the history."
David Gilchrist (Niagara on the Lake, Ontario Canada)

"Spoke to my Dad, Norman Gilchrist, about the ballroom closing in the early years of the war and he states that it was, indeed, because it was used to billet soldiers. He claimed a number of different regiments were billeted their during that period including Scottish regiments. As far as Polish soldiers, he was uncertain as he was of the opinion that they were billeted across the street at a Women's Institute building. ( I don't know much about other buildings in the area) His father was quite concerned about the soldiers stomping around on the new sprung floor that had been installed and had it protected by a linoleum floor covering during the period it was used by the soldiers."
David Gilchrist (Niagara on the Lake, Ontario Canada)

"Checking the rest of the website I noticed details about G.Gilchrist. He used to also run the Palace Kinema picture house where the new bus station is now. My dad George Kirk worked there part time in the 60s and I remember going there on a Saturday afternoon. My Memories of the Kinema Ballroom was band night on Fridays where I met Tam Paton when he managed the Bay City Rollers. Other bands that I remember meeting in the top bar were Molls Myer and the very charming Ali Kerr of the Dead End Kids."
Anne


Hello,
I went to Night Magic a lot, I'm in Dundee. I used to be in awe of the laser light shows the DJ put on, especially the music played at the start of a laser show. It would start off quite slow and quiet then gradually build up and build up and then ... "BOOM" ... the lasers were all over the place!
It just blew me away, I was in awe. What a place! I wish I knew what these songs were called, I should have asked the DJ at the time. Now I'll never know. I did buy an £80 hologram picture from the foyer which I still have, together with the receipt. They were all for sale on display in the foyer as you went in. I wish i could go back there again.
Yours
Paul Bricknal
55 now, getting old.


"What a great page and some good memories I was the Dj at Night Magic together with Paul for 6 months from April 1983, I remember it fondly, I had a great time and met some amazing people and can say it was one of the highlights of my life as a pro DJ. Would live to hear from old friends from those days ............."
Gary Dean

"Hi, I was the first Scottish DJ to play in Night Magic 1983/84".

"I was employed by Bacchus of London and after my auditions in the big smoke was sent back to Scotland, to Dunfermline". "I had heard of the place, but being an Ayrshire boy fell in love with the place and the people very quickly."

"I had some great times in Night Magic but after 14 months moved on spending a further 8 years working abroad."
"My time in Dunfermline was MAGIC and will never forget it."

"What a great website you have here Colin. As one of the many privileged DJs to work in Night Magic, I made a lot of friends in my time in Dunfermline."

"So nice to see the old girl re-opening again in 2012."

"Keep up the good work."

DJ Jim Scott


Newcastle-Upon -Tyne.

"I was the longest serving DJ at 'Night Magic' (from 1984 to 1990) I started there with Bacchus and continued for the longest ever DJ to stay for more than three months". "I have many photographs of lighting and will email those together with others".
"I left there and worked for 'Dean Entertainments' who then bought 'Night Magic' and called it 'Hollywood Boulevard".
"I moved to the USA in 1999 and I now own the largest DJ sservice in America and I live in New York".
Best Wishes
Dave Lorentzen


"My mother Christine Taylor worked at Rosyth Palace from around 1960 to around 1968 (certainly when your father was there as I recall his name). She started as an usherette moving to the cash desk at the door, as a result I always got into the pictures for nothing! The Manger prior to your father was a Mr Bell who sported a large moustache and always dressed in tweed jackets. I remember during a local bus strike one Saturday being asked if I would take a film reel to the Regal on my bike. I duly did this but do not recall being paid. I spent many happy times at the Palace and was sad when it closed."

Ghoulz,
I was on the top deck of the double-decker bus that went into the canopy of the Palace Kinema picture house. I was taken to the West Fife Hospital but luckily only had a few scratches, still at 18 it was enough to stop me going out (how vain). I think it was in the summer (maybe July) of 1969 or 70.
Carol Turnbull


"I was a roadie with Activan and when they supported The Damned and The Ruts.
The Ruts' guitarist tried to talk Pete Robb into selling his Gibson SG S1 guitar (a rare model). Given that The Ruts were skint and had to borrow drumsticks, he may never have seen the money!"
Mel

"Apparently ... Bottles were thrown and one of them kept singing despite walking off stage. In an interview on daytime telly with Kerry Katona, they were asked what their worst gig was and she said: "somewhere in Scotland, they threw bottles at us".

One gig that was quiet was when Jeff Beck appeared. I remember it was a Sunday night and the place was not even half full.

I saw an advert outside the ballroom that day, ran to the phone booth at Broomhead Drive and spoke to Cecil Hunter, who did confirm it was thee Jeff Beck. I could not believe it.

The night was fantastic but not as busy as I had would have expected.

Does anyone else agree?
Gerry McMullan



Hi Mate!
Have to say that I really enjoyed looking at your site – broke up the monotony of an otherwise tedious day at my temp job in Cheltenham.
I was one of the fortunate few who witnessed this gig back in 1987 and having seen Big Country a total of 6 times at various venues throughout Scotland, I saw them 1984/'85 Hogmanay, at the Playhouse in Edinburgh (my hometown) this rated as simply one of the best live gigs I have ever been to, the Kinema gig surpassed even this.
My music taste has matured since then and I have witnessed U2 live at the Murrayfield, Simple Minds at Ibrox, Billy Joel and Elton John at Ibrox INXS and more recently Foo Fighters with Page and John Paul Jones joining them on stage at Wembley. They were all awesome, but none rate as highly as this Big Country Gig!!!!
If memory serves I got a bus from Stirling, where I was a student on a very cold winters evening to see them with my mate Stewart and they did not disappoint – can't remember the set list but Stuart Adamson was on form quipping about owing members of the audience money etc. I think that they finished with Stones – "Honkey Tonk Woman"
I was fortunate enough to see them at the Barrowlands on the Farewell Tour but nothing sticks in my mind as much as the gig at the Kinema – maybe it was evident that they were totally enjoying playing in Dunfermline but who knows it worked!
I was devastated when heard about death of Stuart on December 16th 2001, I had never met him or any of the band for that matter but always imagined that they would be some of the most approachable guys in the business.
If you are in touch with Bruce Watson – please tell him what a profound impact the bands music has had on my life– not to mention that cold winters night in Dunfermline!!!!!!
Stuart always used to round off a gig by telling the crowd to "Stay Alive", I wish to Christ he would have taken his own advice!
I seldom find it within me to anyone, but having seen your site needed to comment on the good job you are doing! It takes guys like you to document what the venue has done for music in Scotland!
I feel proud to be part of the History!
Cheers
Ross Graham

At the end of their set I remember the band walking off the stage (still playing), marching up the stairs and through the bar and then back down again. I remember because the drummer threw away the bass drum skin he had been banging on and I grabbed it for a souvenir and it lay in my dad's garage in Charlestown for years.
I don't know the exact circumstances but somehow Ian Plummer managed to persuade Bowie to come back and play the folk club on the Tuesday? night, even offering him a bed in his house in Limekilns which he accepted. It was the talk of the village!
Alan Hill

Hi Ghoulz

David Bowie ... After speaking to a few of my pals, as it was a long time ago and we are all 60 now, the gig Alan Hill (Hilly) speaks about (above) is not our memory of the concert, in fact we are all unanimous that he was crap.
I see you have 2 appearances for him, so I think it is the other gig when he was playing solo as I nor my buddies remember a backing band.
He was sitting on the stage with his curly perm playing an acoustic guitar, he played Space Oddity, stylophone and all, and then started to read poetry, at which point we all retreated to the bar, basically agreeing that the guy would never make it!
I guess that's why none of us are Simon Cowell.

Check it out before you publish, but it was a Sunday night and would be late 60's, but you know what drink does to you!
Alex Stean
(Actually it was Sunday 9th November 1969 when David played with 'Junior's Eyes' & 'The Shadettes'. He returned to play for 'Folk at the KB' on the Tuesday following, 11th November 1969 - Ghoulz)


Hi Colin,

Old grey matter working again, with some help from my wife:-

Jack Bruce & friends, sitting on the floor with the fellow long haired fans, they were the loudest group I had seen, the floor was actually vibrating with the sound. Don't remember the song list nor much else, other than my friend's wife being stopped from going upstairs to the bar even though she was 6 months pregnant and 2 years older than my girlfriend.

Cheers,

Alex Stean


We were going to see The Clash. Sniff had just bought a Triumph Spitfire for 50 pounds – the idea would be to do it up for his 17th birthday. It was working but needed repaired. We decided to use it to get to the gig in Dunfermline, about 100 odd miles away down motorway. We left school early and proceeded to fill her up with fuel. The first leg of the journey was uneventful, uneventful until we hit Dundee.
He announced that the brakes were failing, were were coming into Dundee via the Arboath road which inevitably meant a downhill journey into the centre of the city. He shouted at me to use the handbrake, it sort of worked. This was fine until at the foot of the hill an articulated lorry stopped a little too suddenly when the lights changed. I had to practically straddle the handbrake to get enough leverage, even then the long bonnet went underneath the rear end of the wagon, and our windscreen tapped the back of its undercarriage, cracking a bit. We were lucky. The rest of the journey we did our best to avoid stopping, and we finally found a place to park in the outskirts of Perth and used some of our precious cash to do the rest of the journey by train.
As we emerged from the train station we proudly walked down the high street. Whereas in the past this would have been dangerous, really dangerous, we got friendly "how's it goin's" from various punks who were clearly in town to do what were were doing. We met up with a few of them who were delighted to meet a couple of guys from another toon. They gave us a can of beer. We eventually made our way round to the Kinema, and went into the pub next door where to our unbridled delight, The Clash were sitting having a pre-gig pint. We went up to speak to them and get their autographs. Topper Headon was especially friendly as was Mick Jones, and Stummer.
It was to be years later when I met strummer face to face again, in West London, when he lived in my neighborhood, round Westbourne Park. That night in Dunfermline, The Clash were supported by Richard Hell and the Voidoids and The Skids. I remember the stark contrast of the Americans, as the bass player, who sported a beard and a kind of unfashionable (to us) corduroy suit. When they hit the stage, the audience spat at them, and since they were kind of the first main act every bodies reserves were at peak. Right to when the lights and music kicked in greeners strung from the guy's beard and bass guitar, they hung and slung below with his movements, he was mortified. Someone from the venues management came on to request "no more spitting, or the gigs off." And Richard Hell, as he returned to the stage while no doubt wanting to win our favour and at the same time assert his own punk credentials contradicted "do what you wanna do".
Wow, that was invitation for another tidal wave of saliva and catarrh. Shit even I was hit due to being near the front "but I don't care!" The Skids' "Albert Tatlock" reminded me of strangely of "lily the pink". I remember seeing others from Arbroath including the Rector's son – he was at Uni now, dropping out no doubt and punk.
That night night we slept in a junk yard in an old car. We were freezing; I only had a plastic jacket and a string vest on. We'd been sweating like hell dancing the night away. It was fitful night, followed by breakfast of rolls and milk stolen from doorsteps and trying to jump the train. Again we got so far, then had to hitch to Perth, pick up the Spitfire then home ... Superb.
From http://dwnicoll.wordpress.com/2010/07/29/formative-years-v/
"I can vividly remember seeing The Clash and Richard Hell and the Voidoids at the Kinema in Dunfermline back in the 70s - I can still feel the globules of spit seeping down my neck!"
Brian Johnstone


"I remember that the Folk Club was fronted by a guy called Ian Plummer (son of the local lemonade works owner) also I remember attending the BBC recording of The Corries - we queued for hours to get a good seat but when we got in all the good seats were taken by local bigwigs and their friends etc. Didn't recognise any of them as regular supporters of the Folk Club!"
Regards
Robert.
The evening Robert refers to was on Wednesday 5th February 1969 when the BBC recorded a program called 'The Corrie Folk' there.

Cream (Sunday 9th July 1967)
"I was sixteen when the Cream played the Ballroom and it was the first proper gig I had ever been to. Up until Sunday 9 July 1967 I had only seen local bands, mainly playing chart covers. As an aspiring guitarist myself I was really excited about seeing the legendary Eric Clapton, having heard lots of his work with John Mayall. I had heard Fresh Cream but only a borrowed copy, as I couldn't afford to buy it. The five bob for my ticket to Cream represented half my weekly pocket money as I was still at school.
It's a long time ago but I still have some quite vivid memories of the show. Clapton had the Afro hairdo and was wearing quite foppish hippy gear. Jack Bruce was a solid business-like presence on stage and Ginger Baker looked as if he was possessed by the devil. (I believe the jury is still out on that one.)
It would be nice to say that I remembered the set song for song but I don't. I remember they played Spoonful, Cat's Squirrel, Rolling and Tumbling and Ginger Baker's tour de force, Toad. I was struck by how effortless it seemed to be for Clapton to play great sounding solos and what a tremendous guitar sound he had. (He was playing a Gibson SG.) Jack Bruce did a lot of the singing and played Bass like Clapton played guitar – as though he was born doing it.
But, although guitar has always been my passion and it was exciting to see the man they called "God" live, what really sticks with me is Ginger Baker and his physical commitment to his playing. I have never before or since seen anyone give so much of their physical being to playing music. At times he looked ready to collapse but the relentless thundering of his drumming never let up. The solo in Toad left people with their mouths hanging open. Drum solos are often suspect – a way to display technique rather than say anything musical – but Baker played a solo for (I think) about ten minutes that left me wishing he had gone on for longer. It's difficult to describe it without lapsing into clichés – he went all the way from being a train to an ant tap dancing and back again. I didn't just hear and see him playing – I felt it. Back then that was a really important lesson – at that time we guitar anoraks were obsessed with technique and speed. Baker had both in Spades but the most important thing was the feeling he expressed and his honesty and commitment to his art. That lesson has stayed with me and some might say that it was ironic that I learned it from a drummer.
Since then I have seen many of my heroes live – some in The Ballroom – but as has been said many times before, there is nothing quite like your first time…
Tony Duffy - Biocar

I understand Cream played on the small stage rather than the main one that night!
Someone (I forget who) told me that he wanted to go to see Cream with a friend who decided not to because he thought there wouldn't be many "burds" there! ... Unbelievable!

"With Regard to the comment made about the attendance at the Cream gig, I can assure you it was packed. I do remember at the end of their set, Clapton stuck his guitar under one of the amps and there was a long drone. It went on for what for seemed like ages. Nazareth were our resident band and they could not start until Clapton came back on and switched it off."
Gerry McMullan

"I was (to use a euphemism) 'well on' that night, however I seem to remember something from the early part of the gig, though perhaps someone else can clarify.
Right from the beginning the band were missing Dave Vanian and some sort of excuse was offered. They then began playing the intro to the first tune (which also escapes me) and then just as the vocal would have kicked in, Vanian soars over the drums, having taken a run and hit a springboard I'm guessing, grabs the mike and begins singing to uproarious applause!
Did I imagine some/all of that?"

"Holy s**t, I was at that gig, it was a blinder! The Ruts gave The Damned a run for their money. Mind you I was only 15 at the time, my friend's Mum drove us to the gig & picked us up! Still one of my favourite gigs."
Cheers Gary

Memory of: Sunday 2nd November 1969.
"Don't know if this is of interest, as it happened a long time ago. I had to check the date on your site.
I wasn't there, but one of the roadies was a family friend from Kent and he stayed the night with us when the group played at the ballroom.
What made it memorable to me was that in the Dunfermline Press, Fat Mattress was advertised as "FLAT Mattress", which I found mildly funny at the time, still do in fact.

Nice site, obviously generating a lot of interest."

Cheers
Rob Sinclair

"When Emile Ford appeared, (Wednesday 14th March 1962), he had roadies and a support team and he was also one of the first acts to use backing tapes. That night the engineer missed a cue but he soldiered on and when Emile came off stage he really tore the guy to bits, but he was a real pro."
Watty Robertson
('The Red Hawks', 'The Change', 'Bobby Dene & The Dynamos', 'The Jim Brown Showband', The KB Bands & 'Paris')

I can remember it was a great concert.
Rory was at his best, I'm sure that guy had three hands.
I was in the balcony with a crowd of friends which turned out to be a great spot as the place was heaving. One of the things that I have always remembered is two of the strings on his guitar broke midway through a song and it never even phased him, he just kept on playing like nothing had happened.
What an entertainer. I saw him a couple of years later in the Apollo and he was every bit as good if not better.
A great loss.
R Niblo

"I sent you a pic of the Heenan Froud Set taken in Tulliallan Youth Club, Kincardine, showing William Fotheringham, Charles Dyre, and Graham Booth. I recollect lots of stories, but the main one was one day the band were invited to my house, by me, for a coffee before their usual Sunday night gig. Only thing was that I didn't tell my parents and they returned from their usual 'Sunday run', so it was panic to get the band out the house before my parents saw them. Mad rush but great laugh.
On another occasion the Youth club sent a bus full of members, all young teenagers to Blackford where the boys were playing, and a fight broke out between the local boys and the Kincardine boys. I ended up going home in the bands van, having been removed from the club on a roadies shoulder. I wonder sometimes if they remember these days!
Hope this is interesting for you, I would love to know what they are doing now."



Gill Nisbet

"I remember the Humblebums at the folk club (Billy Connolly and Gerry Rafferty) it must have been the late 60s or very early 70s, it was a great comedy act as The Big Yin took great pleasure in taking the **ss out of Gerry Rafferty and others."

Cheers

Tam Burns

"Hi Ghoulz,
I would like to share my memories of the Ivy League's visit to the Ballroom in 1965.
I was only 10 years old at the time, however, my dad was a fan and a friend of Perry Ford. After the gig, they all came back to our house in Comely Bank, Edinburgh. I remember watching them singing & playing on our piano into the early hours.
I enclose a signed promo photo made out to me and a little bit of information."
David Adamson (drummer with Paradox)

"At the time when Elton John played the ballroom (St. Valentine's Day - Sunday 14th February 1971) he had an on-going dispute with a promoter in England and the Police seized his fee, much to Dad's (Cecil Hunter - the Manager) annoyance as he thought Elton was a class act, and so he proved to be."
John Hunter
(Cecil Hunter's son)
"I also saw Elton in the Kinema and if I remember right he had gold lam'e hot pants on. He was excellent too, he had the whole place jumping. He even played the piano upside down."
R Niblo
"I saw many class acts at the "Ballroom" as it was known, The Who being my favourite but the most memorable evening was when Mary Joyce and I blagged our way past the bouncers claiming to be reporters from The Dunfermline Press!
Having neither notebooks, pens or tape recorders, we couldn't believe it when we were allowed in to "interview" Elton John who was charming.
He quickly realised that we hadn't a clue and answered our inane questions politely. I remember asking him where he'd bought his beautiful midnight blue velvet cloak and he told me he'd bought it in San Francisco. When I very brazenly asked if I could have it his reply was a curt "No".
The excitement at having Herman's Hermits autographs on my left arm had been eclipsed!"
Elisabeth Lewis (formerly Gammack)
Dunbar
East Lothian
I also understand Elton was very friendly and got them a cup of tea before sending them out!
Ghoulz.

"I was one of only four who saw Judas Priest, yes and I know them all :-) The bouncers left us alone and went to the upstairs bar. One of my mates had a spliff and handed it to 'Halford' who had long hair and who chatted to us for a few moments before the band started. Amazing to think of it now!"
John Edwards

"I am positive I have signed autographs of Madness on Kinema Ballroom headed paper! When they played the ballroom as I worked that night in there, the boys spray painted their dressing room with "The Nutty Boys on Tour"
Bill Bower

"Hi, love the site.

The Kinema was where I grew up and a place of memories too too numerous to mention.
I have used your site on many occasions to show friends etc the class of the music I cut my teeth on in the mid 60s and onward. It is also a wonderful way to get the details of those gigz you remember with wonder and awe but with a bit of haze these days.
I found a little something you may be interested in.

I have a ticket for the John Mayall gig of 15th Dec 1968 signed by all the band.
I worked for Cecil and more George doing the electrics. Being an Apprentice electrician with the NCB at Blairhall Pit I would do some relamping etc on the stage. In return I would get free access on the Sunday and Wednesday nights. Happy days.
I also had a certain freedom of movement behind the scenes and when my idol John Mayall came to town I pounced at the chance to meet the band.

Keep up the good work.

Respect,
Robert Burleigh (Bob) Smith

"When The Red Hawks Mk11 became the resident band in the K/B before the extension was built they had to share the same dressing room with all the visiting artists. Billy Fury appeared during this time and one of his tricks was to put the centre of a toilet roll down his pants to impress the ladies and of course he did!
Among the groups also to appear at this time were The Barron Knights who were a great bunch of guys. Roger Whittaker also appeared on his first tour and as he had no backing group, The Red Hawks stepped in. He was so impressed with the band he asked if he could be announced as the guy up from the audience."
Watty Robertson
('The Red Hawks', 'The Change', 'Bobby Dene & The Dynamos', 'The Jim Brown Showband', The KB Bands & 'Paris')

"My name is Gerry Macpherson, I played in the Kinema Ballroom for many years with the Red Hawks, that was the days that Manny Charlton was with us ... we were on one stage, the Shadettes on the other. At the time we were there the Kinema wasn't licensed for drink and had tea/coffee bars.
Alex (Alec) Smith was the sax player/leader, Pete.?? was drummer, I'm afraid I cant recall the names of the other members apart from those I've mentioned.
Cecil Hunter was manager (very strict) ... I remember Cream being on one night, Chris Farlowe, (got pics of him on stage,if you are interested) The Baron Knights with Duke D'Mond and many others. Wish I had taken my camera more often.
Have also got quite a few pics of the Raith Ballroom where I also played resident, I believe we did 3 or 4 nights a week there....ahhhh those were the days."
Gerry Macpherson

Memory of Sunday 4th November 1979
"Hi,
One of the best gigs I ever attended was at the Kinema as a 16 year old punk. It was in 1979 - The Ruts supported by The Flys, who included Hazel O'Conner's brother in their ranks. I remember a great disco that night also with 'Gary Gilmore's Eyes and 'Shot by Both Sides' sticking in my brain!!
Oh happy days!!"
Cheers,
Stevie walker

The Sensational Alex Harvey Band
"Alex Harvey came on...with a whip, in thigh length red girls boots (Emma Peel Avengers style). 'Zal' was in Clown costume. There weren't that many at that gig... but I guess it was a few hundred...mostly of the usual Kinema crowd...normally and mostly girls with handbags at their feet."
John Edwards

Memory of: Christmas Day, Sunday 25th December 1977
CLIVE:- "This was the XMAS ball in the Kinema Ballroom, this spot was always highlight on the Ballrooms calendar and usually they forked out and got a name act for the night.

A month or so earlier the Skids had been given the coveted Friday night slot which was a roaring success bringing in about 500 more people than the usual Friday night turnout (the ballroom was in a decline at that point, disco was dying) so George the manager of the ballroom thought the band would be the perfect draw for Xmas (plus it would be
cheap)

"The only trouble was the people who go to the Xmas ball usually go to party, get drunk etc the last thing most of them would want was a band who was not playing the recent chart hits. I would say out of the fifteen hundred people there that night, three hundred were there to see the Skids, the rest did not give a shit and most of them were in the bar. On top of this the regular Ballroom crew were complaining to Ronnie Cowan the resident DJ to start playing Records. He started bugging George to pull the band, eventually George gave in.

"I think the band must have been about six or seven songs into their set when I noticed George approach Pano telling him that the band had to come off after they finished the song they were playing. Pano got Stuart's attention and Stuart said "Aye, that¹ll be fucking right" and continued on with the next song.

"Ronnie was mad and took it upon himself to start fucking with the band. He started playing records trying to drown out the band, Pano in turn cranked up the PA. I then saw George and a couple of his goons coming running towards Pano and then the PA was unplugged. Did this stop the band, no, with out even blinking Stuart went straight into the bands only cover song at the time which was Mott The Hoople's "Violence" (Skids version rocked) and Richard started inviting the die hard fans down the front onto the stage.

"I guess there must have been about Twenty of them up there when the bouncers came up, and they started throwing people off, including the band. I was pissed off and I thought one of them was coming for me, I grabbed one of Toms cymbal stands and I was ready to lay into this guy. Instead he comes over and said "who's in the band?", thinking he was looking for a fight. I was about to start swinging but then he said "George told me to get everyone off the stage but I can¹t tell the difference between the band and the audience, can you help me. I started laughing because it was total chaos. There was the band shouting at Pano & George, fans jumping all over the place, as soon as they were put off, they were back up seconds later. I was just concerned that nothing was going to happen to the band or the gear. I had become really protective by this point and I let George know my feelings, I was kind of a marked man in the Ballroom from then on, It took about a year before George would speak to me again.

"I'm pretty sure this was the last time the band played "Violence."

STAINLESS:- "They played the Ballroom with Wreckless Eric and the Rezillos one time. That may have been the first time Jobson played guitar - when Ricky 1st played guitar that was a big breakthrough. I took my wee brother along – he wasn't into that kind of music at all, but when I took him into the dressing room to meet the band he was well impressed that I knew these rock stars! The Rezillos were brilliant. There was nothing like a Rezillos/Skids gig in Dunfermline. There was never any animosity over whether the Skids or the Rezillos went on stage first. Wreckless Eric was off his face though, he got booed off the stage."
Clive Ford / Steve 'Stainless' Penman

Memory of: Sunday 23rd March 1979.
"As roadie / photographer (and as it's turned out, archivist) for Trax, I was privileged to be both backstage & in the dressing rooms before, during and after gigs.
We arrived in good time and equipped the stage with the necessary communal gear such as PA and drum risers etc while the lights were repositioned and tested. Sound checks were completed and all possible preparations were made to ensure a swift transition between bands such as only partially dismantling The Skids' drum kit, as Trax would appear first.
Being as Dunfermline was a hometown gig for both Trax & Skids we were somewhat nervous as the audience was full of personal friends but perhaps it was due to that nervousness that Trax played a blistering set. It was one of their best ever gigs to my knowledge and I reckon I saw them more often than anyone else.
The capacity crowd knew it too as their chants of "Trax! Trax! Trax!" demanded an encore.
Richard, Tam, Bill and especially Stuart Adamson agreed that Trax had had a great gig and hearty congratulations flowed like beer from the carelessly kicked beer cans in the dressing room. While the Skids' roadies and I cleared the stage and helped to assemble the gear for the Skids' set, Trax settled down to watch Stuart, Bill, Tam & Ricky (literally in Ricky's case) kick the already frenzied crowd up another couple of gears.
I saw The Skids live several times in 78/79 and they were consistently stunning live but this particular night they were somewhat off-colour. I don't know what the problem was but the performance given that night (which most bands would have died for) was relatively lackluster. The crowd loved it anyway and went nuts as usual. In fact I had to go down-stairs into the foyer during The Skids' set and had to dodge pygmy light bulbs & bits of plaster falling from the ceiling as the crowd pogo'd en masse upstairs!
However as the set was completed and they left the stage the crowd weren't quite as rabid as on previous nights. As Stuart headed for the dressing room I heard him shout "That was Sh***!" The Skids always had to do encores or there would be a lynching, but that night the punters' baying diminished early and was rapidly replaced by the earlier chant of "Trax! Trax! Trax!" again!
We couldn't believe it and were astonished to hear Stuart say that he thought Trax should get out there and give them what they wanted because the Skids didn't deserve the encore! On reflection we ought not to have been surprised because that was the kind of person Stuart was, generous to a fault and very supportive of other, especially local, bands.
What an opportunity to be given, especially on our own home turf! A very short discussion took place between Neill, Will, Deke, Dougie & Tony and a unanimous decision made that they couldn't possibly accept, it just wouldn't be right. They were good friends and Trax weren't about to do anything to damage that relationship.
Stuart & Co reluctantly accepted the decision and took to the stage once more, this time delivering a blinder.
What a night!"

"Ghoulz,
I do remember one night when Crispian St.Peters was on and his 'shades' disappeared from the dressing room. What an uproar trying to find them....tantrums from him demanding they be returned or he wouldn't go on! They didn't find them but he did go on ....... Oh and he shouldn't have bothered ... lol"
Gerry Macpherson

Lord Caesar Sutch & The Roman Empire
"Screaming Lord Such was a singer with limited talent. He would do anything for a laugh. After the gig at the KB, he and the group ran through the streets of the town dressed as cavemen. His main act was when he came out of a coffin. I remember the gig well."
Brian Nobile

"Thunderclap Newman ... appeared at a midnight ball, started with their hit 'Something in the Air' got up to the piano solo, something electrical 'blew' and that was it, disappeared in a storm of booing, never to be seen again, what a waste of money."
Alex Stean

Memory of: Thursday 12th October 1978.
"This was during the latter part of the much superior John Foxx-era Ultravox, when they doing a tour to promote the 'Systems of Romance' album.
The audience was 300 ish (much less than half full), but everyone there that night had a great time. Even the band looked as if they were enjoying themselves. Well, they did appear for three encores!
This gig is also my wife's all-time gig too, all though we were barely aware of each other's existence back then. She got backstage to meet the band (jammy so-and-so!).
Very much doubt this gig will ever be bettered."
Ray & Kay Smillie

Memories of: Sunday 8th October 1967:
"I can verify adamantly that when The Who played Dunfermline Kinema on Sunday 8th October '67 Pete was playing the remaining bottom half of his Gibson SG EDS-1275 double-neck. It was splintered straight across the factory-glued join and Pete's right-hand fingers were bleeding from the constant catching on the splinters. His frilly yellow satin shirt front was splattered with blood. I'll never forget it. Then a few weeks later they were on Top of the Pops (to premiere 'I Can See For Miles') with the guitar rebuilt with the necks V'd rather than parallel. I said to my mate — that's half of the guitar I saw him play!"
Geoff Davidson
Memories of: Sunday 27th April 1969

"I was at this performance. I had a beer with all four members of The Who in the bar beforehand. They played most of Tommy as well as all the major hits: 'I'm A Boy', 'I Can See For Miles', 'Pictures Of Lily', 'Happy Jack'. Townshend demolished a Rickenbacker at the end of the performance and Moon put his foot through the bass drum.
Support band was called "The Shadettes" a local band from Burntisland/Dunfermline/Cowdenbeath who shortly thereafter renamed themselves as "Nazareth" and became minor heavy metal celebrities in their own right. Lineup at the time include Darrell Sweet (who died about a year ago) and Manny Charlton.
Roger Daltrey drove away from the venue in a Corvette Stingray with custom exhaust pipes down the side - at that time completely unseen outside the US."

John M. Millar - Info from: www.thewholive.de
"Pete Townsend regularly eyed up the straightness of the neck of a cherry stereo Gibson ES-345 between numbers. We could tell its life was endangered and in between some very rough treatment, which must have hurt his pelvic bone, the guitar was poked through the stage ceiling and rotated 'til it roared like an airplane engine. It was then battered senseless on the floor and totally shredded beyond repair. A middle section of fret board flew in my direction. Despite my rapid response, a girl fan snatched it. I remember also Bob Pridden having a terrible time of it with PT who upended all his Hi-Watt head amps gesturing there was a problem. BP scrambled on stage unaware of the specific problem. When he shrugged his shoulders, PT went ballistic and kicked his ass all over the stage playing all the while!"
Geoff Davidson
"It's kind of hard to imagine that this gig took place about 4 months before their appearance at Woodstock. It certainly paints a picture of the live scene at the time when a band can play the ballroom one minute and in front of 400,000 the next."
David McLaren
"The Who came up and did Tommy, which no-one had heard at this point. But Cecil (Hunter - Kinema Manager) was a right wee dictator - The Who were on stage playing and he sent one of the bouncers down to tell them to turn it down because he couldn't hear 'Scotsport'! (A popular football/sports TV program)."
Pete Agnew (Nazareth)
Are Ye Dancin'?
Memories of: Sunday 6th September 1969:
"What I'll never forget is at the Who 6/9/69 gig ... it was reaching sellout at the door and we were three couples. While biting our nails the tuxedo'd bouncer had some fun with my mate. "Sorry son, no red trousers" Ronnie was indignant and spluttered "what difference does it make what colour my trousers are?" Bouncer poker faced insisted. Ronnie nearly burst out crying before the bouncer smiled and waved him through. My girlfriend got the last ticket (1000?) on the roll and not only did the Kinema manager wave me through free they shut the doors. Magical memory, wish we could all go back!"

Cheers,Geoff

Geoff Davidson

"Wild Horses played to an almost empty ballroom on Sunday 26th November 1978 though despite this (to their great credit) they played a full set to a highly appreciative, slightly embarrassed audience who could not have numbered much more than approx twenty? I can attest that in return the audience made a noise completely disproportionate to their number."
Ghoulz