Biogz
'A'


Next
Here you will find some short biographies (biogz) of solo artists whose surname commences with this letter or bands with names commencing with this letter (omitting any commonly used prefix such as 'The').
Click on the name below or scroll down the page at your leisure.
Abbalike
Abnormal load
Abrasive Wheels
Activan
Derroll Adams
Aegis
Aff Its Heid Band
Mickey Ainsworth
Air
Alexian Folk
Alice Deejay
The Allisons
Alto Cirrus
Amazing Blondel
Amazulu
The Ambassadors
The Amboy Dukes
Amen Corner
The Billy Anderson Trio
Chris Andrews
Bobby Angelo & The Tuxedos
Anthem
The Applejacks
The Ardennes
Argent
The Argonauts
Argus
Arrival
The Arrows
Dave & Toni Arthur
Mark Ashton
The Athenians
Atomic Kitten
Atomic Rooster
Attic Lights
Auntie Pus
The Avengers
The Average White Band
The Avons
The Axe

Emma Jones - Agnetha Fältskog
Melanie McLaren - Anni-Frid Lyngstad
Chris Smith - Benny Andersson
Danny Page - Björn Ulvaeus
Adam Falkner - drums
Abbalike are a five-piece ABBA tribute band from Newport, Gwent, South Wales formed in 1998 that has toured many countries with their immaculately produced two hour theatre show. They have sold out tours in Russia - Spain - Latvia - South Africa (Three times) and Zambia. They have appeared as a four piece on playback with live vocals or as a five or six piece live band.



Abnormal Load in the Kinema (with Stuart Adamson & Ricky Jobson in the audience)
(Thanks to Stevie Starr)


Speccy Potter (later 'immortalised' in a the title of a Skids' b-side - 'Monkey McGuire Meets Specky Potter Behind Lochore Institute'!)
(Thanks to Stevie Starr)
Arthur 'Bones' McNeil - vocals
John 'Speccy' Potter - guitar
Alex Thornton - keyboards
Johnny Thornton - bass
Stevie Kane - drums
Later:
Toss Burns - vocals (also sang with Activan)

Local Dunfermline covers (melodic-rock) band.
Keyboard player Alex Thornton offers his personal memories:
"We played at rock gigs across central belt, Edinburgh and Glasgow. Our home gig was at the Glen Pavilion in Dunfermline where we played a number of gigs with local guest bands (Hibernating Bears/Activan) and others from across Scotland and UK. These included 'Cadiz' who were based in Edinburgh, and Colossus who were from Dundee. Abnormal Load also supported 'Budgie' for their gig at the Glen Pavilion and 'Paris'at Camperdown.

I remember playing all round Dunfermline (The Northern Roadhouse & The Well etc.) and The Cuinzie Neuk in Kinghorn.

I also remember we grew in recognition with time and were invited to play in the Camperdown Rock festival held in Camperdown Park on a sunny Sunday. Totally professional show, we were newbies but given a decent slot late in the afternoon before the headliners Paris, then Colossus. Crowd was huge by time we got on stage, but for 4000+ people, were quite subdued. We had a 30 minute set and got down to playing our self-penned Warrior tale epic called 'Soldiers Vision'. A complicated piece which drew the listener in in stages and built up the intensity and atmosphere and angst-power over 14 minutes. There were just so many people there. I kept my head down and concentrated on timings etc. We wound the song down to the crescendo and blasted to a halt - the place was quiet for a second, then to a man, all 4000 people left to there feet and roared. I stood shocked, the roar was a wall of sound and washed over us and through us, and it was for us! Wonderful wonderful feeling, and we knew after that that we had the audience, and just went for it. We got a great write up the following day in the courier. One of my most treasured memories.

I recollect that we did a couple of covers to get the crowd going during encores, they included Alice Cooper's 'School's Out', 'Message in a Bottle' (Police), and 'Southern Man' (Neil Young). Fantastic times and brilliant memories, but long long nights, particularly for gigs far away. Special mention was for Rob who worked on the Mixing Desk and provided the van for us to go to our gigs in."

John 'Specky' Potter has been described as a local legend at the time, a quiet civil servant accountant during day who turned into a manic guitarist who had to push his specs up his nose frequently and became known for breaking guitar straps. He was immortalised by The Skids who named the unfinished instrumental rehearsal b-side of their October 1980 7" single 'Goodbye Civilian' after him ('Monkey McGuire Meets Specky Potter Behind Lochore Institute'). Specky was allegedly not too pleased! [Incidentally, Monkey McGuire was a jockey from Lochgelly who went to the same school as Richard Jobson of The Skids]
Self-penned songs included: 'For Whom the Bells Tolled' and '194 Problem Unsolved'.
Thanks to Benny Hutton, Arthur 'Bones' McNeil, Stevie Starr and Alex Thornton
Phil 'Shonna' Rzonca - vocals
Dave Ryan - guitar
Harry Harrison - bass
Nev Nevison - drums
Later:
Steve Popplewell - guitar
Chris Bertram - bass
Scruff - drums
Eden Townsley - guitar
Abrasive Wheels are the biggest punk band that ever hailed from Leeds. They formed around 1976, releasing two albums, 'When The Punks Go Marching In' (1982) & 'Black Leather Girl' (1984). which both acquitted themselves well in the indie charts. They reformed in 2002 and after several line-up changes, seem to have settled down with Shonna the only original member remaining. They still tour and record.
They recorded the EP 'Nothing To Prove' in 2005 with an accompanying video.



(Ray & Kay Smillie) (David McLaren)
Toss Burns - vocals
Graham (Bellsy) Bell - guitar
Pete Robb - guitar
Colin Robertson - bass
Ray Clarke - drums
A Dunfermline Band, Activan were randomly chosen for a second support slot (billed as 'The Local Heroes') for The Damned / The Ruts on Tuesday 12th June 1979. Local bands were encouraged by The Damned (or their management) to write to the Dunfermline Press to offer their services and a random name was 'drawn from a hat'. In the case of this date, Activan were chosen.
Bellsy & Colin Robertson also played in The Hibernating Bears though I'm unsure in what order. God knows what happened on 24/05/79 when both bands played the same gig!

Born in Portland, Oregon in 1925, Derroll Lewis Thompson was a folk musician, painter, singer/songwriter & banjo picker who spent more than half of his life in Europe, notably England and Belgium where he was a major contributor to the folk revival of the sixties with long time friend 'Ramblin' Jack Elliot, recording and performing frequently, often at festivals. He succumbed to alcohol excess but eventually dried-out in 1972.
Sadly he died in 2000 at the age of 75 though he was honoured with a posthumous album of his best friends' contributions in 2002. He is often sited as an influence and inspiration for artists such as lan Anderson, Billy Connolly, Dick Gaughan, Bert Jansch, Ronnie Lane, Ralph McTell, Rod Stewart, Danny Thompson and Donovan.
Johnny Binnie - vocals
(ex-Susan Ram)

Kenny Stewart -
guitar (ex-Susan Ram)

Joke Barrington - guitar
(ex-Susan Ram)

Wilson Sharp - guitar (ex The Cherokees / Cargo)
Hugh Dyer
- drums (ex-Susan Ram)
Band from the Falkirk area around 1970/71.
Stewart later formed 'Renia', before being re-united with Binnie in 'Dirty Tricks', whilst Sharp moved to London in 1972 and turned down a job with 'The Edgar Broughton Band', before forming his own act, 'Axess'.
If you can add any further information to this piece please contact me here.
Tim Stevens (AKA 'Tiger' Tim Stevens)
Tiger Tim is still a favourite with both children and adults alike with his prime time show on Clyde 1 , Monday to Thursday between 7.30pm and 10pm. 'The Adventures of Tiger Tim' is his best selling autobiography released by Black & White Publishing. He has made a film 'Living Apart Together', released three records and played many gigs with his group 'The Aff Its Heid Band'.
Sadly he suffers from Multiple Sclerosis but refuses to buckle under.
If you can add any further information to this piece please contact me here.
A well respected accordionist who has played with many other musicians including Jimmy Shand.
If you can add any further information to this piece please contact me here.
See The Change / Air / Dillinger


Alexian Folk with Rosalind (1975)
From Scotbands
Alex Sutherland
'Big' Ian Simpson
Alexian Folk (aka 'The Alexians') were Alex Sutherland & 'Big' Ian Simpson - hence Alex/Ian.
Alex was previously one half of The Cottars with Ali Watson.

Alexian Folk often played in Edinburgh's Rose Street pubs & clubs sometimes accompanied by a fiddler & a variety of other musicians in the late sixties / early seventies.

Judith Anna Pronk - vocals
Sebastiaan Molijn
Eelke Kalberg
DJ Jurgen
Mila Levesque
Angelique Versnel
A Dutch electro band, the voice of Alice Deejay is a singer called Judith Anna Pronk who used to be a DJ.
Single releases include: 'Back In My Life', 'Will I Ever', 'The Lonely One', 'Celebrate Our Love' & the first hit, 'Better Off Alone'.
There has also been an album, 'Who Needs Guitars Anyway'.

John Allison (Brian Henry John Alford)
Bob Allison (Bernard Colin Day)
Later:
Mike Allison
Tony Allison
Like the Walker Brothers (who were neither brothers nor 'Walkers') none of 'The Allisons' were called 'Allison'. Brian Alford first met Colin Day when they both sang in a Fulham church choir but Brian would first pursue a career in music with his own youth club band called 'The Shadows' (no not that one) before John White and him broke away as a duo called The Shadows brothers'. They appeared on a TV talent show called 'Television Discoveries' in 1958 but White split in early 1959 leaving Alford to try to go it alone but around six months later he teamed-up with his choir mate Colin Day to form The Allisons and adopt stage names to suit.
They soon became known for their close harmonies and only a few months into their new venture they secured a residency at 'The Breadbasket' coffee bar in Cleveland Street in north London. Soon they entered & won a national talent competition contested by over six-hundred others and rounded the day off with an invitation to play on Bert Weedon's TV programme 'Lucky Dip'!
After submitting a demo-tape to Fontana Records 'Are You Sure' was entered in the heats for the UK entry to the Eurovision Song Contest in 1961 and won the opportunity to represent the UK. They came a close second to Luxembourg when the contest was staged in Cannes but the song became a massive hit all over Europe.
Unfortunately a cruel anomaly now means that 'Are You Sure' does not appear as a UK #1 hit despite it holding that position in three of the four available charts at the time including the NME version which was considered to the leading representative chart. Guinness however chose to adopt 'The Record Retailer' chart over this period and so history records it as a UK#2. Pipped at the post twice!
Their follow-up singles, 'Words' and 'Lessons in Love' failed to capitalise on their initial success however and they only saw the bottom end of the chart. A combination of managerial / promotional difficulties and perhaps their inexperience in the face of meteoric success contributed to their demise in the mid sixties.
John began to write music full-time but soon returned to performance, with occasional short 'Allisons' tours with Bob or with other new recruits such as Mike 'Allison' and Tony 'Allison' at times throughout the next two decades.
The nostalgia circuit is now more popular than ever and The Allisons can still be found out there performing.
Note these UK 'Allisons' should not be confused with an American duo of the same name who released 'Surfer Street' in 1963.
Derek Jackson ('Deek') - 6 & 12 string, vocals, lyrics. flute
Mike Wilson - lead guitar (& management)
Phil Cheyne ('Chaney') - bass (& management)
Kate Hill - fiddle, vocals, percussion
Eric McCleave ('Cowfreak') - drums, percussion, vocals
Roxanne ('Xanne') - dancing, percussion, vocals
Steve Drysdale - vocals, guitar

Alto Cirrus - 'White Famine' (1986)

Chaney & Mike formed this Dunfermline-based band with Deek and then added Cowfreak, Kate & Xanne. The band's name was the result of protracted debate (as it often is!) but basically it's two words that both mean 'high'… They were once described as: "a folk/punk band" and "Frank Zappa meets Laurie Anderson at a Kiss concert".
Their debut appearance (like that of fellow Dunfermline outfit Big Country) was in the Glen Pavilion in Pittencreiff Park Dunfermline after only ten days of rehearsal (and it reportedly ... er, showed) but despite that some fans were born.
They improved rapidly however and toured the north of Scotland frequently, landing a support tour of Scotland with 'Wee Free Kings' and another with 'Alice House' having some memorable adventures and mishaps along the way such as the time the Police took an interest in them while on their way to make a video and the time a Luton van overturned in a bog in Sutherland!
Deek left and was replaced by Steve Drysdale from Grangemouth.
Deek is the guy who stood behind Gordon Brown with his fist raised at the last election. He is responsible for the comedy satire web site 'FKN News' and is involved in a number of other projects.
Sadly Chaney died in a car accident while Kate lives in Greece.
Cowfreak writes, sings and plays acoustic guitar & harmonica in a band called HooDoo Zephyr based Aberdeen.

In 1990 they released a limited edition double A-side 7" single 'Badge of Poverty' / 'Cowboy Song' on Rubber Records
My thanks to Cowfreak for the enhanced info.

John David Gladwin – vocals, lute, oboe, cittern, double bass, twelve-string guitar, theorbo, tabor, tubular bells
Terry Wincott – vocals, pipe organ, harmonium, cittern, recorders, flute, crumhorn, tabor pipe, ocarina, 6 string guitar, congas, harpsichord, piano, mellotron, bongos, assorted percussion
Edward Baird – vocals, lute, glockenspiel, cittern, dulcimer, twelve string guitar, percussion
Impossible to fit into any regular pigeon-hole, Scunthorpe's Amazing Blondel were a trio of multi-instrumentalist school friends, playing songs and instruments which wouldn't be out of place in the hands of the house band at a medieval or Elizabethan banquet.

Progressive Rennaissance Folk may be as good as any other attempt at a style categorisation with lute and recorders featuring. Wincott himself has described their sound as "pseudo-Elizabethan/Classical acoustic music sung with British accents" while Baird said "People used to ask us, How would you describe your music? Well, there was no point asking us, we didn't have a clue." Comparisons have often been made with Jethro Tull.

Gladwin and Wincott started out at school in a number of embryonic outfits culminating in the latter half of the sixties with a prog-rock / folk ensemble called Methuselah who signed a three disc deal to Electra Records in the States but effectively only produced one. The two friends soon realised they wanted to pursue the acoustic folk element of the performance and chose the name Blondel in 1969 after the renowned court musician of King Richard I (Blondel de Nesle), prefixing it with 'Amazing' (ala 'Incredible String Band') later on.

With a little help from their friends, the duo's eponymous debut album appeared in 1970 and shortly thereafter they added Baird to the line-up before a fortuitous booking, opening for 'Free', resulted in them signing to Island Records.

Their live performances soon had the public and critics talking about the 40-odd musical instruments littering the stage, which could allegedly take five hours of pre-show tuning before they had new 7-string guitars designed and made to simulate lutes but with improved tuning characteristics.

The next album, 'Evensong' (1970), was better received with its successful blend of folk and rock which they followed with their third, 'Fantasia Lindum' (1971). It's first track covered the whole of side 1 and the album featured pianist & harpsichordist Adrian Hopkins who would have a major influence upon their fourth album 'England' (1972) the success of which landed them with some high-profile international touring slots and live supports such as Genesis, Procol Harum and Steeleye Span.

The three-piece format was short-lived however when founder member and principle song writer Gladwin left after 'England's release and their fifth album 'Blondel' (1973) was completed (with Baird stepping up as song writer) as a duo once more while an increasingly contemporary electric approach was used including contributions from Paul Rodgers, Paul Kossoff, Stevie Winwood and Mick Ralphs for 'Mulgrave Street' (1974), 'Inspiration' (1975) & 'Bad Dreams' (1976).

These were followed by 'Live in Tokyo' (1977) though actually recorded in Europe!

Disillusionment with touring and the often inevitable personal differences led to their demise and officially Amazing Blondel ceased to be in 1977 though the solo individuals continued writing and performing. (Gladwin was in an unsuccessful outfit called 'English Musicke' which later re-adopted the Amazing Blondel' name).

After twenty years apart, the trio reformed in 1997 to record 'Restoration' that year and they resumed touring for a time releasing several compilations and re-issues including 'A Foreign Field That Is Forever England (recorded live, 1972–1973) in 1996.

Anne-Marie Ruddock - lead vocals
Margo Sagov - lead guitar
Clare Kenny - bass
Sharon Bailey - percussion
Lesley Beach - saxophone
Nardo Bailey - drums
Amazulu (which is a Zulu word meaning "the people from Heaven")
They were a British ska/new wave band who charted six times in the UK with reggae flavoured singles between 1985-1987: Excitable, Don't You Just Know It, The Things The Lonely Do, Too Good To Be Forgotten, Montego Bay & Mony Mony. Their line-up was all-girl with the exception of Nardo Bailey.
They appeared in 'The Young Ones' in 1984 and released their eponymous album 'Amazulu' in 1986.

After an acrimonious split in 1987, Amazulu II was formed by Anne-Marie Ruddock, Sharon Bailey, and Lesley Beach but success evaded them.
The Ambassadors (aka 'Ross Devlin & The Ambassadors')


Image from 'Scottish Sounds'.
Ross Devlin (aka Ross Gilmour) - vocals
Dougie Wright - rhythm guitar
Alan Moir - bass guitar
Bill Nisbet - lead guitar
Bill Kyle - drums
A local band from Dunfermline formed by Dougie Wright & Alan Moir, active in the mid sixties, who were sometimes also known as 'Ross Devlin & The Ambassadors'. They played mainly pop music and sometime after may 1964, Ross Devlin (sadly now deceased) was replaced by Fritz Freeburn (from 'The Hellcats') on vocals and saxophone. Unfortunately no recordings exist. Dougie Wright went on to play with Trevor Forster (of 'The Falcons') in 'Scope' and later in 'Middle Age Spread' though is sadly no longer with us.
Drummer, Bill Kyle is now running 'The Jazz Bar' in Edinburgh.
The band would later add Dog Strong on vocals and rename as 'The Sole Generation' sometime between September 1965 and June 1966.
I'm indebted to Bill Nisbet for this information & image.
Dave Kislingberry (Kissyy) - vocals, trumpet
Mick Lambden – trumpet, vocals
Trevor Lock - guitar
Dave Elam - bass
Mick Jerome – drums
Later:
Art Claridge - bass
Rod Lee - trumpet
Ken McColm - tenor saxophone
George Hall - baritone saxophone, flute
Pete Howard (Skan) – bass
Buddy Beadle - baritone saxophone
Steve Gregory - tenor saxophone
Eddie Spevok - drums
[No nothing to do with the Amboy Dukes associated with Ted Nugent from the same era as they never reached the UK's shores].
The Amboy Dukes were formed in Reading, Berks in 1965 by Dave Kislingberry who took the name from a paperback novel. The musical focus of the band was from the outset centred on American blues/soul and R&B artists such as Ray Charles, James Brown, Wilson Pickett, Otis Redding, Sam & Dave etc. and eventually included the odd Ska tune (known as Blue Beat at the time) from the likes of Prince Buster, Roland Alphonso etc.

This was the line-up that was signed up by the Rik Gunnell Agency following a recommendation from Geno Washington. This led to the band working in many of the well-known London clubs such as The Flamingo in Wardour St, The Ram-Jam Club in Brixton, The Marquee and Tiles. First as a support band, to the likes of John Mayall's Blues Breakers, who were hot at the time as Eric Clapton had just been elevated to 'God' status, Georgie Fame, Zoot Money etc., and then as a headline act in their own right. As a result of a long residency at Peter Stringfellow's Mojo Club in Sheffield, the band also became popular across the north of England.

During 1966 Art Claridge was replaced on bass by Pete Howard (also from Reading) and George Hall left the band for personal reasons leaving a 6 piece line-up.

The band was signed to Polydor in '66 and in the same year the same line-up recorded 'Turn Back to Me' (released Feb '67). George Hall was drafted in on flute for the recording.
Short of a B side, 'I Never Complain About You', written by Trevor Lock and Dave Kislingberry, had to be recorded in one take as they had run out of studio time. Recording was at Advision Studios in New Bond Street, and produced by Jeff Cooper who wrote 'Turn Back To Me', the engineer was Eddie Kramer.

Early in 1967 the second record, 'All I Need' and the B side 'Doing the Best I Can' was also recorded at Advision Studios, again with Eddie Kramer engineering but this time produced by Terry Kennedy. This was the same line-up as before but augmented, for the recording, with Ian Green on Hammond Organ, late of the touring version of the New Vaudeville Band.

During 1967 Buddy Beadle (ex Ram Jam Band) had been added to the line-up on Baritone sax, creating a seven piece once again. (Buddy was from South London).

This was the line-up that recorded 'Highlife in Whitley Wood' pts 1 & 2. and was recorded at Polydor's own studios, which were somewhere just north of Oxford Street, and also produced by Terry Kennedy. 'Highlife in Whitley Wood' was in fact two separate Ska numbers that featured in thier stage set. Part 1 was track called 'High Life' and Part 2 was based on 'Gun The Man Down' by Prince Buster. The 'Whitley Wood' thing was a spur of the moment 'bright idea', and was a reference to a suburb of Reading where one of the band hailed from.

Around this time Steve Gregory (ex Alan Price Set) replaced Ken McColm on tenor sax resulting in the line-up that recorded 'Judy in Disguise' by John Fred which had been brought from the States by their manager, John Gunnell and given to them on the basis it was not going to be released in the UK!!!
It was recorded in a small studio in Denmark Street, again produced by Terry Kennedy.
The harmonica featured was played by a guy known as 'Moxy' who they met in the pub!
The B side 'Who's Foolin' Who' was an Arthur Connolly track that had featured in their stage set, and was recorded at the same session. Mick Jerome was replaced in early '68 by Eddie Spevok.

Subsequent to the band's final demise, Buddy Beadle and Steve Gregory became members of 'Gonzalez' and later Steve played the sax featured on George Michael's 'Careless Whisper'. More recently they were both on tour with 'Georgie Fame and the Blue Flames' backing 'Van Morrison'. Pete (Skan) Howard became a sound engineer at the BBC and eventually set-up 'Skan PA Hire', going on to become a highly successful independent sound engineer. Sadly Pete passed away in December 2007. Trevor Lock is currently with 'Magic' a Queen tribute band.
Mick Jerome 2012.
Info from: http://www.45cat.com/biography/the-amboy-dukes
'Turn Back To Me' / 'I Never Complain About You' (1966)
'All I Need' / 'Doing The Best I Can' (1967)
'High life In Whitley Wood Pt1 and 2' (1967)
'Judy In Disguise' / 'Who's Foolin' Who' (1968)
'Simon Says' / 'The Marquis' (1968)
'He Came To Me Yesterday' / 'Easy Going Me' (1968)

Andy Fairweather-Low - vocals
Neil Jones - guitar
Allan Jones - saxophone
Blue Weaver - keyboards
Mike Smith - tenor saxophone
Clive Taylor - bass
Dennis Byron - drums
The members of Amen Corner (named after a 'disc spin' at a local ballroom where American soul records were played) had all previously played with other local bands in South Wales before coming together in the December of 1966 in Cardiff, initially playing jazz/blues. They went off to peddle their wares in London before the following year was out, proving to be sufficiently successful that they landed a contract with Deram records.
Their first four singles for Deram all achieved respectable UK chart success:
'Gin House Blues' (1967) - #12 / 'The World of Broken Hearts' (1967) - #24 / 'Bend Me, Shape Me'/'Satisnek The Job's Worth' (1968) - #3 and 'High in the Sky' (1968) - #6 while their first album, 'Round Amen Corner' (1968) - #26 did good business too.
But a switch to the 'Immediate' label late in 1968 soon paid-off with their first (and as it turned out) only UK #1 single with '(If Paradise Is) Half as Nice' (1969) which was the first ever #1 UK chart hit for a Welsh band.
A second album (this time for Immediate) 'The National Welsh Coast Live Explosion Company' (1969) faired slightly better that the first.
They also appeared in a horror film (as themselves) called 'Scream and Scream Again' in 1969 but unfortunately cracks were beginning to show and they had split before the release of their final chart success in 1969 'Hello Susie' (written by Roy Wood) - #4, which was followed by a cover of The Beatles' 'Get Back' (1969) which failed to chart at all and a final (live) album 'Farewell To The Real Magnificent Seven' (1969).
From the remaining ashes emerged the short-lived 'Fairweather' with all but the saxophone players Jones & Smith who formed 'Judas Jump'.
Later Blue Weaver would join 'The Strawbs' then 'Mott The Hoople' and 'The Bee Gees', where Byron had also found a home. He has also worked with The Pet Shop Boys.
Andy carved out a successful solo career in the 70s ultimately becoming a regular part of Eric Clapton's band.
Billy Anderson - accordion
Tom Anderson - guitar
Raymond Gatherum - drums
Billy Anderson was born on 5th March 1946 on Balcarres Estate, near Colinsburgh. Sadly his mother, Ina, died the following day, leaving his father with a family of five. He was brought up by other family members in Fife where he still lives today with his wife Elizabeth & four children in Largoward.
He was introduced to the mouth-organ at age five and was soon playing concerts throughout the East Neuk of Fife as a member of 'The Anderson Trio' with his elder brother Sandy (button accordion) and elder sister Ena (mouth-organ). He was later introduced to the accordion and given weekly lessons in Cupar and Dairsie before The Anderson Trio appeared with Hughie Green in the Whitehall Theatre in Dundee, where He later appeared solo with the great Anne Shelton and Wee Georgie Wood.

In the late sixties, he experienced 'life on the road' with the Jimmy Shand Junior Band and Bobby Crowe and his Broadcasting Band, playing second accordion. One memorable gig being in HM Theatre Aberdeen with the White Heather Club. In 1968, Billy & Liz were invited by the St Andrews Branch of the RSCDS to appear in Holland at a week long International Folk Dance Festival and in 1969 he met Mr. Ben Lyons, radio producer with BBC Radio Scotland and subsequently made his first broadcast in August of that year.
During this time, The Billy Anderson Trio went from strength to strength and they appeared with artistes like Calum Kennedy, Peter Mallan, Robin Hall and Jimmy MacGregor and Ricky Fulton & Jack Milroy (as 'Francie and Josie'). Throughout the early seventies the band became very popular for weddings, dinner dances and corporate functions and invitations came from Radio Forth in Edinburgh from where he made several broadcasts, appearing 'on tour' with the late Jim Macleod and his band.

In 1974, he received a call from the late Iain MacFadyen, head of light entertainment for BBC Television in Glasgow who offered the band a twelve-week tour of the United States of America, called 'Scotland on Parade' which featured Alastair MacDonald, Isla St.Clair and other Scottish artistes. This was a coast to coast tour organised by Columbia Artists Festivals from New York, from September to December covering 18,000 miles of coach travel.
Upon their return, Iain MacFadyen offered television appearances with the Gaelic folk group, 'N-h-Oganaich', who also toured the United States. Tours and appearances followed throughout Scotland and in 1977 Billy formed 'Albany' which featured Mod medalist Margaret MacLeod. They teamed-up with Scottish fiddle player Ken Slaven and appeared in regular Summer Season in Aviemore, cutting their first album in 1978. The following year he toured with 'Scotland on Parade' again throughout the United States of America and Canada.
From 1980 the band appeared on a regular Summer Season at Eden Court Theatre in Inverness for 8 years. Invitations came to perform in Verona in Italy with the late Bill McCue, in Mainz Germany for the Opel Car Company and for annual trips to Abu Dhabi, Dubia, Oman, Brunie, Sarawak for numerous Caledonian Societies.

Following a very successful 26 week radio series on BBC Radio Scotland called Country Hop, Billy made his first recording with the Decca Record Company in 1979 called 'Travellin' Scots' with radio producer Ben Lyons which featured Trio members Tom Anderson & Raymond Gatherum together with Robin Brock (bass), Dave Barrie (piano) and Gordon Imrie(synthesiser). In the same year he recorded an album with EMI featuring Margaret MacLeod called 'West of West'.
Another two records were released by the newly formed 'Albany Band'. The first in 1982 called 'Scotland Now', with guest musicians Peggy O'Keefe (piano), Dave Barclay (bass), Nigel Clark (guitar), Malcolm Ross (drums), Kevin Hughes (bass guitar) and George MacIlwham (flute) and the second in 1986 on Lapwing Records called 'East – West, Hame's Best', with Alan kitchen (piano), Neil Campbell (guitar) and James Gordon (drums).

Since September 1983 he has presented a weekly radio programme with Radio Tay in Dundee which still attracts a large following of listeners from throughout Tayside and North East Fife. He also teaches piano accordion on a twice weekly basis at Kilrymont School and St Leonards in St Andrews.

'Albany' completed another two twelve-week coast to coast tours of America and Canada in 1988 and in 1992 with Columbia Artists Festivals, called 'The Gathering of the Clans' which he co-produced with Margaret MacLeod. This consisted of the best pipers, dancers, musicians and singers in Scotland which attracted large audiences from coast to coast.
Today the band is still in demand for guest appearances at various Accordion and Fiddle Clubs, weddings, ceilidhs and corporate functions throughout the country with regular invitations to Germany and Monaco for Caledonian Societies. There are five CD recordings available, 'Sonas', 'Origins', 'Music, Song and Dance', 'Dileab' (an all gaelic collection from Margaret) and 'Scotland in Tune' (a recent piano accordion recording) which are all available on the Thane Recording Label.
The current line-up is Billy (accordion), Margaret (vocals), George Robb and Billy's son Iain (acoustic and electric guitar), Kenny Downie (drums) & Alan Kitchen on keyboards. They are joined by Duncan Soutar on pipes and various guest artistes for what has become a firm favourite over the past twelve years, 'The Albany Stage Show' and recently an even bigger production called 'Great Scots'. Other personnel have included, Neil Campbell, Nigel Clark (Hue 'n Cry), Jack Paul & drummers Iain Bayne (Runrig) & James Gorgon.
Info courtesy of Billy Anderson
More info at: www.albanyband.co.uk

Singer, songwriter and producer, Christopher Frederick Andrews was born in 1942 in Romford in the east end of London and became involved with rock n roll as a teenager, forming his first band 'Chris Ravel and the Ravers' and playing live throughout many well-known London venues including the famous '2 i's Coffee Bar'. He even appeared on Jack Good's hugely popular UK rock n roll television program 'Oh Boy!' twice in 1959 though like many performers of the era, Hamburg is where he really learned his trade and developed a personal sound & style.

His first real airing into the wider public eye came when one of his songs 'The First Time' became a top ten UK hit in 1963 for Adam Faith, helping him step his declining career up a notch. Chris benefitted from resulting connections made with Faith's manager, Eve Taylor, who needed material for another artist, Sandie Shaw. Chris' songs fitted her voice perfectly and a string of top ten hits resulted including, 'Girl Don't Come' (1964), 'I'll Stop at Nothing' (1965), 'Message Understood' (1965), 'Long Live Love' (#1 in 1965), and 'Tomorrow' (1966) amongst many others she recorded.

Chris as a solo artist is best remembered for the popular million-selling UK & European hit, 'Yesterday Man' (UK #3 in 1965) which he followed up with 'To Whom It Concerns' (UK #13) which endured in the public mind since the instrumental section from the song was adopted as the theme music for the television program 'The Late Late Show' which ran through to 1999!

The European popularity he enjoyed endured such that he often recorded foreign language versions of his songs, particularly in Germany where he has a home and continues to write, record and perform throughout Europe.
Bobby Angelo (Robert Hemmings) - vocals
Pete Cresswell - lead guitar
Johnny Kent - rhythm guitar
Jack Fry - bass
Tony O'Toole - drums
Mick Avory - drums
Originally called 'Bobby Vincent & The Shadows' (inspired by Gene Vincent and Hank Marvin's band) the band from Walton-On-Thames changed their name in 1961 to sound somewhat Italian and the reference to Tuxedos was an homage to a guitar of the same name. It was however a Stratocaster played by a 16 year-old Pete Cresswell that featured large in the sound of their first single release, 'Baby Sittin' / 'Skinny Lizzie' (recorded in one 'take' at Abbey road and reached #30 in the 1961 UK chart aided by some exposure on 'Saturday Club' and the like). Interestingly the band only had the song for a few days before what they thought was to be an audition performance for EMI, but was released much to their surprise as the solos were made-up on the spot! It sold very well in Europe too though figures have proven impossible to come by.
Their only other single release was 'I Gotta Have You' / 'Don't Stop' (1962) before concerns over lack of financial remuneration split the band.
From the ashes of The Tuxedos emerged 'The Innocents' to work with Mike Berry while Bobby Angelo also had a solo career throughout the rest of the sixties releasing a handful of singles on the Swedish label 'Sonet'. Dave Brown & Colin Giffin would later form the British psychedelic-pop group 'The End' and reunite with Bobby Angelo in 1967 for a single release together 'Mr. Love' / 'I Got Wise'.
Pete & Mick have played all their lives as pro musicians with some of the biggest names in the business such as The Kinks.
I'm indebted to Pete Creswell for some additional material and corrections.
Robert Lindsay - vocals
Mark Leask - guitar, vocals
John Williams - guitar, vocals
Ronnie Finlayson - bass, vocals
Alex Stenhouse - drums
Later:
David A Gilmour - guitar, keyboards, vocals
John Williams - guitar
Anthem was a 5-piece pop/rock band from Glasgow active throughout the pubs/clubs of Scotland and north England, formed in 1971 and versatile enough to play dance venues like the 'Kinema' and rock gigs such a the 'Burns Howff' in Glasgow. The Kinema material consisted of contemporary chart songs and they were always were well received here, while they also wrote and played original songs for audiences at the Rock venues. Notable supports included Frankie Miller & Shakin' Stevens.
Robert joined in 1974 and another member change took place in early 1975 when Mark Leask left and they were joined by David A Gilmour on guitar/keyboards.
Disaster struck in October 1977 when the group's van (with equipment valued at £8,000) was stolen. £8000 was a great deal of money back then and the equipment was never recovered, however the van was found later ... burned out. They struggled on for a year and despite a name change to 'Brooklyn', they eventually folded later in 1978.
Alec the drummer and Ronnie the bass player have both passed away through illness and as a tribute to them, the other three got together in 2014 to record the 'Anthem' album 'Let it Roll, Brooklyn'. This consists of 12 original songs written and performed at that time. It has been selling well on a 'word of mouth' basis with profits going to the Prince and Princess of Wales Hospice in Glasgow.
Robert (ex Mangas Colorado, Poly / Hombre) went on to join Sha-Boom & Street Party and went on to front another versatile wedding/party/function covers band in Glasgow called 'Bronx'.
Many thanks to Robert for the info above.


Image courtesy of Stuart Prentice
Al Jackson - vocals
Martin Baggott - lead guitar
Phil Cash - rhythm guitar
Don Gould - organ
Megan Davies - bass
Gerry Freeman - drums
The Applejacks originally came together as an addition to the bill of a Solihull Scout Troup's Gang Show and were called the 'Crestas' before renaming as the 'Jaguars' until eventually deciding on 'The Applejacks' in 1962 after adding Al Jackson on vocals.
Unusually they had a female bass player and never quite completely lost their skiffle roots.
Recording 'Tell Me When' (1964) for Decca, their debut recording went top ten, peaking at #7 They had two further moderate hits including Lennon and McCartney's 'Like Dreamers Do' in Jun 1964 and 'Three Little Words' in October 1964, but nothing followed despite the use of material by the aforementioned Ray Davies.
Post 1966, they had a successful career for a few years aboard some of the world's best known cruise liners such as the Queen Mary, Queen Elizabeth and QE2, working for Cunard.
Megan Davies had played previously with the 'No Name Skiffle Group' playing a four-string skiffle guitar.


My thanks to Stuart Prentice for this image & info.
Alex McKenzie - rhythm guitar / vocals
Ian Duffin - lead guitar
Frank Burns - cembalet
Hamish Hastie - bass
Brian Buist - drums
Richard Ligman - drums
James Robertson - vocals and sax
Ian Elder -
The Ardennes were from Levenmouth in Fife and later (after many changes of personnel) changed their name to Dum Dee Dum.
If you can add any further information to this piece please contact me here.
My thanks to Ian Haddow & Martin Ligman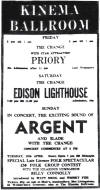 11th April 1971 'All Together Now' 1972
Rod Argent - keyboards
Russ Ballard - guitar, vocals
Robert Henrit - drums
Jim Rodford - bass
Other members:
John Verity - guitar, bass, vocals
John Grimaldi - cello, mandolin - violin
Argent was formed in 1969 by Rod Argent following the demise of The Zombies. They are probably best remembered for their 1971 single 'Hold Your Head Up' (No 5 in the UK) and 'God Gave Rock & Roll To You' from 1973 (later covered by Kiss) though there were several others. Mid 1974 Russ Ballard left and was replaced by John Verity & John Grimaldi. Their later material became heavier and strayed into the depths of prog-rock. They disbanded sometime in 1976. Albums included 'Argent', 'Ring Of Hands', 'All Together Now', 'In Deep', 'Nexus', 'Encore (Live)', 'Circus' & 'Counterpoint'.
Jin Rodford later joined 'The Kinks' and played on two albums in 1983 and 1984.
Brian Adams - ?
Gordon Sellar - bass
A 4-piece R&B group from Glasgow formed in 1963 who, in an attempt to emulate some of the success that 'The Luvvers' had with 'Lulu', recruited a 15 year-old Lorraine Goode from Drumchapel. The Glasgow Evening Times carried a half-page with photos at the time.
Brian Adams later went into management as BAM (Brian Adams Management) with acts such as 'Beggars Opera' and 'JSD Band'.
Gordon Sellar went on to play in many other acts including 'Beggars Opera'.
If you can add any further information to this piece please contact me here.
My thanks to Brian Geary & Colin Gordon.
Top
Davie Porterfield - guitar, vocals
Arthur Owen - guitar, vocals
Tony Barbara - bass and vocals
Brian Adams - drums
Reformed 1985
Davie Porterfield - bass, vocals (later guitar, vocals)
Arthur Owen - guitar, vocals
Pete Ballie - drums
Later:
Jock McGuigan - drums
Chick Clark - bass
Local Dunfermline rock chart covers outfit, Argus was originally formed in December 1972 and split 1979 when Arthur left to join a band called Curly. As Davie Porterfield explained they were essentially a jamming band because they rarely rehearsed.
They reformed as a three-piece for a short time and finally split in 1986.
Davie also played with The Nameless Ones & The Falcons
Arthur also played with The Nameless Ones & Mike Satan & The Hellcats & The Chessmen & Curly




Arrival (Decca 1970) Arrival (CBS 1972) I Will Survive (1970)
Dyan Birch - vocals
Carroll Carter - vocals
Frank Collins - vocals
Lloyd Courtenay - drums
Don Hume - bass
Later:
Lee Sutherland - bass
Steve Chapman - drums
George Lee - sax
Raphael Pereira - guitar then bass
Glen Lefleur - drums
Paddy McHugh - vocals
Tony O'Malley - vocals, keyboards
Glen Le Fleur - drums, percussion
Phil Chen - bass
Albums:
Arrival (Decca 1970)
Arrival (CBS 1972)
Singles:
Friends / Don't Turn His Love Away (1969) UK chart #8
I Will Survive / See The Lord (1970) UK chart #16
Let My Life Be Your Love Song / Out Of Desperation (1971)
Family Tree / Part Of My Dream (1971)
(The Theme From) Heartbreak Kid / Sweet Summer (1973)
Mr. Know It All / Not Gonna Worry (1973)

Reissues:
I Will Survive/See The Lord (1975)
Friends/I Will Survive (1978)
A pop/rock band from Liverpool who endured many changes of personnel before imploding with all members dispersing to other projects. They played at the ballroom on Sunday 27th February 1972 supported by Thin Lizzy and Barabbas.
Toni Arthur (now Toni Arthur-Hay, born Antoinette Alice Priscilla Wilson in 1940) was a much respected though not now widely known folk singer with her husband Dave, before her television career cemented her into the minds of the nation's children in the seventies where she is still revered in the minds of the resulting adults.

As a very young child she and her family survived an aerial bombing in their air-raid shelter and emerged to find their home destroyed. By the age of nine she began piano lessons, her aptitude was immediately obvious and she soon won a scholarship to the Royal Academy of Music, studied science and eventually trained as a nurse at University College Hospital.

It was during this period (around 1963) that she met folk-singer Dave Arthur, fell in love and married. They would go on to tour the world's pub and folk-club circuits including performances in Russia, America, Poland, Denmark and extensively in the UK during the sixties folk revival, singing mostly unaccompanied traditional folk ballads and releasing three fine albums: 'Morning Stands on Tiptoe' (1967), 'The Lark in the Morning' (1969) & 'Hearken to the Witches Rune (1970).

A producer spotted her in 1970 and she auditioned for and began more than ten years presenting 'Play School', the gentle, affectionately remembered BBC TV program and it's Saturday cousin 'Play Away' for seven years with Brian Cant attracting audiences of more than 15 million viewers!

She later pursued a serious TV acting career and landed parts in the West End and presented the breakfast television show 'TV-am'. Other career twists and turns included teaching comedians, presentational skills and founding her own drama school in Tunbridge Wells.

After the failure of her first marriage, she married Malcolm Hay in 1995 and maintains a friendly relationship with Dave Arthur and is an active member of her local community teaching a mixture of eastern philosophies while and often engaged with children's storytelling too. She is also a published author, playwright and director.
Mark Ashton was 'Rare Bird's original drummer / backing vocalist before he embarked on a solo career, cutting one 45, 'Get Up & Groove' / 'Barking Dogs' (1972), with guest slide guitarist Cyril Jordan of 'The Flamin' Groovies'.
If you can add any further information to this piece please contact me here.


Image from Stuart Prentice
Ian Orr - vocals, harmonica
Alistair Black - lead guitar, backing vocals
Keith Henderson - backing vocals, rhythm guitar
Ricky Alcorn - bass, backing vocals
Arthur MacKay - drums
Stuart Tosh - drums

Formed around 1963, The Athenians were rock'n'roll and rhythm and blues orientated, with an apparently rousing onstage show. This is borne out by some of their recorded output. The best is captured on a 1964 Waverley release, coupling two harmonica-fired r'n'b classics, 'I Got Love If You Want It' and 'I'm A Lover Not A Fighter'. They were the first Scottish beat group to release a single 'You Tell Me' (1964) which was used to raise funds for Edinburgh student's charities.
The Athenians' takes of Chuck Berry's Little Queenie, Don Covay's Mercy Mercy and especially, their own debut offering from early 1964, 'You Tell Me', written by Orr and Henderson, are rendered a trifle flat and lifeless by the sound limitations. That said, they did turn in a delightfully rollicking 'Louie Louie' for an EP on an ESCA, also from 1964.
A tough solo spot too that lends extra credence to a local story that lead guitar player Ally Black was regarded by many as the Jeff Beck of the North. Praise indeed.
They certainly were a pretty hipped-up combo, and even had the suss to cut a version of 'Paul Revere and The Raiders' 'Steppin' Out' for inclusion on yet another EP for ESCA.
Although The Athenians were easily one of Edinburgh's top draw acts during 1964-65, by 1966 they weren't playing many gigs, let alone still making records. Their last single may have been in 1965 and features the group in a distinctly mellower mood, covering 'Thinking Of Our Love', one of The Shadows' vocal numbers. The flip ups a gear with a competent, reading of 'Mercy Mercy'. Those who remember seeing them live say they were among the best of the groups at that time.
Stuart Tosh would also play with 'Pilot', '10CC' & 'Alan Parsons'.
I'm indebted to Bill Nisbet who provided the line-up information from a copy of 'Scottish Sounds'.







Atomic Kitten Atomic Kitten on stage at 'The Ballroom' July 2001 Arriving outside Atomic queue chaos
(These photos courtesy of John Murray) (John Murray) (John Murray)
Kerry Katona - vocals
Elizabeth McClarnon - vocals
Natasha Hamilton - vocals
Later
Jenny Frost - vocals
Liverpool-based all-female vocal pop trio (formed between 1997 & 1999) who were the first ever British female trio to score three #1 singles. In 2000 the girls won the prestigious Best Newcomer Award at both the Smash Hits Poll Winners Party and the Disney Awards.
Jenny Frost (from Precious) replaced Kerry Katona when she left to have a baby in 2001 and it was this new line-up that performed at The Ballroom on 21st July.
Their first single: 'Right Now' reached UK Top 10 in Dec 1999. They have scored several hits since including three no 1s and eight other top tens. All four albums have graced the top ten and the first two hit the top-spot.

Vincent Crane - Hammond organ, piano
Carl Palmer - drums
Nick Graham - bass, vocals
Later:
John Du Cann - guitar, vocals
Paul Hammond - drums
Peter French - vocals
Chris Farlowe - vocals
Steve Bolton - guitar
Bill Smith - bass
John Goodsall (aka Johnny Mandala) - guitar
Ric Parnell - drums
Vincent Crane, real name Vincent Cheesman, was born in Reading, Berkshire on 21st May 1943 and grew up in Battersea, South London. He attended Westminster City Grammar School, and at the age of fifteen, taught himself to play the piano. At eighteen he attended the Trinity College of Music in London where he graduated in 1964, and while studying classical music there he also played blues and jazz at the Marquee and the 100 Club in his spare time. After graduating from Trinity he decided to drop the classics and formed the first of several short-lived bands.
In 1965 Vincent lived in a shared house in Fulham where he met Arthur Brown, three months later The Crazy World of Arthur Brown were formed and originally started out with just improvisation, and after a year of touring Britain, they played their first of many gigs at the U.F.O. Club in London where most psychedelic bands of the 60s started their careers. Two years later they were signed to Track Records, the same label which signed Jimi Hendrix the year before, and that same year The Crazy World of Arthur Brown's first album went straight to No. 1 in Britain and many other countries, as did their single "Fire" which, amongst other songs, Vincent co-wrote.
During their tour of the U.S. the band had a number of management and contractual problems and they split half way through the tour, and it was also during this time that Vincent's latent psychiatric problems first became a problem in the form of bizarre manic escapades, followed by long periods of depression in hospital. On returning to Britain Vincent Crane and Carl Palmer decided to form a new band, with the name Atomic Rooster.
Atomic Rooster MkI consisted of: Vincent Crane - Hammond organ and piano, Carl Palmer - drums, and Nick Graham - bass and vocals. They recorded their first album, titled Atomic Roo-o-ster, for B&C Records during late 1969, and was released in February 1970, reaching No.49 in the charts. A track from this album was released as a single - "Friday 13th" but failed to make the charts.
Just before the release of the first album, John (Du) Cann, previously the guitarist and vocalist with 1960's cult psychedelic bands Andromeda, The Attack, and The Five Day Week Straw People, had replaced Nick Graham, and it was decided that John should also replace the guitar and vocals on the US release of Atomic Roo-o-ster. By the autumn of that year, Carl Palmer was persuaded to leave the band to become part of Emerson, Lake and Palmer, but John managed to recruit drummer Paul Hammond as Carl's replacement. With this line-up, Atomic Rooster recorded their best-known album "Death Walks Behind You". The album was a big success, and it also provided them with their first top twenty single, "Tomorrow Night" - reaching No. 11 in the U.K. charts.
In 1971 the band released their biggest ever hit - "Devil's Answer", written by John Cann, reaching No.2 in the UK, and also charting worldwide. Soon afterwards, the band had moved over to Pegasus Records (B&Cs "progressive" label) and recruited Pete French on vocals. With this line-up, they recorded Rooster's third album "In Hearing Of" reaching No. 18 in the UK charts of July that year.
Vincent was once again unhappy with the direction the band was taking, wanting to move away from the dark, almost satanic image portrayed by their second album, towards a lighter, funk/soul sound. Uncomfortable with this new direction, John Cann and Paul Hammond left to form Bullet (later renamed Hard Stuff) and were immediately signed to Deep Purple's own record label, Purple Records, on which they released two albums and a string of singles. With Hard Stuff, John continued developing the dark, hard rock that he had brought to Rooster, and as a result took with him Rooster's disaffected fans.
Vincent reassembled a completely new line-up of Atomic Rooster, this time with Chris Farlowe on vocals, Steve Bolton on guitar, Bill Smith on bass (for one track only!), and drummer Rick Parnell who had previously joined the band for a short while when Carl Palmer left. This time Rooster signed to Dawn Records and released their first album for the label in 1972 titled "Made In England". With this new funk/soul direction, Rooster lost the vast majority of their hard-earned fans. Neither the album or the singles taken from the album charted. Soon afterwards, Vincent replaced Steve Bolton with guitarist Johnny Mandala and the following year released the album "Nice and Greasy" which again failed to make any sort of impact. Not suprisingly, Vincent disbanded Atomic Rooster.
After Hard Stuff, John DuCann joined Thin Lizzy, replacing Gary Moore who was about to leave to join Colosseum, and completed an extensive European tour to promote their last single for Decca, titled Little Darlin' , before leaving to concentrate on writing more of his own material. John signed a song-writing deal with a major publishing company, through which he was offered a deal with Arista to release his first solo single, titled "Throw Him In Jail" (single of the week in NME). An album, titled The World's Not Big Enough, was to be released, but due to changes in the A&R department at Arista the LP was shelved (now available on Angel Air). For the next two years John was writing successful TV advertising jingles, which lead him to his next top-twenty hit single "Don't Be A Dummy", originally a theme for the punky Lee Cooper jeans TV advertisement.
In late 1979, John decided not to follow up with his Don't Be A Dummy hit as he began to receive calls from several record
companies (Virgin and EMI amongst them) offering deals to reform Rooster. As the so-called NWOBHM (or New Wave of British Heavy Metal) had started to take hold, John thought it was a good enough reason to contact Vincent with his proposal to reform the band.
The band signed to EMI Records and a self-titled album was recorded with session drummer Preston Heyman. The single "Do You Know Who's Looking For You?" was released, but neither the album or single made the national UK charts, although for several weeks it had topped the heavy metal charts of Sounds, NME and Record Mirror. Despite this, and a heavy touring schedule, EMI dropped the band.
With the classic line-up restored, they recorded two singles, "Play It Again" and "End Of The Day" and toured the UK extensively. Once again, this time due to industrial disputes at the record pressing plants, they failed to make the UK Top 40 despite repeatedly topping the heavy metal charts with both their earlier and new material, and once again they were dropped by their record label. The strain took its toll, and John decided to leave the band, but Vincent continued, and in 1983 was signed by a small independent label, Towerbell Records.
Vincent decided once again to change the sound of Rooster - gone were the heavy Hammond organ-dominated riffs, and in its place were piano and synthesiser compositions, with the organ non-existent or far back in the mix. Vincent reworked several compositions he had had for a number of years, and put together a new album, titled Headline News.
Vincent was unable to persuade John DuCann to play on the album, but John suggested Bernie Torme as a replacement., and Tom Newman, who produced the album was a close friend of Pink Floyd's Dave Gilmour and managed to arrange for him to play on some of the compositions.
With this brave (and poorly recorded) attempt, and despite Dave Gilmour's trademark guitar, neither the album or the single taken from the album managed to reach the national, independent, or even the rock/metal charts that the band had dominated during 1980-82, partly due to the record company going bankrupt immediately after the release, but mainly because of the army of new fans that Rooster had won over were once again alienated from the band. The album was perceived by fans as more of a Vincent Crane solo album, rather than something equal to that of the DuCann/Crane/Hammond line-up.
This seemed to be the last straw for Vincent Crane and he once again gave up with Atomic Rooster, and in February 1984 Vincent accepted an offer to join Dexy's Midnight Runners for their album "Don't Stand Me Down" and subsequent tour. In late 1988 it was rumoured that Vincent and John were once again going to reform Atomic Rooster, but on February 14th 1989 Vincent committed suicide at his home in Maida Vale, London.
Today, John Du Cann continues to write and record music, and has been busy remastering his entire back catalogue of material, and to date has re-released The Attack, Andromeda, Five Day Week Straw People, most of his Atomic Rooster material and his 1977 solo album, The World's Not Big Enough on Angel Air Records.
Info courtesy of: www.atomicrooster.co.uk
Kevin Sherry - vocals, guitar
Colin McArdle – vocals, bass
Jamie Houston - guitar, keyboard, glockenspiel, vocals
Tim Davidson - guitar, pedal steel
Noel O'Donell - drums, vocals
Attic Lights were formed in 2005 by Kevin Sherry, Colin McArdle and Jamie Houston and joined later by Tim Davidson & Noel O'Donnell.
They very soon released an eponymous independent EP 'Attic Lights' in 2005 followed by another, 'Shiver the Trees' and a single, 'Martin' in 2006.
In 2007 they released another single 'God', were acclaimed for their appearance at T in the Park and after much industry interest, signed to Island for 5 albums that same year.
Their first album, 'Friday Night Lights' was released after a short delay in 2008 after tours with 'The Rushes' & 'Scouting For Girls'. They also released a new single 'Never Get Sick of the Sea' and re-released 'God' for 2008 complete with a cover version of 'Mental as Anything's 'Live It Up' and a supporting video featuring comedy actor Sanjeev Kohli (perhaps best known for his work in the hugely popular Scottish TV sitcom 'Still Game') in the title role!
Video support for their single releases often features well known and perhaps not so well-known Glasgow landmarks and retail premises, while the video for their next single 'Bring You Down' included an appearance by Lisa Minelli's ex-husband, David Gest who delivers a monologue referring to his famous relationship!
In 2008 another single was released called 'Wendy'.
Their frequent four-part harmonies often contribute to frequent comparisons with 'Teenage Fanclub', while powerful arrangements and luscious pop melodies are reminiscent of sixties California or Beach Boys with balls.
Julian Isaacs - vocals, rhythm guitar
Robin Bibi - lead guitar
Jim Payne - bass
Chris Millar (aka Rat Scabies) - drums



Auntie Pus, real name Julian Isaacs, was an aspiring Syd Barrett-influenced singer/songwriter, who already had the nickname of 'Auntie' in his home locale of Wimbledon before the advent of the long hot summer of '76 and the strengthening gusts in the sirocco of change that was about to rip through the dust bowl of the UK music industry.
Auntie worked solo: long praised for his quirky, obscure esoteric lyrics, his contemporaries found his idiosyncratic concepts of timing and tuning too untenable for collaboration. Pus got added to Auntie around February 1977, when Auntie was filling out his entry form for that Years Melody Maker Folk/Rock competition along with a work mate: "We didn't really know much about Punk, just that most of the artistes' stage names were either offensive or disgusting or both".
"I'd read the famous Caroline Coon article about the '76 punk festival in the South Of France, and knew that my old chum Chris Millar was now Rat Scabies of The Damned, and me and my mate just started chucking names into the air to couple with Auntie. After rejecting things like 'shit', piss', 'spunk', etc., we finally settled on Pus. The entry form for the competition was duly completed, and the London heats were successfully fought and lost, with the support of Auntie's manager, a larger than life antiques and American car dealer from Brighton who had recently turned musical entrepreneur.
Fast forward to July 1977, when David Scott was promoting weekly punk gigs at the Hastings Pier Ballroom. After the coincidence of David Scott being about to put The Damned on for the second time and Auntie's links with Rat Scabies emerged, Auntie was placed on the bill between the yet to be Nazi band Skrewdriver and The Damned themselves.
Not sure what he should wear on stage for his punk premiere, Auntie did a little research in fanzines and decided that his old junior public school uniform and cap were not inappropriate, in conjunction with the big quiff and long sideburns of the rockabilly rebel that he also sported. The Hastings gig led to both a favourable review in the Record Mirror and an introduction to Nick Leigh, then The Damned agent Derek Block, who also booked the acts for the Vortex.
It also inspired the front page headline "Public School Punk Rocks" in Auntie's local rag, the Wimbledon News. Auntie went on to support The Ants and Siouxsie & The Banshees at The Vortex on Halloween night that year (solo), & Johnny Thunders & The Heartbreakers there three weeks later (with Rat Scabies on drums and Jim Payne on bass).
After that, Auntie's aspiring parallel careers in shoplifting and drug misuse took priority until approximately a year later when, with the financial backing of David Scott and the musical backing of Rat Scabies plus Robin Bibi (school friend and musical collaborator of Auntie's to thus day) on lead guitar and Jim Payne on bass, Auntie entered the renowned Pathway Studios in North London to record two of his most popular and enduring compositions: 'Halfway to Venezuela' and 'Marmalade Freak', as a double A-side single.
The two tracks were produced by Dick Taylor, lead guitarist of the Pretty Things, producer of the first Hawkwind album, and a former neighbour of Auntie's in Wimbledon Village.
Unfortunately, theft and drugs once more took precedence over rock 'n' roll and the masters gathered dust until summer 1980 when Auntie was being looked after by The Ruts' manager, Andy Dayman, who successfully negotiated a national distribution deal with Spartan.
The record duly emerged blinking on the by the New wave headlights, and was awarded single of the week in Sounds. 'Halfway to Venezuela' / 'Marmalade Freak' (Septic Records 1980) El Capitano! Image Mick Mercer Late '78-late'80 saw Auntie survive, against most known odds, four Damned tours, 3 Ruts tours, and some of a Splodgenessabounds tour (some because he was unceremoniously escorted off the agenda by the PA Co) as compare, support act and general wind up merchant.
Captain Sensible remembers... "Raving mad! We'd park up outside a music shop. I'd go in to get some guitar strings and afterwards we'd be sitting there in the van with the engine running saying "Where's Pus?". Suddenly you'd turn round and see some worker from Woolworths holding the shop door open and Pus would come out holding a whole load of stuff, electric kettle's, toasters, this and that. He'd bung 'em into the van saying "Drive off quick I've nicked 'em". We'd be saying "Well how the hell did you get away with that. They held the door open for ya". He'd say "Look if you come out with so much stuff. They don't believe your nicking it". He was actually a brilliant thief. He used to go up and down the queue of people outside the gig, selling toasters and stuff. It was absolutely brilliant".
By 1981 Auntie Puss had matured - or decomposed, according to your viewpoint, into 'Auntie & The Men From Uncle', featuring Robin Bibi and Dick Taylor on twin lead guitars, and Arturo and Esso from the Lurkers on bass, drums and kebab consumption, or Danny Heatley formerly drummer with The Exploited, Boothill Foot Tappers, Shane MacGowan and many others... 'Halfway to Venezuela' was re-recorded with some new verses and released on a private limited edition CD by Auntie in 1999, accompanied by Robin Bibi, with Segs from The Ruts on Bass and The Flying Dutchman, Hans Ferrao, on drums. The CD also included a dance remix by Ashley Wales of Spring Heel Jack, and a re-issue of the original 1978 recording.
Bruce Watson of Big Country tells that at one time, Auntie Pus had only one sideburn?)


L-R Steve / Ricky / Stuart / Ken / Jack
Kenny Charleson - lead vocals (65-66)
Ricky Ash - lead guitar, backing vocals (65-72)
Steve Pstrowski - rhythm guitar, backing vocals
Brian Keddy - bass (65-66)
Stuart Tosh - drums, backing vocals (65-66)
Later:
Timon Rose - Keyboards (67-69)
Tom Davidson - lead vocals (66)
Matt Wilkie - lead vocals (66-72)
Laurence Findlay – bass
Ian Milligan - drums (66-69)
Brian Dishington? - guitar
Named after the hugely popular TV show starring Patrick McNee & Diana Rigg The Avengers were an Edinburgh beat / chart covers group active from around 1965 to 1972 and contemporaries of 'The Athenians'. In 1965 they recorded a cover version of The Beatles' 'I Don't Want To Spoil The Party' for a four-track EP for the Edinburgh Students Charities Appeal which also featured The Athenians' version of 'Louie Louie', 'The Buildings' by Ray and Archie Fisher and the Mingulay Boat Song by Lynn and Kathy.
Unfortunately it has been said that this sole recording is not at all representative of their sound. Though signed to Edinburgh's Waverly records, no other disc was ever released. They performed with The Bachelors and Billy J Kramer and replaced The Athenians as residents at The Gamp (venue) in Edinburgh.
Ken's brother was the late Scottish actor Ian Charleson (probably best known for his parts in 'Chariots of Fire' & 'Gandhi').
Stuart Tosh turned up later in Scottish pop group 'Pilot' who released the highly successful singles 'January' & 'Magic'.
Timon Rose was asked to join the band after a meeting with Ricki Ash (both attended Edinburgh Art College). Hitherto, the Avengers had not had a keyboard so this was a new departure for them.
The longest serving member turned out to be Ricki Ash, the lead guitarist. When Kenny Charleston, the vocalist left the band, his place was taken by Tom Davidson. Tom's stay with the band was fairly short-lived as he emigrated (perhaps to Australia). He was replaced by Matt Wilkie.
In the mid to late 60s the band concentrated in appearing at gigs in and around Edinburgh, mainly the Gamp club and also in the University and Art College. Also well known clubs invited the band including the Gamp Club, the International Club (Princes Street) and The Place (Victoria Street). Occasionally, appearances occurred in miners clubs and ballrooms around the Lothians including the Loanhead Miner's Club, The Bonnyrigg Regal, the Rosewell Institute and other social gathering points.
The line had changed too. Steve Pstrowski , Brian Keddy and Stuart Tosh all left the band around 1966-7. The new faces were Laurence Findlay – bass player (formerly with the Jim Baikie Band), Ian Milligan - drums and Timon Rose – Keyboard. Ian Milligan and Timon Rose later left the band to further their studies.
The band soldiered on into the 70s and was noted to be playing regularly in the Lothian Arms Hotel in Dalkeith under the management of Danny Bissett at the time.
Eventually, the band was wound up as Rick Ash, the lead guitarist was to start a new business venture which required his attention full time. This meant that the final line was broken.
My thanks to Timon for additional information.


AWB logo
(Scottish funk band from Dundee)
Alan Gorrie - bass, guitar, lead vocals
Onnie McIntyre - guitar, vocals
Klyde Jones - keyboard, bass, lead vocals
Fred "Freddy V" Vigdor - saxophones, keyboards, vocals
Brian Dunne - drums
Celebrating 25 years, and Still Funkin'!
For the better part of the last twenty-eight years, the Average White Band has performed sold-out shows around the world, confirming the timeless appeal of their brand of funky soul. Formed in 1972, their roots may have been Scottish, but the collective heart of the band belonged to the soulful sounds coming from Memphis, Detroit, and Philadelphia in the 60's.

In January 1975 their break-out single "Pick Up The Pieces" and the album AWB reached the top of the Pop and R&B charts. For the remainder of that decade, the Average White Band took its killer groove around the world, leaving in its wake a trail of hits such as "Person To Person", "Cut The Cake", "Schoolboy Crush", and "Queen Of My Soul". In 1980 the dance-single "Let's Go 'Round Again" enjoyed the longest chart run of the year in the United Kingdom. The original AWB unit disbanded in 1982, sharing the fate of many R&B artists who found themselves swimming against the strong tides of disco and punk rock. Ten albums, three Grammy nominations, and a large multi-racial following was the band's legacy....but their story wasn't over.

The band regrouped in 1989 and have toured relentlessly ever since, spending nearly three-quarters of each year on the road. Their newest CD, Face To Face, is the band's first live recording in over 20 years, the last being the 1976 double album, Person To Person. Face To Face captures the raw energy of AWB's soulful funk in an appearance at San Francisco's legendary Fillmore Auditorium. It was released by EMI in August, 1999. But '99 was an eventful year for AWB in many other ways: VH-1 profiled them on "Where Are They Now?"; the Rev. Jesse Jackson joined them onstage during a recent appearance from Chicago on radio's "Tom Joyner Morning Show"; and the band was honoured to receive the keys to the city of New Orleans after a triumphant performance at the "Essence Music Festival" at the Superdome.

One of the most "sampled" bands ever, AWB's music has been used by over 100 young hip-hop and rap artists, including Janet Jackson, Bobby Brown, T.L.C., Lena Conquest, and Puff Daddy. "Let's Go Round Again" is once again a hit in the U.K. thanks to a cover by the popular singer, Louise. Back in the U.S., AWB's #1 hit "Pick Up The Pieces" has been given the big band treatment by Phil Collins on his new release, A Hot Night In Paris, was turned into a "musical conversation" by comedian Chris Rock on his latest CD, Bigger and Blacker, and was chosen by Mitsubishi for a commercial introducing its "2000 Eclipse" model. "Pick Up The Pieces" also appears in the soundtracks to the movies Swingers, The People vs. Larry Flynt, Private Parts, Bowfinger, and Blue Streak.
Info courtesy of: www.averagewhiteband.com



Eileen (aka Elaine) Murtagh - vocals
Valerie Murtagh - vocals
Raymond S Adams - vocals
The Avons were a British singing and song writing trio consisting of sisters in law Elaine (born County Cork in 1940) and Valerie Murtagh (born London in 1936), together with Raymond S Adams (born in Jersey in 1938). They had previously been 'The Avon Sisters' before recruiting Ray in 1959 and shortening their name.
Their version of 'Seven Little Girls' outsold the Paul Evans original in UK and their follow-ups, 'You're Only Young Once' and 'Four Little Heels' made the Record Retailer Top 50 as did their version of 'Rubber Ball' which lost the chart race to both Bobby Vee and Marty Wilde.
Despite airplay of their other singles, their only hit was a cover of 'Seven Little Girls' which beat the USA original by Paul Evans into second place in the chart stakes. They had more success as songwriters than as singers.
'Valerie Avon' and Harold Spiro later wrote the 1974 UK entry to the Eurovision Song Contest, 'Long Live Love', performed by Olivia Newton-John.
Roger Bloom - Vocals
Roger joined after leaving 'Roger Bloom's Hammer', replacing his brother, Harvey Bloom in the band

The Axe toured the UK, Germany, Sweden, Denmark and Israel and split in 1971.
If you can add any further information to this piece please contact me here.


Next