Biogz
'S'
Here you will find some short biographies (biogz) of solo artists whose surname commences with this letter or bands with names commencing with this letter (omitting any commonly used prefix such as 'The').
Click on the name below or scroll down the page at your leisure.
Mike Sagar and the Cresters
The Saltmine Band
Salvation
Sammy
Tommy Sampson
Wes Sands and the Leroys
Santos
The Sapolas
Peter Sarstedt
Sash!
Mike Satan & The Hellcats
The Satan Change
Leo Sayer
The Scars
The Scene Showband
Brinsley Schwartz
Colin Scot
Scotch
The Searchers
Peggy Seeger
The Senate
The Senators
The Sensational Alex Harvey Band
Sergeant
7 West
7th Avenue
The Shadettes
Jimmy Shand Junior
Shane & The Shane Gang
Del Shannon
Sandie Shaw
Pete Sheppard
The Shermans
Bert Shorthouse
The Shy Limbs
Silly Wizard
Silver
Johnny Silvo
Simone
Sir Percy & The Riot Squad
Skeets Boliver
The Skerries
Skid Row
The Skids
The Skinflints
Barry Skinner
Slade
Slaughter & The Dogs
Kenny Slaven
The Slaves
Sleaz Band
Sloopy
Slurpy Gloop
The Small Faces
Smiles
Dick Smith Rock n Roll Band
Whistling Jack Smith
The Sole Generation
Jimmy Somerville
Sonia
Soul Staxx
Sound City
The Sound of the Echoes
Sounds Incorporated
The Sounds Of The Blues Brothers
Sparrie
The Spectrum
The Spellbinders
Arthur Spink
The Spinners
Spooky Tooth
St Cecilia
Isla St Clair
St Louis Union
Crispian St Peters
Stag
Staicase
Edwin Starr (& The Boys / The Team)
The Stars From The Commitments
Status Quo
Stealers Wheel
Steamhammer
Cat Stevens
Tiger Tim Stevens
Stevenson's Rocket
Davey Stewart
Jermaine Stewart
Stiff Little Fingers
The Stoics
Cissy Stone
Stone The Crows
Robb Storme & The Whispers
Michaela Strachan
Straits
The Stranglers
Strawberry Switchblade
The Strawbs
The Strollers
Studio 54
Studio Six
The Subject
Suicide
Redd Sullivan
The Sun
Monty Sunshine
The Sunshine Underground
Sunset Culture
Supertramp
Lord Caesar Sutch & The Roman Empire
Doreen Swan
Sweet Blindness
The Swinging Blue Jeans
The Swingtette Dance Band / The Swingtettes
Sybil
Syndicate
Mike Sagar - vocals
Richard harding - guitar
John Harding - bass
Johnny Casson - drums
Malcolm Clarke - vocals
(Not to be confused with Johnny Peters and the Crestas (from Manchester)!
Originally The Cresters were formed in Bramley near Leeds in Yorkshire to back-up singer Mike Sagar. They were known as 'Mike Sagar and the Cresters', 'The Cresters', 'Malcom Clarke and the Cresters' and simply ' The Crestas'.

The band signed to HMV and recorded two singles, 'Deep Feeling' / 'You Know' (1960), 'The Brothers Three' / 'Set Me Free' (1961) as 'Mike Sagar and the Cresters' followed by two more, both for HMV in 1964, 'Just Don't Understand' / 'I Want You' and 'Put Your Arms Around Me' / 'Do It With Me' as 'The Cresters'. Also Richard Harding released an instrumental solo single 'Jezebel' / 'Temptation' in 1961.
Doubtless they will never forget supporting The Beatles in 1963 but most will remember them for Richard Harding's technical ability on guitar which was and continues to be much admired, as was his Gretsch White Falcon guitar, so far out of the financial reach of most at £700 (18 months wages for most at the time!) albeit acquiring the guitar may have had something to do with his father owning a music shop!
Their last single (for Fontana Records) 'To Be Loved' / 'When I Fall In Love' as 'The Crestas' was released in 1965 before they evolved into cabaret work in the eighties with Malcolm Clarke on vocals until he died and John took over on vocals. They eventually called it a day in 1984.
John Harding had a 3-year solo career following their demise and drummer, Johnnie Casson is now a successful club comedian with TV appearances under his belt, while Richard Harding is currently a member of country band, Dillinger.

Ghoulz (2011)

Known members:
Dave Pope - vocals
Phil Barker – bass
The Saltmine Band (aka 'Dave Pope & The Saltmine Band') were a Christian music group active mid eighties to mid nineties which later became 'Funky Beehive' then simply 'Beehive'. 'Beehive' was a white five-piece that were together for about 10 years, reputed to be one of the UK's hardest gigging gospel acts with 200+ gigs a year. They won the MOBO Award for Best Gospel Artist in 1997 but split a couple of years later.
'Dave Pope & The Saltmine Band' released albums: 'Royal Praise' (on 'Day Spring' label) & 'Living sacrifice'.



kevinmcginlay.com kevinmcginlay.com

Kevin McGinlay - vocals
Jim McGinlay - bass
Ian Kenny - guitar
Mario Tortolano - keyboards
Nod Kerr - drums
Later:
Brian Denniston - guitar
Matt Cairns - drums
Robin Birrel - keyboards
Billy MacIssac - keyboards
Kenny Hyslop - drums
Jim (Midge) Ure - guitar, vocals
Kevin McGinlay formed a band called 'The Strollers' with his brothers Jim (bass), Hugh (rhythm guitar) and cousin Ernie Slater on drums around 1964, playing local gigs in Glasgow and engendering sufficient support to form a fan club. Hugh left a year later and despite his replacement they split around 1965/6.
Around 1968/9 Kevin rejoined Jim with drummer George Wade and guitarist Brian Denniston to form 'Friendly Persuasion' before a local agency took notice and shortly after the line-up was changed as was the name, to Salvation' in June 1970. By the end of the year Brian Dennison returned to replace Ian Kenny.
They played mostly heavy metal covers & often played in 'Clouds' a disco/club situated above 'Green's Playhouse' in Glasgow (later 'The Apollo').
Around May 1971, Nod left to join 'The Poets' and was replaced by Matt Cairns while Mario was also replaced by Robin Birrel. Soon Brian left again and Kevin adopted the guitar work for about six months until Robin & Matt were replaced by Billy MacIssac from 'The Bubbles' & Kenny Hyslop from 'The Beings'. Guitar duties then fell to another new recruit, Jim (Midge) Ure from local band 'Stumble'.
It was Kevin who re-christened Jim as 'Midge' (phonetically 'Jim' backwards) to avoid having two Jims in the line-up.
Their first gig with this line-up was at Glasgow Technical College on 17th March 1972 with a set of covers & originals. In November 1973 they supported 'The Sweet' at The Apollo, then later on 27th April 1974 Kevin left to pursue a solo career.
The remaining four-piece changed their name to 'Slik' in November 1974 and adopted American Baseball outfits to give them a recognisable image and had a #1 UK chart hit with 'Forever & Ever'. Bass duties later fell to Russell Webb (later of The Skids). Kenny Hyslop (would later turn up in The Skids & 'Simple Minds').
'Slik' later morphed into 'PVC2' then replaced Midge Ure with Willie Gardner to become 'The Zones'.
My thanks to Kevin McGinlay for much of the above.

Keith Gemmell - saxophone
Mike Hodgkinson - organ, vocals
Geoff Sharkey - lead guitar, vocals
Paul Simmons - bass
Mick Underwood - drums
Rock band 'Sammy' released an eponymous album in 1972 along with two singles. They were formed by Mick Underwood previously of The Outlaws, The Herd, Episode Six, & Quatermass. He would go on to play with Ian Gillan.
Info from: The Tapestry of Delights - The Comprehensive Guide to British Music of the Beat, R&B, Psychedelic and Progressive Eras 1963-1976, Vernon Joynson ISBN 1 899855 04 1
If you can add any further information to this piece please contact me here
The Tommy Sampson Orchestra/Band

Some of those who played with Tommy between 1947 and 1948 are listed below:
Stan Reynolds - trumpet
Duncan Campbell - trumpet
Alec MacGregor - trumpet
Cyril Narbeth - trumpet
Ron Simmonds - trumpet
Charlie Evans - trumpet
Mike Asher - trumpet
Chick Norton - trumpet
Stan Hibbert - trumpet
Ted Brennan - trumpet
Pete Pitterson - trumpet
Terry Lewis - trumpet
Ralph Hutchinson - trombone
Andy Young - trombone
Bill Paxton - trombone
Clare Walsh - trombone
Johnny Keating - trombone
Ken Goldie - trombone
Wally Smith - trombone
Jack Wilson - trombone
Jimmy Wilson - trombone
Tommy Cook - trombone
George Hunter - saxophone
Lew Warburton - saxophone
Henry MacKenzie - saxophone
Joe Temperley - saxophone
Jimmy Waugh - saxophone
Charlie Payne - saxophone
Mike Senn - saxophone
Jimmy Simmons - saxophone
Bill Skeat - saxophone
Danny Moss - saxophone
Dave Simpson - piano
Andy Dennitts - piano
Ian Christie - piano
Sammy Stokes - bass
Johnny Hawkesworth - bass
Terry Walsh - guitar
Dougie Cooper - drums
Jean Miller - vocal
Rosemary Squires
Lynda Russell - vocal
Edwin Holland - arranger
Scotland's 'King of Swing', veteran Big Band leader, Trumpeter, Cornet player, Bugler, vocalist & choral arranger, Tommy Sampson was born in Newhaven, Edinburgh in 1918 and began to play cornet with The Leith Salvation Army band at the tender age of five. By the age of fourteen he was a competent soloist and made his first broadcast in 1933 with George Watson's College Dance Band on Children's Hour. He was depute bandmaster by eighteen though he left one year later.
In 1939, he joined the Ordnance Corps, was commissioned into The Royal Artillery in 1940 and saw action in North Africa, before being captured by Italian forces at the fall of Tobruk in June 1942. He led POW camp orchestras both in Italy and Germany before being re-patriated to Scotland in 1945 where he led the Scottish Command Dance Orchestra until his demobilisation June 1946.
Sampson formed a seventeen-piece band in January 1947 to play at Leith's Eldorado Ballroom. This band which was reputed to have been the best in Britain at the time, toured Germany, Italy and Britain extensively and made three BBC broadcasts before it was disbanded around Christmas 1949. Shortly thereafter thirteen of his band were to be found in Ted Heath's Band.
In the fifties Tommy worked as a 'song plugger' for Chapell's Music Publishers and in 1951 'stood-in' for a live BBC TV broadcast with 'The Song Peddlers', a performance which included a young dancer by the name of Audrey Hepburn. He was then asked by George Mitchell to arrange a choir for a new musical BBC TV show series. It turns out that having Tommy on-board was a prerequisite for the BBC to go ahead with the hugely popular 'Black & White Minstrel Show'. Tommy sang, arranged and conducted The George Mitchell Singers for around ten years. One of the choir asked Tommy to teach him choral arranging and Mike Sams later became one of the best vocal arrangers in the business.
Tommy sang with 'The Sapphires' until 1954 and on Frankie Vaughan's early recordings including 'Green Door' and later took over the BBC Welsh Dance Orchestra & Choir. Upon his return to Scotland, he reformed a band that was busy in the Glasgow area until the early 1990s and he often appeared at the Edinburgh Jazz Festival and gave much of his time to charity fund raising activities and The Salvation Army.
Tommy met and worked with many of the greats of entertainment including great personal friend Joe Loss, sax virtuoso Joe Temperley, Lena Horne, Spike Milligan, Peter Sellers, Harry Secombe, Billy Connolly, Michael Aspel & Una Stubbs. Tony Middleton wrote & published a bio-discography of Tommy in 1992. Tommy's bands numbered up to twenty musicians and were sometimes billed as: 'Twenty Mighty Men'. Billy Hunter of 'The Topnotchers', 'Billy Hunter & His All Star Band' and 'The Red Hawks' was once his Lead Trumpeter.
Tommy who was unwell at the time, refused to give in to illness and managed to perform his annual Christmas carol concert in 2007 and gave his last performance in August 2008 at the Edinburgh Jazz Festival.
Tommy lived in the Touch area of Dunfermline and sadly died aged 90, on Monday 20th October 2008 in Queen Margaret Hospital Dunfermline.
Info from: 'Bygone Dunfermline' (Winter 2004) & Ron Simmonds (who sadly died on 24th October 2005) www.jazzprofessional.com
Wes Sands was the pseudonym of Clive Robin Sarstedt. Robin is also the youngest brothers of Richard Sarstedt (aka Eden Kane) and Peter Sarstedt (well known for his UK #1 hit 'Where Do You Go To My Lovely?'). Robin also performed as Clive Sands and joined The Deejays in the mid sixties in Sweden.
Wes was managed and recorded by the famous recording innovator Joe Meek and had a surprise UK #3 hit in 1976 with 'My Resistance is Low' as Robin Sarstedt.
He lives in Spain and continues to perform.
If you can add any further information to this piece please contact me here

Released a three-track CD single: "Your Wish is my Command" (Club Mix) / "Your Wish is my Command" (7") / "Your Wish is my Command" (Instrumental) (1989)
If you can add any further information to this piece please contact me here
Jim Brennan - vocals
Mick Brennan - bass
Tam Sinclair - guitar
Tony Duffy - guitar and keyboards
Jock McGuigan - drums
Terry Wallace - ?
Based in Kelty? 'The Sapolas' had been 'The Rolling Sapolas' and prior to that, brothers Jim & Mike had been founder members of Monolug.
The Sapolas played the ballroom on Sunday 5th October 1986.
Tony Duffy had previously been in Biocar.
Hopefully more info to come!
Thanks Tony!
If you can add any further information to this piece please contact me here

Along with brothers Richard (aka Eden Kane) and Robin (aka Clive Sarstedt, aka Wes Sands), Peter Sarstedt returned from India with his parents in 1954. Following a musical career closer to folk than most traditional 'pop', Peter didn't consider it necessary to undergo a name change like his brothers. Although lacking Richard's good looks, Peter was blessed with superb song-writing skills. He'd already had some recognition- though not chart success- with 'I Am A Cathedral'- before writing his great 1960s classic UK #1 'Where Do You Go To My Lovely'.
He followed this with 'Frozen Orange Juice' which reached a creditable #10 and had some success with an album before the decade was out. He was never able to repeat these chart successes and for a time in the 1970s he worked with his siblings as one third of 'The Sarstedt Brothers'. Although he lived quietly in Denmark for many years he returned to England during the 1990s and regularly performs on the 1960s nostalgia circuit.
Info courtesy of: www.45-rpm.org.uk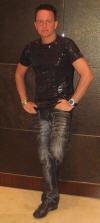 Sascha Lappessen
Thomas Alisson
Ralf Kappmeier
Sash! is a German pop/dance act. Sascha is the face of Sash! in the videos and live performance. Their first single was 'It's My Life', but success began with the 2nd record 'Encore Une Fois' in the club charts in Italy, Germany, Holland and the Scandinavian countries, reaching #2 here in the UK.
The third release was 'Ecuador' which proved to be just as successful as its predecessor with a No.1 hit in the Scandinavian Dance Chart, top 5 in the sales charts in Denmark, Finland, Norway and Sweden and another #2 in the UK.
In the summer of 1997 the debut album 'It's My Life' was released, while the fourth single release was 'Stay!', which peaked at,... (yeah you guessed it) #2 in the UK. They would have another seven top ten UK chart hits as below including another two more #2 positions, a #3, two #8s a #10 and a #15. Always the bridesmaid!
Other UK hit singles include:
'La Primavera' (#3) 1998
'Mysterious Times' (#2) 1998 (featuring Tina Cousins)
'Move Mania' (#8) 1998 (featuring Shannon)
'Colour The World' (#15) 1999 (featuring Dr. Alban)
'Adelante' (#2) 2000
'Just Around The Hill' (#8) 2000 (featuring Tina Cousins)
'With My Own Eyes' (#10) 2000 (featuring the Finnish singer Inka)

UK hit albums include:
'It's My Life' (#6) 1997
'Life Goes On' (#5) 1998
'Trilenium' (#13) 2000
'Best of - Encore Une Fois' (2000)
I'm very much indebted to Dave Smith for these images. Click on them for a larger size.






Manny Charlton Dave Smith Arthur Owen Dave Smith
Harry Carmichael Alan Fraser David (Fritz) Freeburn Arthur Owen
Mike Anderson Mike Anderson Dave Smith Ian Harper (temp)
Ian Smart Ricky Wilson Bobby Sullence David (Fritz) Freeburn
Dave Smith Arthur Owen Allan Fraser Bobby Sullence
David (Fritz) Freeburn
Mike Satan (Michael Anderson) - vocals (& drums occasionally)
Sem (William) Simpson - lead guitar
Dave Smith - rhythm guitar then lead guitar
Ian Smart - bass
Alex Callan - drums
Later:
Arthur Owen - guitar
Manuel (Manny) Charlton - rhythm guitar
Harry Carmichael - drums
The Hellcats Showband
Dave Smith - lead guitar
David (Fritz) Freeburn - tenor saxophone
Arthur Owen - six-string bass
Bobby Sullence - rhythm guitar
Ricky Wilson - electric organ
Mike Fernon - drums
Later - Allan Fraser - drums
The multi-instrumentational Mike Satan & The Hellcats were formed as The Zephyr Guitar Four in 1958/9 in Fife & supported many big-name acts such as: Joe Brown, The Allisons, Vince Eager, Duffy Power & Vince Taylor.
Commitments to apprenticeships and the like caused the some early personnel changes such as Sem Simpson's replacement by Dave Smith on lead guitar leaving an opening for Manny Charlton to play rhythm guitar. Sem later played lead guitar with Bobby Dene and the Dynamos.
Then Ian Smart (who was one of the first in Fife to have a real bass, a Framus) was replaced by Arthur Owen on bass. At this time they were managed by Derek Nicol who bought their first van which extended their areas of entertainment from Inverness to the Borders.
On Saturdays they often played at the St Margaret's Lesser Hall appearing with The Vandals, The Saints and Alex Harvey whom they supported at various venues throughout Scotland. Alex Callan left for the Marines leaving an opening for Harry Carmichael to join the band on drums. Manny & Harry left in 1963 to form The Mark V and soon after, Mike (an electrical fitter at the Royal Naval Dockyard in Rosyth) moved his job to Alexandria in Dumbarton and had to leave the band who became simply 'The Hellcats Showband'.
Manny Charlton also played with The Red Hawks, The Marshmallow 400, The Shadettes & Nazareth.
Dave Smith was noted for his remarkable resemblance to Hank Marvin of The Shadows - which caused considerable grief at times!
Arthur also played with The Nameless Ones & Argus & The Chessmen & Curly
Harry Carmichael also played with The Mark V.
I'm indebted to Dave Smith & Watty Robertson for much of the detail above.
The Satan Change were active in the 60s/70s and recorded a cover of the Martha Reeves and the Vandellas UK #4 hit 'Dancing in the Street' later covered by David Bowie and Mick Jagger.
If you can add any further information to this piece please contact me here

Born Gerard Hugh Sayer at Shoreham-by-Sea, Sussex, England, singer and songwriter Leo Sayer is celebrating 31 years at the top of his profession. After a brief career as a graphic designer, his first chart success came in 1973 with the song writing of Roger Daltrey (of The Who) 's first solo album, "Daltrey", featuring the U.S. and U.K. hit song "Giving It all Away". With the guidance of writing partner David Courtney and manager Adam Faith, Leo followed this up with his first solo album on Warner Brothers in the U.S.A. and Chrysalis Records for the rest of the world.
Produced by Faith and Courtney, "Silverbird" featured the hit song "The Show Must Go On" with Leo famously appearing on stage dressed as a white faced and white costumed Pierrot. "The Show Must Go On" was also a chart topper for Three Dog Night in the U.S.A. and his second album "Just A Boy" was released a year later, featuring international hits: "One Man Band" and "Long Tall Glasses" and "Train".
By this time, Leo's success had reached around the globe and he toured extensively to sell out crowds in the U.S.A. as well as in Europe, the Far East and Australia. In 1975 "Moonlighting" continued the trend, and then Leo hit the really big time with 1976's platinum selling "Endless Flight", the album boasting two international number 1 hits, the U.S. Grammy winning "You Make Me Feel Like Dancing" and his classic "When I Need You".
Further chart success came from ten more chart albums, featuring hits as diverse and unique as "More Than I Can Say', "Thunder In My Heart", "I Can't Stop Loving You", "Easy To Love", "Have You Ever Been In Love" and "Orchard Road". In fact, Leo has had 20 worldwide top ten hits during his career, many of these self penned, and is still entertaining audiences around the world with an amazing live show featuring his truly original songs and that uniquely powerful and recognisable voice.
In 2004 he played live concerts in the USA, Britain, Europe and the Baltic States and he finished a new studio album: "Voice In My Head". In 2005 Leo released Voice In My Head throughout Europe. In June he received permanent resident status in Australia and moved from London to Sydney. He is currently awaiting Citizenship status in Australia. He also released the Voice In My Head album in Australia on the First Edition label on ABC Music distributed by Warner Music.
At the release of the album in July Leo toured Australia playing large theatres in the capital cities. He has also been in great demand on the corporate circuit in Australia with some clients saying he created the best event they have ever had. Leo's new stage show has been receiving standing ovations every night. He still delivers one of the most energised performances in the world with a show that documents his history and includes all of his smash hit songs plus a sample from his new album Voice In My Head.
In 2006 Leo has toured Australia, England, Asia, Belgium, Germany. The year started with the re-mix of "Thunder In My Heart" going number one in England and top ten around Europe and Australia. ABC Music has released a Special Limited Edition of the 'Voice In My Head' album that will include a bonus disc of 12 live tracks which are all of Leo's biggest hits from the 70's and 80's recorded live in Melbourne during his 2005 tour.
Leo Sayer is a pop music legend who continues to deliver a world class show night after night.
Info From: www.theharbouragency.com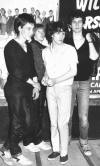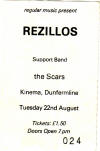 Marquee www.scarsresearch.com Support slot
with The Cure 1979 with The Rezillos
Photo by Chris Horler (Ray & Kay Smillie)

Robert 'Bobby' (Charm) King - vocals
Paul (Responsible) Research (Paul Mackie) - guitar
John (Doctor) Mackie (Paul's brother) - bass
Callum (Plastic Mac) MacKay - drums (1977-1980)
Steve McLaughlin - Drums (1980-1982)
Edinburgh based punk/new wave band 'The Scars' (after 1979 they became known just as 'Scars') live debut followed The Skids first outing two months later on Friday 7th October 1977 in Balerno Village Hall and like our local boys, were soon to be labelled art-punks because that's all the music press could think of.
They played the ballroom only once, on Tuesday 22nd August 1978, supporting The Rezillos, (Ticket price was £1.50) though they were billed to appear in support of the famously cancelled Siouxsie and the Banshees booking for Sunday 9th September 1979!
Their first single 'Adultery' / 'Horrorshow' (Fast - 1979) was recorded at 'Cargo Studios' in Rochdale in January 1979 at the same studio as the Trax 'Home EP' and in the same year. Other Scottish contemporaries included The Rezillos, Matt Vinyl & The Decorators/Insect Bites, The Valves, TV Art/Josef K and of course ... The Freeze.
As was often the case with those who dared to be different within the rebel punk clan, some punters felt threatened by their artiness & would make their confusion known physically and verbally. It's never easy being on the fringe of a popular movement.
In 1979 the editorial staff of i-D magazine released their third edition, complete with a flexi copy of a live performance of the Peter Porter poem 'Your Attention Please' coupled with an increasingly frantic soundscape and vocal which climbs to a terrifying crescendo. It was also in 1979 that they officially dropped their punk pseudonyms and the band's 'The' prefix.
They toured with Human League, Siouxsie and the Banshees, The Buzzcocks, and supported The Fall, Gang Of Four, and The Skids.
The first of two John Peel sessions took place on February 2nd 1980 followed by another on May 20th 1981, meanwhile they produced three more singles: 'They Came & Took Her' / 'Romance By Mail' (1980), 'Love Song' / 'Psychomodo' (1980) & 'All About You' / 'Author! Author!' (1981) before embarking on an album 'Author! Author!' in 1981. ('Psychomodo' is a cover of a Steve Harley tune and yes it is David Essex's 'Silver Dream Machine' on the album).
In 1980 Callum MacKay left Scars to be replaced by Steve McLaughlin.
They also landed an 'Old Grey Whistle Test' appearance!
In 1982, Robert King left for a solo career and despite the best efforts of guitarist Paul Research to fill-in on vocal duties, they split the same year before their planned second album came to be.
A resurgence of interest in the band resulted from the recording of 'Lemon Jelly's' - "79 - The Shouty Track" (which samples 'Horrorshow' on their album '64 - '95'. The Scars album 'Author Author' has been recently re-released on CD, and I personally recommend it. Click here.
Grammy recipient, Steve McLaughlin is now a highly successful producer while John Mackie runs a design company. Robert King (PhD) is now a scholar of ancient biblical languages, while Callum Mackay still plays drums in French bands. Paul Research still writes & records and runs marathons!
In 2007 the remastered Author! Author! album was released on CD
Scars reformed in November 2010 for a one-off gig at the HMV Picture House in Edinburgh with TV21 and they were magnificent! They played a live session for BBC 6 Music in February 2011 and rumours persist of more live work and new recordings!
Singles:
'Horrorshow' / 'Adult/ery' (1979)
'Your Attention Please' LIVE (Free Flexi Disc with i-D magazine 1979)
'They Came & Took Her' / 'Romance By Mail' (1979?)
'Love Song' / 'Psychomodo' (1979?)
'All About You' / 'Author! Author!' (1980?)
EP:
'Author! Author!' EP (1981)

Album:
'Author! Author!' (1981)

Ghoulz (2006/11)
Joe Quigley - guitar
Eugene Roddy - drums
Formed in the late sixties, this outfit featured guitar virtuoso Joe Quigley and drummer Eugene Roddy. Did great business in Ireland and further afield including tour of South Africa.
If you can add any further information to this piece please contact me here
http://www.irishshowbands.net/pg_scene.htm
Brinsley Schwartz - guitar, percussion & vocals
Ian Gomm - guitar
Bob Andrews - keyboards & vocals
Nick Lowe - bass, guitar & vocal
Bill Rankin - drums, percussion
Brinsley Schwarz are perhaps best known in the annals of rock history as the band that was flown to New York's Fillmore East in 1970 in a welter of hype to promote their second album. Although many a music journalist enjoyed the largesse, the band actually got negative publicity for this escapade and it was to plague them for the rest of their career.
Formed in 1969 out of the remnants of the UK pop group Kippington Lodge, the band's reaction to that Transatlantic debacle was their second album, ironically-titled 'Despite It All' and a low-key profile on the UK club, college and pub circuit. They grew a dedicated fan base and blazed a trail for many of the so-called pub-rock bands in the seventies such as Dr.Feelgood and Kilburn & The High Roads (with Ian Dury).
The band - with Ian Gomm on guitar who joined after the second album - split up in February 1975. Nick Lowe (bass, vocals) went on to achieve success as a performer, producer and songwriter, working with the Stiff label, whilst keyboard player Bob Andrews and founder Brinsley Schwarz (guitar, vocals) appeared in The Rumour with Graham Parker.
Info courtesy of:

www.huxrecords.com

Colin 'Scottie' Scot (born Colin Thistlewaite) was a folk singer/songwriter who played and lived life to the full. He was well known for his habit of singing stange unexpected covers such as Buddy Holly songs for instange much to the annoyance of the dyed in the wool folkies!
His first (eponymous) album was released in 1971 and featured friends such as Robert Fripp, Brinsley Schwartz, Rick Wakeman, Peter Gabriel, Phil Collins, Jon Anderson and Davey Johnstone. His singles included 'Hey! Sandy' (1971), 'Edward and Charley and Me' (1973) & 'Call me Mr.Blue' (1973). Later in 1973 he released another album 'Just Another Clown' & 'Out of the Blue' (1974) and another single 'Mandolin Man' in 1977.
I understand there are a number of live recordings too.
Sadly he died in 1999 in Amsterdam where he had taken up residence with his wife.

Scotch released two singles in the UK, both in 1979 on the 'Coma' label.
'Concentration' / 'Sad Hearts and Love Breaks' (1979) written by legendary writers Bill Martin & Phil Coulter / Phil Harding & Ian Curnow & 'Take Me Tonight' / 'Next Weekend' (1979). Neither troubled the UK charts.
If you can add any further information to this piece please contact me here
John McNally - rhythm guitar, vocals
Mike Pender: Lead Guitar, Vocals
Chris Curtis: Drums, Vocals
Tony Jackson: Bass, Vocals
Johnny Sandon: Lead Vocals

Feb 1962-July 1964

John McNally: Rhythm Guitar, Vocals
Mike Pender: Lead Guitar, Vocals
Chris Curtis: Drums, Lead Vocals
Tony Jackson: Bass, Lead Vocals

July 1964-April 1966

John McNally: Rhythm Guitar, Vocals
Mike Pender: Lead Guitar, Vocals
Chris Curtis: Drums, Lead Vocals
Frank Allen: Bass, Lead Vocals

May 1966-December 1969

John McNally: Rhythm Guitar, Vocals
Mike Pender: Lead Guitar, Vocals
Frank Allen: Bass, Lead Vocals
John Blunt: Drums

January 1970-December 1985

John McNally: Rhythm Guitar, Vocals
Mike Pender: Lead Guitar, Vocals
Frank Allen: Bass, Lead Vocals
Billy Adamson: Drums

January 1986-November 1998

John McNally: Rhythm Guitar, Vocals
Frank Allen: Bass, Lead Vocals
Billy Adamson: Drums
Spencer James: Lead Guitar, Lead Vocals


November 1998-present

John McNally: Rhythm Guitar, Vocals
Frank Allen: Bass, Lead Vocals
Spencer James: Lead Guitar, Lead Vocals
Eddie Roth: Drums
The Searchers were arguably the greatest of the 'other' Liverpool groups. They produced a string of singles which compared in quality to the Beatles but possibly lacked the scale of originality and inventiveness peculiar to their famous rivals. They too had been a popular act in Hamburg and the Cavern and became famous on both sides of the Atlantic.
Like many of the groups that were part of the 1960s 'beat boom', the group began by playing skiffle and are alleged to have taken their name from the same John Ford movie that had inspired Buddy Holly to write 'That'll Be The Day'. They spent much of their early life as a fivepiece and had Johnny Sandon as their vocalist. The original Searchers quartet was formed when Sandon left to join the Remo Four- another of Liverpool's burgeoning collection of groups. It was this line up, under the guidance of Tony Hatch, that produced the first hits. Most of their material came by reworking American songs, but 'Sugar and Spice' was an original written by Tony Hatch.
Vocalist Tony Jackson left the group in 1964 and was replaced by Frank Allan, previously with Cliff Bennett's Rebel Rousers. Jackson went on to form a new group- the Vibrations, which managed just one minor hit; "Bye Bye Baby". The Searcher's chart fortunes also began to wane during the late 1960s and the rate of personnel changes increased. By the end of the decade their star had faded and they found themselves among the founder members of the 'oldies' cabaret circuit.
Sadly, Tony Jackson died on 18th August 2003.
Info courtesy of: www.45-rpm.org.uk

Peggy Seeger (born Margaret Seeger, 17 June 1935, New York City, New York, USA) is accomplished on guitar, banjo, Appalachian dulcimer, autoharp and concertina. 45 years of concerts, more than 20 solo and over 100 joint recordings and numerous original songs (among which are the classic 'Ballad of Springhill' and 'Gonna Be an Engineer') have made her a legend in her time. In 1955, Seeger left the USA & relocated to Holland and studied Russian at university. She first came to the UK in 1956 as an actress, to take part in a television film, Dark Side Of The Moon, and also joined the Ramblers, a group that included Ewan MacColl, Alan Lomax and Shirley Collins.
In 1957, together with Ewan MacColl and Charles Parker, she worked on a series of documentaries for the BBC which are now commonly known as The Radio Ballads. These programmes were highly innovative and, together with music, brought the thoughts and views of a whole range of workers to a large listening public. In 1959, Seeger became a British subject, since she has been in much demand at folk clubs and festivals. Her 35-year residency in England gave her a unique European perspective.
Her concerts, in which she makes full use of voice, 5-string banjo, guitar, English concertina, autoharp, piano and a wicked sense of humour, include an astounding range of traditional Anglo-American songs and finely crafted contemporary pieces. Her lectures and workshops on songwriting, ballad singing and the feminist content of her repertoire are entertaining, informative and forward-looking. The Peggy Seeger Songbook, Warts and All, is a tour de force in which she places 150 of her songs in a setting of drawings, photographs and informative and autobiographical notes to create a picture of her life and her time. Her family background, her residency in England and her strong and compassionate eco-feminist politics combine to produce an extraordinary performer.
She now lives in North Carolina, tours regularly worldwide and puts out a new CD every 18 months.


left to right:
Bill Irving, Brian Johnson, Sol Byron, Anthony Rutherford, Alex "Ludgie" Ligertwood, Tam Frew and Davie Agnew at the front.
Sol Byron (aka Billy Lochart) - vocals
Davie Agnew (Mark David) - vocals, guitar
Alex "Ludgie" Ligertwood (aka Alex Jackson) - lead guitar/vocals
Brian Johnson - organ
Bill Irving - bass
Anthony Rutherford (Tony Mimms) - trumpet
Tam Frew - drums
Later:
Bob Mather - saxophone
Robbie MacIntoch - drums
Mike Fraser - organ
This Glasgow R&B group originally formed as Sol Byron's backing group and some members used pseudonyms shown in brackets above. Brian Johnston had previously been a member of 'The Golden Crusaders' and was later replaced by Mike Fraser. The band split from Byron in 1966 and supported many soul bands of the time including Ben E. King who also wrote for & produced their single 'I Can't Stop' / Ain't As Sweet As You' (1967).
They released an album: 'The Senate Sock It To You One More Time' (1968). They toured Germany then split in 1968.
Info from: The Tapestry of Delights - The Comprehensive Guide to British Music of the Beat, R&B, Psychedelic and Progressive Eras 1963-1976, Vernon Joynson ISBN 1 899855 04 1


Copyright © Bill Ford
Terry Beal - lead vocal
Trevor McGowan - lead guitar
Graham Dennis - rhythm guitar
Bill Ford - bass guitar
John Bonham - drums

The Senators unknowingly made rock music history in 1964 when they recorded a song called "She's A Mod" at Hollick & Taylor Studios in Birmingham. This was the first ever recording to be released featuring a young drummer from Reddich called John Bonham - long before he became part of Led Zeppelin - one of the most successful rock bands of all time! Bill Ford, who played bass guitar in The Senators, remembers those days well and has kindly supplied this exclusive biography of the band as told in his own words (from http://www.brumbeat.net/senators.htm).

Bill: I joined The Senators in 1962-63. At that time we were called "Bobby Child and The Sidewinders", the personnel being Barry Goodchild, a.k.a. Bobby Child (vocals), Trevor McGowan (lead guitar), Graham Dennis (rhythm guitar) a guy called Mick? on drums and John Hunt on bass guitar who I replaced. This line up continued for a while until Barry left and we auditioned for a replacement singer. After many auditions we chose Terry Beal, an extremely talented singer and composer, as well as being a multi-instrumentalist. Terry had originally played in "Terry Webb and The Spiders" along with his old pal John Bonham.

*Terry Beal had played in a band called 'The Nighthawks' between 1960 and 1962 with bass guitarist Mike Ellis with whom he formed the Reddich group 'The Blue Star Trio' along with drummer Bill Harvey. John Bonham replaced Bill on drums at the end of 1962 and the group performed all over the area. They backed Roy Edwards who was a professional singer (formerly from The Squadronaires) and also made some recordings for the BBC at their Broad Street studios in 1963. Mike Ellis went on to join Johnny Neal and The Starliners (*this additional info was supplied by Mike Ellis).

Bill: At this stage in 1963, The Senators still had an unreliable drummer and were let down by him on a number of occasions. We had to call on other drummers to gig with us and one of these was Alan Eastwood. He was a great drummer but also a mean blues singer and used to take the mike sometimes and do a couple of R&B numbers with us. Alan used to play with The Shouts, and I remember buying their single "That's The Way It's Gonna Be" (Alan Eastwood was also in The Brumbeats and later formed The Exception).

Our drummer let us down again one night when we had a double gig. Terry played drums on the first set at the first gig at Perry Hall, Bromsgrove. During the break, he shot off in his car to fetch his "mate" who he said could play the drums. He came back 20 minutes later with this lad named John Bonham. We started the second half and it was as if someone had stuck rocket fuel in our drinks! We went down a storm and John joined us as our drummer there and then.

(Note: John Henry "Bonzo" Bonham was born May 31, 1948 in Reddich, Worcestershire where he was raised and lived for almost all his life. He learned to play drums at a young age, initially using a home-made drum set before graduating to a second-hand one. By the time he left school at 16, he was playing in his first band called "Terry Webb and The Spiders" while working by day on building sites with his father.)

With this final line-up we played regularly at many of the Birmingham venues and pubs. Ma Regan's places - The Ritz, The Plaza and The Cavern, the West End Ballroom and The Moat House Club, just to mention a few. Terry took on the name of Bobby because we had a professionally sign written van! Also because of our connections with Redditch where John and Terry came from, we had a big following there as well - regularly playing Redditch Youth Club, Alcester Trades and Labour Club and other pubs and clubs in the Worcestershire area.

Saturday mornings always seemed to be spent in Jones and Crosslands or George Clays on Broad Street where we had most of our gear from. I had the dubious honour of having had the first and second Hofner Violin Basses in the midlands because when Clays imported one for me they asked if they could display it in their window for a week. I agreed and during that week, their window was smashed and the bass stolen! I then had to wait until they got a second one in.

I enjoyed my time with The Senators. We played alongside some great brummie bands doing regular gigs with the Spencer Davis Group (watching Stevie Winwood in awe!), Denny Laine and The Diplomats, Carl and The Cheetahs, The Redcaps, The Modernaires, The Vikings etc. as well as appearing on the same line ups as Marianne Faithfull, The Merseys, and the great John Lee Hooker. It was great fun in those days playing in Brum and we always seemed to end up at Alex's Pie Stand for a burger or hot dog, and a chat with other bands after a gig.

We won many talent competitions (to no avail) but were selected in 1964 along with 13 other groups to be on the 'BRUM BEAT' album with track 1 called "She's A Mod", an original composition by Terry Beal and recorded at Hollick and Taylor studios in Birmingham. Soon afterwards, we were approached to re-record this song at, I think it was Decca Studios in London, to be released as a single. Another song called "I Know A Lot About You" was chosen to be recorded as the B-side. On this occasion, the accompanying publicity photo was taken.

(Note: the Brum Beat LP was released on Dial Records, a label set up by 24 year old London-based David Gooch with the intent to promote undiscovered British talent. Decca Records also released a Brum Beat album of West Midlands groups the same year).

The Senators single was released the same week as "Tell Me When" by The Applejacks, which became a hit with the help of Mickey Most's backing. Our single, due to lack of funds (David Gooch becoming bankrupt!) was withdrawn from sale. The music was published by Dick James Music and She's A Mod was used in the sound track of a biopic film called "Steppin' Out" featuring the latest dance and fashion trends. The film was shown in cinemas accompanying the original "Alien" movie.

"She's A Mod" was picked up by an Australian band called Ray Columbus and The Invaders who recorded their own version that was at number 1 in their charts for about 14 weeks! This version can be found on their compilation albums along with cover versions of Beatles and Rolling Stones hits. There's even a rap song that can be found on the net with a sample of the Australian version on it!

We made many other demos but never managed to get that elusive deal. We turned down offers to play the clubs in Hamburg so who knows what might have happened? After some time, when gigs were getting harder to get because of the number of bands around, we decided to call it a day and The Senators broke up. Terry Beal continued to gig for some time after the split with another line-up also called The Senators.

I, along with John, played with Nicky James for a short while. His band then was called 'The Wild Cherries' but it was later changed to 'The Nicky James Movement'. They had an amazing lead guitarist called Mick Hopkins who I later saw in a band called Copperfield. I only played with them for a few weeks and then decided to pack it all in and continue with my job as a graphic artist. John Bonham also left and joined Pat Wayne's Beachcombers

I took up trying to play classical guitar in the late 70s and had lessons from a Birmingham lad called Adrian Ingram (who also gave lessons to Dave Hill of Slade). Adrian is now an internationally renowned jazz and classical guitarist and author (see the net). I had the privilege of doing the illustrations and helping produce some of his early jazz guitar books and tutorial tapes.

I kept in touch for a short while with Graham Dennis and I used to see John Bonham occasionally right up to a few weeks before his death. I still treasure the autographed Led Zeppelin albums he gave me and still have the two complimentary tickets (face value £1 each!) he gave me when they played at The Odeon in Birmingham. Also right up until the death of Mick Bonham (John's brother), I had been in conversation with him to add revisions and photos of The Senators to the biography he was completing about his brother's career. Sadly, he passed away before we could do this so there is only a brief mention of The Senators and only Terry Beal is mentioned. One miss-quote in the book lists the personnel as being Terry Child as vocalist and Terry Beal on guitar. In reality, they are one and the same person.

The only other people I have seen from those happy days were Bill Hunt and two guys from one of the other Brum Beat LP bands who I met on holiday in Mexico. It would be great to have a reunion sometime (unless I've missed them) while there are lots of us still around. It would be great to hear from anyone who remembers us.

Info from: http://www.brumbeat.net/senators.htm
The Sensational Alex Harvey Band (aka SAHB)

Born on 5th February 1935 (49 Govan Road) in the Gorbals region of Glasgow, Scotland, Alex Harvey had a restless employment record including trying his hand at lion taming, eventually drifting into an interest in the growing skiffle movement and was crowned 'The Tommy Steele Of Scotland' in April 1957 following a 'Sunday Mail' newspaper talent contest, beating 600 other hopefuls, including a young Sydney Devine who came second!
He formed 'The Alex Harvey Big Soul Band' in 1959 having claimed to have had 36 jobs. They would at one time tour the highlands of Scotland impersonating 'Johnny & The Hurricanes'! He played in several fledgling bands including The Kinning Park Ramblers. They secured several supports including The Beatles, Eddie Cochrane and Gene Vincent before taking the Germany pilgrimage in 1962. Before releasing their their first album in 1964, the name had been truncated to 'Alex Harvey And His Soul Band' or 'Alex Harvey's Soul Band', only this first eponymous "live" album wasn't live and the band were Kingsize Taylor's backing band, ('The Dominoes') not Alex's!
The album wasn't successful and the band spilt in 1965 though not before they played at the ballroom on Wednesday 23rd September 1964. He then recorded another album 'The Blues' (1965) with his brother Les (guitar), Bobby Thomson (bass) and Gilson Kemp (drums) before going solo, recording some singles and a couple of albums with a variety of musicians in London including 'Roman Wall Blues' (1969).
Returning home to Scotland in 1972, he recruited a Glasgow outfit called 'Tear Gas' (who were about to split following two disappointing albums) as his backing band and later renamed the ensemble 'The Sensational Alex Harvey Band'. Vertigo released 'Framed' in December 1972 with Zal Cleminson (guitar), Chris Glen (bass), Hugh McKenna (keyboards) and Ted McKenna (drums).
Almost a year later 'Next' appeared including the classic 'Faith Healer' (though it wouldn't chart until 1975), followed by their first top 20 album, 'The Impossible Dream' in 1974 and in 1975 their only top ten album, 'Tomorrow Belongs to me'. 1975 really was their most successful year, sealed with the release of their only top ten single, a cover of 'Delilah' which reached #2 in 1968 with Tom Jones. They also charted with 'Gamblin' Bar Room Blues' and a live album entitled 'Live'.
Another chart single and two albums followed in 1976 though large numbers of the record-buying public's attention was being increasingly drawn towards the punk revolution.
Alex died of a heart attack in an ambulance in Zeebrugge, Belgium on 4th February 1982.
Nick Mercer - vocals
Scott Duncan - guitars
Bill Anderson - bass
Rory Buchanan - drums, percussion
These four young guys in their early twenties from the Glenrothes area of Fife were formed by Mercer & Duncan in early in 2005.
Acclaimed by the NME as "Officially the most exciting band in Scotland", they supported Oasis on their four Scottish dates, The Fratellis (with whom they share management) for a full Uk tour and have also supported Supergrass & The Pigeon Detectives.
Their tight uplifting jangly melodic pop/rock is reminiscent of The Beatles, The Stone Roses, The Smiths, The Kooks.
They have a publishing deal with EMI and signed to Mercury Records in 2007 while their debut album was produced by John Leckie, best known for his work with Radiohead and The Stone Roses etc.
They played Glastonbury 2007 & T in the Park 2007 & 2008.
Single releases include:
'Sergeant EP'
'K-Ok' (2008)
'Sunshine' (2008)
'Swiftly Does It' (2009)
Will Adamson - lead vocals
George Wheelwright - guitars, backing vocals
Alex Milne - keyboards, sequencing
Stevie Sharp - bass
Frankie McFarlane - drums, programming
'Blue Jazz' became '7 West' & released a 7" single on Rebel Records - 'When The Colour Starts To Fade' / 'Nothin' Changes' (Bel 1) in 1985 recorded at Castlesound Studios Edinburgh. They later became 'Shine' and released one album, 'A Far and Distant Shore' (1988), on RCA Victor, scoring some MTV exposure with a couple of singles as follows:
'Walking On The Town'
'Wall of Hate'
Click the links to the videos on YouTube.
George Wheelwright came from Studio 54.
Will Adamson had been vocalist with 'Straits' and 'Trax' previously.
If you can add any further information to this piece please contact me here
Phil Creswick
Mark Gillespie
Jason John (aka Jason Herbert)
An (allegedly gay) boy-band, after several personnel changes, '7th Avenue' later became 'Big Fun'.
If you can add any further information to this piece please contact me here


Bygone Dunfermline
dated Winter 2004 page IX.

Exclusive! - Brian Noble interviews Alan Fraser (drums), Pete Agnew (guitar) and Dan McCafferty (vocals) of The Shadettes in late 2005 in the function suite of The Sinclair Arms in Dunfermline filmed by Dunfermline Camcorder Club.
Part 1

Exclusive! - Brian Noble interviews Alan Fraser (drums), Pete Agnew (guitar) and Dan McCafferty (vocals) of The Shadettes in late 2005 in the function suite of The Sinclair Arms in Dunfermline filmed by Dunfermline Camcorder Club.
Part 2

Exclusive! - Brian Noble interviews Alan Fraser (drums), Pete Agnew (guitar) and Dan McCafferty (vocals) of The Shadettes in late 2005 in the function suite of The Sinclair Arms in Dunfermline filmed by Dunfermline Camcorder Club.
Part 3
Pete Agnew - guitar, vocals
Alfred 'Alf' Murray - guitar, bass
Bryan Brady - guitar
Bobby Spence - bass
Alan Fraser - drums
Later:
Darrell Sweet - drums
Des Haldane - guitar
Dan McCafferty - vocals
(Manuel) Manny Charlton – guitar
Mike Archibald - drums
John Hearn - organ, vocals
A hard working pop/soul covers band formed in 1961/2 by Pete Agnew and Alfred Murray, based in Dunfermline Scotland with a long illustrious history of support duties at the ballroom. They seemed to bounce their residencies between the KB and the Belleville Hotel depending on 'circumstances'. The Shadettes also had a residency at the Burntisland Palais on Saturdays before landing support duties at the ballroom where they played 281 times between Wednesday 24th April 1963 and 1970, though they only played once in each of 1963, 1964 and 1965 before landing a residency in November of 1966.
Dan was originally the band's roadie and Alf left to join The Hellcats.
One amusing episode occurred very early one Monday morning when driving home from a Sunday night gig in Burntisland. The date was the 8th of August 1963 and having reached the top of a hill, the Police pulled their bright yellow ex-gas board van over and searched it. They were later told that a massive sum had been stolen from a train a couple of hours earlier! Yup, you guessed it - The Great Train Robbery! You have to admire how thorough the Police were, considering the robbery took place 400 miles South in Buckinghamshire! ('Big Noise' by Martin Kielty ISBN: 9781845021078)
Scottish promoters and ballroom managers forced The Shadettes and their peers to play daft chart covers such as 'Simple Simon Says' and conform to a dress code that saw them perform in bright yellow suits with a black 'S' on the pocket! Every week they had to learn three new chart hits until new addition Manny Charlton suggested they write their own material.
Sunday 1st February 1970 was their last gig at the ballroom before they became Nazareth with a residency at The Belleville Hotel just across Pilmuir Street, where, in the foyer, they heard the opening lyrics of 'The Weight' (1968) by 'The Band' as played on the soundtrack of the legendary film 'Easy Rider' ("I pulled in to Nazareth, was feeling 'bout half past dead").
Manuel 'Manny' Charlton also played with Mike Satan & The Hellcats, The Red Hawks and The Marshmallow 400.
While still at school, Pete Agnew formed a skiffle group called 'The Spitfires' with some mates and for their first ever gig they entered the 'Fife Under-fifteen Skiffle Competition at the ABC cinema in Kirkcaldy. Pete sang while the others played their brother's guitars without the ability to form a single chord between them, ... and they won! ('Big Noise' by Martin Kielty ISBN: 9781845021078)
Bizarrely there's a Nazareth tribute band in Brazil called 'The Shadettes'. Check them out here http://theshadettes.com.br/

Jimmy Shand Junior (born Erskine) is the son of the hugely internationally popular button accordion player and country dance music legend, Sir Jimmy Shand M.B.E. M.A. He is also an accomplished accordionist and regularly plays traditional Scottish Country Dances with The Jimmy Shand Junior Trio at Letham Village Hall near to his home in Auchtermuchty in Fife where he also services & repairs accordions.
If you can add any further information to this piece please contact me here
Shane & The Shane Gang released two singles: 'Who Wrote That Song' & 'Whistle Stop'.
If you can add any further information to this piece please contact me here

Del was born Charles Weedon Wendover in 1934, the place of birth is listed as Coopersville or Grand Rapids, but they all agree it was Michigan. He learned the guitar as a teen and when he left service in the army in 1958, he sold carpets by day and played in a band in the evening, Charlie Johnson (and the Big Little Show Band). It was while playing with the band one night that keyboardist Max Crook made an unexpected key change and Del (as he was now calling himself) stopped the show and asked him to show what he had done. From that he co-wrote with Crook the perennial "Runaway". He signed with EmBee Productions and recorded the song as his first single which set off a successful career on both sides of the Atlantic.
Arguments with management led to him setting up his own company in the USA and then later signing with a new label, Amy and then to Liberty, but by the mid 60s the hits had stopped although he was able to get Peter And Gordon to record one of his songs, "I Go To Pieces" and have a hit with it. He then worked as a producer (producing Brian Hyland) and continued to write and by the late 80s he was back with an album produced by Jeff Lynne, and in late 1989 he toured the UK where his popularity was still high, so much so that the tour had additional shows added (I saw him at a midnight matinee) but just when it seemed that life was working out, he took his own life on February 8, 1990.
Sandie's singing career began when she was introduced to Adam Faith who then invited her to audition by singing for him in his dressing room. Adam then introduced her to his formidable manager, Eve Taylor, a person with whom Sandie appears to have got on with better than Adam did.
Although her first single was ignored, and is now a collector's item, her second went all the way to the top. A long string of chart successes followed fuelled by her association with songwriter Chris Andrews. Despite the fact that all Andrews' songs seemed to need the accompaniment of a German marching band, they fitted Shaw's singing style well. So it was with 'Puppet On A String', a song she hated, which became her third UK #1. She had been pressed by Taylor to do the Eurovision Song Contest and although she won, she blamed the event for destroying her credibility. Admittedly, the rate of chart successes were beginning to come more slowly at this time, but it's more likely that the Eurovision song gave a fillip to her otherwise flagging fortunes.
Despite her statuesque appearance and bare feet the chart hits finally ceased in 1969 and she slowly sank into near obscurity. It was not until the 1980s that she would reappear as a significant performer again. She was fortunate to be something of a fantasy figure for the Smith's singing songwriter Morrissey and while at the peak of his own career he persuaded Sandie to return to the recording studio. This resulted in a further two chart entries and a series of well attended concert appearances.
Info courtesy of: www.45-rpm.org.uk
She was born 'Sandra Goodrich'.
Pete Sheppard was a member of the "almost vaudevillian" 'Great Fife Roadshow' with artistes such as: Barbara Dickson, Jimmy Hutchison, Rab Noakes, Artie Trezise, Cilla Fisher, John Watt, Davey Stewart, Davie Craig, Noel Farrow and Jim Herd playing folk clubs & village halls.
If you can add any further information to this piece please contact me here

Shaun – vocals, guitar
Graham – lead guitar
Nick – rhythm guitar, vocals
Kenny – bass
Dave – drums, vocals
The Shermans are an indie / pop / rock band based in Stirling, Scotland and formed in September 2005. They have played at the 'Live At Loch Lomond' festival and many established venues including: 'The Barrowland Ballroom', 'Velocity Dunfermline', 'The Carling Academy', 'QMU' and 'King Tuts'.

The band have supported bands including 'The Tiny Dancers', 'Cage The Elephant', 'The Stone Roses Experience', 'From The Jam', 'Sergeant' and played at 2009's hogmanay celebration at Stirling Castle supporting 'Sandy Thom' and 'The MacDonald Brothers'.

The band has been featured multiple times on Sky Sports Soccer AM's programme, interviewed on NorthSound radio, Central FM and have been featured on XFM, Northsound 1 and Radio Scotland.

In April 2007 they released 'Calling It Wrong' which reached number 20 in Scotland and number 23 in the UK indie charts.
The Sherman's second single, 'Venom' was released in April 2009 and reached number 7 in Scotland and number 10 in the UK indie charts.

Both singles have been received well by the press, having good reviews in local and nationwide papers including 4 star reviews in The Daily Record and Sunday Mail.

The Sherman's released 'Obsolete' as a free download in December 2009.

The Shermans final gig was held on the 5th March 2010.
Info from: http://www.vivalashermans.co.uk

Top
Bert Shorthouse was a well-known popular accordionist & bandleader.
Dunfermline-born fiddler Pete Clark's first professional engagements were with Bert Shorthouse.
Bert appears on several compilation albums of traditional Scottish dance music with the various incarnations of his bands including 'Bert Shorthouse & His Glenlomond Scottish Band' and 'Bert Shorthouse & His Broadcast Band'.
If you can add any further information to this piece please contact me here
Greg Lake (of ELP fame) - guitar, vocals
John Dickinson - keyboards, vocals
Alan Bowry - bass, vocals
Andrew McCulloch - drums, percussion
Based in Bournemouth England, they released at least two singles: 'Lady In Black' / 'Trick Or Two' & 'Reputation' / 'Love', both in 1969.
If you can add any further information to this piece please contact me here

Bob Thomas - guitar, mandolin, mandola, banjo, concertina
Gordon Jones - guitar, bodhran, vocals, bouzouki, mandola
Johnny Cunningham - fiddle, viola, mandola, vocals
Later:
Bill Watkins - vocals, guitar
Chris Pritchard - vocals
Madelaine Taylor - guitar, bodhran, vocals
Neil Adam - bass, harmonium
Andy M. Stewart - vocals, tin whistle, tenor banjo
Freeland Barbour - accordion, bouzouki
Alastair Donaldson - bass, flute
Phil Cunningham - accordion, tin whistle, harmonium, synthesizer, cittern, vocals
Martin Hadden - bass, guitar, piano
Dougie MacLean - fiddle
The Silly Wizard story started with Bob and Gordon Jones in 1969. Throughout the life of the band they toured in many guises and shapes from a trio to six pieces.
After a few early line-ups they become Silly Wizard (after a book of children's stories) in the summer of 1972, and shortly afterwards John Cunningham joined. Another member during the early seventies was Maddie Taylor, later of Mirk. She left in December 1973 to join Witches Promise and so only played the first of the two gigs at the Kinema.
After signing to Transatlantic their first album tapes were lost and so it never emerged.
This was followed by many other personnel changes over the years and they toured Europe extensively and ventured to America.
A total of nine albums were released including two live recordings & a 'Best-Of' and rumours of a digitally re-mastered collection persist.
Steve Barnfather - vocals
Orlando 'Angie' Antionori - lead guitar
Jack McGrory - bass
George Stuart - drums
Glasgow / Kirkintilloch band whish evolved from 'Blint' and were originally called 'Silver Dollar'.
If you can add any further information to this piece please contact me here

Johnny's main aim as an entertainer has always been to make people happy. He has continuously succeeded in this over the years by mixing excellent music, brilliantly performed, with a large measure of humour. He has a wonderful voice, which is superb in volume, clarity, tone and versatility and once heard it is never forgotten. For good measure he is also a top-notch guitarist.
Long ago, in his school days, he used to listen to New Orleans Jazz. His interest really took off while he was in the Army and sang Jazz standards – Armstrong etc.- with Army bands. He bought a guitar and formed his own skiffle group. After leaving the Army he started visiting Jazz clubs and joined the Mike Peters Florida Jazz Band. He also guested with other bands such as Monty Sunshine, Dick Charlesworth, Bruce Turner. While playing with the Jazz bands he was often given a short solo spot. This led him to switching to solo singing as the Trad. boom ran out of steam. He then turned to singing in nightclubs and restaurants in the Channel Islands.
In 1965, when the Folk movement blossomed, he started singing in Folk Clubs, which were springing up all over the country. Since then, as a solo artiste, and for nine years as part of a duo with Dave Moses, he has remained almost certainly the leading all round entertainer on the Folk scene, singing a wide variety of songs ranging from jazz, folk, blues to country and soul, selected to suit each and every audience. The songs are presented in an extremely professional manner, but with great humour.
In addition to playing the Folk Clubs he has performed in Village Halls, Arts Centres, Concerts and Festivals all over the land and in many parts of the world. He has been rewarded with appearances in hundreds of TV and radio programmes over the years, an early one of which was as a frequent presenter of 'Playschool'.
These days, on his annual visit from Norway, his performances just get better and better, so much so that he is fast becoming a living legend.
Info from: www.perrottsfolly.com

Simone is an American female R&B/Soul, Music, Hip-Hop/Rap singer who released 'Starting Over' / 'Don't Know What'. Simone has been blessed to perform with various bands within the United States as well as being a featured artist internationally. On the European stage Simone has collaborated with Soul Basement of Italy. 'Starting Over/Don't Know What' is Simone's first solo outing on Lola Waxx Records. On this project Simone has teamed up with her 'homie', LA Producer Armand Tulumello.
If you can add any further information to this piece please contact me here
Sir Percy and the Riot Squad (Sir Percy Quintet)
Tom Ferrie - vocals
Ian Wright - vocals
Big John Thompson - lead guitar
Jim Fraser - rhythm guitar
Colin Wright - bass
Bob O'Brian - drums
Later:
Colin Cameron - drums
Ray Gibson - drums
'Big' John Thompson was self taught after seeing Duane Eddy & Eddie Cochrane & Gene Vincent at the Empire in Glasgow in the early 60s then he worked in Massey's. He got together with some friends & played in the YMCA in Drumchapel.
It happened like this: John met versatile entertainer Tom Ferrie, then he was introduced to Bob and he new Colin and Ian then met a friend in McCormacks in Glasgow and he put John in touch with Jim Fraser and they formed as 'Sir Percy and the Riot Squad' in the mid sixties.
Turning professional shortly afterwards and went off to Italy for a few months only to come home as they were short of cash. On the way back they hit a bad rain storm and the Glasgow papers carried the story of a group lost in floods!
The band toured extensively in clubs and clubs all over Scotland with 'Dean Ford & The Gaylords' (later Marmalade), Frankie Miller, The Pathfinders and many others. In 1966 Tom began work as a part-time DJ and in 1970 he left the band. He currently broadcasts on Scottish radio station 'Clyde 2'.
They returned to Italy after a time where Bob met and married an Italian girl and decided to stay and joined 'The Casuals'. The others returned home having stayed there in total around two years and Colin Cameron joined.
They then decided to go to London where they saw an advertisement and attended an audition in a London pub where they met John Edwards and blew everyone away! He took them on that night and they played all over Britain and also appeared on Radio 1 shows almost weekly though the material they recorded was rejected by Decca.
The Band later became known as 'Crazy Paving', releasing an MCA single - 'Anytime Sunshine' / 'Sweet Brandy' (October 1970 and re-issued May 1971). It started picking up major airplay in L.A. (KHJ) and Chicago (WCFL) in March 1971, peaking in the Billboard chart at #103.
Other recordings include: 'Margaret Elspeth' (1968), 'She Loves That Boy' / 'Such a Good looking Girl'.
Many thanks to 'Big' John Thompson for much of the info.
Skeets Boliver have been described variously as "semi-legendary" and "The best band ever to play the Four Seasons in Montrose!" Do accolades come any heavier than that? Members included Stewart Ivins, Christopher Marra and his brother Michael Marra who is often acclaimed as "one of Scotland's most talented and original songwriters and performers".
He was born in Lochee, Dundee in 1952. A Rolling Stones-type school band called 'The Saints' was his first band before he was famously expelled from school at the age of 14. He then had a variety of jobs before he formed his next band, 'Hen's Teeth', in 1971 (whose line up included Scots fiddler Dougie McLean). By the mid seventies he was a professional musician with Dundee-based 'Skeets Boliver' who lasted for approximately four years during which time they toured extensively, moved to London and recorded three singles without commercial success. They split with Michael pursuing a solo career.
Singles:
Streethouse Door/I Can't See The Light (1976)
Moonlight in Jeopardy/Ain't I Being Good To You (1977)
Iain Mackintosh
Jackie Jenette
Gavin Livingstone
Bobby Eaglesham
Peter Livingstone
Active in the 1960's.
Bobby Eaglesham was a member of Five Hand reel.
If you can add any further information to this piece please contact me here

Brendan 'Brush' Sheils - bass, (later vocals & guitar too)
Phil Lynott - vocals
Bernie Cheevers - guitar
Noel Bridgeman - drums
Later:
Robbie Brennan - drums
Gary Moore - guitar
Eric Bell - guitar
Paul Chapman - guitar
John Wilson - drums
Eamonn Gibney - vocals
Ed Deane - guitar
Kevin McAlea - keyboards
Paddy Freeney - drums
Jimi Slevin - guitar, vocals
Timmy Creedon - 2nd drummer, vocals
Johann Brady - bass
Jody Pollard - guitar
Dave Gaynor -
Ian Anderson -
Skid Row have been called Ireland's answer to King Crimson and were formed in 1967.
Cheevers was replaced by a sixteen year old Gary Moore in 1969 after Moore had demoed by playing tracks off a Bluesbreakers album. The band's first single was released that year on the independent Dublin Song label. The early singles were subsequently re-recorded for their first album 'Skid' in 1970. Lynott had left the group before the first album but appears on the early single 'New Places, Old Faces' and soon after formed Thin Lizzy (Moore would join that band in 1977-8).
The band's second single 'Saturday Morning Man' was produced by Irish legend Donal Lunny (later to feature in the Irish traditional revival with Planxty and the Bothy Band). Skid Row's sound developed as a blend of country ballads, heavy rock, and fusion influenced by jazz music, notably Oscar Peterson and John Coltrane.
By late 1969 they had signed to CBS. In 1970-1 they recorded four studio sessions and two concerts for BBC Radio, only the second of the two concerts recorded in January 1971 survives. The second album, '34 Hours' was released in 1971 but their last recording with Moore on guitar was never released until 1990. The band split in 1972 only to reform in 1973 with a fluid line-up and split again in 1974.
Another short-lived line-up formed in 1975.
Later Gary Moore would sell the rights to use the name to an American metal band for $35,000.
Sadly Gary Moore Died in February 2011.
Exclusive Stuart Adamson Interview

Click the disc to hear a 14 minute pre-interview chat between Stuart Adamson and local DJ / Entertainment Historian Brian Nobile.
This recording was made in August 1989 in preparation for an interview on 'The Mid-Morning Review Show' on Radio West Fife (Hospital Radio Dunfermline) and has rarely been heard before now!
This recording is part of Brian's 'They Played Dunfermline' audio & video collection. Reproduction is with Brian's permission only. Contact Brian through my Feedback page.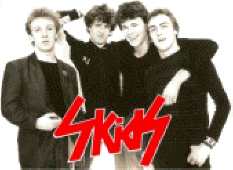 Conversation heard between two fans leaving the last Dunfermline 30th anniversary gig on Thursday 5th July 2007:
Fan 1 "What time is it?"
Fan 2 "1977!"
So much for the Physicists who tell us that energy can be neither destroyed nor created. After the two Glen Pavilion gigs in Dunfermline in 2007, I reckon Richard, Bill, Mike, Bruce, Jane & Brian have a cheque coming for supplying the National Grid!
We all owe a sincere "Thank You!" to every individual who contributed to these special events, especially the local guys who raised so much awareness via the web sites, the tech crew, the fiercely loyal fan base and of course the band members old & new who cared enough to go through with it. (See below for my Glen gigs review)
I've never been more proud to be a Skids fan from Dunfermline.
Click on any image for a larger view




Thanks to CaL at www.the-skids.co.uk for the images above






Stuart, Bill, Ricky and almost Alistair on stage at the Kinema Ballroom Christmas gigs (Sunday 23rd December 1979)
Courtesy of the private collection of Anne Wilkie - Many thanks Anne!








Dunfemline Virgin Publicity Kinema Ticket Kinema Poster Kinema Ticket Dunfermline Press Kinema Poster
Press Photo (Ray & Kay Smillie) (Smid) (Xmas 1979) (9th February 1979) (Smid)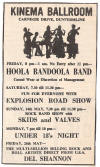 CaL at www.the-skids.co.uk 4 Howard Devotos? 30th Anniversary Shirt Glen Ticket 05/07/07 Kinema Ad Kinema Poster
(Love the reference to 'Brucies') (Smid) (Smid)







1" button badge Congrats Ad Ballroom Ticket (Mel) Glen Poster On Kinema stage (Smid)






(scarsresearch) Sunday Mail T in the Park Their 'friends' were Ballroom Ticket Charles EP Poster
Can you spot: (Malcolm Button) Trax for this gig (David McLaren)
3 Skids
Pano & Clive Ford
The Scars
The Freeze
The Cuban Heels
The Subs
Groper?
Mail me here
The Skids appeared at the Ballroom 14 times between 1977 & 1979.
Thursday 15/09/77 (solo)
Thursday 22/09/77 (solo)
Friday 14/10/77 (solo)
Monday 24/10/77 (supporting The Clash with Richard Hell & The Voidoids & The Lou's)
Friday 25/11/77 (solo)
Sunday 25/12/77 (solo) Xmas Ball
Tuesday 14/03/78 (supporting Wreckless Eric with The Rezillos)
Monday 27/03/78 (solo)
Sunday 14/05/78 (supported by The Valves)
Sunday 29/10/78 (supported by The Zones)
Sunday 25/03/79 (supported by Trax)
Sunday 17/06/79 (supported by The Edge & Delinx)
Saturday 22/12/79 (supported by Fingerprintz)
Monday 23/12/79 (supported by Fingerprintz)
"Ghoulz, my memories of the Kinema are of great importance to me". "It's where we supported the Clash". "It was also the place we most looked forward to playing in the early days and dreamed of headlining, which we did on many occasions". "The first time we played was an amazing experience, sold out, buses coming from all over Fife - a truly incredible night for me, a 17 year old local boy and I'm sure for the rest of the band". "These were the happiest times for us, before we changed and slowly pulled apart".

"Congratulations on the site". "Merry Xmas" (December 2006)
Richard.
Original Line-up:
Joey Jolson (aka Richard Jobson - born 6th October 1960) - lead vocals, backing vocals, guitar, piano
Stevie Cologne (aka Stuart Adamson - born 11th April 1958) - lead & rhythm guitar, backing vocals, synthesizer, percussion
Alex Plode (aka Bill Simpson - born 15th August 1957) - bass, backing vocals
Tom Bomb (aka Tom Kellichan) - drums
Other early name variations included: 'Richard Jolson', 'Alexander Plode' & 'Thomas Bomb'. These stage pseudonyms were dropped by early 1978.
Later:
Russell Webb - bass, synthesizer, backing vocals, percussion, guitar, piano, tympani,
Mike Baillie - drums, percussion, xylophone, vocals

Other contributors on album or live:
Rusty Egan - drums
Alistair Moore - keyboards
Kenny Hyslop - drums
Chris Jenkins - guitar
David Batchelor - piano
Bill Nelson - guitar, keyboards
Midge Ure - keyboards
Paul Wishart - saxophone, flute, piano, backing vocals
JJ Johnson - drums, percussion
Jude Nettleton - children's chorus
Julius Newell - children's chorus
Andrew Sigsworth - children's chorus
John Sigsworth - children's chorus
Alison Pipkin - children's chorus
David Pipkin - children's chorus
Hannah Yeadon - children's chorus
Esther Marshall - children's chorus
Chloe Dymott - children's chorus
Marlis Dunklau - backing vocals
Gracie Benson - backing vocals
Sally Nettleton - backing vocals
Harriet Bakewell - backing vocals
Mary Volke - backing vocals
Derek Wadsworth - didgeridoo
Alan Darby - guitar
Mike Oldfield - Fairlite
Dave Duncan - Bodhran
Tim Cross - piano, Fairlite
Virginia Astley - backing vocals, flute
Frances Lynch - backing vocals
Nicky Holland - backing vocals
Debbie Mitchell - backing vocals
Nick Griffiths - backing vocals
Alan Rankin - guitar
Billy Mackenzie - backing vocals
Ken Locke - cello, backing vocals
Bruce Watson - guitar (reunion gigs 2002 & 2007)
Jamie Watson - guitar (reunion gigs 2007)
Jane Button - backing vocals (reunion gigs 2007)
Brian Jobson - backing vocals (reunion gigs 2007)
Crew:
Pat Kelly: Engineer
Kip Mcbay: Tour Manager
Clive Ford: Technician / Roadie
Biography:

If Dunfermline has a music hero it must surely be Stuart Adamson. He loved the town, it's people and it's football Club (Dunfermline Athletic).
Beath High School pupils, Bill Simpson & Stuart Adamson, formed a covers band in 1973 called 'Tattoo' with Jock McMonagle and Lewis Law performing songs by artists such as 'David Bowie', 'Roxy Music', The Rolling Stones' & 'Status Quo' in venues all over Scotland including the Institutes in Crossgates and Lochgelly. After Jock's departure, 'Tattoo' split and Stuart began to put together a new band towards the end of 1976. When he saw 'The Damned' at 'Tiffany's' in Edinburgh on Monday 21st March 1977 the course of his career in music veered off into New Wave.
'The Skids' were formed that same month following a fortuitous meeting with Richard Jobson on an Edinburgh street corner and an audition in a Cowdenbeath Working Men's Club called 'The Gun'. Later again Tom Kellichan responded to the advert in the Dunfermline Press dated Friday June 24th 1977 below, stating "DRUMMER wanted for new Wave Band young and energetic. no hairies please".
Read it carefully again and you'll notice the use of capitals suggests the job's with a young and energetic Lochgelly radio station! (PS I've removed the phone number because it's currently still in use!)
Tam's Uncle Eck drove him and the kit to the audition in the all important 'van' and The Skids had all but arrived.
Early suggestions for a new name for the outfit included 'Marcus Zen Stars with Tom Bomb and the Martyrs of Deal'. Thankfully it didn't stick and the name they settled for is rumoured to have come about as a modification of another early idea to call themselves 'The SS Kids'.
They quickly found management with Mike Douglas (aka Pano) who ran the 'Friday Night Rock Club' in the Bellville Hotel in Dunfermline (a haunt of the local biker fraternity, though he was never gang member despite reports to the contrary). Pano pretty much 'discovered' the Skids and gave them their first break by arranging rehearsal space and a date for their first gig on Friday 19th August 1977 at The Bellville Hotel Dunfermline in support of Matt Vinyl & The Decorators (advert below). Pano would later manage Trax & form Slurpy Gloop.

Dunfermline Press dated 19th August 1977 (page 3)
Their second outing (for a crowd of approx 500) was an open-air Chillean benefit gig on the bandstand of the Glen Pavilion in Pittencrieff Park Dunfermline the next day on Saturday 20th August 1977 supported by 'Monolug' & 'Bad News' but were stopped (alledgedly) by the police after only two songs.
Some mindless fool threw a beer glass at the stage, striking a fan on the head and causing injuries requiring stitching. Their third song would have been the anti-Commumist 'Contusion'. Stuart explained that the song was about the fact that the event wouldn't have been permitted in a Communist country, and suddenly the power went down and plugs were smashed.
Local opinion is divided as to whether the saboteurs were the allegedly pro-Communist Monolug or the organisers themselves. Some disorder by disappointed & angry fans resulted though there was no 'riot'. Within a month they were playing the ballroom & inside six months they would land support slots for The Buzzcocks & The Stranglers.
Pano championed their first gigs and founded the independent label 'No Bad' Records for their first excursion on to vinyl, which they self-financed. "It cost about a hundred quid to make it, we booked a studio in Edinburgh, we had a one hour booking, we ran in there and set up our gear and recorded this song and it was a wonderful little song, a wonderful little record" (Jobson). The 'Charles' / 'Reasons' / 'Test Tube Babies' E.P. (music & lyrics by Stuart) was and is that wonderful little record (March 1978) which was swiftly followed in May by the first of their five John Peel sessions. Other No Bad products include: 'Hero' / 'Walking On The Water' [NBS2, 1980 by local band Biocar] and two albums by Dunfermline folkies 'Heritage' - 'Some Rantin Rovin Fun' [NBLP1, 1980] and 'When the Dancin' it's a' Done' (NBLP2, 1981).
They then spent some time working the London pub & club punk circuit from a squat in West Hampstead until management passed to local entrepreneur Sandy Muir who owned the local record shop (A. Muir & Son) in Queen Anne Street Dunfermline. Virgin picked them up on May 6th 1978 for an eight-album deal (cross-collaterised with a publishing deal and a £5000 advance) and released a white 7" single 'Sweet Suburbia' (written about the town of Glenrothes in 'Fife) in September 1978. A red vinyl EP 'Wide Open' followed in October which included 'The Saints are Coming' and a consequent debut appearance on Top of the Pops, but real chart success would not come until the passionate anthem 'Into The Valley' hit No 10 in February 1979. This was to be the band's most successful year when they spent thirty one weeks in the UK chart and between 1978 and 1980, they scored ten British hits, half of them reaching the top 40. Overall they spent sixty weeks in the UK singles chart.
The Skids were part of the pretentious, arty second wave of punk that didn't buy into the torn clothes or spitting though they were none the less energetic. The Skids' music was characterised by huge hypnotic chant-laden anthems that demanded that every soul in earshot must leap around in a barely controlled manic fashion that suggested the floor had suddenly been connected to the national grid.
It was impossible to ignore Jobson's strange affected vocal tone, intensely dramatic presentation, impenetrable military flavoured lyrics and bizarre violent kicking stage 'dancing' so many of us copied (much to the distress of onlookers who stood too close). This vision was coupled with Adamson's highly charged, choppy 'bagpipe' guitar styling and distinctive strangely 'Scottish' song construction. (I think it best if I avoid comment on their choice of stage clothing).
A solid, passionate local following (which is still so much in evidence today) grew with each release and healthy sales of their early singles and debut album 'Scared To Dance' (a #19 hit) were assisted in no small part by their being championed by John Peel on BBC Radio One. Their singles were often good value for money as they frequently included free extra tracks/discs and picture sleeves, though the ubiquitous coloured vinyl was not to everyone's liking.
The cracks began to really show when Stuart walked out of the recording sessions for the debut album and the band. Consequently some tracks featured a session guitarist before Stuart was persuaded to return to the band and the sessions. This would be the first of several such 'disappearances' which continued occasionally even in his days with Big Country.
The Skids could certainly never described as ordinary or predictable. They were well liked amongst other local bands of which they were very supportive. Click the flashing red LED for a personal memory by the author.

In mid 1979 Kellichan was replaced for drumming duties with Rusty Egan from 'The Rich Kids'.
Their sound was hugely matured and evolved by one of Stuart's heroes, Bill Nelson though as expected, not everyone was happy with the electronic additions so apparent on their second album 'Days In Europa' (1979). The cover of the album too drew criticism from the press with it's Aryan imagery, reminiscent of the Berlin 1936 Olympics and gothic font. Virgin later replaced the cover with a much less memorable black sleeve for the later re-issue (re-mixed by Bruce Fairbairn to make it more palatable for the Yanks) and with a different track-listing which replaced 'Pros And Cons' with 'Masquerade'. Bizarrely though, the first album cover makes an appearance on the second one as a picture on the wall of the scene and the same scene appears on the rear cover though the picture on the wall is of the their first album 'Scared to Dance'!
In early 1980 the remainder of the original rhythm section was replaced when Bill left after a particularly heated exchange with Ricky in a TV studioo and was replaced by bassist Russell Webb from 'Slik' & 'The Zones', then Mike Baillie from 'Insect Bites' took over from Rusty on drums. (Rusty went on to join 'Visage' with Steve Strange).
'Days in Europa' was followed by a third album 'The Absolute Game' (1980) whose early orders were rewarded by the gift of a free mini-album of experimental tunes called 'Strength Through Joy'. Some of these tunes were later played live.
Mike left after a particularly unhappy period in April 1981. He was replaced by Kenny Hyslop (also from 'Beings', 'Salvation', 'Slik' & 'The Zones') and by June 1981 Adamson had become disillusioned with the band's direction and tensions forced his departure in the August of 81 but not before Ricky had been sacked and reinstated a couple of times!. Stuart would later form the massively successful Big Country with Bruce Watson, (previously of local band Delinx). They would go on to sell more than 20 million albums.
Jobson & Webb soldiered on though with Paul Wishart (sax/flute) but without Hyslop who was also sacked and later joined Simple Minds. They produced a passionless, morose, final, almost 'folky' album, ironically called 'Joy' in 1981 with substantial support from several session musicians but it was widely lambasted by critics (and the most dedicated of fans) and sank without trace after Virgin withdrew it after only 3000 sales.
By January 1982 The Skids were no-more, with Jobson already pursuing a career in modelling and poetry. He once claimed to be the highest paid male model in the country! He then formed The Armoury Show with John McGeogh & John Doyle to limited critical acclaim and produced an excellent album 'Waiting For The Floods' in 1985. He has since been married (for 3 years) to, and divorced from, Mariella Frostrup and had a highly successful career in TV journalism, presenting and film direction.
Bill Simpson emigrated to Australia then returned home to Scotland where he still lives today.
Mike Baillie had also previously played with 'Abnormal Load' (with Speccy Potter - guitar & Johnny Thornton - bass) and with 'Insect Bites' (Matt Vinyl [Mathew Black] - vocals, Colin Bendall - guitar & Joe Telford - bass).
Tom Kellichan recorded a couple of tracks for Bill Nelson including 'Decline & Fall' from the album 'Quit Dreaming & Get on the Beam' (in early 1979) and on the album 'Sounding the Ritual Echo'. He later played drums with a band called 'Secrets' and ran a music bar called 'The Sax Bar' in an area of Playa de las Americas in Tenerife, Spain called The Patch. He played drums in the house band called 'Real Deal' who play rock covers and it is alleged that he can also turn his hand to singing some Sinatra! He too has now returned to Scotland.
Tragically (after a hugely successful twenty-year worldwide career with Big Country) on December 16, 2001 Stuart Adamson was found dead in a hotel room in Hawaii. He had been missing for several weeks from his Nashville, Tennessee home. The official verdict was suicide.
Many fans, friends and family members attended a moving memorial service on January 27th 2002 in The Carnegie Hall in his adopted hometown of Dunfermline. A clearly distraught Jim Leishman (manager of Dunfermline Athletic Football Team) paid tribute to his close friend by sharing some treasured memories and Richard Jobson / Bruce Watson performed a uniquely moving acoustic version of The Skids' hit 'Into The Valley'. I feel the whole affair was most apt.
A tribute concert was held later on 31st May 2002 in The Barrowland Ballroom Glasgow including performances by Bill Nelson, Runrig, Midge Ure, Steve Harley, Dead Men Walking, The Vibrators, Damon Hill, Hugh Cornwall and both Stuart's children, Kirsten & Callum. 'The Skids' were reformed for the occasion with members Richard Jobson, Bill Simpson & Mike Baillie accompanied by Bruce Watson, Kirsten Adamson and Carol Laula. They performed a lengthy set & I will never forget how it felt to feel 18 again! Thank you one & all.
Later, towards the end of the gig, it was impossible not to cry as I lost count of the number of choruses of 'Chance' we all sang. "Oh Lord, where did the feeling go,... Oh Lord, I never felt so low".
Stuart is much missed by all who were privileged to have met him and The Skids are fondly remembered, especially locally by those of us who personally experienced their raw energy and determination to entertain.
Members of The Skids reformed again with friends for a party following the Edinburgh International Film Festival's Premiere of Richard's film '16 Years Of Alcohol' on Thursday 14th August 2003 where the line-up was Ricky, Bruce, Bill, Mike and Stuart's son Callum Adamson.
A superb fan's web site was set up by fans & friends CaL & Cob in February 2006 in support of a friends & fans meeting in Dunfermline on 3rd June 2006 where Bill Simpson, Mike Baillie & Bruce Watson (Delinx & Big Country) jammed to the delight of all.
U2's guitarist 'The Edge' has always been a huge Skids fan and in late 2006 'U2' & 'Green Day' released a cover of 'The Saints are Coming' (in aid of the victims of Hurricane Katrina) which reached #2 in the UK chart on the week commencing 12th November 2006.
The web site began to draw massive support from their still fanatical following for a more formal gathering open to the public and pressure began to mount for a more complete reformation.
The first new Skids album in 26 years, 'Masquerade Masquerade' (live at the Hammersmith Odeon 1980 & Glasgow Apollo 1979) and 'The Saints Are Coming - The Best Of The Skids' were released on February 26th 2007. Richard writes in the sleeve notes: "For me it was what we were all about, the rush, the energy, the audience, the sound of Stuart Adamson's guitar and the two of us flying through the air on stage passing each other mid-flight, smiling with joy."
Then in April 2007 the news we'd all been waiting for, ... they were to reform to celebrate the 30th anniversary of their first ever gig, way back in August 1977, by playing at Scotland's biggest open-air music festival, 'T In The Park' on Saturday 7th July!
In the may they announced a live 9-track session would be broadcast on DJ Billy Sloan's show on local radio station 'Clyde One' on July 1st. Along with a two-part extensive interview with Ricky, they played Melancholy Soldiers,
Then even better news! They were to perform two warm-up gigs in Dunfermline's Glen Pavilion on Wednesday 4th and Thursday 5th July 2007. The original date (5th July) sold-out in two hours and caused the Carnegie Hall box-office to crash for several days! The 4th July was immediately added and sold-out a few days later. More than 1600 ticket sales in a week - not bad for a band who split 25 years ago!
With a substantial guest list and additional late ticket sales, each gig was witnessed by approx 1000 ecstatic fans.
Below is my review of the 4th, 5th & 6th of July 2007:
I've always kinda thought that it's a terrible cliché, how folks talk about feeling like a teenager again, but now I know it's achievable as it's a pretty fair description of what I've just been through, though I wasn't 11 stone again unfortunately.
I came soooooo close to getting into one of the rehearsals, as having spoken to Bill Simpson & Bruce Watson, I was invited to one of the later dates, however there had been a number of others there too over the preceding weeks and a decision was made to banish all further unnecessary visitors in the last few rehearsals! Damn!
Wednesday 4th July 2007:
The support were local boys from Rosyth 'The Draymin' whom I'd heard were good but I had no first-hand experience of them. They were OK but I don't feel it would be fair to judge them under these circumstances as my mind was too full of Skids expectation. They certainly need to learn some stagecraft though.
The raised stage was unremarkable except for a video screen at the rear (which refused to work on the Wednesday) and a substantial array of what looked to me like pretty impressive amplification and PA set-up though I confess to knowing next to nothing of these matters any more.
The crowd grew into a formidable collection of the curious & faithful and having noticed that the 1000-strong sell-out crowd were largely around my age (40s) I expected them to stand around tutting and nodding maybe even tapping a foot. I have seldom been more wrong.
As the lights dimmed they were transformed from a collection of disparate individuals into a homogenous pack of hungry carnivores demanding to be satiated, not unlike Johnny Depp's un-dead Pirates.
The band came on to the intro from 'Peaceful Times' which eventually morphed into 'Animation'. It was at this precise point that I wondered if the floor had been connected to the National Grid! Grown men who should and probably do know better were sucked back thirty years to experience massive involuntary muscular seizures and became young punks all over again. Many had no idea why they were behaving like this again, they only knew it felt very good, they had no choice and they would do it until either the music or their hearts stopped.
I'm guessing the band, and Richard in particular, were probably pretty nervous as Dunfermline has a reputation for spectacular indifference, however these guys were more like a Glasgow audience - If they don't like you, you're gonna know it.
However if they do........
Suffice it to say I had decided to observe the evening as a calm muso, carefully assimilating the show so I could make educated comment at a later stage. But before I knew what hit me I was throwing my old bones around on the periphery of the mania having collected just enough sense not to enter the maelstrom right down in front/centre.
All at once The Glen Pavilion in 2007 became The Kinema Ballroom in 1978/9. It felt exactly the same. I've not felt it before or since and I don't expect to ever feel it again.
The set was the better part of two hours though it seemed more like 20 minutes. Ricky (Richard nowadays) had some words of wisdom in between songs though as much as to get his breath back than to deliver his council. Much to his credit he performed as if no time had passed at all and we were all 17 again.
The band were:
Richard Jobson - vocals, witticisms, fantastically awful out-of-time leaping & kicking in the great tradition and unfeasibly wide smiling (a joyous light seemed to emanate from his face at times)
Bill Simpson - musical bass guitar & backing vocals
Mike Baillie - fluid, solid concrete drums
Bruce Watson - Stuart's lead & rhythm guitar
Jamie Watson (Bruce's son) - Stuart's lead & rhythm guitar too
Brian Jobson & (the very beautiful) Jane Button - soaring backing vocals
The set-list was:
Peaceful Times (intro morphing into) Animation
Of One Skin
Melancholy Soldiers
A Woman in Winter
The Saints Are Coming
Working for the Yankee Dollar
The Olympian
Charles
Out of Town
Scared to Dance
Hurry on Boys
Charade
Circus Games
Masquerade
Sloop John B (intro morphing into) In to the Valley

1st Encore
Vambo Marble Eye (Sensational Alex Harvey Band)
The Saints are Coming

2nd Encore
Of One Skin
TV Stars (with the ubiquitous contemporary lyrics) Simon Cowell, Gordon Ramsey & Paris Hilton didn't fare too well!
With a quick word in Bruce's ear, Ricky replaced the 2nd programmed cover ('All The Young Dudes' – Mott The Hoople) with another performance of 'Saints' when Vambo seemed to calm the savage beast over much despite Bruce's hilarious Zal mask and Jamie's rampant lion jacket!
Generally, Ricky did what he always did and better than he used to, Bill was a rock-solid reliable foundation, Bruce was as close to being Stuart as anyone ever will be and his son Jamie was remarkably accurate too, Mike Baillie always had the ability to gauge the correct degree of flamboyance in his drumming to impress & beautifully augment without detracting from the melodies and finally the backing vocals were the icing that we've never heard live before and what a difference they made! (Did I mention that Jane Button is very beautiful?).
The whole thing was recorded (audio & several camcorders) by Glaswegian, Willie Richardson as part of a planned documentary of the entire reformation/anniversary event which was never released publicly.
It's at this point the question must be asked, "Where is the 2002 Barrowlands Stuart tribute footage?" (Shame on whoever is sitting on that).
I had my trusty attenuating earplugs in and so still have all some hearing left. They also allow you to hear the music clearly and so I can attest to there being precious few mistakes although the more obvious ones were immediately forgiven.
The reaction at the end of the set wasn't quite as tumultuous as I'd expected, but I discovered why when I returned to the company of my friends, ... I couldn't speak! I'd probably shouted my last in the second hour and not noticed! I then also noticed that the ceiling was leaking. Unfortunately the fluid was a sweat cocktail sourced from around 1000 different individuals with whom I'd only had the most fleeting of relationships. I had wondered why the roadies were wiping the amps down with towels.
Thursday 5th July 2007:
I attended the 'Meet & Greet' in the afternoon at the venue where I had some time to talk over old times with the band & the faithful with as much voice as I could muster while they signed my poster and a friend's singles before the sound check which I enjoyed with some other lucky bystanders while taking some photographs/footage. Ricky was suffering from post gig joint pain and spent the whole afternoon stretching his aching limbs.
The band was universally gracious and generous with their time and signatures for around three hours while chatting to their disciples and preparing to muster enough reserves to do it all again.
The Thursday gig was even more special as I was accompanied by my wife Margaret, my life-long friend Dr. Neill Martin (keyboards with Trax) and his lovely wife, Anastasia. Later we met another raft of old acquaintances including Pano (Mike Douglas) who 'discovered' and was The Skids first manager and later Trax manager too.
I had some reservations about the Thursday as I couldn't conceive of how Wednesday could be topped, however (and I'm not used to this) I was wrong again as they stepped it all up several notches and out-did the previous performance with even greater enthusiasm.
It was quite simply incandescent.
I lost control again and probably lost my remaining croak in the first couple of tunes. My legs faired little better but you don't notice after a bit. (Until you stop).
The set list was broadly similar, though Vambo was dropped altogether in favour of more original gear.
Having saturated the ceiling on the first night, the perspiration rain began even earlier and several shirts were completely discarded (unfortunately by blokes) and the roadies had to towel down the equipment again.
I think many were quite choked as we saw Stuart looking over the assembled mass approvingly from the projection screen and we remembered one of our leaders was missing. I certainly augmented my contribution to the humidity with a few tears.
Into the Valley was tagged on to the last encore of 2007's TV Stars and it was all over.
As we hobbled out of the venue the scene was reminiscent of the retreat of a battle-weary army holding each other up & picking-up casualties on the way.
Walking through the surrounding Pittencreiff Park (The Glen) we over heard the following:
Fan 1 "What time is it?"
Fan 2 "1977!"
Priceless!
Friday 6th July 2007:
The faithful & local worthies joined Bill Simpson for a nostalgic bevvy in the pub Stuart used to own in Dunfermline ('Tappie Toories') where the small private bar had been laid aside for us with an amp and a guitar. Several disciples played riffs sufficient for a sing / croak-along while stories of what we still couldn't quite believe had happened were exchanged.
A few were allowed up into the third floor flat above the pub where Stuart occasionally stayed and we continued suitably reverential conversations about what had been and what might have been.
I then staggered home to begin winding down.
I can honestly say that it took me two days to come down from the experiences of those preceding three and have felt somewhat hollow since.
I
didn't go to 'T in The Park' but have heard many stories and watched the on-line footage. It seems they didn't disappoint the 25-30,000 there either. I understand that Ricky had Cortisone injections in his knees to allow him to get through the performance having damaged same in Dunfermline on the Thursday. What a man!
During the Glen gigs, Ricky was quite self deprecating of his own lack of traditional dancing/timing/singing skills but the affection shown tonight indicates we like him just the way he was/is. To those in 'working men's Dunfermline' who perceive him as pretentious (i.e. he read books voluntarily) had better be silent because he belongs to us all now! He paid several great tributes to his friend Stuart and spoke for us all who miss him.
Hope that's given you a flavour of a few nights those who witnessed them shall never forget. Alas it'll never happen again. If only the gigs could have been in the ballroom. (How typical of a Scot to still find a grain of dissatisfaction).
Since launching 'KinemaGigz.com' I've been lucky to be in close contact with the local guys (CaL & Cob) who run the fan site, the myspace site & the official site and have been introduced into their tightly-knit family of friends and I've renewed some highly valued old friendships too. The graft involved in building this site has been and remains well worth it, purely for this alone.
How joyous to be a kid again.
Ghoulz.
Ricky claimed that the 'Tin The Park' gig will be (in the words of a certain Mr. David Bowie) "the last show we'll ever do".
Though my heart says they should tour the UK extensively one last time, my head says "finish at the top boys".
A 'fan gathering' took place at The Corner Music Bar in Dunfermline on Saturday July 5th 2008 entitled 'The Masquerade Ball' featuring a jam session by with Bill Simpson, Mike Bailey, Bruce & Jamie Watson and Jane Button & Colin Harrower (Cob) on vocals! Support came from Edinburgh punks The Axidents and a set by Bruce, Jamie and friends. Unsurprisingly, tickets were sold-out.
Illustrated Discography (with UK chart positions)
Singles/EPs:



'Charles' / 'Reasons' / 'Test Tube Babies' (March 1978)
(7" black vinyl single)




'Sweet Suburbia' / 'Open Sound' (1st September 1978) #70
(7" black or white vinyl single)



'The Saints are Coming' / 'Of One Skin' / 'Night And Day' / 'Contusion' (November 1978) #48
(7" black or 12" red vinyl EP)


'Into The Valley' / 'TV Stars' (9th February 1979) #10 (TV Stars was recorded Live at the Marquee on 1st November 1978)
(7" black or white vinyl single)



'Masquerade' / 'Out Of Town' / 'Another Emotion' / 'Aftermath Dub' (March 1979) #14
(7" black vinyl EP) or (7" 'Masquerade' / 'Out Of Town' black vinyl single)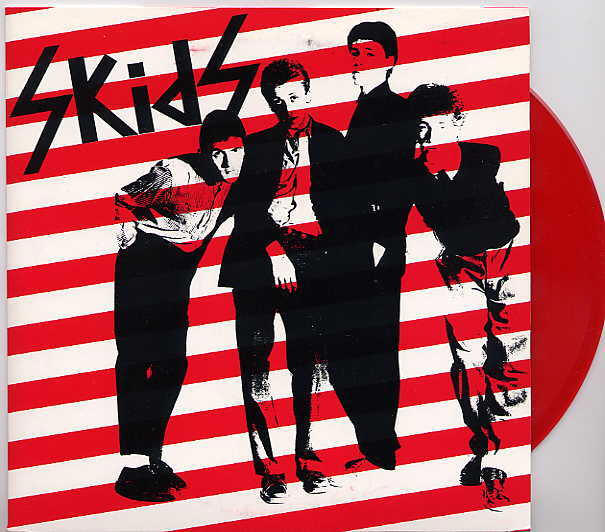 Pre 'Scared To Dance' Demos (unofficial)
(7" red vinyl EP)




'Charade' / 'Grey Parade' (September 1979) #31
(7" black vinyl single)



'Working For The Yankee Dollar' / 'Vanguard's Crusade' / 'All The Young Dudes' / 'Hymns From A Haunted Ballroom' (November 1979) #20
(7" black vinyl EP)


'Animation' / 'Pros & Cons' (February 1980) #56
(7" black vinyl single)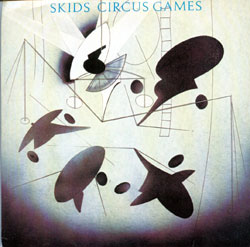 'Circus Games' / 'One Decree' (July 1980) #32
(7" black vinyl single) (Also version with poster sleeve)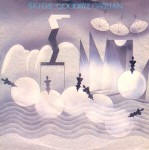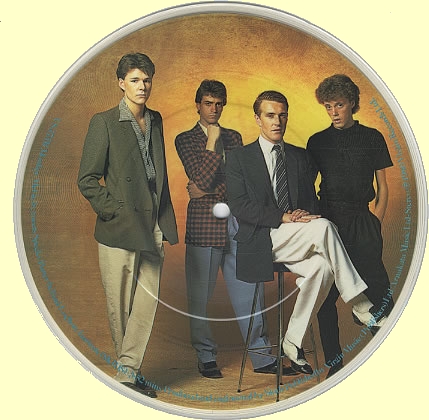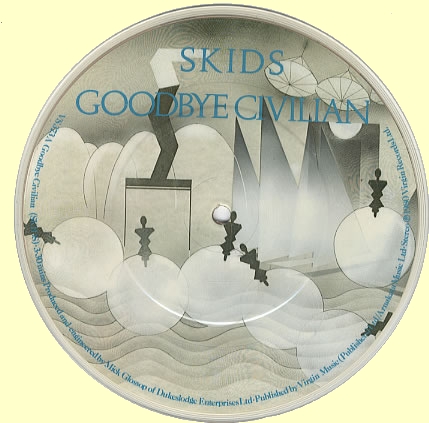 'Goodbye Civilian' / 'Monkey McGuire Meets Specky Potter Behind Lochore Institute (October 1980) #52
(7" black vinyl single or picture disc)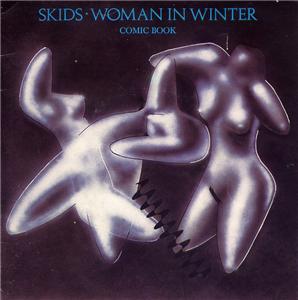 'Woman In Winter' / 'Working For The Yankee Dollar (Live)' (November 1980) #49
(7" black vinyl single with comic sleeve)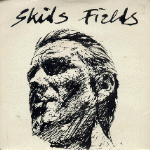 'Fields' / 'Brave Man' (August 1981)
(7" black vinyl single)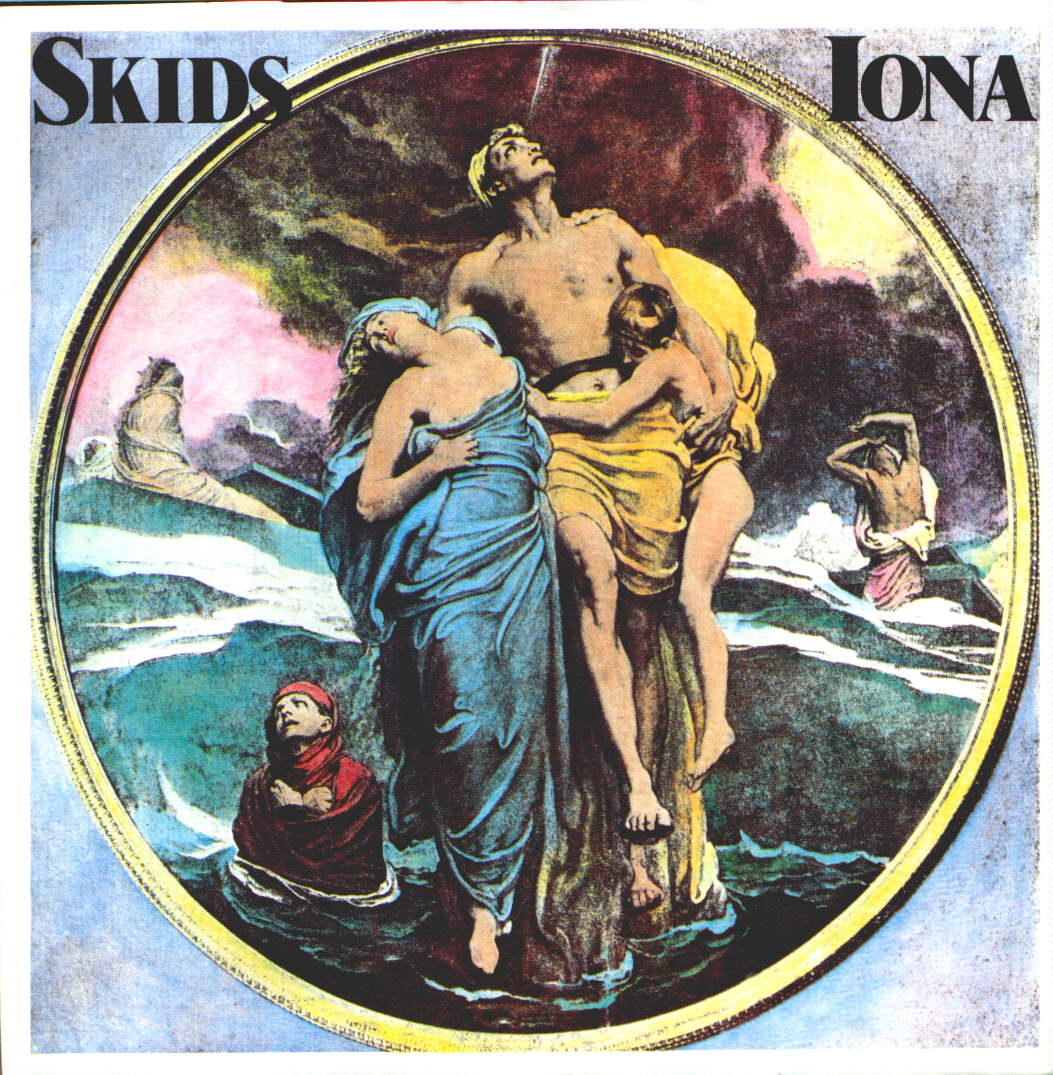 'Iona' / 'Blood & Soil' (October 1981)
(7" black vinyl single)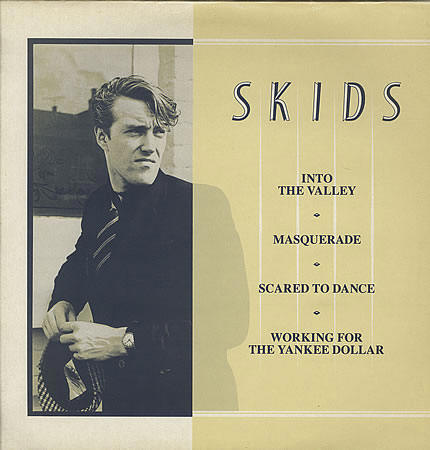 'Into The Valley' / 'Masquerade' / 'Scared To Dance' / 'Working For The Yankee Dollar' (1983)
(12" EP)


'Into The Valley' / 'Babylon's Burning' 7" (1992)
(7" black vinyl single)


Albums:




'Scared to Dance' (23rd February 1979 re-released 1980 & 1990 & re-released with more tracks October 2005) #19
(Only 20 blue copies exist!) (Also on CD)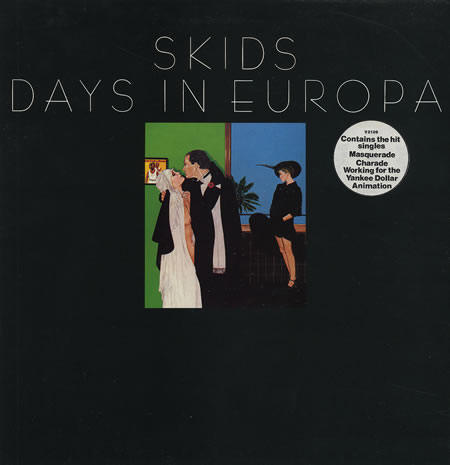 'Days in Europa' (November 1979 - withdrawn & reissued March 1980 with new cover)
Re-released with more tracks 2001 #32 (Also on CD)



'The Absolute Game' (September 1980) #9 [20,000 copies with free 12" mini vinyl album 'Strength Through Joy']
(re-released October 2004) (Also on CD)



'Joy' (November 1981)
CD still awaited


'Fanfare' compilation (1982)
(Also on CD)


'Dunfermline' CD compilation (1987)
CD


'BBC Radio 1 Live in Concert' March 10th 1979 (1991)
CD


Sweet Suburbia (compilation) same tracks as 'Dunfermline' (1995)
CD


The Very Best Of The Skids (2003)
CD


Into The Valley - The Best Of The Skids (same tracks as 'Dunfermline') (January 2005)
CD


The Saints Are Coming (compilation) (February 2007)
CD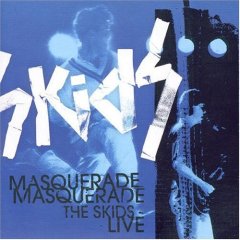 'Masquerade Masquerade' [Live at the Hammersmith Odeon 1980 & Glasgow Apollo 1979] (February 2007)
CD
VHS Video: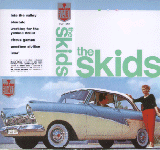 The Skids (VHS) Video Collection (1989) [23 mins]
DVD: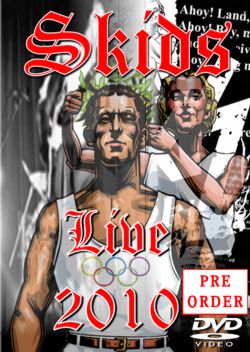 Skids Live 2010 DVD (at the Alhambra Dunfermline) [75 mins]
The John Peel Radio One Sessions:
1. Recorded in unknown BBC Studio on 16th May 1978
First transmitted on 19th May 1978
Of One Skin
Open Sound
Contusion
Night And Day
TV Stars
2. Recorded in BBC Maida Vale studio 4 on 29th August 1978
First transmitted on 1st September 1978
Dossier Of Fallibility
Hope And Glory
Six Times
The Saints Are Coming
3. Recorded in BBC Maida Vale studio 4 on 30th April 1979
First transmitted on 7th May 1979
War Poets
Withdrawal Symptoms
Hymns From A Haunted Balloon
Masquerade
4. Recorded in BBC Maida Vale studio 4 on 19th February 1979
First transmitted on 26th February 1979
Summer
Hang On To The Shadows
Zit
Walk On The Wild Side
5. Recorded in BBC Maida Vale studio 4 on 1st September 1980
First transmitted on 15th September 1980
Filming In Africa
An Incident In Algiers
Circus Games
Snakes And Ladders (Instrumental)
The first four sessions above were performed by the original line-up: Richard Jobson (vocals), Stuart Adamson (guitar), William Simpson (bass), Thomas Kellichan (drums).
The fifth & last session was performed by the following line-up & friends: Richard Jobson (vocals, guitar on 'Snakes And Ladders' only), Russell Webb (bass), Mike Baillie (drums), John Mcgeoch (guitar - 'Filming In Africa', 'An Incident In Algiers', 'Circus Games', vocals-'Filming In Africa', 'Circus Games'), Steve Severin (vocals - 'Filming In Africa', 'Circus Games' only).
Web Sites:
The definitive Skids fan site (incl a forum) can be found here:www.the-skids.com and I highly recommend it.
The official site can be found here: theskids.com check it out regularly.
Trivia:
1. Both Dunfermline Athletic and Charlton Athletic Football Clubs run on to their respective pitches to The Skids' biggest chart single 'Into The Valley'. The connection with Charlton being that their ground is known as 'The Valley'.
2. In 1991 'The Manic Street Preachers' released a single, "Motown Junk", which includes samples of The Skids' first single, 'Charles' (March 1978).
3. Their early road crew was formed of Pat Kelly & Kip McBay who formed 'Joe's Diner' & 'Biocar' & later founded 'Sound Control' (The UK's biggest supplier of musical instruments and equipment). Pat is now its Managing Director, while Kip is with rival firm 'Guitar Guitar'.
4. For those of you unable to decipher the lyrics to 'TV Stars', here's what I hear:
Marquee Recording 1st November 1978
(This is... this is the political part. We do also speak politics to you today. Och it is. Albert Tatlock for f***ing parliament)
Eddie's Tammy, Stanley's Chamois
Ena Sharples, David Hunter
Meg Mortimer, Stanley Ogden
Albert Tatlock x2
Jim Baines, John Peel
Annie Walker, Meg Richardson
Albert Tatlock x2
Kenny Dalglish, Meg Mortimer
Sandy Richardson, Annie Walker
Albert Tatlock x5
Apollo Recording (16/06/79)
No chance................................
Eddie's Tammy, Stanley's Chamois
Ena Sharples, David Hunter
Meg Mortimer, Stanley Ogden
Albert Tatlock x2
David Hunter, Meg Mortimer
Stanley Ogden, Diane Parker
Albert Tatlock x2
Wally Simpson, Reg Perrin
Diane Parker, Everybody in Glasgow
Albert Tatlock x4.
Live Session on DJ Billy Sloan's show on local radio station 'Clyde One' on July 1st 2007
Vera Duckworth, Deirdre Barlow
Alan Turner, Carol Vorderman

Albert Tatlock x2
Peggy Mitchell, Gordon Strachan
Paris Hilton, David Beckham

Albert Tatlock x2
Gordon Ramsay, What a t****r,
Alan Hanson, Simon Cowell

Albert Tatlock x2
Live in the Glen Thursday 5th July 2007
Ena Sharples, Minnie Caldwell
Kenny Dalglish, John Peel
Albert Tatlock x2
Paris Hilton, what a f***y
Paris Hilton, what a f***y
Albert Tatlock x2
Simon Cowell, What a w****r
Gordon Ramsay, What a t****r
Albert Tatlock x5
Ricky - vocals
Greg - guitar
Sean Henighen - bass
Simpson - drums
Stu - Keyboards
The Skinflints are a rock 'n' roll band from Glasgow currently working on their debut album with Blacksugar records.

"huge whirlwind of guitar rock with massive rhythms and industrial electronic undercurrents that fill the place with sound and provide a storm force of sound to transport you to places way beyond the average rock or indie band" Andy Garibaldi, "Dundee, live bands to watch".
"A sound that could fill stadiums, Ive gotta get along to see these guys live, if they are as good as their recordings they will be well worth investigating." - Vic Galloway 15th December 2008

Barry Skinner started singing Folk Songs in the late 1950's. He formed the Coventry Folk Club in 1962 and sang full time professionally from 1964 to 1980. In sixteen years on the road he sang in innumerable folk clubs throughout the British Isles as well as at concerts, festivals, colleges etc. He also sang at clubs, concerts and festivals in Holland, Germany, Spain and the USA. Along with over 200 TV and Radio appearances, three solo LPs and various compilation albums, it turned into a very busy and enjoyable sixteen years.

1980 brought a change. Barry had always had a great love, knowledge and interest in the canals and had for many years featured a programme of slides and songs about canals. He joined Coventry Education Waterways Scheme, which ran two narrow boats as "floating classrooms" and for the next five years travelled the length and breadth of the navigable canal and river system in England and Wales. He also appeared on many programmes about canals on radio and TV during this period.

In1985 he moved to Snowdonia, to work as an outdoor instructor, taking early retirement in 1998 as Chief Instructor and Deputy Head of Liverpool Hope University's Outdoor Centre at Plas Caerdeon, near Barmouth in Snowdonia.

Barry sings both Traditional and Contemporary songs, as well as many of his own compositions. He plays guitar and banjo and is accompanied on the keyboard by his partner, Anne. Together they guarantee an entertaining and enjoyable evening.
Barry once had his own 'Barry Skinner Folk Group' and played and recorded with Martin Jenkins in the folk/rock band 'One Day Thomas'.

Noddy Holder - vocals, guitar
Dave Hill - guitar, vocals
Jimmy Lea - bass, violin, vocals
Don Powell - drums
Originally recording as 'The 'N Betweens', this UK quartet performed regularly in the Midlands in the Spring of 1966, playing an unusual mixture of soul standards, juxtaposed with a sprinkling of hard rock items. A chance meeting with producer Kim Fowley led to a one-off single, "You Better Run", released in August 1966. Two further years of obscurity followed until their agent secured them an audition with Fontana Records' A&R head Jack Baverstock. He insisted that they change their name to Ambrose Slade and it was under that moniker that they recorded Beginnings. Chaff on the winds of opportunity, they next fell into the hands of former Animals bass player-turned-manager, Chas Chandler. He abbreviated their name to Slade and oversaw their new incarnation as a skinhead group for the stomping "Wild Winds Are Blowing". Their image as "bovver boys", complete with cropped hair and Dr Marten boots, provoked some scathing press from a media sensitive to youth culture violence.
Slade persevered with their skinhead phase until 1970 when it was clear that their notoriety was passé. While growing their hair and cultivating a more colourful image, they retained their aggressive musicianship and screaming vocals for the bluesy cover version of "Get Down And Get With It", which reached the UK Top 20 in 1971. Under Chandler's guidance, Holder and Lea began composing their own material, relying on distinctive riffs, a boot-stomping beat and sloganeering lyrics, usually topped off by a deliberately mis-spelt title. "Coz I Luv You" took them to number 1 in the UK in late 1971, precipitating an incredible run of chart success that was to continue uninterrupted for the next three years.
After the average "Look Wot You Dun" (which still hit number 4), they served up a veritable beer barrel of frothy UK chart-toppers including "Take Me Bak 'Ome", "Mama Weer All Crazee Now", "Cum On Feel The Noize" and "Skweeze Me Pleeze Me". Their finest moment was 1973's "Merry Xmas Everybody", one of the great festive rock songs and a perennial favourite. Unpretentious and proudly working-class, the band appealed to teenage audiences who cheered their larynx-wrenching singles and gloried in their garish yet peculiarly masculine forays into glam rock. Holder, clearly no sex symbol, offered a solid, cheery image, with Dickensian side whiskers and a hat covered in mirrors, while Hill took tasteless dressing to marvellous new extremes.
Largely dependent upon a young, fickle audience, and seemingly incapable of spreading their parochial charm to the USA, Slade's supremacy was to prove ephemeral. They participated in a movie, Flame, which was surprisingly impressive, and undertook extensive tours, yet by the mid-70s they were yesterday's teen heroes. The ensuing punk explosion made them virtually redundant and prompted in 1977 the appropriately titled Whatever Happened To Slade. Undeterred they carried on just as they had done in the late 60s, awaiting a new break. An appearance at the 1980 Reading Festival brought them credibility anew. This performance was captured on the Alive At Reading '80 EP, which pushed the band into the UK singles chart for the first time in three years. "Merry Xmas Everybody" was re-recorded and charted that same year (the first in a run of seven consecutive years, subsequently in its original form).
Slade returned to the UK Top 10 in January 1981 with "We'll Bring The House Down", and in 1983 shot to number 2 with "My Oh My". The following year's "Run Runaway" also reached the Top 10, and became their first US Top 20 hit. The hits subsequently dried up and in the late 80s the original quartet, while never officially splitting up, began working on other projects. They last appeared together in February 1992. Slade are one of the few bands to have survived the heady days of glitter and glam with their reputation intact and are regarded with endearing affection by a wide spectrum of age groups.
However, it appears that their creative peak is way behind them, as highlighted by the emergence in the mid-90s of the derivative Slade II (minus Holder and Lea). In stark contrast, the 1997 compilation Feel The Noize received outstanding reviews in the UK, heralding a mini-glam rock revival. Lea has released several singles under various pseudonyms, while Holder has become a popular all-round television personality, co-starring in the ITV sitcom The Grimleys, and also hosted a regular 70s rock programme on Manchester's Piccadilly Radio. He was awarded an MBE in the Millennium New Years Honours List.
Info from: www.sladeinengland.co.uk
Wayne Barrett – vocals
Mick Rossi – guitar
Howard "Zip" Bates – bass
Brian "Mad Muffet" Grantham - drums
Taking their name from two of their biggest influences - Mick Ronson's 'Slaughter on Tenth Avenue' and David Bowie's 'Diamond Dogs', 'Slaughter and the Dogs' formed in April 1976 at Manchester's Wythenshawe Sharston High School with a line-up of Mick Rossi (guitar), Wayne Barrett (vocals), Howard "Zip" Bates (bass) and Brian "Mad Moffet" Grantham (drums). Following a series of local gigs the band managed to convince Malcolm McLaren they had a 'huge following' and so blagged the support slot to 'The Sex Pistols' legendary show at Manchester's Lesser Free Trade Hall on July 20 1976, a gig that also saw the first performance by the Buzzcocks.
A couple of support slots to The Damned plus their own headlining shows at venues like London The Roxy and Swindon The Affair, persuaded the May '77 release of the band's debut single "Cranked Up Really High"/"The Bitch" was released by Manchester Independent label Rabid Records and coupled with the band's manic and highly visual live show helped establish Slaughter and the Dogs on the the booming punk circuit. Two cuts "Boston Babies" and "Runaway" were included on the brilliant compilation "Live At The Roxy", and were filmed by Don Letts for the Punk Rock Movie. All this helped lead to a deal with Decca Records, also at the time home to 'Cocksparrer', and later 'Adam and the Ants'.
August 29 1977 saw the release of "Where Have All the Boot Boys Gone" - 3 minutes of unadulterated power and aggression that had a marked effect in laying the foundation to the early 80's Oi! movement.
Late November 77 saw the release of their second Decca single "Dare To Blame" and it was promoted by a short tour of London venues like the Marquee, The Nashville, Dingwalls, and a national tour with Johnny Thunders and the Heartbreakers.
For February 1978 "Quick Joey Small" 7" Slaughter were augmented by a guest appearance by Mick Ronson, but even his presence couldn't help kick this cover of a 60's classic into the charts. A short jaunt across the UK taking in such venues as Manchester Poly (with John Cooper Clarke), Birmingham Town Hall (with Eater), and Liverpool Eric's (with Johnny Moped) was mixed up with final recording sessions for the debut LP.
Editor's Note: The band never played the May 1978 Kinema gig with Eater & Blitzkrieg Bop as they split after only a handful of dates of the 'Do It Dog Style' Tour.
But by the time of the final release "Do It Dog Style" on June 13 1978 the band had split up for the 1st time. It looked like the world had heard the last of Slaughter and the Dogs, but two of the founder members Mick Rossi and bassist Howard Bates formed a new band - Studio Sweethearts. With new recruits drummer Phil Rowland (ex Eater) and guitarist Billy Duffy (of Cult fame). This band lasted only one show and one single "I Believe" on DJM.
It was announced on July 26 through the music press the band was back. The re-launch was at Manchester's The Factory on August 10th (recorded and released in the early 80"s as "Live At The Factory"). A few more gigs followed before the release on November 8th of the single "You're Ready Now". The Sounds review stated, "Great fun, I never knew they were this good". The single was promoted by 3 sold-out nights at the London Marquee, though this sudden surge in popularity wasn't enough to persuade Wayne Barrett to stay with the band and he quit in early 1980 to pursue a career on his own song writing.
With a recording contract to fulfil Rossi, Baker and Rowland quickly recruited vocalist Eddie Garrits aka Ed Banger, ex of the Nosebleeds who released the brilliant "I Ain't Been To Music School" 45. His vinyl debut came courtesy of March 1980's "East Side Of Town" 45 which was quickly followed by the album "Bite Back" - both releases issued under the shortened name Slaughter. A mini tour took place with Abrasive Wheels as support at Birmingham, Manchester and London Electric Ballroom (with Cockney Rejects).
June 25th saw the release of the single "I'm The One". A full UK tour followed (taking in Retford, Edinburgh, Dumfries, Grangemouth, Paisley, Dundee, Blackpool, Blackburn, Derby and London). But eventually lack of chart success led to Rossi quitting in August '80 - putting the Dogs down for the next 16 years.
Mick Rossi remained the most active of the band following its demise - recording an album with ex Heavy Metal Kids vocalist Gary Holton and 2 other projects The Swingers and The Monsters. He moved to Los Angeles to do acting and hook up with a part time covers band with Steve Jones (Sex Pistols) called Usual Suspects.
Rumours were rife of a reunion in the early nineties after a low profile release of an album called "Shocking" on Receiver Records. It wasn't until 1996 when everybody followed the Sex Pistols Filthy Lucre example that Slaughter and the Dogs headlined the "Holidays In The Sun" festival in Blackpool UK, 1996 - captured on limited edition CD, coloured vinyl LP and more recently DVD "Back and Biting". The last 9 or so years have seen the band touring Europe, USA, and Japan regularly. A new album "Beware Of" was released in 2003 and a follow up is currently being planned along with a new DVD ("Live in San Francisco/Japan").
Info from: www.steveharnett.com
Kenny Slaven was an eccentric Scottish fiddle player who played on Ronnie Lane's 'The Poacher' (1974), #36 in the UK chart. He also played with Slim Chance in Ronnie's UK live tour known as 'The Passing Show' which was a bizarre kind of carnival, complete with tents, barkers, etc with Slim Chance & Bill Barclay. Viv Stanshall, from the Bonzo Dog Doo Dah Band, was the ringmaster for a time until his penchant for alcohol got in the way.
If you can add any further information to this piece please contact me here
Jelly Pastorini - keyboards
Peter Rietmann - bass
Contrary to many writers 'The Slaves' were not a Swiss band as such but a truly international 'garage' band from Vienna, Austria with Swiss, British and Austrian members. The two Swiss members were: Keyboard player Jelly Pastorini (also of The Sevens & Shiver) and bassist Peter Rietmann (also of The Dynamites). However the band did live, play record and release their three singles in Zurich, Switzerland and their scarcity is reflected in the extremely high prices paid by collectors.
They were eventually forced to leave Switzerland however when their illegal substance use was discovered, so they elected to take up residence in Austria. They were managed by Rolf Aemisegger.
Single releases:
'Panic' / 'Get Out Of My Way' (1966)
'Shut Up!' / 'Never Free' (1966)
'Slaves Time' / 'You Are The Only One' (1966)

Jim Bodie - vocals
Clark Robertson - lead guitar
Phil Robertson - bass
Frank Kosiba - drums

Jim Ross - drums
Jim Kelly - guitar, vocals
Robbie Stewart - drums

The first Sleaz Band was named when the band was booked as 'Rock Tonsils and the Sleaz Band' to support 'Pink Floyd', 'Gethsemane' and various others at Dundee Art College Revels in 1968. Eventually the 'Rock Tonsils' bit was dropped leaving just the Sleaz Band tag.

The band did at least 60 gigs in 1969 supporting Chris McClure, Eire Apparent, Love Affair, Blues Junction, John Dummer Blues Band, Desmond Dekker, Tear Gas at Sergeant Pepper's in Glasgow and Eclection and Peter Green's Fleetwood Mac at the Green's Playhouse Glasgow on 16/10/69.

During February 1970 Frank Kosiba left to become a full time teacher. Jim Ross took over the drums and the band also turned professional due to the number of gigs they were getting. That year they toured with Deep Purple, Chicken Shack, Tyrannosaurus Rex, and Manfred Mann Chapter lll. They also supported Cliff Bennett Band, Aardvark, Graham Bond, David Bowie (at the Aberdeen Uni Art College Ball) Man, Stoics, Badfinger, Smash, Arrival, Los Caracas (Middle of the Road), Edison Lighthouse, White Trash, Dream Police, Consortium, Gracious, Bay City Rollers, and Tear Gas again. Some 97 gigs at least from Jan 2nd to Jul 11th that year.

In 1971 there were 163 gigs or more - supporting Medicine Head, Poets, Joyce Bond Revue, String Driven Thing, Slade, Groundhogs, Man, Chris McClure, Equals, Ashton Gardner & Dyke, Argent, Mungo Jerry, Merlin, Chicken Shack, Northwind, Nickolson, Heads Hands and Feet, Salvation, Thin Lizzy, Fairweather, Paladin, Assegai, Johnny Johnson and the Bandwagon, Warm Dust, and playing alongside good friends Bubbles and Tear Gas. They also played alongside Dusty Hutt, Poorhouse and Kaywana Stock and did the original Cavern, Liverpool before it was demolished.

Contrary to popular thought that Sleaz Band did not record, they started an LP in London at both Sarm and Marquee Studios in 1973. In 1974, on the 21st of June a single called 'All I Want Is You' c/w 'Midnight Man' was released on the Fontana label. All four band members are credited on both sides on both sides of the single - equal shares was the philosophy.

There were 156 gigs in 1972 between Jan 2nd and Oct 28th. Once again supporting various names such as Alex Harvey (Pre Sensational), Nazareth, Slade (the Scottish leg of their nationwide tour - Status Quo did the English dates), Walrus, Country Joe Macdonald, Wishbone Ash, Edgar Broughton Band, Man, and Tear Gas again. Phil Robertson left this version of the band in late August during a bust up in Wrexham of all places and they did the outstanding gigs with a roadie on bass until breaking up in October.

At the end of 1972 Bill Fehilly (Mountain Management) persuaded Phil and Clark to re-form the Band with Jim Kelly (ex-Honours & Honeybus) on guitar and vocals and Robbie Stewart on drums. There were 136 gigs in 1973 supporting Sensational Alex Harvey Band, Screaming Lord Sutch, Gypsy and the Scottish Tour with Nazareth. They also played a few gigs with a band they got on well with called Stiltz.

On 23rd August 1974, after a falling out Jim Kelly decided to leave on the way to a gig leaving the other three to carry on. The manager had lined up a replacement (who went on to better things) but the rest had had enough and went back to civvies. The LP was shelved incomplete and only a very poor quality tape exists somewhere.

Info courtesy of: www.rockingscots.co.uk


Promotional pic from
Bathgate Bands
Jamie O'Neill - lead guitar, vocals
Jim Thyne - rhythm guitar
Andy Fairley - bass
Tam Howson - drums

Ronnie O'Neill - lights & roadie
Bathgate rock covers band 'Gannet' changed their name to 'Sloopy' around 1975 when original bass player Malcolm Lochrie was replaced by Andy Fairley. They turned professional in 1976 but were finished by 1978 when they changed their name to TNT.
Visit BathgateBands
If you can add any further information to this piece please contact me here

Pano (Michael Douglas "no not that one!") - keyboards, various electronic gadgetry
Fritz (William Ian Fitzsimmons) - keyboards, vocals
James Barney Ward - synth, strings, backing vocals
Maria Berry - backing vocals
Others included:
Derek "Deek" Coll: - keyboards, drums, percussion
Kenny MacDougall - drums, percussion
Craig Hood - drums, guitar
Talcy Malcy - trumpet
Alison Reid - vocals
Wee Lynsey n Tracie
Arfur Fuxsake - synth, computer programming
Way back in the late seventies, Pano briefly managed Dunfermline bands 'The Skids' and later, 'Trax'. He then formed 'The (Dick Emery) Family On Holiday' (Members included: Pano - guitar / Fritz - keyboards / Nipper Morton (Murray Ferguson) - vocals, drums / Peter Hamilton - drums / Scott Roberts - bass / Collapso - drums). Described as a psychedelic / electro / punk group, 'The Family On Holiday' played and recorded around the fife coast of Scotland and released a 7" single 'Who's a Pretty Boy Then?' / 'You're as Cute as a Dead Gerbil', recorded at Palladium Studios on their own 'Fabidoo Records' label in July of 1981. (It was the chosen single of the week in 'Melody Maker' of guest reviewer Mark E Smith (singer with Mancunian legends 'The Fall'!)
'The Family On Holiday' later spiralled out of control and transformed briefly into 'Choir Invisible' (Pano, Fritz & Warpo on drums).
Take electronic legends and luminaries such as Karl Heinz Stockhaesen, Philip Glass, innovative brain-waving stereo pioneers 'Tonto's Expanding Head Band' and on to the weird and wonderful krautrock 'Faust', then add 'Kraftwerk', 'Syd Barrett', 'Pink Floyd' and 'The Pixies' into the equation and you'll begin to understand the mix that inspired Pano to form his next project, 'Slurpy Gloop' in 1985.
Pano dreamed-up the moniker to turn his musical ideas, inspirations and technological skills into reality. Starting off with not much more than a guitar, Minimoog and drum machine (Warpo), material was written, analysed and moulded into the shape that was to become the basis of that certain 'Slurpy Gloop' sound.

He then enlisted friend and Choir Invisible music collaborator William Ian Fitzsimmons (Fritz) whose armoury included an Octave Cat synth, and a Roland String Synth. Fritz appeared to be quite shy in the early stages of the band but soon proved to be anything but when performing. He had amazing off-beat rhythm and an ear for a good original keyboard sound. He later moved on to vocals and at his best an excellent singer and performer but his pièce de résistance had to be his song writing.

Having written the preliminary sketches for what would become the backbone of an album, the duo called-out for someone to have a freelance roll and experiment with some kind of vocals to layer on top of some unfinished work.

Maria Berry had never sung with a band before, but what she lacked in experience was made up by her enthusiasm and lack of fear to try something new & different and usually performed on her adrenaline / nerves. The end result (live and recorded) was rather intriguing to say the least. She soon adapted herself to tune in to the sound with her own inimitable style.

With Fritz and Maria concentrating on vocals, the door was open for a new keyboard player to add a new dimension to the sound. All they expected from James Barney Ward was some different keyboard work but once he settled in with a Minimoog, Oscar Synth and Crumar Strings he created some mind blowing tunes. James also had an interest in backing vocals and his unique style is evident all the way through the album.
On Saturday 23rd May 1987 they had a bash at a Beatles-style roof-top gig one warm sunny afternoon at Sunset Studios in central Dunfermline atop a building known as 'Shafi's' on the corner of Carnegie Drive, Chapel Street & Bruce Street where they rehearsed & recorded the album.
Pano himself takes up the story:
"This is where we had our rehearsal/recording studio and I remember it was a Saturday afternoon and a lovely summers day, so within a whimsical second or two the decision was made to open the skylight, chuck up the backline and p.a. and just go and have a wee practice in the sunshine. The only thing was that once we started jammin', mayhem ensued as down below the traffic had stopped, the Police and papers turned up and the band consequently were arrested but released 4 hours later without charge. A nice time was had by all" ..
'I Heard it in a Bathtub in Ohio' was recorded at Sunset Studios Dunfermline (atop the old Shafi's building) mixed and mastered at REL studios in Edinburgh.

For a period of time while Slurpy Gloop were totally together and at the height of their creativity and totally psyched up for it, they were ignored by the influential music heirarchy/industry bigwigs who couldn't really think where these guys fitted in or quite politely had never heard of them and did not want to, because they were not hip and in consequence the buzz, adrenalin and creativity that was there in abundance during rehearsals and the recording of 'Bathtub' soon petered-out and the band went their separate ways through time. While other experimental incarnations of the band came & went, none were anywhere near as good or had the definitive vibe within the original line up of Pano, Fritz, James and Maria ..

Album:
'I Heard it in a Bathtub in Ohio' (1988) - Digitally re-mastered mixes from 'Bathtub' now available on Garageband
Tracklisting: 'Victory Beat' / 'In Little Ones' / 'Power of Lies' / 'Ribbons of the Heart' / 'An End to a Start' / 'Don't Let Your Touch Die' / 'Feelings (The Outsider)' / 'Let Go' / 'Come Wake Me'.

Pano continues to record as 'wakiaudio'.
A new line-up of Slurpy Gloop (without Pano) was formed, [Fritz (William Ian Fitzsimmons) - vocals / James Barney Ward - Keyboards / Arfur Fuxsake (ex-roadie) - Keyboards] and returned to the stage on Saturday 19th June 2010 to play most/all of the album at Wellwood Club Dunfermline to an audience of approx 60, supported by friends Bruce & Jamie Watson. They were described as "Psycho-delic electronica or electronic psych-delia".
Cheers Pano!
Steve Marriott - guitar, vocals
Ronnie Lane - bass
Jimmy Winston organ, guitar
Kenney Jones - drums
Ian McLagan - keyboards
Rick Wills - bass
Jimmy McCullough - guitar
Ronnie Lane and Steve Marriott had already played in other bands when they met up for the first time in London's East End. These two created the 'Small Faces' together with Kenny Jones who was then playing on Lane's group 'The Pioneers' and Jimmy Langwith an acquaintance of Marriott's. After some success with their live stage act they were signed up to Don Arden's management who in turn secured a record distribution contract with Decca.
Their first release 'Watcha Gonna Do About It' which was co-written by the original bass player of the Shadows, Ian Samwell, proved an instant success, but their next single was an untypical failure. Jimmy Winston left the group after a dispute with the other members and was replaced by Ian McLagan who had until then been with Boz and the Boz People. The band settled down with the new line-up but other management disputes continued which led to them moving to Andrew Oldham's Immediate label. It was this period that saw the band at its most creative and produce some of its most memorable and unusual singles.
By February of 1969, Marriott quit the group quite suddenly saying that he didn't like the musical direction the band was taking and felt that he could no longer contribute. Steve went off to join Peter Frampton in a new venture that became the group 'Humble Pie'. The Small Faces were not able to continue after this trauma and split up. However, they would emerge, again with Marriott together with Rod Stewart and Ron Wood, as the Faces during the 1970s.
Sadly, Steve Marriott died in a fire at his home during 1991.
Info courtesy of: www.45-rpm.org.uk
Click below for pix of an autographed Woodmill High School (Dunfermline) magazine article featuring a Small Faces interview with pupils Avril Young & Sheena McIntyre after their Dunfermline gig on Monday 24th April 1967.





I'm very much indebted to Alex Stean for these images.

From left:
Gregor ? - bass
Cliff Hanley jnr - guitar (son of Cliff Hanley - broadcaster)
Jimmy ? - vocals
Robert Strain - guitar
Gordon ? - drums
A 1970s covers band (T Rex,
Slade
, Rod Stewart,
The Who
, etc) from Glasgow / Cumbernauld / Falkirk.
Robert Strain
If you can add any further information to this piece please contact me here
Dick Smith Rock 'n' Roll Band (aka Dick Smith Band)
Dave Barrett - vocals
Paul Downes - lead guitar
Paul Madden - guitar
Steve Barrett - bass, backing vocals
Steve Swift - drums
The Dick Smith Band were a rock band formed in 1978 from New Brighton in the North West of England who frequently played in Fife, Falkirk and central Scotland. They released a 7" single 'Motoway Madness' / 'Body Heat' (1979) followed by 'Way Of The World' / 'Giving The Game Away' (1980). They were considered to be part of the new wave of British heavy metal (NWoBHM).
Incidentally ... their lighting engineer later became Paul McCartney's front-of-house sound engineer!
If you can add any further information to this piece please contact me here

Roger Cook and Roger Greenaway had come up with a tune called "Too Much Bird Seed" which was recorded by arranger / producer Ivor Raymonde whistling it with accompaniment by The Mike Sammes Singers. The tune was re-titled "I Was Kaiser Bill's Batman" to emphasise it's Britishness as all things British were the in thing at the time. It must have worked because apart from scoring a hit at home, this was a top 20 hit in the USA.
Whistling Jack Smith was given a persona and that was Billy Moeller (whose brother Tommy was in Unit Four Plus Two). There were a few attempts to follow up but this was probably too unique for lightning to strike twice.
If you can add any further information to this piece please contact me here
Wally Cameron - vocals
Johnny Cameron - guitar
Duncan Cameron - guitar
Donny Finlay - bass
John McGinlay - keyboards
John Ward - drums
Later by 1977:
Sandy Brown - keyboards
Rab McQuillan - drums
Formed in 1971 in Glasgow and playing a mix of covers and original tunes, they supported 'Caravan' and the 'Tyla Gang' in Scotland before recording a single, 'Night Time in the City' / 'Gettin' Out' (released 25/05/79) in Kirkland Park Studios, Strathaven.
That same year they appeared at the Loch Lomond Rock Festival with 'The Stranglers' 'Dr. Feelgood', 'The Skids' and 'The Dickies' and supported 'The Buzzards' on their UK tour.
A self-financed cassette album, 'Live & Kicking' (12/79) on their own SPR label failed to lift their fortunes and they were no more.


My thanks to Bill Nisbet for this image
Fritz Freeburn - vocals, saxophone
Dougie Strong - vocals
Dougie Wright - rhythm guitar
Alan Moir - bass
Bill Nisbet - lead guitar
Bill Kyle - drums
Later:
Mark Ellen - drums
A local band from Dunfermline, active in the latter half of the sixties, who evolved from 'The Ambassadors' sometime between September 1965 and June 1966. Predominantly a soul & R n B band, they supported The Moody Blues on Tuesday 19th July 1966. Throughout their time together they supported artists such as Gene Vincent, The Troggs, The Small Faces, Cat Stevens, The Bee Gees, The Kinks, Chris Farlowe and many many more, though unfortunately no recordings exist. Fritz Freeburn had played previously with 'The Hellcats'. Dougie Wright went on to play with both 'Scope' and 'Middle Age Spread' but is sadly no longer with us. Drummer, Bill Kyle is now running 'The Jazz Bar' in Edinburgh.
Mark Ellen (later of 'Vanity Fare') replaced Bill Kyle when he left. He also played with The Falcons.
I'm indebted to Bill Nisbet for this information & image.

Jimmy Somerville (born June 22, 1961) is a Scottish pop singer. He had considerable success in the 1980s with the pop groups Bronski Beat and The Communards, and has also had a successful solo career.
Somerville was born and raised in Glasgow and has a highly distinctive falsetto (high pitched) singing style, and is also openly gay. He is also a left-wing and human rights political activist. His music has consisted largely of disco music, but has also sometimes contained ground breaking social commentary.
He co-founded the synth pop group Bronski Beat in 1983, who proceeded to have a number of hits in the British charts. Their biggest hit, Smalltown Boy, which reached Number 3, was written about persecution of a gay youth in a provincial town, which at the time was ground breaking.
He left Bronski Beat in 1985 and formed The Communards with classically trained pianist Richard Coles. They had a number of hits, including a cover version of Thelma Houston's Don't Leave Me This Way which spent four weeks at Number 1 in the charts, and became the biggest selling UK single of 1986. He also sang backing vocals on the Fine Young Cannibals' version of Suspicious Minds, which was a UK Top 10 hit.
The Communards split in 1988 and Somerville launched his solo career. He had several solo hits between 1989 and 1991, also singing on the second Band Aid project at the end of 1989. But after releasing his 1991 album Run From Love, Somerville left the limelight and was absent from recording for a number of years.
He returned in 1995 with an LP called Dare to Love. Another album, titled Manage the Damage was released in 1999, and Root Beer came out a year later. Most recently, his dance-based fourth solo album, "Home Again," was released in 2005.
Somerville also has an acting career, appearing in Sally Potter's 1992 film of Virginia Woolf's Orlando, in Isaac Julien's 1998 Looking for Langston, and in the Girltown episode of the cult science fiction television series Lexx.
Info from: experts.about.com

Enrolling in drama school at the age of eight, set Sonia Evans on the path to becoming a professional singer and actress where she gained a LAMDA gold medal with honours. Her determination paid off and shortly after leaving school she made appearances in the popular sitcom 'Bread' as well as the soap opera 'Brookside'.
She was only sixteen when she first entered the music business. Whilst playing the Liverpool club circuit, record producer Pete Waterman spotted her and an impromptu audition secured a recording contract with Simon Cowell at BMG. Sonia's debut single 'You'll Never Stop Me From Loving You' was released in 1989 and shot to number one in the UK selling a staggering 350,000 copies. Numerous television appearances revealed her bubbly personality and natural enthusiasm endearing her to a large audience. Her debut album sold half million copies and included a string of top singles such as 'Can't Forget You', 'Listen To Your Heart' and 'Counting Every Minute'.
In 1991 Sonia was able to develop her songwriting talents and released the album 'Sonia'. Further hits followed including 'Only Fools' and 'Be Young, Be Foolish' and a tour of Europe, The Far East and North and South America strengthened her already substantial following. She also presented 'Wetter the Better', a Saturday morning children's TV show.
Her next step clearly displayed her versatile voice and genuine love of performing as Sonia was invited by the BBC to be the UK representative in the 1993 Eurovision Song Contest. Whilst the Irish pipped her into second place, her single 'Better The Devil You Know' hit the UK charts at number 9 and her album, of the same name, entered the album charts at number 20.
Sonia then entered the world of theatre, receiving excellent reviews as she performed with Dennis Waterman in 'Slice of Saturday Night' in London's West End. On meeting the producers of 'Grease', Sonia was once again signed on the spot for the lead role of 'Sandy'. For twelve months, until April 1995, she performed to a full house and critical acclaim alongside Craig McLachlan and Shane Richie.
After the success of 'Grease', Sonia appeared as one of the major stars in the 'What A Feeling' tour with Irene Cara, singing songs from the hit movies and musicals and travelling throughout the UK for four months. This proved to be so successful that a 2nd UK tour was arranged and also an overseas tour. Sonia is a veteran pantomime performer and often plays the principal boy role. Her credits over the years include Dick Whittington, Cinderella, Peter Pan and Aladdin.
For the 1996 Summer Season Sonia appeared in Blackpool in 'The Lily Savage Show', which again proved to be so successful she was singing to a full house every night. This led to her playing 'Bunty', the daughter of Lilly Savage in BBC's 'Lily Savage Show'. During Summer 2000, Sonia starred in John Conway/AMG Ltd's 80s musical 'Eternal Flame'. In 2001 she recorded some exciting new tracks for Hit Sound Records and spent time recording an album in Nashville with producer Stuart Coleman.
In 2003, Sonia took part in Granada Television's major project for ITV1, 'Reborn in the USA', presented by Davina McCall. Sonia is constantly gigging around the country and often performs live with her band. She also regularly appears and performs on TV and has been seen on Trisha (ITV1), The Eurovision Song Contest (BBC1), the Top Ten series (C4), Celebrities Under Pressure (Granada/ITV1), Jane and Jury (Yorkshire TV), The Salon (Channel 4), Greasemania (ITV1), 100 Worst Pop Songs, 100 Greatest TV Treats, Eurovision: Making Your Mind Up (BBC), The Lyrics Board (RTE), The Weakest Link (BBC1), Liquid Assets (BBC), Hell's Kitchen (ITV1), This Morning and many more.
Her television appearances in 2005 include: The Paul O'Grady Show, ITV1;This Morning, ITV1; Greatest TV Moments, ITV1; Friday Night Project, Channel 4; An Audience with Joe Pasquale, ITV1; Making Your Mind Up, BBC; Julian Clary's Hissy Fits, Channel Five.
Info from: www.soniaontheweb.com
A Moss Side (Manchester) based four/five piece soul group. Introduced a more reggae feel - which was probably a bit ahead of its time. They played at the ballroom on Sunday 28th December 1969
Info courtesy of: www.manchesterbeat.com
If you can add any further information to this piece please contact me here
Sound City

James Mcnab (Mojo) - rhythm guitar, vocals
Geee - lead guitar
Alan Nisbet (Burny) - bass
? - drums

Former members:
Gordon
Graeme

Formed around 2008, they list their influences to include Oasis, The Enemy, The Libertines, Actic Monkeys Pigeon Detectives, The Beatles, The Jam, Kings Of Leon, James, Big Country, Small Faces, The View, The Stone Roses & Babyshambles.
If you can add any further information to this piece please contact me here
Rob Dimbleby - vocals
Richard Paul (aka Paul Keene - vocals
Roy Stanforth - lead guitar
Roy Spittlehouse - rhythm guitar
Keith Glover - bass
Terry Parkin - drums
The Barton-based 'Hi-Fi Combo' and the Immingham-based 'Wasps' subsequently joined forces and after a few more changes evolved into a line-up featuring Rob 'Little Fred' Dimbleby and Richard 'Big Ted' Paul sharing vocals, Roy 'Spam' Stanforth on lead guitar, Roy 'Spit' Spittlehouse on rhythm guitar, Keith 'Keyhole' Glover on bass and Terry 'Tetley' Parkin on drums.
When Rob Dimbleby left they took on the name 'The Echoes', a name arrived at by going through all the names of cars, of birds, of animals and finally TV sets, of which 'Eko' was a popular make.
Richard Paul took on the name of 'Paul Keene'.
They turned professional around 1960 , having taken the name 'The Sound Of The Echoes with Paul Keene', and toured widely in England and Scotland. They also spent periods as resident band at the Storyville Clubs in Hannover and Frankfurt, and at the Top Ten Club in Hamburg, only a few months before The Beatles' Hamburg period.
The Sound of the Echoes" became well-known in the music industry as the backing band to the Stars. Their backing work included Bert Weedon (who made the guitar so popular in the 50s and 60s), Mike Sarne (when 'Come Outside', 'Will I What' and 'Just For Kicks' were consecutive top-ten hits), multiple chart-topper Craig Douglas, and Paul Hanford, who had a number one hit with 'Itsy Bitsy Teeny Weeny Polka Dot Bikini' in 13 European countries (but sadly not England), Frank Ifield (when 'I Remember You' was number one) and other popular recording artists of the time including - Suzi Cope, Mike Berry, The Breakaways, The Overlanders (number one with the Beatles' song 'Michelle'), Keith Kelly, Jackie Frisco, Carter-Lewis (aka The Ivy League - - 1965 hits "Funny How Love Can Be" and
Tossing and Turning" / aka The Flowerpot Men – 1967 hit 'Let's Go To San Francisco') and others...

Spit left The Sound Of The Echoes to become a policeman. Paul "Birrel" Keene turned his hand to Gilbert and Sullivan operettas. Keith "Keyhole" Glover left music altogether. Roy "Spam" Stanforth left to get married, Terry "Tetley" Parkin joined The Raiders.
http://www.musiclincs.co.uk/14.html

Alan Holmes - flute, saxophone
Geoff West - saxophone
John St. John - guitar
Barrie Cameron - keyboards
Wes Hunter - bass guitar
Tony Newman - drums
'Sounds Incorporated' or 'Sounds Inc.' as they became in 1967 were an unusual outfit- the Kentish 'Wall Of Sound'. Not only were they exceptionally skilled musicians by comparison with most of their contemporaries, but their line up was quite different to that generally adopted by most of the groups of their time. They had a very saxophone dominated style that set them apart from the crowd. With the exception of their drummer, Tony Newman who came from north west London, they all came together from Kent's border with the English capital. They soon became renowned in the suburbs of south and east London- notably in Woolwich- for the fullness of their instrumental sound. It was from this reputation that they gained the opportunity to back Gene Vincent on his UK tour of 1961.
The success of this tour led to further opportunities to back visiting American artists as well as the chance to record with Parlophone. Sadly, their only record with this label failed to achieve many sales and even a switch to Decca failed to make much impact. It was while they were with Decca that they cut the Duane Eddy sounding 'Keep Moving' and 'Order Of The Keys' with Joe Meek (probably now their most sought after single). However, their reputation at live performances- including in the USA - continued to grow and they came to the notice of the Beatles' manager, Brian Epstein, who offered to act as their agent. Through this association they soon found themselves backing Epstein's stars and can even be heard on the Beatles track 'Good Morning, Good Morning' from the 'Sergeant Pepper' album. They also opened the Beatles legendary show at New York's Shea Stadium.
Sounds Incorporated's own UK success with singles was very modest in comparison to their reputation as live musicians, but they managed two minor hits while still with Epstein. Their greatest success was actually in Australia where their 'William Tell' went all the way to the #1 spot- despite passing almost unnoticed at home! However, as the 1960s progressed the group began to disintegrate. First off, Tony Newman joined Jeff Beck's group, then 'May Blitz' and later went on to work with David Bowie. He was followed by Barrie Cameron who wanted a career in A&R. The rest of the group soldiered on, mainly playing in Australia, until 1971 when they finally broke up to each pursue new musical careers.
Info courtesy of: www.45-rpm.org.uk
The Sounds of the Blues Brothers
The Sounds of the Blues Brothers is a seven-piece 100% live tribute band dedicated to a faithful reproduction of the sights and sounds of The Blues Brothers' movie without the use of any pre-recorded backing or miming. Their musicians and vocalists were recruited from the best soul, Motown, jazz and funk players in the business and past performances include:
The Bulmers Cider Christmas Tour
A promotional two-year tour for Southern Comfort
Carlsbro Sound
Heineken Big Top Tours
Apollo Theatres
RAF/Army UK and Europe
Appearances at all 1st Leisure Night Clubs
Euro 96
A ten-date concert tour of Greece
The 100th 'Noel Edmonds House Party' (March 1996) broadcast to over 17 million viewers.
Robert 'Rab' McKean - vocals
George Keenan - lead guitar
Michael Keenan - bass
Jimmy Wilson - drums
Sparrie were from Fife and were active around 1973 - 1974 often gigging with 'Jody'. They took over at the ballroom as the resident band when the Shadettes left to tour with Deep Purple.
Info from Rab McKean
If you can add any further information to this piece please contact me here
Colin Forsey (Captain Scarlet) - rhythm guitar, harmonica, piano
Tony Atkins (Captain Magenta) - lead guitar
Bill Chambers (Lieutenant Green) - organ, piano, guitar
Anthony Judd (Captain Blue) - bass
Keith Forsey (Captain Ochre) - drums, harmonica
Originally a London-based synthetically 'manufactured' group, formed by RCA Victor in the same way that 'The Monkees' were. They were signed to a £100,000 deal with Gerry Anderson in 1967 who promoted them in tandem with the launch of the hugely popular TV puppet adventure series, 'Captain Scarlet and the Mysterons' to capitalise on the success of 'Thunderbirds'.
The theme music (composed by Barry Gray) was performed by the band who sometimes wore the uniforms of the series' heroes, the earth's security organisation who were, of course, called Spectrum.
They reached the #1 spot in Spain with their fourth release 'Headin' For A Heatwave', but never raised sufficient interest on their home ground for a British chart placing of any kind despite releasing around nine singles between 1965's 'Little Girl/ Asking You' and 1969's 'Gloria/ Nodnol', including a cover of 'Ob-La-Di, Ob-La-Da' in 1968.
Their drummer, Keith Forsey became a record and film producer, working with Billy Idol and writing the Simple Minds' song 'Don't You Forget About Me').
Bill Hendry - vocals
Gordon Black - rhythm guitar
Ian Haddow - lead guitar
Jim Bell - bass
Colin Fairley - drums

The Spellbinders were a young group from Fife who despite most of the band coming from the Levenmouth area, they were a regular support at the Burma Ballroom on the prom in Kirkcaldy in and the Kirkcaldy YMCA which was their base and where they backed many of the important bands of the 1960s.
At the Kinema they entered a competition (judged by David Jacobs of 'Juke Box Jury' fame) in June 1967 and came 3rd to The Falcons, who won and The Beachcombers, who were 2nd. They changed their name that same summer to The Sunset Culture to avoid confusion with the American band who shared their name.
Bill Hendry continued in the music industry for a while after Sunset Culture split in 69/70 and in 1970 Colin left to join The Chris McClure Section and had success with them before joining Beggars Opera and String Driven Thing. He later became a respected sound engineer with his own recording studio working with many important bands.
Info from Alan Gray & Ian Haddow
If you can add any further information to this piece please contact me here

Born in 1933, highly regarded Dundee accordionist, Arthur Spink began playing at the age of five and was playing professionally by the age of 17. He often played with the late tenor Dennis Clancy and has toured the world, playing on many Beltona & Decca albums. He and his family emigrated to Sydney, Australia in 1979.
His son Arthur was a member of the special effects team who were awarded an Oscar for visual effects on the film 'Babe' in 1996.
If you can add any further information to this piece please contact me here

Cliff Hall
Tony Davis
Mick Groves
Hughie Jones
Joan Davis
Beryl Davis
In the Autumn of '58 The Spinners got together and although the eventual quartet remained unchanged, the early days saw Stan Francis, Tony's wife Beryl, his sister Joan and Jacqueline MacDonald (who left to form the folk duo 'Jacquie & Bridie'), as members of The Spinners.
They started their Folk Club in Oct.'58 and continued to run it for nigh on 25 years before handing the baton to a group of regulars who still run the club as the Triton Folk. Tony, Mick and Hughie emerged from the amazing Merseyside Skiffle Scene and Cliff was roped in by Tony from his contacts on the Jazz scene.
They set out with the folk club to establish a weekly place where singers, musicians and poets could display their talents. The club would be regularly advertised in the entertainment columns in the local paper, offering an alternative to cinemas, dance halls, jazz clubs and newly emerging discos. They also wanted to spread their new found enthusiasm for folk music prompted by Redd Sullivan a visiting seaman from London who suggested they should try singing English stuff rather than trying to imitate Americans.
They opened with 13 songs they could do as a group and the rest of the evening was taken up by solo songs by the band and any of the audience of 25 friends who fancied doing a turn. The club moved on and by 1963 the Spinners were playing to a regular weekly audience of 100+.
Bill Leader from Topic Records came and did a live recording (Songs Spun in Liverpool). They were spreading their wings and became regulars in London at Cecil Sharp House (HQ English Folk Dance & Song Society) and The Troubadour. Peter Kennedy of the EFDSS did an LP for HMV (Quayside Songs Old and New). Eventually Philips Records signed them to a four year contract which led them to take the chance and turn professional.
They stayed with Philips for 8yrs, producing 8 albums, 4 EP's, 14 singles and 10 compilation LP's. Moving on to join the mighty EMI they produced another 8 albums and 4 compilation discs.
Having turned professional and hit the road they built an audience throughout Great Britain and Ireland moving on from folk clubs to fill all the major concert venues till their retirement in 1988. This was achieved through a lot of travelling aided by becoming regulars on radio with their own series on Radio 4 and Radio 2 and also TV.
TV particularly liked them so did the viewers. Their first big appearance was on the ABC TV celebration of its 10th Anniversary then they becoming regulars on 'Barndance', BBC1 and BBC Children's TV 'Dance and Skylark'. Following their appearance on 'A Spoonful of Sugar' they were offered their own series on BBC1 in 1970. The 6 week series ran every summer for 7yrs. They also did their own BBC1 Christmas Special which ran until 1985. There were numerous other guest spots on all the major TV Saturday music and comedy shows including the hilarious Morecambe and Wise Show.
Internationally they did TV and tours in Norway and Denmark, Holland, Germany and further a field they worked in Australia and New Zealand, Canada, the USA and most mind blowing of all in West Africa where they did numerous concerts and TV in Nigeria, Cameroon, Ghana, Sierra Leone and Senegal.
After retiring in December 1988 they were persuaded out and privileged to lead the community singing at the all Merseyside Cup Final in May'89. After that finale Cliff as the daddy of the group retired and now lives in Australia where he still occasionally does a turn at his local folk club, Mick went into local politics and became Chair of Education on Wirral Borough Council for 10 yrs, but is now back on the music scene in Exeter. Hughie continued to play and record and remains in Liverpool, and Tony went back to his first love Jazz.
Finally after much pressure from public demand they were tempted by their management to do 3 Christmas tours in '92,'93 and '94, before finally, finally calling it a day.
Info from: uk.geocities.com

Mike Harrison - piano, vocals
Gary Wright - organ, vocals
Luther (Luke) Grosvenor - guitar, vocals
Greg Ridley - bass, vocals
Mike Kellie - drums

Members also included:
Andy Leigh
Mick Jones
Chris Stainton
Alan Spenner
Henry McCullough
Ian Herbert
Bryson Graham
Mike Patto
Val Burke
Joey Albrecht
Michael Becker

Spooky Tooth was formed in 1967 after 'Art' changed their name after just one single and album. Gary Wright was added to the Art line-up. Spooky Tooth was one of the leading bands in the progressive music movement in England in the late 1960s.

Info courtesy of: makingtime.co.uk

Mike Kellie went on to join 'The Only Ones'

If you can add any further information to this piece please contact me here



St Cecilia doing wot it says on the tin.
Les Smith - vocals
John Proctor - lead guitar, vocals
Keith Hancock - bass, vocals
Ricky Moss - keyboards, sax
Graham Smith - drums
Originally a seven-piece when formed on June 1st 1969 in Corby Rothwell, St Cecilia gained notoriety with their self-proclaimed 'naughty picture postcard' music and more precisely with their UK #12 hit single 'Leap Up and Down (and wave your Knickers in the Air) in 1971.
The BBC banned the song from their airwaves until 14 years later when the band were invited to perform it in the studio of the TV programme 'The Time of Your Life' hosted by Noel Edmunds in 1985 but they were snubbed once more when the BBC edited out verses 2 & 3 of the 4 verse song before they broadcast the recording.
Jimmy Young and Alan Freeman however did play the record on their respective broadcasts and it was played extensively on Radio Luxembourg where it achieved #4. It was also a #1 in Spain.
Jonathon King acted only as their agent and song promoter and had no other involvement with the band or song despite reports elsewhere.
This was however to be their only chart hit despite also releasing 'Don't Want Women Don't Want Wine'. Both singles were released on Polydor records.
Les Smith sadly died recently.
Info from: http://stcecilia.info/default.aspx

Isla St Clair is known to millions for her numerous television appearances, which include all the top entertainment and chat shows, the Royal Variety Show and most notably as co-host on the BBC's long running 'The Generation Game'.
Isla started singing at the tender age of ten. Within a few short years she was touring the world professionally, winning several awards including 'Best Female TV Personality' and 'Best Female Folk Singer'. Her BBC television series 'The Song and the Story' won the coveted European award 'Prix Jeunesse'.
Although the essence of Isla's performances reflect her traditional roots of Scotland, her talent has matured to encompass other aspects of the entertainment business. Her career has now taken a different and more challenging direction. Forming her own production company Isla is co-producing music and films for a wider international audience.
"St Clair's voice is something to be savoured...attacking the lively material with a gusto and obvious sense of enjoyment, while the unaccompanied 'Flowers of the Forest' is given a beautifully sympathetic poignancy thanks to the purity of her singing." - Rock 'n' Reel magazine
Info from: www.relrecords.co.uk

Tony Cassidy - vocals
Keith Millar - guitar
Alex Kirby - tenor saxophone, flute
David Tomlinson - hammond organ
Dave Nichols - bass
Dave Webb - drums
Having won a Melody Maker beat contest in 1965, they obtained a Decca recording deal and were able to cover a great record for their debut - The Beatles' "Girl" - which brought them chart success just outside the top ten, but their follow-ups, Graham Gouldman's 'Behind The Door' and 'East Side Story', failed to dent the Top Forty - bringing their recording career to an end in less than a year.
They made a fleeting appearance in the film 'The Ghost Goes Gear' and they eventually split in 1967.
David Tomlinson went on to join Magazine as Dave Formula!

Info courtesy of: www.manchesterbeat.com

Crispian was born in Swanley, Kent in 1939 and his given name was Robin Peter Smith. He played with a number of bands before trying for a solo career with his output being issued on Decca. When his first 2 self penned singles bombed, he turned to a cover version of a hit by "We Five" which not only sold well in UK, but gave him a chart entry in USA in 1967.
His follow up was another American song, "Pied Piper" which actually gave him his first American hit and reached # 4. A reggae version was a hit in Britain in the 70s for Bob And Marcia (Griffiths).
Thereafter the hit singles dried up in Britain although he remained popular in Europe. He suffered from health problems including a major stroke in 1995, but showed great courage in relearning how to play guitar with limited movement and made a charity appearance with the Fortunes in 1999.
His backing band in 1966 was The Puppets
Bill Baikie - bass
Gerry Dickson - ?
If you can add any further information to this piece please contact me here
Gerry Cocozza - vocals
If you can add any further information to this piece please contact me here
Edwin Starr (& The Boys / The Team)

Edwin was born Charles Hatcher born in Nashville in 1942 but was raised in Cleveland, Ohio. He formed his first band, The Future Tones in 1956 but did not enter music professionally until after a stint in the army and it was in 1962 he signed with the Ric Tic label in Detroit. It was with the releases on that label (issued through Polydor in the UK) that he broke into the chart although Ric Tic was later (in 1968) taken over by Motown.
His biggest hits in the UK came after the 60s; "War" made # 2 on NME in November 1970, and "Contact" made # 4 in 1979. He moved to England and lived in Nottingham. On 2nd April 2003 he died after a heart attack aged 61.
If you can add any further information to this piece please contact me here
The Stars from The Commitments
The line-up has included:
Joe Walsh - lead vocals
Kenneth McCluskey – guitar
Dick Massey – drums
Karen Coleman – vocals, backing vocals
Claire Malone – vocals, backing vocals
Fintan Jones – brass
Ray Martin – brass
Alan Niblock – bass
Daniel Antoine - organ, keyboards
'The Stars from The Commitments' has played live in front of more than 2.5 million people at more than 900 shows worldwide since forming in 1993.
In March 1996 'Pollstar' weekly-charted The Commitments at number 33 of the top grossing touring acts in the USA. They are a full-time professional touring act spending an average of 30 weeks every year on the road. They have played France, Great Britain, Ireland, Germany, Finland, Holland, Austria, Switzerland, Denmark, Oman (UAE), Portugal, Sweden, Canada and the USA.
They have reformed once more in 2011/12 for the 20th anniversary of the film and claim this to be "for the last time ever".
The line-up now includes:
Andrew Strong
Robert Arkins
Angeline Ball
Bronagh Gallagher
Felim Gormley
Dick Massey
Michael Aherne
Dave Finnegan
Kenneth Mccluskey
Francis Rossi - vocals, guitar
Rick Parfitt - vocals, guitar
Roy Lynes - keyboards
Alan Lancaster - bass
John Coghlan - drums
Later:

Rick Harrison - guitar, vocals
Andy Bown - keyboards
Pete Kircher - drums
John 'Rhino' Edwards - bass
Jeff Rich - drums
Matt Letley - drums

Status Quo is one of Britain's longest-lived bands, staying together for over 30 years. During much of that time, the band was only successful in the UK, where they racked up a string of Top Ten singles that ran into the '90s. In America, the group was ignored after they abandoned psychedelia for heavy boogie rock in the early '70s. Before that, the Quo managed to reach number 12 in the US with the psychedelic classic "Pictures of Matchstick Men" (a Top Ten hit in the UK). Following that single, the band suffered a lean period for the next few years, before deciding to refashion themselves as a hard-rock boogie band in 1970 with their Ma Kelly's Greasy Spoon album. Over the next 25 years, the Quo have basically recycled the same simple boogie on each successive album and single, yet their popularity has never waned in Britain. If anything, their very predictability has ensured the group a large following.

The origins of Status Quo lie in a London-based beat group called the Spectres. Francis Rossi and Alan Lancaster were the core members of the Spectres from their inception; within a few years, the band had added John Coughlan and Roy Lynes. The Spectres released three unsuccessful singles before changing their style to psychedelia and adopting the name 'Traffic Jam' and releasing the unsuccessful single, "Almost But Not Quite There." After it flopped, the group added Rick Harrison, formerly of the cabaret band, the Highlights. When Harrison joined the band in August 1967, the group again changed their name, this time to Status Quo.

At first, Status Quo backed British solo artists, including Tommy Quickly, while working on their own material. "Pictures of Matchstick Men," the group's debut single, was released toward the end of the year and quickly shot to number seven on the UK charts; within a few months, it was a number 12 in the US as well. The immediate follow-up single, "Black Veils of Melancholy," was a flop, but "Ice in the Sun," written by former British pop star Marty Wilde, became Status Quo's second Top Ten hit in the fall of 1968. Over in America, the single barely registered, squeaking to number 70; it was the last time the group would ever chart in the US.

For the next year, Status Quo tried to replicate the success of their first two singles with similar psychedelic material, but they had little luck. Finally, they revamped their sound -- and jettisoned organist Lynes -- in the summer of 1970, debuting their new heavy, bluesy boogie rock with the single "Down the Dustpipe." The single reached number 12, yet the full-fledged hard-rock album Ma Kelly's Greasy Spoon didn't gain much attention. Status Quo began playing concerts regularly across England, slowly building up a strong following in England. Following well-received sets at 1972's Reading and Great Western festivals, the band became a hot property. The group signed with Vertigo Records and their first single for the label, "Paper Plane," cracked the Top Ten in early 1973, while their first album for Vertigo, Piledriver reached number five. Later that year, Hello entered the charts at number one, while its accompanying single "Caroline" reached number five. Also in 1973, keyboardist Andy Bown, formerly of the Herd and Judas Jump, became the band's unofficial keyboardist.

Throughout the '70s, each album Status Quo released went into the Top Five, while their singles -- including the number one "Down Down" (1974), "Roll Over Lay Down" (1975), "Rain" (1976), "Wild Side of Life" (1976), and a cover of John Fogerty's "Rockin' All Over the World" (1977) -- consistently hit the Top Ten and frequently went gold. Since they were experiencing a great deal of success, they didn't change their sound at all, they just kept churning out the same heavy boogie. America basically ignored Status Quo, yet their eponymous album managed to chart at 148 in 1976. Nevertheless, they were an English phenomenon, and England continued to support them even when pop music was undergoing drastic changes in the late '70s.

Following the release of 1980's Just Supposin', drummer John Coughlan left the band in 1981 to form his own group, Diesel. Former Original Mirrors drummer Pete Kircher replaced him; his first appearance with the group was 1982's Never to Late. Druing the early '80s, tensions escalated between bassist Lancaster and guitarists Rossi and Parfitt, who were the group's main songwriters. Lancaster left the band after performing with them for a final time at Live Aid. He subsequently took Rossi and Parfitt to court to prevent them from using the name "Status Quo." Lancaster lost his battle, and the name became the property of the guitarists.

Once the lawsuit was settled, Rossi and Parfitt assembled a new band, hiring bassist John Edwards, drummer Jeff Rich, and keyboardist Andy Bown, who officially became a member of the group. The new line-up continued Status Quo's remarkable success, as they racked up a number of new Top Ten singles and hit albums, as well as consistently selling out concerts across England and Europe. In 1994, the group had its second number one hit of its career, with the football anthem "Come on You Reds"; the single was recorded with the football champions, Manchester United. By the mid-'90s, Status Quo had scored 50 British hit singles, which was a greater number than any other band in rock roll's history. Stephen Thomas Erlewine
Info from: All Music Guide

Gerry Rafferty - vocals, lead guitar
Joe Egan - lead vocals, keyboard
Rab Noakes - guitar, vocals
Ian Campell - bass
Roger Brown - vocals
Paul Pilnick - lead guitar
Tony Williams - bass
Rod Coombes - drums
Luther Grosvenor (aka Ariel Bender) - lead guitar
Joe Jammer - guitar
Andrew Steele - drums
Gerry Taylor - bass
Benie Holland - guitar
Dave Wintour - bass
Delisle Harper - bass
The turbulent, acrimonious and comparatively brief career of Stealers Wheel enabled the two main members Gerry Rafferty and Joe Egan to produce some memorable and inventive, relaxed pop music.
During the early 70s, Rafferty (b. 16 April 1947, Paisley, Scotland) and long-time friend Joe Egan (b. Scotland) assembled in London to form a British Crosby, Stills And Nash, together with Rab Noakes, Ian Campbell and Roger Brown. After rehearsing and negotiating a record contract with A&M Records, the band had already fragmented before they entered the studio to meet with legendary producers Leiber And Stoller. Paul Pilnick (guitar), Tony Williams (bass) and Rod Coombes (drums; ex-Juicy Lucy) bailed out Rafferty and Egan; the result was a surprising success, achieved by the sheer quality of their songs and the blend of the two leaders' voices.
"Stuck In The Middle With You" is an enduring song reminiscent of mid-period Beatles, and it found favour by reaching the Top 10 on both sides of the Atlantic. While the song was high on the charts Rafferty departed and was replaced by former Spooky Tooth lead guitarist Luther Grosvenor (aka Ariel Bender).
Rafferty had returned by the time the second album was due to be recorded, but then all the remaining members left the band, leaving Rafferty and Egan holding the baby. Various session players completed Ferguslie Park, astonishingly another superb, melodic and cohesive album. The album was a failure commercially and the two leaders set about completing their contractual obligations and recording their final work Right Or Wrong. Even with similarly strong material, notably the evocative "Benidictus" and the arresting "Found My Way To You", the album failed. Rafferty and Egan, disillusioned, buried the name forever.
Management problems plagued their career and lyrics of these troubled times continued to appear on both Egan and Rafferty's subsequent solo work. "Stuck In The Middle With You" was used prominently in the cult 1993 movie Reservoir Dogs.
Info from: www.bbc.co.uk
Originally:
Chris Slade - vocals, harp
Steve Davy - bass, vocals
Chris Aylmer - guitar
Andrew Fizackesly - organ
Des Mills - drums
Jeff Daly - saxophone
Later:
Kieran White - vocals, guitar, harmonica
Ken Druro - drums
Martin Pugh - guitar
Michael Rushton - drums
Martin Quittenton - guitar
Micky Waller - drums
Mick Bradley - drums
Steve Jollife - flute, alto saxophone, vocals
Louis Cennamo - bass
John Lingwood - drums
Bruce Payne - guitar, vocals
Ian Ellis - vocals
The line-up at The Kinema was :
Kieran White - vocals, guitar, harmonica
Martin Pugh - guitar
Louis Cennamo - bass
Mick Bradley - drums
The extraordinary blues-rock band 'Steamhammer' was formed at the end of 1968 in Worthing, England. Martin Quittenton (guitar) and Kieran White (vocals, guitar, harmonica) came out of the British folk circuit. Quittenton had worked together with the Liverpool Scene and, like the other members Martin Pugh (guitar), Steve Davy (bass) and Michael Rushton (drums), had played with numerous R&B groups.
Blues hero Freddie King ordered Steamhammer as his backing band on tour through Great Britain. Come Spring time, 1969, they signed a record contract with CBS. The first album, "Steamhammer", was a mixture of classic blues by B.B.King and Eddie Boyd and modern blues written by White and Quittenton with the help of Pugh. At the end of the British blues boom, only a few hardcore fans took interest on the finest lyrical blues-rock statement of the century.
Not selling as many records as they'd hoped to, Steamhammer nevertheless became a top European open-air attraction, mainly due to their brilliant live performance. For over two hours each night they would indulge in wide excursions in instrumental improvisations, embodied by the impressive guitar riffage of Martin Pugh and the sensitive harmonica of Kieran White. In the summer of 1969, Quittenton left the band, followed by drummer Michael Rushton. They were replaced by Steve Jollife (saxaphone, flute) and Mick Bradley.
Jollife's feel for precise arrangements and jazz influences especially inspired the recording of Steamhammer's second, "Mk II", album. Overstepping the boundaries of traditional blues forms, they unleashed their own musical creativity and imagination without resorting to any technical trickery. These highly professional and creative musicians performed many live shows at various festivals in Scandinavia, West Germany and the Netherlands. On the continent, it turned out, they had become more popular than in England.
In the summer of 1970, Steamhammer recorded their "definitive album" (rock session), called "Mountains", as a quartet. White, Pugh, Davy and Bradley were really working as a team and offering electrified white urban blues of highest quality. The live cut, "Riding On The L&N", is one of the highlights of the "Mountains" album, which contains straight-ahead blues numbers with a healthy dose of rock'n'roll. It was only with the release of this album that Steamhammer began to be noticed by the rock world. After the Altamont and Fehmarn fiascos, the era of open-air events of such calibre was ended at least for quite a while.
In the late summer of that same year, Steamhammer toured for the last time in Germany and the Benelux. The following autumn, the line-up changed again. Only Pugh and Bradley stayed together and engaged ex-'Renaissance' member Louis Cennamo (bass) for the recording of one more album. "Speech" was recorded in the winter of 1971 and released in the beginning of 1972. By that time, Steamhammer had ceased to exist. "Speech" was a disappointing, partly chaotic album, and the negative reception of the record led to the end of the group's popularity. Mick Bradley died in February 1972 of leukaemia. Kieran White released a solo LP, "Open Door", in 1975 and Martin Pugh and Louis Cennamo put together a cult band Armageddon (with Keith Relf on vocals), which released only one album.
Singles:
Junior's Wailing/Windmill (1969)
Autumn Song/Blues For Passing People (1969)
Albums:
Reflection (1969)
MK II (1969)
Mountains (1970)
Speech (1971)
Courtesy of "Christian Graf - Rock Music Lexikon", Verlag Taurus Press, Hamburg. Edited by Alex Gitlin. From the CD reissue of "Mk II", Repertoire, REP 4236-WY
Cat Stevens was born Stephen Demitri Georgiou in Soho in the heart of London, the son of a Greek restaurant owner. He took to folk singing while attending college and it was here he was heard by ex Springfield member Mike Hurst who had recently become a record producer. Cat was one of the first acts signed to the new Deram label and Hurst was convinced that he had a # 1 hit with "I Love My Dog". The song may have been worthy of a number one but it stalled at the lower end of the chart - however it got Cat in the charts and from then on he proved himself an excellent singer / songwriter whose 60s career came to a halt when he contracted tuberculosis which hospitalised him.
Cat knew it was time to change styles when his agent visiting him in hospital advised him that he had him lined up in pantomime for Christmas. When he was fit to record again, he signed to Island and the 70s were an incredibly successful time for him on both sides of the Atlantic with albums like "Teaser And The Firecat" and "Catch Bull At 4".

In the 80s he embraced Islam and changed his name to Yusef Islam. He has worked tirelessly for charities and for children. He has recorded under his new name – his 2005 release "Indian Ocean" tells the story of the tsunami disaster of December 2004 – but he was refused entry to the USA in 2004 with claims he had some links to terrorism!
His new music shows that the talent is still there, but don't expect to hear "Matthew And Son" from him again.
He adopted the name 'Cat' after a girl remarked on how his eyes resembled those of a cat.

'Tiger' Tim Stevens MBE was favourite with both children and adults alike with his prime time show on Clyde 1 , Monday to Thursday between 7.30pm and 10pm. 'The Adventures of Tiger Tim' is his best selling autobiography released by Black & White Publishing. He made a film 'Living Apart Together', released three records and played many gigs with his group 'The Aff Its Heid Band'.
Famous for his publicity 'pranks' he once impersonated Alice Cooper in full make-up in Clouds Disco above the Apollo in Glasgow the night they played there in November 1972 causing quite a commotion when fans thought they'd caught a glimpse of Alice. Later he repeated the stunt when he ran on stage at Cumnock Town Hall with an already-dead and plucked chicken which he butchered with a large knife! (fabricated stories about Alice killing chickens have appeared in the press and followed him throughout his career). Unfortunately the Police failed to see the funny side and he spent a night in the cells for possession of the blade!
Sadly he suffers from Multiple Sclerosis but refuses to buckle under.

Kevin Harris - Vocals
Mick Crowshaw - Guitar
Dave Reid - Keyboards
Alan Twigg - Bass
Steve Bray - Drums
Rex Brough says - Coventry's answer to the Bay City Rollers! Pete Waterman, while he was working as A and R man for Magnet spotted them at Tiffany's. They'd served their time playing the "beer and burger" club circuit, yet their age range was still only 16 to 18. Pete Waterman wrote and produced their solitary top thirty hit. "Alright baby" is a classic slice of exhuberant mid-70's pop. The band also appeared on PW's own hit "Good-bye-ee". Live, their set featured 50's chestnuts like "Heart and Soul", "Teenager in love", and the later single "Poetry in motion". I reckon it's the Waterman influence at work there.

In a copy of music week circa Nov 1975, the band were saying they'd like to be able to write their own stuff.

I remember even seeing them on Top Of The Pops - Great, but what happened next!?!?

Alwyn W Turner came up with some answers! "The bass-player now lives in the Isle of Wight and I've tried getting hold of him via his son - whose email I have - but no luck so far. I'm interested because (a) they weren't a bad little band, but mostly (b) they genuinely had reason to belive that they were going to be huge stars ... and then nothing happened."

Singles:
'Alright Baby' / 'Teenage Dreamer' UK Chart hit #37 (1975)
'Here I Am' / 'Don't Love Seem Strange (1976)
'Poetry in Motion' / 'Teenage Guy' (1976)
Memories from Mark Haley
"I had quite a connection with the band. Many years ago I was invited down to Magnet records by Pete Waterman. He had a song called 'Alright baby'. The audition went well and Pete said he would organise some studio time. I never did get the phone call. I was only 13 and I think he thought they would need someone a bit more experienced. When the song made it into the charts, I naturally followed it's progress, while feeling a bit miffed that it wasn't me.

I'm aware that the record was bumped out of the chart briefly because of suspected 'buying in'. The band's career swiftly nose-dived when they ended up in Sunday tabloid scandal. By that time I was singing in a band called Dandy who did get to appear on TOTP (1978). We never really looked like getting anywhere, didn't fit in with the new wave stuff happening at that time, and I decided to leave.

My replacement turned out to be Kev Harris! The band changed their name to 'The Spitfires' and had one more single released on RCA - a cover of 'Friday On My Mind'. I stayed friends with the band and got to know Kev very well. He has lived in London now for many years and done consistently well as a recording engineer. Last I knew he was working with Rob Deacon who released all the 'Volume' CD's a few years back and some Of Paul Van Dyk's singles. Kev also played bass on a 'nostalgia' tour I was the MD for. Eden Kane, Craig Douglas, Jet Harris and Heinz were some of the acts on the bill.
Hope this was of some interest"
Info from: https://sites.google.com/site/bandsfromcoventry/coventry-bands-a-to-z/coventry-bands-s/stevensons-rocket
Davie was a member of 'The Great Fife Roadshow' with artists such as: Jimmy Hutchison, Rab Noakes, Pete Sheppard, Artie Trezise, Cilla Fisher, John Watt, Davie Craig, Noel Farrow and Jim Herd, playing folk clubs & village halls.
He recorded an album, 'Shores Of The Forth', with John Watt.
If you can add any further information to this piece please contact me here

Jermaine Stewart (1957 - 1997) was an American pop singer, best known for his Billboard Top 5 hit, 'We Don't Have to Take Our Clothes Off' in 1985. Before recording his own albums, he had been a backup singer and dancer for several artists such as 'The Chi-Lites', 'The Staple Singers' and 'Shalamar' while recording backup vocals for such artists as Culture Club. He died in 1997 of Liver Cancer, caused by AIDs.
Info from: experts.about.com
If you can add any further information to this piece please contact me here
Jake Burns - vocals, guitar
Henry Cluney - guitar
Ali McMordie - bass
Brian Faloon - drums
Jim Reilly - drums
Dolphin Taylor - drums
Bruce Foxton - bass
Steve Grantley - drums
Ian McCallum - guitar
(Dave Sharp - tour guitarist)
"If it wasn't for your stiff little fingers, nobody would know you were dead." So go the lyrics to "Stiff Little Fingers" by the Vibrators, released in '77 as the b-side to their "London Girls" single.

Stiff Little Fingers are a punk band, originally based in Belfast, Northern Ireland, formed in 1977.

Prior to becoming Stiff Little Fingers, Jake Burns, Vocals and Guitar, Henry Cluney, Guitar, Gordon Blair, Bass, and Brian Faloon, Drums, were playing in a cover band, Highway Star, in Belfast, Northern Ireland. Upon the departure of Gordon Blair (who went on to play with another Belfast group, Rudi), Ali McMordie took over the duties on Bass. Henry had by this time discovered punk, and introduced the rest of the band to it. They decided that Highway Star wasn't a punky enough name, and after a brief flirtation with the name The Fast, decided to call themselves Stiff Little Fingers, Jake taking the name from the Vibrators track.

In November of '77, Gordon Ogilvie, a local journalist, caught their live show and was impressed. He encouraged them to write their own songs about what they knew best--life in Belfast. Jake came back twelve days later with "Suspect Device" and "Wasted Life". These were the first of what became SLF's signature style: lyrics that meld the personal and political, music that combines the energy of punk with infectious hooks, and delivery that rings of honesty and commitment.

With Ogilvie's help, they released those two songs on their own Rigid Digits label, with an initial pressing of only 350. Ogilvie sent a copy to BBC Radio One DJ John Peel, who started playing it every night. The interest generated resulted in a distribution deal through Rough Trade in England.

A local fanzine named Alternative Ulster asked the band to write a song specially for a giveaway flexi-disc. Although the plans for the flexi fell through, "Alternative Ulster" became the first single released by Rough Trade in October of '78. Jake once introduced it as "a song about having nothing to do." It became a punk rock classic.

In the fall of '78, SLF toured the UK supporting the Tom Robinson band and gathered a solid following. That plus airplay by John Peel resulted in their first album, the now legendary Inflammable Material LP, debuting in the UK charts at #14. The album chronicles the band's anger and frustration at "the Troubles" in Northern Ireland, and calls on youth to create their own reality.

In '79 the band moved to London and Brian Faloon decided not to go, which inspired the lyrics to "Wait and See". He was replaced by Jim Reilly who made his debut on the "Gotta Gettaway" single. In the spring they played on the Rock Against Racism tour. By the summer of 1979, SLF signed a deal with Chrysalis Records which included unusually broad artistic control by the band. They released the LP Nobody's Heroes in 1980. It combined the DIY ethic of the first album with more universal themes of alienation, anti-militarism, and anti-racism.

Their live shows continued to be special events of energy and power. The Go For It LP in '81 revealed more sophisticated song writing and musicianship, and another step in the shift from punk to power pop. Soon after the Go For It tour, Jim Reilly left the band and was replaced by Dolphin Taylor, formerly drummer for the Tom Robinson band.

The Now Then album of '82 alienated many of SLF's punk followers with its pop sound, and despite some glowing critical reviews, never got the recognition it deserved.

The band split in early '83. At the time, Jake said, "Our last LP Now Then was to my mind the best album we have made. But it is also unfortunately the best I think we will ever make. So I have decided to call it a day." He later revealed, "The first split was a bit acrimonious. Instead of talking through our difficulties we wound up having fist fights."

During the five years they spent apart, each member pursued musical projects, as detailed in the Discography. But none were as satisfying, or as successful, as SLF. Said Ali, "It wasn't until we got back together again did we realize this was the only thing we were ever completely happy with."

In '87, Jake "...got a phone call from Ali, asking if I fancied going to see a reunion gig by the Tom Robinson band. At this period everybody seemed to be getting back together again." Jake couldn't go to the gig, but they soon got together for drinks, which led to more nights of drinking, which eventually led to the idea that they play a few reunion shows, partly as an inexpensive way of returning to Belfast to see their parents at Christmastime.

The audience response to the reunion shows was overwhelming, with sell-out crowds larger than any that SLF had played in their original incarnation. The two shows at the Brixton Academy in '88 pulled in over 10,000 people over two nights. Fans from the U.S., Japan, Switzerland and elsewhere flew in to see them. Recordings from those shows were released as the See You Up There album and video, considered by many to be the best SLF live recordings ever. The response to the shows across the world surprised and delighted the band, and their following continued to grow, with younger "new" fans alongside the old diehards.

By '90 their thoughts had turned to reforming the band permanently and recording new material. But Ali decided his commitments would keep him from recording an album or touring. He officially left about a week before they were scheduled to tour Japan. Jake phoned Bruce Foxton (formerly of The Jam), who jumped in at the last minute, and has been a member ever since.

The Flags and Emblems LP released in '91, featured the single "Beirut Moon," which was immediately banned in Britain. The song criticized the British government for not acting to free hostage John McCarthy in Lebanon. Although overall the LP's material was not as strong as earlier albums, it still served to satisfy fans starved for new SLF songs, and the subsequent tour continued the tradition of powerful shows where the crowd reacts "to most of SLF's numbers in much the same way as kernels react to a plugged-in popcorn maker," as noted in the Los Angeles Times in '92.

In 1993 Jake made what he describes in the book Stiff Little Fingers-Song by Song as being one of the hardest decisions of his life, and asked Henry Cluney to leave the band, and the trio of Jake Burns, Bruce Foxton and Dolphin Taylor continued, for the next four years, joined on tour by guitarists Dave Sharp or Ian McCallum. In '94 they released the Get a Life LP in the UK, later released in the US in '95. The album helped renew interest in SLF just as newer bands that sited them as a major influence, such as Bad Religion, Sugar, Rancid, and Therapy, were coming to prominence.

At the end of '96 Dolphin Taylor left the band, due to family and business obligations. The new drummer was Steve Grantley, who some will remember as the drummer for Jake Burns and the Big Wheel. Ian McCallum joined permanently on guitar, balancing SLF tours with solo recordings and performances. SLF released the studio album, Tinderbox, in '97 and toured extensively throughout that year to promote it.

Stiff Little Fingers released the studio album Hope Street, in two different formats in 1999. The UK release on EMI is packaged with a special The Best Of All CD, containing remastered classic cuts from the band's entire back catalogue. The North American release on King Biscuit/Oxygen includes a second live CD, from the Newcastle Riverside concert from September '98. Said Jake Burns, "'Last Train From The Wasteland' (on Hope Street) is the first optimistic song I have ever written about Belfast, while Hope Street the album is generally more optimistic than people have given us credit for in the past."

In 1999 also SLF released a live CD of all new live material, titled Handheld and Rigidly Digital, available exclusively on this Web site and at SLF gigs. Much of the material was recorded at a special Hope Street Premier Party held in London, at which the band played over two hours of new songs, rarities, plus all the favourites.

In August 2003, Stiff Little Fingers released their ninth studio album, Guitar and Drum, which includes a moving tribute to Joe Strummer, entitled "Strummerville".

In 2006, Bruce Foxton left Stiff Little Fingers amicably, and original bassist Ali McMordie returned after 15 years. Response from the fans has been tremendous.

Though focused on their new material, they always play the old favourites at gigs. Jake said, "You have to strike a balance. The difficulty with a band like ourselves is to try not make it sound like a cabaret band. Obviously, it'd be very easy to go, 'Hey, here's another old one you may remember.' A lot of the old songs the audience greet like old friends....I suppose it's the same as any band that's been around for any length of time....And yes, there are nights that we don't particularly want to play "Alternative Ulster" or "Suspect Device" because we've heard them 'til they're coming out our ears. But there's always the possibility that somebody out there has never seen the band before, never heard them."
Info from: www.slf.com
Set list for Saturday 7th August:
Wasted Life
Roots Radicals
Hits and Misses
At The Edge
Guitar & Drum
Silver Lining
Doesn't Make it Alright
Barbed Wire Love
Fade Away
Strummerville (Dedicated to Stuart Adamson)
Fly the Flag
Nobody's Hero
Tin Soldiers
Suspect Device
-------------------
Johnny Was
Alternative Ulster

Hugh 'Shug' McKenna - vocals
Jimmy Doris - guitar, vocals
John Wynne - bass
Jack 'Ginger' Casey - drums and lunacy
Later:
Frankie Miller - vocals
The group secured a record deal with RCA in late 68 and the single: 'Earth Fire Air and Water' c/w 'Search for the Sea' came out in early 1969. It is a poppy affair with somewhat la-de-da vocals but Dorris' b-side showed songwriting promise. It didn't set the charts on fire and Frankie Miller soon replaced Mr. McKenna (who ended up in 'The Sensational Alex Harvey Band' via 'Tear Gas'.
The band changed their name to 'Howl' and hit the university gig scene in England where heavier music that 'ye cannae dance tae' was more acceptable. Success did not follow however and in the early '70s Howl broke up. Frankie Miller went on to his well documented fame and then unfortunately just as well documented very ill health. Jimmy Doris also had his moment of glory writing 'Oh Me Oh My' for Lulu (later covered by Aretha Franklin) then A&R work before tragedy struck him too. Increasing mental instability seems to have been the cause of his being run over by a London bus in the late '80s/early '90s. Of the others, Hugh McKenna worked until late 70s with a Cumbernauld band "Silverbird". Jack Casey became an Art student and John Wynne went to London to roadie for Roy Harper.
Info courtesy of: www.rockingscots.co.uk
The Stoics were signed to Chrysalis in 1970 and they supported 'Ten Years After' on a German tour before changing their name to 'Howl' and appearing at The Isle of Wight Festival.
Back in the 70s when Soul was king & Funk ruled the dance-floor "The Cissy Stone Band" was THE band. They played every club and disco in the land from the Zero Six in Southend, to Barbarella's, Rebecca's & Stone Manor in the Midlands and far too many US Bases to mention in the UK & Europe. After winning New Faces Cissy took the band to South Africa where she became a huge star.
When they returned the band split, but Cissy went on to work with major acts such as Cannon & Ball and Jim Davidson in theatres across Britain and as far afield as The Middle East. Her rich and varied career has seen Cissy perform with a galaxy of music legends including Marvin Gaye, Millie Jackson, Irma Franklin & Joe Cocker. Recently she wrote and recorded her own album with Ex Sad Cafe bassist Des Tong.
In a recent archive edition of the Birmingham Mail, the Entertainment section featured an ad for Barbarella's.
There at the top was "The Cissy Stone Band" prompting many enquiries of "Where is she now?" WELL SHES BACK!!!
Complete with a stunning 5 piece band Cissy is as audacious and irrepresible as ever. Performing many of her soul and funk favourites as well as a great collection of Rock and RnB classics.
Cissy has worked with Marvin Gaye, Joe Cocker, Millie Jackson, Sad Cafe, Simply Red, Alvin Stardust and performed all over the world.
Info from: www.stillgigging.com

Maggie Bell - vocals
Les Harvey - guitars
Jim Dewar - bass, vocals
John McGinnis - keyboards
Colin Allen - drums
Steve Thompson - bass 1971
Ronnie Leahy - keyboards 1971
Jimmy McCulloch - guitars 1972
Maggie Bell was just 16 years old when she recorded a few singles with 'Frankie And Johnny'. Afterwards she met Welsh guitarist Les Harvey through his brother Alex Harvey (supposedly, Bell's first onstage performances were with Alex Harvey) Bell and Harvey would play clubs and U.S. Army/Air Force bases in Europe.
They formed 'Power' with bassist Jim Dewar and keyboardist John McGinnis in 1967. They were soon discovered by Led Zeppelin manager Peter Grant and in Late 1969 'Power' was signed by Pete and Mark London, who became their managers. It was Pete who renamed them 'Stone The Crows' (the term was common expression of exclamation or surprise). After former 'John Mayall's Bluebreakers' drummer Colin Allen joined, they recorded and released their self titled debut which featured a cover of The Beatles' Fool On The Hill as well as a side 2 epic entitled 'America'.
After the release of their follow up album, 'Ode To John Law', McGinnis and Dewar left (Dewar would later join with Robin Trower) and were replaced with bassist Steve Thompson and keyboardist Ronnie Leahy. After the successful 1971 release of 'Teenage Licks', Bell was voted by a Melody Maker readers poll as Best Female Vocalist as many critics hailed her as an obvious successor to Janis Joplin. As the group was doing a sound check for a show in Swansea Wales, Les Harvey was electrocuted and died instantly. The band was devastated.
Deciding to carry on they chose 'Fleetwood Mac's Peter Green for a possible replacement. Even though Green rehearsed with the group, he cancelled at the last minute. 'Yes' guitarist Steve Howe filled in for a few gigs until 'Thunderclap Newman' guitarist Jimmy McCulloch joined. McCulloch helped out with the recording of 'Ontinuous Peformance' which had began before Les Harvey's death.
Never really recovering after the demise of Harvey, the group would split up in June 1973. Drummer Colin Allen would join 'Focus' and McCulloch joined 'Paul McCartney And Wings'. Maggie Bell went solo with the release of 'Queen Of The Night' which featured her cover of Ringo Starr's 'Oh My My'. She recorded 'Suicide Sal' for Swan Song Records in '75 which featured guest guitarist Jimmy Page, both albums charted in the U.S.
Bell formed 'Midnight Flyer' with former 'Foghat' bassist Tony Stevens, guitarist Anthony Glynne, keybords player Chris Parren and drummer David Dowle in 1978. She sang a duet with B.A. Robertson in which the song 'Hold Me' went Top Twenty in 1981. She worked with a reformed 'Alex Harvey Band' until his death in 1982. After years of touring Bell settled down with her family. She has recently worked with 'Long John Baldry' and shared the stage with vocalist Chris Farlowe.
Info from: www.nationmaster.com
Drummer Colin Allen went on to join Dutch prog rockers 'Focus' and he played with jazzer, Zoot Money.
Les Harvey was one of the few white, and probably the only UK guitarist to play with Aretha Franklin.

Wilson Malone - keyboards, vocals
R.J. Scales - vocals
Bernie Lee - guitar
John Bachini - bass
Kevin Curry - drums
British beat group 'Robb Storme & the Whispers' AKA 'The Robb Storme Group' recorded pop singles for a variety of labels in the early '60s without success.
In 1967 the group decided to change its direction and name and re-emerged as 'Orange Bicycle'. They released a few singles including their first and best known: 'Hyacinth Threads'. They performed at the Isle of Wight music festival on Saturday August 31st 1968 wearing matching black and orange suits covering songs by 'Love' and 'The Rolling Stones'.
In 1970 they recorded an eponymous album, 'The Orange Bicycle' consisting mostly of covers including Elton John's 'Take Me to the Pilot', Bob Dylan's 'Tonight I'll Be Staying Here With You' and Denny Laine's 'Say You Don't Mind'. John Peel produced some tracks. The genre had however had its day by this time and the group decided to split in 1971.
Their multi-talented keyboardist/producer Wilson Malone released a self-titled solo album ('Wil Malone') that same year becoming a top producer/arranger, working with many successful groups and solo artists such as The Verve's 'Bittersweet Symphony' (which resulted in a lawsuit). Drummer Kevin Currie joined Supertramp.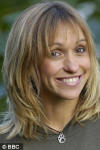 Michaela Strachan was born in Surrey on 7th April 1966 and was named after a nurse on the sixties television drama series - 'Emergency Ward 10'. She showed early talent as a dancer and trained in musical theatre. Her break came when she was 'spotted' performing on stage and that led to a children's show on TV-AM's Wide Awake club, Wacaday with Timmy Mallet and her own children's weekend morning show - Hey Hey it's Saturday.
Michaela had a complete change of direction when she presented an eighties early hours music and clubbing programme 'The Hit Man and Her' alongside pop producer Pete Waterman. But she went back to focus on wildlife and especially made a name for herself co-presenting The Really Wild Show, and on OWL TV for four years. She met assistant producer Duncan Chard through work and married him in 1996.
Michaela regularly does pantomime, appearing in Cinderella, Goldilocks, Aladdin and Jack & The Beanstalk. She has played Dorothy in The Wizard of Oz and has played Peter in Peter Pan several times. She has also recorded two singles, and contributed to various albums. Michaela currently lives in Bristol with her husband.
Info from: www.mybristol.net
Michaela appeared for the above mentioned TV show 'The Hit Man and Her' (with Pete Waterman) at the ballroom in its Hollywood Boulevard guise on Saturday & Sunday 4th & 5th November 1989, Wednesday & Thursday 27th & 28th December 1989 and again on Saturday & Sunday 4th & 5th August 1990. She also appeared at the ballroom on Sunday 22nd April 1990 as a performer in her own right ('Michaela') to promote her two UK chart singles 'H-A-P-P-Y Radio' (#62 in 1989) and 'Take Good Care Of My Heart' (#66 in 1990).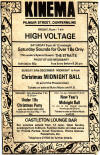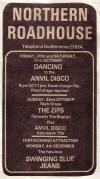 © Ghoulz © Ghoulz Press Clippings Press Clippings
Willie Adamson (Will) - lead vocals
Neill Martin (Nobby) - keyboards
Derek Armstrong (Deke) - bass, vocals
Dougie Ross - guitar
Neil Thomson - drums
Straits played The Kinema Ballroom 4 times in 1978
Sometime early 78
Monday 30/10/1978
Monday 20/11/1978
Saturday 23/12/1978
Straits were centred around Dunfermline, Scotland and first appeared in February 1978 (there had been earlier mid/late 1977 incarnations as 'Freeway' & 'Shug's Dyke' with school chums Grant Wilson on guitar and Rab Watson singing). Grant was replaced by Dougie Ross from 'Parasite' (Dougie Ross / Mike Bailie / Billy Galletley / Alistair Ross / Rab Strachan) and Rab replaced by by Will Adamson.
Straits played a variety of power-pop & new wave covers and original tunes around Fife including three gigs as 'The Zips'. They played with other local band The Delinquents (Delinx) amongst others and support duties included several dates with The Skids including a momentous event (for them) at The Marquee, London on 8th February 1979 when cognisance of another band (five girls from York) called 'Straits' hit home just hours before taking the stage. Panic set in and a hasty name change saw them take the stage as Trax and the story continued ... click here
Other gigs included:
26/05/78 Castleton Dunfermline (with 'Chancers')
02/09/78 Carnegie Annex (with Delinx)
28/09/78 Northern Roadhouse Dunfermline
22/10/78 Northern Roadhouse Dunfermline (as 'The Zips')
25/10/78 Birksgate Hotel Kirkcaldy (as 'The Zips') (with 'Channel 4')
26/10/78 Cuinzie Neuk Hotel Kinghorn (as 'The Zips')
21/11/78 Birksgate Hotel Kirkcaldy (back to 'Straits')
02/12/78 Glen Pavilion Dunfermline (afternoon)
25/12/78 Kinema Ballroom Dunfermline (Xmas Midnight Ball – Cancelled)
12/01/79 Glen Pavilion Dunfermline (with 'Pallas') (Rosyth Community Festival – 'Rock in 79')
05/02/79 Bloomers Club Dundee (with 'The Skids' & 'Curfew')
08/02/79 Marquee (with 'The Skids' & DJ 'Ian Fleming')


Ticket for postponed Kinema gig
(Ray & Kay Smillie)
I have Lee Scott to thank for contributing these photographs of The Stranglers on the Kinema stage on Tuesday 3rd October 1978 ('Pubs & Clubs' tour).
Jet Black not captured unfortunately! The Photographer was Eddie Dickson.






© Eddie Dickson © Eddie Dickson © Eddie Dickson © Eddie Dickson © Eddie Dickson






© Eddie Dickson © Eddie Dickson © Eddie Dickson © Eddie Dickson © Eddie Dickson






© Eddie Dickson © Eddie Dickson © Eddie Dickson © Eddie Dickson © Eddie Dickson






© Eddie Dickson © Eddie Dickson © Eddie Dickson © Eddie Dickson © Eddie Dickson
Hugh Cornwell - vocals, guitar, keyboards
Jet Black - drums
Jean-Jacques (JJ) Burnel - bass, vocals
Hans Warmling - guitar
Dave Greenfield - Keyboards
John Ellis - guitar
Paul Roberts - vocals
Baz Warne - vocals
It has often been said that the Stranglers are probably the most enduring band of the UK punk/new wave era, while at the same time being the least celebrated. A number of current bands cite the Stranglers as an influence; concerts are packed; and the loyalty of their fans is legendary -- following the band from gig to gig (both domestically and around the world) and amassing huge collections of recordings and memorabilia are commonplace. Yet, at times, bad (or non-existent) press have made the Stranglers seem the unwelcome "Lepers of Rock".
The original Stranglers line-up jelled during 1974/75 and brought together four individuals with very different backgrounds and interests. This diversity was probably a main factor in keeping them together during the band's first phase (up until 1990).
Hugh Cornwell was a Biochemistry graduate from Bristol University who had gone to Gothenburg University in Sweden to pursue research. Here, he formed a band called "Johnny Sox" with two American draft-dodgers and a Swede. Disillusioned with the politics of research (and with a desire to make the band succeed) he persuaded the other members that London was the place to be; they arrived in London (minus the drummer) in early 1974.
In the early seventies, Jet Black was a successful businessman, who owned a fleet of ice-cream vans and ran an Off-License (Liquor/Beer Store) in Guildford, South-West of London, UK. Losing interest in the routine of the business world, Jet looked to music as an escape. In his teens, he had been a semi-professional drummer; after buying a new drum kit and getting in a few weeks practice, he set out to find a suitable band. A "drummer wanted" ad in "Melody Maker", led to a meeting with Johnny Sox; upon joining, Jet persuaded the other band members to move to his Off-License, which had ample space for both rehearsal and accommodation.
Jean-Jacques (JJ) Burnel was introduced to the band through a chance hitch-hiking incident. Although an accomplished classical guitarist, he had never seriously considered a music career -- his main passion was Karate, and his ambition was to travel to Japan, in order to further his development in this martial art. JJ has since fulfilled this ambition and currently teaches at his own Dojo near Cambridge, UK. His other passion (which he has also maintained throughout his career) was for motorcycles. Soon after this initial meeting, Johnny Sox disintegrated, as two of the original members left, leaving Hugh and Jet to pick up the pieces. Shortly thereafter, JJ was taken on as the bass-player (having bought an instrument from Hugh and getting quickly up to speed with it).
The foursome was (temporarily) completed, late in 1974 by guitarist Hans Warmling, a friend of Hugh's from Sweden (photo courtesy of Joel Ekstrand). In this guise, the band started gigging around the Guildford area, under a variety of names; at about this time, an American serial killer known as the "Boston Strangler" was grabbing headlines around the world, which, given the menacing atmosphere projected by the band, eventually led to the name "The Stranglers". The number of gigs increased, and demo tapes were recorded; however, a record deal was not forthcoming. Eventually, Hans tired of the slow progress the band was making, despite their efforts, and quit the band to return to Sweden.
In July 1975, an advertisement in Melody Maker produced one Dave Greenfield, keyboard player. Dave had already played in a large number of bands and it was immediately obvious to the others that he was a natural addition to the Stranglers. The unusual inclusion of swirling keyboards at the time was to give the band a very distinctive sound, setting them apart from their contemporaries.
The end result was a very dedicated and hard working band, who were almost constantly on the road. This determination first led to a deal with Albion, a London agency which gave them access to some of the City's most influential pub venues. In December 1976, the band signed a recording contract with United Artists. To the Stranglers and those that knew them, this was the culmination of all their persistence over a two-year period; ironically, their signing angered a number of established bands who thought that these "punk upstarts" had come from nowhere!
They were billed to appear at the Kinema on Tuesday 12th September 1978 as part of their 'Pubs & Clubs' tour, however the gig was postponed for three weeks until Tuesday 3rd October due to Dave Greenfield's keyboard problems, (well that was the official story) - Ghoulz
So began the ever-changing recording career of the Stranglers. The punk/new wave scene was taking off in Britain and the band's style at the time fitted (if not neatly) into the genre; however, as this scene gradually died out, the Stranglers true colours started to show. The band's diversity had been clear from an early stage (and may have contributed to the difficulty in finding a record deal, as they could not be easily pigeon-holed); this flexibility and their experimental creativity were evident on an increasingly wide range of songs, with many stylistic twists and turns being showcased. New technology and techniques were happily embraced (as is clearly evident on such albums as "The Gospel According to the Meninblack") and new horizons were explored with the inclusion of a brass section (from "Aural Sculpture" to "10") and steel guitar (on "Dreamtime").
Through all this diversity, one image stuck to the band -- black. In the early eighties, the band's fascination with the Meninblack (mysterious visitors to UFO witnesses, possibly not of human origin, who tried to silence their victims) led to "The Gospel According to the Meninblack", which gave an alternative view to biblical happenings, from the perspective of alien intervention. Soon the band themselves were being dubbed "The Meninblack", further strengthened by the all-black dress adopted on stage. Even today, this name is applied to the band by their fans, who are often to be seen in all-black clothing and frequently go by "[name]inblack".
By 1990, and the completion of the tenth studio album "10", Hugh Cornwell (as stated later) thought that the band could, artistically, go no further. August 11th saw the last performance of the Stranglers with Hugh, at the Alexandra Palace in London. At this point, the others members had seen no hint of Hugh's pending departure, and only found out later. Hugh has since gone on to produce an album under the guise of "Cornwell, Cook and West" and solo efforts "Wired", "Guilty" and "Hi Fi". He is also to be seen touring solo, either alone or with his band.
In the aftermath, JJ, Jet and Dave concluded that they disagreed with Hugh's assessment of the band's fortunes and decided to continue, albeit in a new format. The first new recruit was John Ellis, an ex-member of the Vibrators and a long-standing friend of the band. John had been a member of JJ's Euroband for the "Euroman Cometh" (solo album) tour in 1979 and had played guitar for the gigs at the Rainbow (London, UK) which featured a number of artists filling in for an incarcerated Hugh Cornwell (jailed for drugs possession). More recently he had been a member of the Purple Helmets, a cover-band featuring both JJ and Dave and had joined the band's live set as an additional guitarist during the "10" tour. As an established member of the Stranglers extended family, John was the perfect choice as the new guitarist and he fitted neatly into the band.
Although some demo tracks were recorded with the band in this format, and JJ on vocals, the band decided to look for a singer. A number of familiar names became associated with the search, most notably Dave Vanian (the Damned) and Ian McNabb (the Icicle Works). During auditions, the band was faced with one Paul Roberts, who proclaimed "I'm your new lead singer"; upon hearing his wide vocal range and quality, the band agreed and the Stranglers MK II were born. The new line-up now presented a completely different (and more dynamic) image, with Paul crashing and writhing about the stage. At the same time, the horn section was removed, giving a more straight-forward presentation.
This reincarnation of the Stranglers produced four albums: "Stranglers in the Night", "About Time", "Written in Red" and "Coup de Grace". As always, these albums showed a great musical diversity, blending in the talents of Paul and John.
In March 2000, after nearly ten years with the band, John Ellis left to pursue other interests. He was replaced by "Small Town Heroes" guitarist Baz Warne. Baz will be familiar to Stranglers fans who attended the UK "About Time" tour in 1995, as Small Town Heroes provided the support. He was almost immediately thrown into the spotlight for live performances in Bosnia and several festivals around Europe. With Baz securely in place, 2004 saw the release of the much acclaimed fifteenth studio album "Norfolk Coast.
May 2006 saw the departure of Paul Roberts, after sixteen years service with the band. This was an amicable split, with Paul moving on to pursue other musical interests. The band was now a four piece for the first time since Hugh's departure in 1990, with Baz sharing vocal duties alongside JJ. The first gig in the new format was at the Midsummer Buzz Festival in Weston Super Mare in June 2006, with a new album -- Suite XVI --following in September of the same year.
The Stranglers may be over thirty-five years old, and have seen many changes in their career, but we can certainly look forward to plenty more exciting yearsinblack.
Info from: www.stranglers.net

Rose McDowall - vocals, guitar
Jill Bryson - vocals, guitar
From the ominous shadows of Goth suddenly appeared two young girls in polka-dot dresses, flaming red lipstick, and hair ribbons. Looking like the brides of Robert Smith, Strawberry Switchblade made a brief splash on the U.K. charts and then abruptly vanished in the mid-'80s, leaving their fans with a handful of collectible singles and one LP of deceptively sweet-sounding dance pop.
The duo of Rose McDowall and Jill Bryson first met in 1977 in Glasgow, Scotland, united by their love for punk and new wave. The pair became friends with James Kirk of Orange Juice, who encouraged them to start their own group. In 1981, the new act named themselves after a fanzine devoted to the legendary Postcard Records in Scotland: Strawberry Switchblade.
The band originally consisted of four members, but the two other women eventually split from the group, leaving McDowall and Bryson on their own. Strawberry Switchblade became the opening act for Orange Juice. Signed to Postcard Records, the band didn't record their first single "Trees and Flowers" until they were picked up by Zoo. Echo & the Bunnymen's manager Bill Drummond became a fan of the group and convinced Ian McCulloch to pay for the manufacturing costs of "Trees and Flowers".
"Trees and Flowers", which featured Aztec Camera's Roddy Frame on guitar, was released in July 1983 and sold 10,000 copies. Strawberry Switchblade gained mainstream attention by performing on BBC DJ Janice Long's radio program. Drummond then signed the group to Warner Bros. Records. Their next single, "Since Yesterday", hit No. 5 on the British charts in 1984, providing a sneak preview for their self-titled debut album a year later. However, the LP never made it to the U.S. Saturated with colourful, jubilant keyboards that disguised the sadness in the songs' lyrics, the hook-laden Strawberry Switchblade didn't achieve the commercial success that the popularity of "Since Yesterday" promised.
Subsequent singles such as "Let Her Go" and "Who Knows What Love Is?" did well in the Philippines -- played heavily on the country's new wave radio stations -- but weren't as warmly embraced in the U.K. The band covered Dolly Parton's "Jolene", their last futile stab at mass acceptance. Strawberry Switchblade broke up in 1986, burned out from the pressure of having to sell records. McDowall collaborated with various dark, experimental acts like Nurse With Wound and Current 93; she also briefly played guitar for Felt.
Although short-lived, Strawberry Switchblade developed a worldwide cult following years after they quit recording, and their only full-length was reissued on CD in Japan in the early '90s. (Michael Sutton, All Music Guide).
Info from: www.allmusic.com
Dave Cousins - vocals, guitars, banjo
Tony Hooper - guitars, vocals
John Ford - bass, vocals
Rick Wakeman - keyboards
Richard Hudson – drums
Arthur Phillips - mandolin 1967
Ron Chesterman - bass 1968
Sandy Denny - vocals 1968
Ken Gudman - drums 1968
Claire Deniz - strings 1970
Dave Lambert - guitars 1972
Blue Weaver - keyboards 1972
John Hawkens - keyboards 1974
Chas Cronk - bass 1974
Rod Coombes - drums 1974
John Mealing - keyboards 1975
Robert Kirby - keyboards 1975
Brian Willoughby - guitars 1978
Tony Fernandez - drums 1978
Chris Parren - keyboards 1984
Rod Demick - bass 1984
Through a long career laden with personnel changes, The Strawbs have kept in touch with both their British folk roots and the 70's progressive rock movement. Dave Cousins, the bands main songwriter, and Tony Hooper formed The Strawberry Hill Boys (named for the London district where they rehearsed) in '67, singing traditional British and American folk music, then recorded with Sandy Denny (who went on to Fairport Convention) before becoming The Strawbs with the addition of Richard Hudson and John Ford from the underground group The Velvet Opera.
Their self titled 1969 debut album won great acclaim in British folk circles, but their second album, 1970's Dragonfly, which saw them turning to a keyboard dominated progressive sound (Nicky Hopkins guested on it), left them between audiences. Royal Academy Of Music graduate Rick Wakeman's classical arpeggios took the band decisively away from folk and into progressive rock. Wakeman left in '71 to join Yes.
His replacement was Blue Weaver, who had played with Andy Fairweather-Low's Amen Corner and with Dave Mason. Shortly after Wakeman's departure, internal disagreements between Cousins, Hudson and Ford led to Cousins temporary departure, placing the band in limbo in late '71. The Strawbs then reformed and had their first U.K. hit singles with 'Lay Down' in '72 and in '73 with Hudson and Ford's 'Part Of The Union'. Both Hudson and Ford would form a moderately successful duo as Hudson-Ford and release a handful of singles. Though they never became a truly major American attraction, The Strawbs toured the U.S. constantly as well as in the U.K. After middling success with a series of progressively more commercial late 70's albums, the group disbanded. Hudson, Hooper and Cousins reunited in the 80's.
Don Maddocks - lead guitar
Curly Davies - rhythm guitar, vocals
Bren Richardson - bass
George Maddocks - drums
Later:
Roy Grant - vocals
Tony Perry - saxophone
Martin de Vries - ?
Formed in 1961 in Wolverhampton, they were probably the first group to be managed by Roger Allen. They supported Paul Raven (Gary Glitter) in the summer of 1962 during a short tour of the West Country. They became a support group to Roy Orbison sound-alike Roy Grant who came down to the area from Stoke. This combination was one of the most popular local acts during 1963, specialising not surprisingly in Roy Orbison numbers.
The group played in Liverpool at the height of the beat boom and performed very well in that most musically critical of cities. A later member of the group was Martin de Vries.
Info from: http://www.localhistory.scit.wlv.ac.uk/articles/InBetweenTimes/Page0.htm#contents
Tim Barr - vocals
George Wheelwright - guitar
Derek 'Del' Fudge - keyboards
Allan Glen - bass
Raymond Lindsay - drums
Studio 54 was formed from the ashes of Dunfermline band 'Eurosect' whose line-up was childhood friends, Bruce Watson on guitar and Allan Glen on bass with one-time temporary
Skids
sticksman Derek 'Deke' Coll on drums. Two months after forming and rehearsing in Bruce's bedroom in Jennie Rennie's Road in Dunfermline, Eurosect recorded a demo at Sound Control Studios, on April 2 1981, which contained four songs: '2nd Thoughts', 'Forbidden Whispers', 'Beating Hearts' and 'Blurred and Faded'.
One of the many Dunfermline musicians who was present at the recording of the demo was Skids' guitarist Stuart Adamson. Buoyed by his encouragement and the general feeling of youthful enthusiasm that only comes from being 17 and in a band, Eurosect played across many venues in Scotland during the spring and summer of 1981; at the time, Bruce worked as a labourer at Rosyth Dockyard while Allan worked as a miner at Solsgirth Colliery near Saline. It was however, all to finish in the winter when Bruce announced he had been invited to form a band with Stuart. Despite many noisy protestations from Allan and Deke for Bruce to remain loyal to Eurosect, he joined Stuart in launching Big Country at the end of the year. Allan is now glad they failed to convince him to stay.
At this time, Allan joined local act 'Fifth Column' and, with various vocalists, drummers and keyboard players auditioning with the band, it was renamed 'C'est La Vie' (with Dunfermline singer Dougie Kyle on vocals) and then finally 'Studio 54'.
As a result of playing three songs live ('Ivory', 'Playback And Smile' and 'Easy') on cult BBC TV programme 'The Untied Shoelaces Show' on the morning of Wednesday January 5 1983, they were offered the gig at the Kinema Ballroom on March 13 that year (the venue was then called Night Magic). This was the band's only gig at the venue and it was to be their final appearance in Dunfermline. The band split-up in the summer of that year with George going on to play in '7 West' with Will Adamson (of Trax) and Alex Milne before Allan left Dunfermline and headed to London to launch a career in music journalism at the NME.
My thanks to Allan Glen for the information above


My thanks to Stuart Prentice for this image
Colin McClure - vocals
Clive McClure - rhythm guitar
Neil Grimshaw - lead guitar
Gerry Tedeschi - bass
Ricky Kerr - organ / keyboards
Ron Milne - drums
Later:
Douglas Jarvis - keyboards
Jim Breakey - drums
George McNally - bass
Malcolm Sergeant - bass
Note: Brothers Colin & Clive were cousins of Chris McClure of 'The Chris McClure Section' who later became 'Christian'. Colin was from Ruchazie in Glasgow's East End. They had previously been two-thirds of 'Colin and the Cossacks'.
Managed by Colin & Clive's Father Carl J McClure, Studio Six were one of Glasgow's top bands in 66/67. They were one of the first three bands handled by Robert Stigwood after he set up his own agency (The other two were The Who and The Bee Gees). After moving to London they hung out with Marmalade who were pursuing a similar career path. They were to turn down the opportunity to record two Bee Gee penned songs!
They went on to play all over England and Europe with such bands as Vanilla Fudge; The Who; Jeff Beck; The Move; The Kinks; The Nice; Jethro Tull; Dave Dee, Dozy, Beaky, Mick and Tich; Manfred Mann & Pink Floyd.
They planned to sign with The Beatles' manager Brian Epstein but alas he died.
They split around 1970 after a spell as 'Studio Five'.
Singles:
'When I See My Baby' / 'Don't Tell Lies' (December 1966) (sold 8000 copies)
'Bless my Soul' (April 1967)
'Times Were When' (July 1967)
'Strawberry Window' (1967)
Gordon Appacellie - vocals
Jim (Midge) Ure - guitar
Fraser Spiers - harmonica
Alan (Bart) Wright - lead guitar
Kenny Ireland - bass
Alec Baird - drums
Formed in 1969 and named after a song on 'John Mayall's Bluesbreakers' album, 'Stumble' played blues and pop covers and frequently played in Kirkintilloch. They split in 1971.
Midge joined 'Salvation' and the rest as they say ...
If you can add any further information to this piece please contact me here





© Ghoulz © Ghoulz © Ghoulz © Ghoulz
The Subject in the Apollo Lounge, Rothes Arms, Glenrothes Fife (supporting Trax)
Peter Wishart - keyboards, lead vocals
Alan Wishart - bass, backing vocals
Keith Falconer - drums
The subject were a three-piece band from Kingseat near Dunfermline whose number included brothers Peter & Alan Wishart who would both later join Stuart Adamson in the original line-up of Big Country for a short time. Peter would go on to join the hugely successful (in Scotland anyway) folk/rock band 'Runrig'.
The Subject played a couple of gigs in support of Trax, once at the Apollo Lounge, The Rothes Arms, Glenrothes and once at the ballroom on Thursday 24/05/1979 with Trax, Delinx, Insect Bites, Activan, The Hibernating Bears & The Different.
Peter Wishart is now an Member of Parliament for The Scottish National Party.
If you can add any further information to this piece please contact me here
Martin Rev - Keyboards
Alan Vega - Vocals
What a cool name for a band and what a band indeed! Formed in 1970 and coming out of the same Mercer Arts scene as the New York Dolls, the band sucked up those Stooges, Velvet Underground and 60's garage classics influences and then churned them through a Vox continental, echo chamber and drum machine to produce an unholy soup of loud abrasive electronic textures. If that wasn't provocative sonically, then couple that with a confrontational singer possessed by the spirit of Iggy (and then some) and you have one of the most original bands ever. Synth punk is the only way to describe them or in their own words "Punk, Funk and Sewer Music by Suicide". Truly ahead of their time.
So ahead of their time that deprived of the traditional guitar, bass & drums set up, audiences could just not relate to them and frequently translated this into violence, attacking the band and their instruments. If you want a band that genuinely lived on the edge this was it.
"I guess the music is as much bringing it on you might say as anything else. The sound probably starts them off somewhere inside, but the guy who's making the sound isn't always the focal point of the sound because Alan's provoking them in a visual way as the sound provokes in a musical way." Martin Rev Sounds 24.6.78
"Most people were scared of Alan, who would have a black leather jacket and a chain wrapped around his arm and wouldn't hesitate to smash the wall with the chain." Marty Thau - From The Velvets To The Voidoids by Clinton Heylin
While by 1978 the band had calmed somewhat the reaction to them certainly hadn't.
As support to the Clash in the UK in late 1978 Suicide got it pretty bad: "I got my nose busted in Crawley...In Glasgow someone threw an axe by my head! ...In Plymouth The Nazis...got me in the dressing room" Worse still was the Elvis Costello support slot across Europe marked by riots. Infamously captured on tape (23 Minutes Over Brussels) is the Brussels 16.6.78 gig where the crowd trashed the venue and riot police with tear gas entered the fray.
The band fed off this negativity so it was a surprise when playing Tiffany's Edinburgh on their own tour in 1978 and viewing a thousand people ready to charge them that they suddenly realised (and were perplexed to find) that they were dancing and enjoying themselves to Suicide's music!
The only record released in their time period was 'Suicide' - Red Star Records 1977.
"This remarkable debut album, released some seven years after the group had formed, was still way ahead of its time back in 1978... Tough guy Vega croons like an evil Elvis bred on garage rock and performance art; the stoic Rev lays churning, repetitive, and oddly melodic lines down on his beat-up Farfisa, and the ancient drum machine--it actually sounds steam-driven--propels the music toward a ratty, Blade Runner future. "Dream Baby Dream," "Che," "Ghost Rider"--these eerie, sturdy, steam-punk anthems rank among the most visionary, melodic experiments the rock realm has yet produced." Mike McGoniga From Amazon.com
'The Second Album' was released in 1980 and they still record and perform to this day.
Info from: www.punk77.co.uk
Click here for a pic of the Ticket stub for Suicide at the ballroom with The Clash on Thursday 6th July 1978.
An ex-sailor, Redd Sullivan had quite a repertoire of sea shanties which he enjoyed performing and it was often said that he had a powerful command of the audience and expected respectful quiet to perform!
In the late fifties Redd, Chas McDevitt & Marc Sharratt & Zom were frequent buskers in Soho and lateer redd & Zom would join John Hasted's skiffle and folk group.
The eccentric Redd Sullivan had a powerful bluesy voice which personified his band 'The Thameside Four', a skiffle band in the late fifties featuring influential British folk guitarist and vocalist Martin Carthy together with Pete Maynard and Marian Gray. They recorded one album 'Hootenanny' in 1964 (a live recording of a London folk concert performance).
A London folk scene staple from the fifties to the seventies, Redd ran the Troubador club in London with fellow enthusiast Martin Windsor in the early seventies.
Redd died around 1990.
George Orr - guitar
Falkirk band featuring guitarist George Orr who went on to 'Hog Farm' and latterly became a Rod Stewart tribute act called 'Hot Rod Live' in the USA.



'The Dunfermline Press'
dated 2nd June 1962.
Monty Sunshine - jazz clarinettist
When Monty Sunshine formed his own band in 1960, he had already been a key player in the British jazz scene for over a decade. Born in 1928, he was a founder member of the groundbreaking Crane River Jazz Band (Ken Colyer, Sonny Morris and John R. T. Davies completed the front line), but it was that Ken Colyer Band that immediately metamorphosed into the Chris Barber Band that made Monty into a star.
Not only was he a key sideman of the most popular British jazz band of the 1950s. Then, in 1960, he formed his own band, taking to the road, a situation that still prevails today, when, according to Monty, the band is busier than ever. In 36 years Monty reckons not to have made any significant changes in style, but maintained the infectious enthusiasm that makes for a successful and popular working band.
Info courtesy of: geoffboxell.tripod.com

Craig Wellington - vocals & guitar
Stuart Jones - guitar
Daley Smith - bass
Matthew Gwilt - drums
Indie Rock band The Sunshine Underground (aka TSU) are originally from Shrewsbury but met and formed the band in 2000 at 'New College' Telford though they are now based in Woodhouse in Leeds. Their name comes from a Chemical Brothers song.
Their début single, 'Put You In Your Place' (2005) won Zane Lowe's Fresh Meat competition and in the same year they earned the 'Live Band of the Year' trophy at the Leeds Music Awards.

TSU stirred up considerable anticipation for their début album 'Raise the Alarm' in 2006 with several festival appearances before its release in the August of 2006 which they followed-up by continuing to tour even larger venues across the UK including most of the bigger festivals.

As well as selling -out their own headline tours they have supported The Happy Mondays and LCD Soundsystem and a second album is expected in 2009.
Demo:
'My Army' EP (2004)
Singles:
'Put You in Your Place' (2005 & 2006)
'Commercial Breakdown (2006 twice)
'I Ain't Losing Any Sleep' (2006)
'Borders' (2007)
Album:
'Raise the Alarm' (2006)
Bill Hendry - vocals
Gordon Black - rhythm guitar
Ian Haddow - lead guitar
Jim Bell - bass
Colin Fairley - drums

The Sunset Culture were formerly known as The Spellbinders, a young group from Levenmouth in Fife that changed its name in the summer of 1967 to avoid confusion with the American band of that name.
As well as a regular at the Kinema, the band was semi resident at Kirkcaldy YMCA on Friday/Saturday big group nights and supported the likes of Jethro Tull, John Mayall, Spooky Tooth, Jimmy James and lots of others.
They disbanded when Colin and Ian left to join Dum De Dum in 69/70 (previously known as The Ardennes)
Bill Hendry continued in the music industry for a while and in 1970 Colin left to join The Chris McClure Section and had success with them before joining Beggars Opera and String Driven Thing. He later became a respected sound engineer with his own recording studio working with many important bands.
Info from Alan Gray & Ian Haddow

Richard Davies - vocals, keyboards
Roger Hodgson - guitar
Frank Farrell - bass
David Winthrop - sax
Kevin Currie - drums
(The line-up above is believed to be the one that played the ballroom) Ghoulz (2006)
Formed in London, 1969; disbanded 1971; re-formed 1973; disbanded 1988; re-formed 1997.

Back in 1969 Richard Davies met Dutch millionaire Stanley August Miesegaes (commonly known as Sam) in Munich whilst playing in a band called The Joint. He offered to sponsor Davies if he formed a new group and Davies duly put together the first line-up after advertising for players in a rock music paper. The new group was originally going to be named Daddy but at Winthorp's suggestion it took its name from W.H. Davies' book, 'The Autobiography Of A Supertramp', published in 1910. Their first album, Supertramp, made little impact when released in 1970. It was full of lengthy and uninteresting solos and Bob Miller suffered a nervous breakdown soon afterwards.

The band regrouped in 1971 with new members Currie and Farrell and original bassist Hodgson switched to lead guitar. Their second album Indelibly Stamped fared no better than the first and after their sponsor Sam paid off £60,000 worth of debts, all the band members quit except for Davies and Hodgson.

A new line-up (C) was put together. Helliweg and Thompson had both played with The Alan Bown Set previously. Bob Siebenberg (also known as C. Benberg) had been with Bees Make Honey. In a make or break gambit A&M installed the group in Southcombe (a farmhouse in Somerset) and assigned first rate producer Ken Scott to work with them. The resulting album, Crime Of The Century, a semi-concept affair, excellently produced, brought them into the big time. It developed what became a distinctive electric piano rhythm-based sound epitomised by Dreamer, which was taken from the album, put out on 45 and peaked at No 13 in the UK. In the US (Bloody Well Right) the flip side to Dreamer in the UK made it to No 35. The follow-up Crisis? What Crisis was very similar in style and achieved a comparable level of success. It also climbed to No 44 in the US.

Indeed as we reach the end of 1976 the band's best days were still to come.

In 1977, with punk's chill wind declaring death to the dinosaurs, Supertramp engaged famed Beatles engineer Geoff Emerick for Even In The Quietest Moments (1977). Their last half-decent album, it provided a US Top 20 hit with an uncharacteristically restrained acoustic song, "Give A Little Bit". Normal prog-rock service was resumed with "Babaji" (lost-little-boy spiritualism) and "Fool's Overture", in which Davies duetted with Winston Churchill.

Breakfast In America was their magnum opus spawning no less than four hit singles.

However, the formula was maintained, with slowly diminishing returns, on Famous Last Words (1982) (after which Hodgson jumped ship), Brother Where You Bound (1985) and Free As A Bird (1987). The last release was Live '88 (1988), which, in comparison with the hugely successful and much better Paris (Live 29.11.79) (1980) seemed to sum up the band's decline.

You'd be hard pushed to portray Supertramp as being in any way influential; although they readily fused sound effects, nursery rhymes and out-of-context radio footage, it's forcing the point to hail them as precursors of the sampling age. But, alongside others, notably 10CC and Queen, they serve as a good example of that curious hybrid of melodic prog-rock that flourished between the genuine heavyweights of the 60s and late 70s.
Info from: pages.globetrotter.net
There has been a degree of doubt voiced over their playing the ballroom on 28th November 1971. Can you confirm?
Lord Caesar Sutch & The Roman Empire

Lord (David) Sutch - vocals
Ritchie Blackmore - guitar
Johnny Bedder - guitar
Matthew Fisher - organ
Tony Dangerfield - bass
Joel James - saxophone
Carlo Little - drums
Before The Sex Pistols and Alice Cooper, even before Monty Python's Flying Circus, there was 'Screaming' Lord Sutch. David Sutch, having grown tired of the early pop sounds of the likes of Cliff Richard and Pat Boone formed Screaming Lord Sutch And The Savages with drummer Carlo Little. Their raucous performances of rock and roll standards by Little Richard, Jerry Lee Lewis and Chuck Berry gained them a following in the early 60's. Their live version of Little Richards Lucille remained a sure fire show stopper. Lord Sutch kept his audience on edge with his stage antics which had included dressing as Jack The Ripper as well as chasing people with axes. During performances of their single Till The Following Night (released in '61 and produced by Joe Meek), Lord Sutch would appear from a coffin. From '61 to '66 The Savages were more or less a breeding ground for future rock musicians such as guitarist Ritchie Blackmore (later of Deep Purple) and keyboardist Nicky Hopkins (session man esquire). With the ever changing line up of The Savages, Lord Sutch released such singles as Jack The Ripper ('63), She's Fallen In Love With A Monster Man and Dracula's Daughter (both released in '64).
Lord Sutch was one of the founders of Pirate Radio when he opened a station in the middle of the Thames River and went by the moniker Radio Sutch. After his stint with The Savages, he formed the short lived Lord Caesar Sutch And The Roman Empire which included (dressed in gladiator garb) Ritchie Blackmore and keyboardist Matthew Fisher (later of Procol Harum). He released his first album in 1970, Lord Sutch And Heavy Friends, which included side line help from Jeff Beck, Jimmy Page, John Bonham and Nicky Hopkins. His second album, 1972's Hands Of Jack The Ripper, a general idea of what his 60's shows were all about, featured Blackmore, Keith Moon and bassist Noel Redding (formerly of The Jimi Hendrix Experience).

Disagreeing with British politics for the past thirty plus years, Lord Sutch would often run for office for his unique Monster Raving Loony Party (founded in 1963) which resulted in many comical, sometimes negative brushes with Parliament and Prime Minister Margaret Thatcher (some of Lord Sutch's ideas had leaned toward the comically outrageous, from making everyone in court wear wigs and silly clothes - not just the judge, and improving the climate by moving the British Isles five hundred miles south, to the thought provoking - imposing free eye glasses and hearing aids). Although Lord Sutch was resigned to losing £1000 at each election, he would easily make it up by doing gigs and shows at various pubs. Lord Sutch was a kind gentlemen and a friend to many, which was why many couldn't understand the reasoning when he was found hanged at his home in 1999. Even the politicians mourned his death.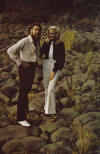 A Miss Scotland winner in 1964 and a Miss Universe contestant, Doreen Swan was a singer with Eddie Taaffe in the folk group 'Whisky Fizz'. She appeared occasionally on albums by (her husband of 28 years) Watt Nicoll e.g. 'WATTcha!' (1970).
If you can add any further information to this piece please contact me here
'Sweet Blindness' was a five-piece showband.
If you can add any further information to this piece please contact me here
Ray Ennis - lead, rhythm guitar, vocals
Ralph Ellis - guitarist
Les Braid - bass, Keyboards
Phil Thompson - drums
Norman Kuhlke - drums
Terry Sylvester - guitarist
Colin Manley - guitarist
John Ryan - drums
Bruce McCaskill - guitar, vocals
Alan Lovell - lead guitar, vocals
The Swinging Blue Jeans were formed as a six piece in 1958 calling themselves The Bluegenes. They had originally included the brief membership of Bruce McCaskill and of Banjo player Tommy Hughes, and soon became one of the leading groups at Liverpool's Cavern night club. Although John Carter and Paul Moss were brought in as replacements to sustain the group as a hextet, these too fell away by 1962 leaving the membership as above. The new four piece with a new sound- due to the absence of their familiar banjoist- modified their name to The Swinging Bluegenes before finally becoming Swinging Blue Jeans a few months later.
Eager to expand their fame beyond Liverpool they took themselves to London where they cut a single at Joe Meek's studio in Holloway. Sadly, this item of the legendary recording engineer's work was never released. However they then managed to obtain a recording deal with EMI and made 'Hippy Hippy Shake'. Their timing could not have been bettered and the disc rose on the tide that was Merseybeat to reach the UK #2 position, held back from the top spot by Dave Clarke's 'Glad All Over'.
The group then enjoyed the best of their success until Ralph Ellis decided that he'd had enough of all the continuous touring and announced his departure. This problem was solved by recruiting two former members of another Liverpool group- the Escorts. The addition of Mike Gregory and Terry Sylvester thus brought the line up to a five-piece. Sadly, the new membership had no further chart success, despite briefly renaming themselves 'Music Motor', and when Terry Sylvester got the opportunity to replace Graham Nash in the Hollies, the group fell apart.
Ray Ennis took the opportunity to reform the group during the mid 1970s when it became apparent that former 1960s groups could have a successful career on the club and nostalgia scene. Here they have remained- more or less- ever since.
Info courtesy of: www.45-rpm.org.uk
The Swingtette Dance Band / The Swingtettes
(AKA Ernest Dobbie & His Swingtette)
Ernest Dobbie - saxophone & violin
Jimmy McQuarry - trumpet
Alex Sheills - piano & piano accordion
Henry Nolan - vocals?
Bob Whyte - bass
Jock Rutherford - drums
These highly experienced musicians were reportedly assembled for the express purpose of filling the position of resident band at the Ballroom and this they did from the opening night on Friday 23rd December 1938 for the first twenty seven weeks. They appeared for the first week as The Swingtette Dance Band before abbreviating the name to The Swingtettes.
Ernest Dobbie himself had been all over the world playing in orchestras on the Anchor Line & Blue Star liners. He had also been a member of the dance bands at Peebles Hydro and St. Andrews. Jimmy McQuarry (trumpet) was formerly of Nottingham Palais and Havana Club, Edinburgh; Jock Rutherford (drums) was formerly of the West End restaurant, Edinburgh; Alex Sheill (piano and piano accordion) was formerly of the West End restaurant, Edinburgh; Bob Whyte (bass) was the only local member, who has experience in Dunblane Hydro and Cowdenbeath Hydro; and Henry Nolan was formerly of Strathpeffer Hydro.
If you can add any further information to this piece please contact me here

Sybil (Lynch) is an American R&B / pop singer (born June 2nd 1965 in Paterson, New Jersey).

Sybil is perhaps best known for her cover of 'Walk On By' (1990) UK chart position #6, 'The Love I Lost' (1993), UK chart position #3 and 'When I'm Good and Ready' (1993) UK chart position #5.
She has recorded 29 singles and 7 studio albums including 2009's 'Shining Star'.

'Baby's Gone' (June 1989)
James 'Jamo' Stewart - guitar, vocals
Robert Anderson - piano, organ
Breave - bass
Later:
James Stewart - guitar, vocals
Callum McNair - lead guitar
James Heron - bass
Peter Haggerty - drums
Edinburgh-based new wave band who released a single 'Golden Key' / 'Golden Key' - Instrumental in 1984/5 [produced by Jo Callis of Human League & Rezillos fame].
There was also a respected album released on compact cassette called 'Keep' on EMI in 1989.
Callum McNair has also played with 'Bee Bee Cee', 'Club Of Rome', 'The Apples' & 'The Bathers' amongst others.